In the back of my mind lives a chorus of street calls: the staccato pauses in a recorded advertisement "bánh mì Sài Gòn, một ngàn một ổ" (hot Saigon bánh mì, only thousand [dong] per loaf), the clink-clank of ice cream bells, and the reverberating belting from our hẻm's bean curd lady.
Growing up in one of Saigon's hẻm ecosystems means being exposed from a young age to a universe of delicious snacks. Every neighborhood has the basic staples — flavored popsicles, frozen and flattened bananas with crushed peanuts, and a plethora of processed chips — from the corner mom-and-pop convenience stores. Right in front of the hẻm, there might be a vendor or two serving up steamy portions of the "Saigon classics" — my personal moniker for cơm tấm, phở, and hủ tiếu, the holy trinity that has dominated the city's food scene since the beginning of time, and for good reasons too.
These establishments, along with any other household in the alley that's entrepreneurial enough to start doling out food from the comfort of their own home, form the culinary pillars of every hẻm. As dependable as a bowl of phở might be on a rainy day, every now and then one starts yearning for a change of flavor. Thus, a population of passing vendors, who are as diverse in their origin and as are in the kind of delectable morsels they offer, present the perfect solution for any Saigoneer's peckish afternoons.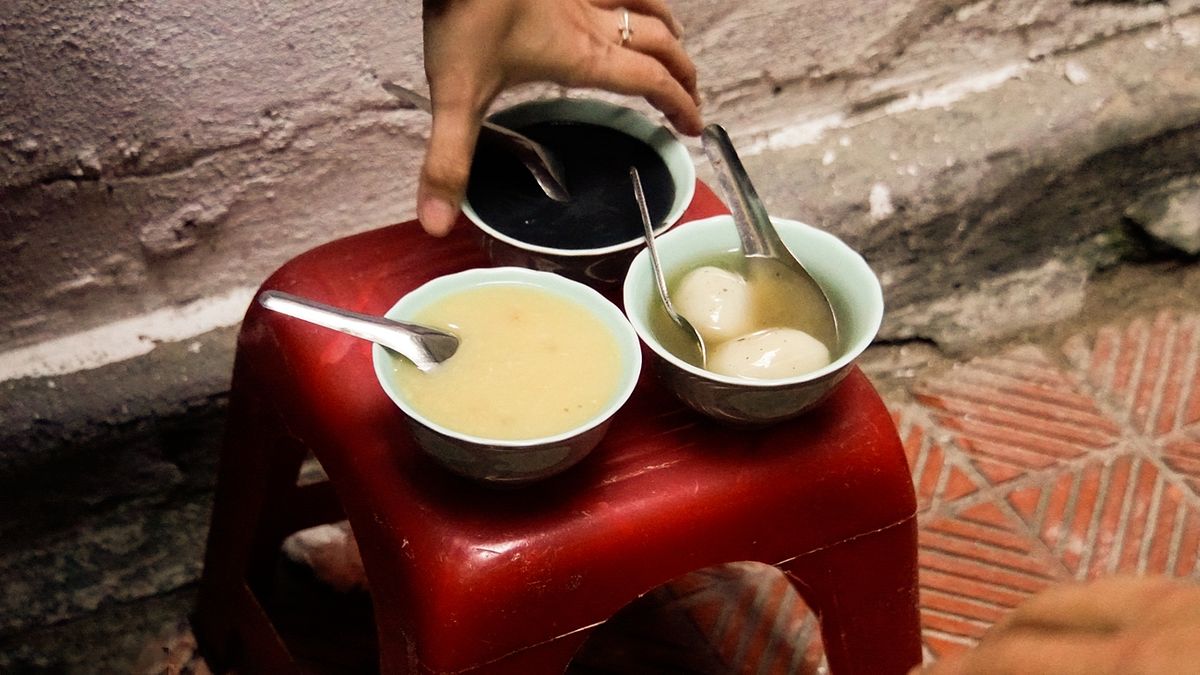 When I was a wee schoolboy, the hẻm's snack schedule was such: the bean curd lady came almost every afternoon, except when it rained. The Hoa Vietnamese cô, on the other hand, didn't just serve black sesame chè but also a handful of other Chinese-inspired sweet treats. She would visit whenever she damn well liked and your opinion of her routine was irrelevant. They all came and went like the wind, a delicious, fragrant, tantalizing wind.
Chè mè đen, or black sesame soup, is not a fancy dessert; it doesn't feature much of anything else aside from its unique viscous opacity. Served hot in a clay bowl with the tiniest tablespoon you'll find, every spoonful of the black soup goes down your esophagus like an embodiment of smoothness itself. The aroma of black sesame and a tangy whiff of pandan fills your nostrils, drowning out the discordant commotion that often goes on in the hẻm.
My mother calls the ebony soup chí mè phủ, which sounded as strange then as it does now. I've recently learned that she butchers its real name, chí mà phù (zhi ma hu/芝麻糊). Hu means grind and zhi ma is black sesame. The name is self-explanatory: to make the soup, one lightly toasts the tiny seeds and then grinds them into a paste. The degree of coarseness in this step dictates the later texture of the dessert.
Cooks also incorporate rice grains to add a subtle richness that enhances but doesn't overpower the chè mè đen. To get the sweetness, traditional Chinese cuisine swears by rock sugar — đường phèn in Vietnamese — a cruder, less processed form of sugar while those in Malaysia or Indonesia sometimes opt for gula Melaka, a form of local palm sugar. Both achieve the purpose of sweetening the soup, but in careful moderation.
Served hot in a clay bowl with the tiniest tablespoon you'll find, every spoonful of the chè mè đen goes down your esophagus like an embodiment of smoothness itself.
On the other end of the spectrum, tàu hũ's simple whiteness was brought to me on a regular basis by a lady from the Mekong Delta. To be honest, I picked the two dishes for this feature based on the sheer contrast in colors between them. At the core, they resemble each other a lot, perhaps not in ingredients or crafting techniques, but in spirit, as rustic street snacks that are loved for their taste sans bells or whistles. Like chè mè đen, tàu hũ is woefully un-Instagrammable (yes, that's a word now, unfortunately).
The lady who used to sell us tàu hũ, or bean curd, was petite and world-weary. Like a sterling street acrobat, she ferried around her "shop" by balancing two baskets — one in front and one in back — from a bamboo yoke. The front basket housed a giant metallic pot containing the bean curd, kept warm by a bed of hot coal beneath. The back basket contained the rest of the accouterments: ceramic bowls, a precious pot bucket of water to wash rinse the cutlery, and even a small plastic stool.
Amid Saigon's searing heat, it might be ludicrous to tout the merits of hot desserts like black sesame soup or hot bean curd, but these warm bowls of sweetness are godsends during those rare chilly days. In Saigon and most of Vietnam's southern provinces, each bowl of tàu hũ is enjoyed with soft slabs of bean curd in a warm, syrupy ginger broth and a generous ladle of coconut milk.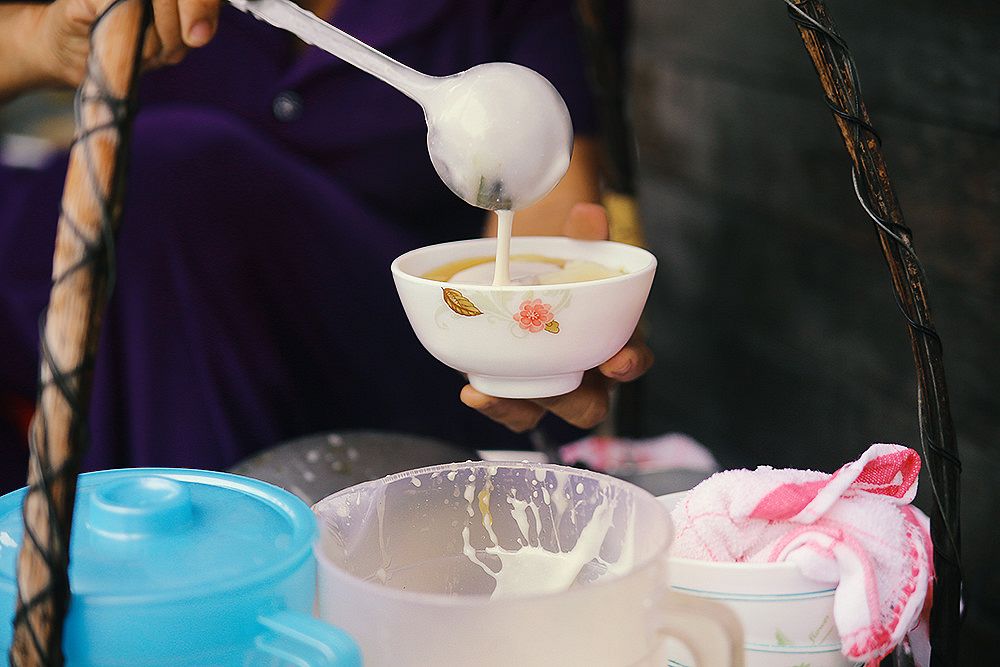 If you ask nicely, the lady might even add a few slices of sweetened ginger from the broth on top. I live for that shit: after a while in the broth, the heat and syrup have worn away the sharpness of the root, leaving behind slices of amber, semi-translucent ginger that's perfect for munching.
As you travel up the length of Vietnam from Saigon to Huế to Hanoi, tàu hũ also takes on different costumes, although the essence remains. Huế residents call bean curd đậu hũ, and like to have their dessert with crushed fresh ginger and sans coconut milk. When it reaches Hanoi, the soya bean dessert is known by the name tào phớ.
Tào phớ is huge in Hanoi, where vendors pride themselves on their decades selling the dessert on the capital's busy streets. Traditional bean curd in the city is served with a light sugar syrup perfumed by fresh jasmine blossoms and a few toppings like tapioca pearls and green jelly.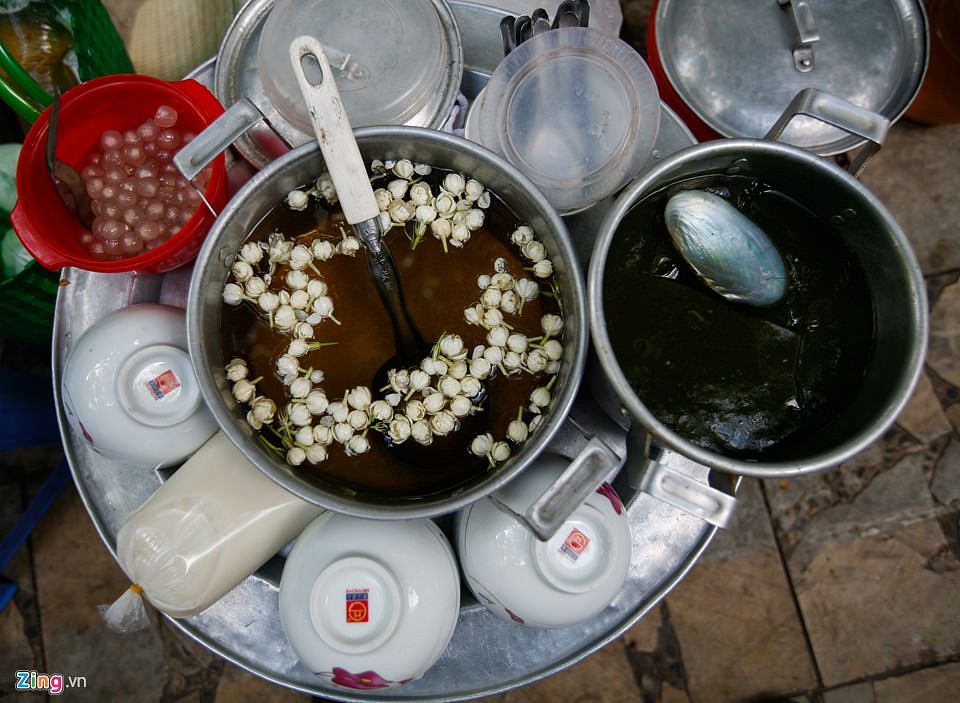 Once one reaches puberty, apart from learning about the birds and the bees, young Saigoneers also eventually learn that mom-and-pop shops close and milk tea parlors open; and that sometimes, street vendors go and don't come back. Maybe they've moved up the ladder and found a better paying career or married rich and moved to California to open a nail shop. At the end of the day, closure is not always guaranteed in Saigon, but most can take comfort in the fact that if a vendor goes, another will come into your life soon enough.
I haven't met the black sesame soup lady or the bean curd lady again for years, but that's okay — such is the nature of Saigon's cycle of street vendors. I'm now very happily settled with a new lady that sells delicious and hygienic bánh tráng trộn, a stone's throw from my house, and a bò bía uncle that gives me extra sauce every time.