With International Labour Day fast approaching, I'd like to take this opportunity to sing the praises of one of my favourite places in the city: Hồ Bơi Lao Động, also known as the Labour Swimming Pool. Nestled inside of the Labour Culture Palace on Nguyen Thi Minh Khai, and with another entrance on Huyen Tran Cong Chua behind the Reunification Palace, it's an absolute gem.
There are two reasons why I love the place. Firstly, you are literally swimming in history. The Labour Culture Palace was originally called Le Cercle Sportif Saigonnais (The Saigon Sports Circle), and was founded at the very end of the 19th century, with the swimming pool added in 1933 – at the time this was the only pool in the city. The place was a popular hangout for members of Saigon's colonial regime – French officers and local elites alike.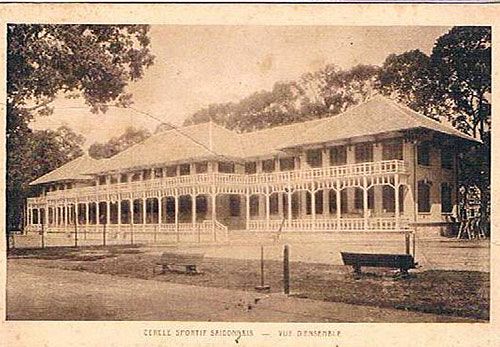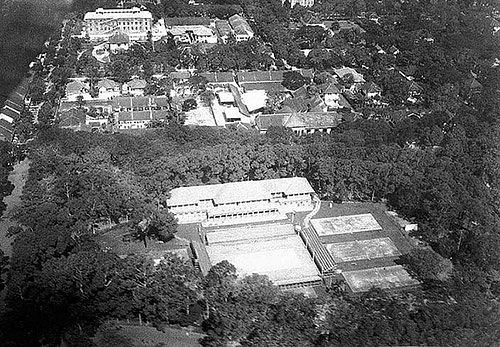 The high opinions that these people had of themselves was reflected in the place's grand architecture, and this atmosphere is still felt today. Of course, it is no longer pristine, but the crumbling facades and cracked verandas are beautiful in themselves. Beautiful because they are real - a historical relic that has been lived in, and continues to be, and reminds us that we are but a small part of history. Looking out from one side of the swimming pool you can see the old sports house – again, an ageing building with a sense of living history. From the other side, you can see the Bitexco Tower rising in the distance – a reminder that Ho Chi Minh City is changing fast.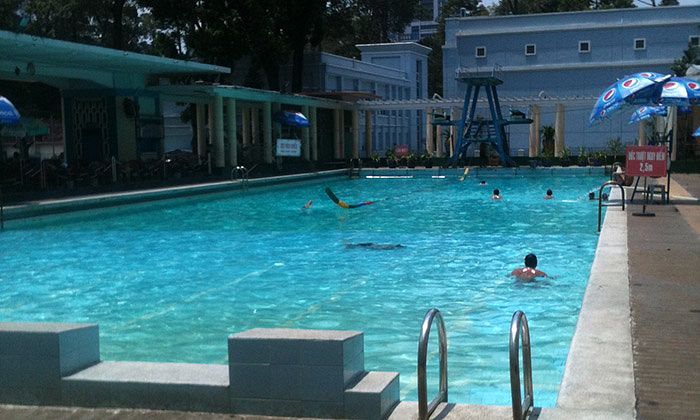 Le Cercle Sportif Saigonnais closed in 1975, but reopened a couple of years later with its current name and administration. And we should be thankful that it continues to be run in the same place, in the same buildings. The experience of being a part of living, breathing history is exciting and valuable It is so much better than the city's current craze for shiny, new, whitewashed buildings, which try to deny any sense of the past. And swimming in the Labour Pool provides a welcome relief from the seemingly systematic destruction of historic sights and buildings in the city.
The second reason why I love this place is because it's owned and run by Vietnam's trade union confederation, the VGCL. I've never known of a trade union owning a swimming pool before (although it may exist elsewhere). And we all know that supporting workers' movements is one of the most important ways to try and fight for equitable development. So, this labour day, why not celebrate the achievements of labour movements worldwide by having a swim?
If you have an article you'd like to contribute to Saigoneer, email: contribute@saigoneer.com.