Life moves pretty fast in Vietnam. What's here today may be gone tomorrow and, two years from now, replaced with a skyscraper or a hotel or a high-end shopping complex. Everywhere you turn, it seems, the country is changing.
---
Related Articles:
- 21 Beautiful Photos Of 1961 Cho Lon
- 17 Rare Photos of Vietnam Taken 120 Years Ago
- [Photos] Remnants Of Old Saigon

---
But for all the drastic transformations that Vietnam continues to undergo, there's much that remains the same.
Twenty-five years after his first trip to Vietnam, Belgian photographer John Vink echoes this sentiment. "Obviously, the big change [since 1990] is the improved economic situation [and] the galloping development," he tells Saigoneer via email. "It is as if there is a layer of glitter and development on top of a country deeply rooted in its origins...basically, I feel that not that much has changed, as there still is the usual messiness and confusion in the streets as before."
A freelance journalist since 1971 and a Cambodian resident since 2000, Vink first came to Vietnam in 1990 on assignment for director Régis Wargnier's upcoming film Indochine, the 1992 flick starring Catherine Deneuve.
In order to prepare for the film, Wargnier was seeking images of Vietnam, which were hard to come by at the time. For this reason, Vink set off on a month-long journey across the country, photographing the daily lives of Vietnamese during a crucial time in the nation's history.
"[Wargnier] saw my images on Cambodia," he explains. "[He] then simply gave me a plane ticket to Hanoi, put me in contact with the Vietnamese Film Institute, who would provide all the assistance I would need, like a guide/interpreter, a car (a pale blue Russian Wolga with curtains on the back window) and a (very bad) driver. They were paid by the film production. My instructions were simple: 'carte blanche' during a one-month trip from north to south Vietnam…did I mention this was a dream assignment?"
The resulting series of black-and-white photos is a brief but personal look at Vietnam during a specific moment in time. In the cities, students race by on bicycles or gather in parks. In the countryside, traditional ceremonies and daily rituals coexist alongside one another. But for Vink, one memory stands out in particular:
"At the beginning of the trip I told [my guide/interpreter]: 'I want to see everyday life in Vietnam. People working, having fun, I want to see weddings, childbirths, cultural events, political events, markets, business, everything.' In that list, I also mentioned 'funerals'.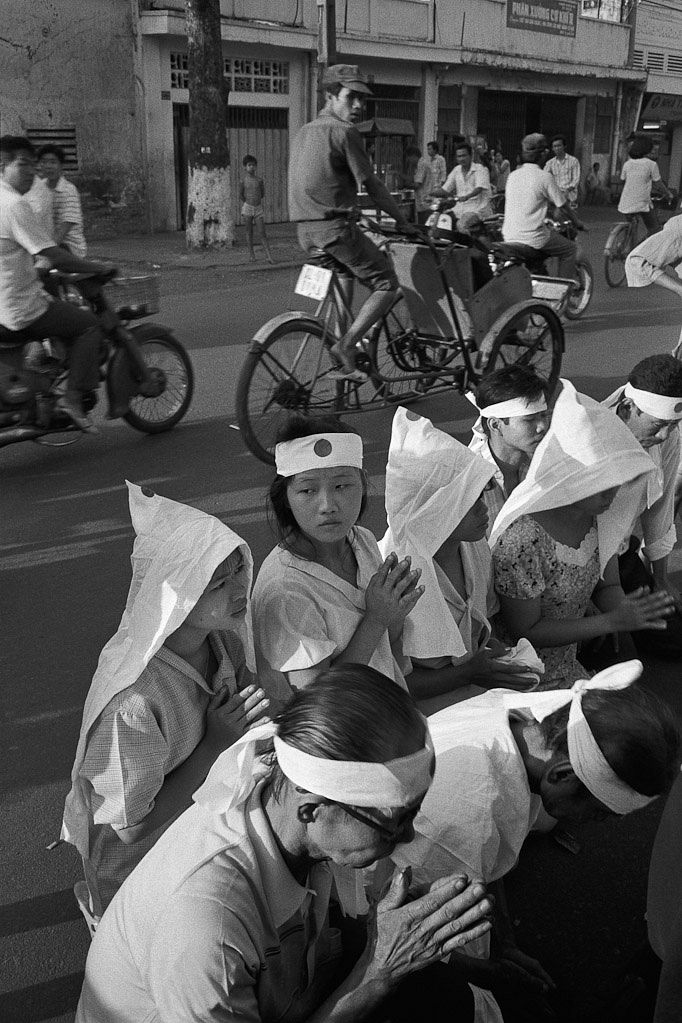 "As we were nearing the end of my stay, we still hadn't encountered a funeral and my guide was getting rather nervous about it. Much more than me, in fact. On the way back from the trip to the Chinese border, I spotted a crowd in the distance and asked my guide what this was about. He jumped up and yelled: 'A funeral, a funeral! There is a funeral!' I never saw anyone so happy to see a funeral. As it turned out, it was a funeral in a Catholic community. It was very touching, they hadn't seen a priest in years."
Below are a collection of Vink's photos from that 1990 trip, offering a little insight into just how much has changed in Vietnam and how much remains the same.