Despite predictions that Vietnam risks losing its entire elephant population within a decade, there is still hope as one elephant is set to give birth around the end of this month.
Ban Nang is the first domesticated elephant to become pregnant in thirty years in Vietnam. According to Dan Tri, owner Y Mu Bkrong announced that during her pregnancy, the 38-year-old elephant has been relieved of her working duties and moved to a quiet forested area to relax. She is likely to give birth naturally in the coming weeks.
Y Mu Bkrong also said that Ban Nang used to be cared for by another female elephant, H'Ban, who was relocated. However, the Dak Lak Elephant Conservation Center (ECC) made an arrangement with H'Ban's new owner, and she has been hired as a nanny of sorts for Ban Nang. Last month, Y Mu Bkrong received US$7,500 to care for the elephants.
Deputy Director of the Dak Lak Department of Agriculture and Rural Development Vu Van Dong claimed that this is "a positive sign for elephant conservation work."
The future of Vietnam's elephant population remains a lingering concern, as both wild and domesticated elephants are on the brink of extinction.
The Vietnam Elephant Initiative reported that only roughly 100 elephants remain in the country, about forty of which are wild spanning five different herds. The remaining sixty or so are held in captivity. "Genetic isolation, deforestation, and human-elephant conflict are serious problems in Vietnam and a continuous threat to the remaining populations of wild elephants." Due to lack of education, many of the elephants suffer from poor health and dangerous solitary living conditions, as opposed to their natural inclination to live communally.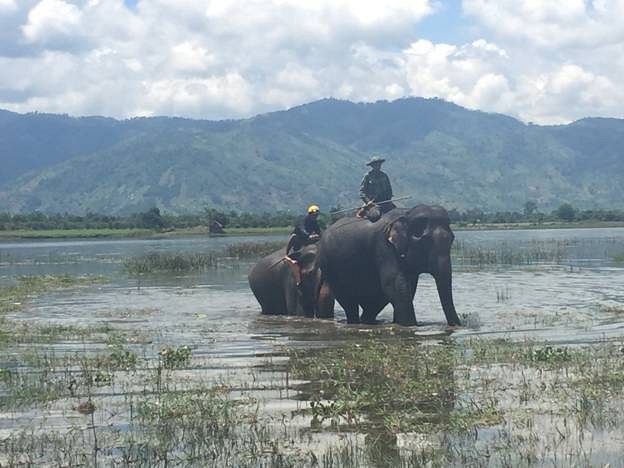 Georgina Allen, project director for Wild Welfare said: "The situation in Vietnam needs urgent action. Wild elephant populations have declined at an alarming rate and individual captive elephants used in the tourism industry can routinely suffer from lack of appropriate care."
Recently, the United States pledged US$24 million to conserve Quang Nam Province's last remaining wild elephants.
The ECC, founded in 2011, and elephant owners have both expressed a commitment to improve the current practices in order to give the remaining animals a better quality of life and to possibly encourage a new generation of elephants.
[Top photo via The Wire]
---

Related Articles:
---