Vietnam's festive shenanigans to celebrate the country's U-23 team range from internet memes to excessive flag-waving to an impromptu bikini show, courtesy of budget carrier VietJet Air.
Last night, the entire country went all out, quite literally, to welcome Vietnam's U-23 football players home from weeks of battling it out in the Asian Football Confederation (AFC) U-23 tournament in China.
Less than a week ago, after Vietnam achieved a shocking win over Qatar in the semifinals, VietJet announced that the company would delegate a separate plane from its fleet to transport the entire U-23 team and supporting personnel back home. However, little did anyone know that the pleasant gesture would result in yet another inappropriate in-flight bikini show.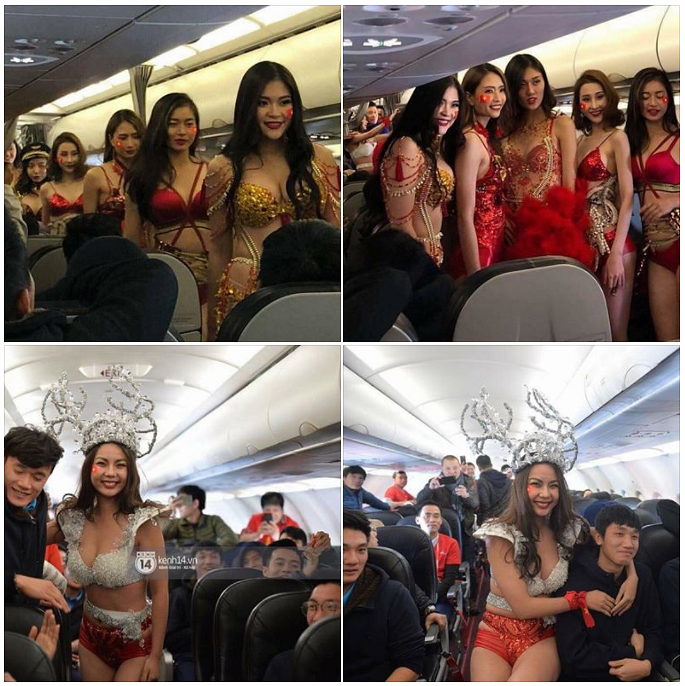 Photos of the risqué performance began to surface shortly after the plane ferrying the U-23 team touched down at Noi Bai International Airport in Hanoi. The album, originated from local model Lai Thanh Huong's Facebook account, shows the players looking uncomfortable as they are surrounded by a gaggle of models in sparkly swimwear.
The scandal evoked unanimous disgust from netizens nationwide, who called the alleged marketing move by VietJet "nauseating" and "insulting." VietJet is no stranger to such vitriol, having caused a commotion in 2014 with a similar stunt. However, this time nobody was amused by the cheap antics, especially in the context of celebrating the U-23 players who are now widely considered to be Vietnam's national heroes.
A few hours later, VietJet posted an official statement on its Facebook page, signed under the name of CEO Nguyen Thi Phuong Thao.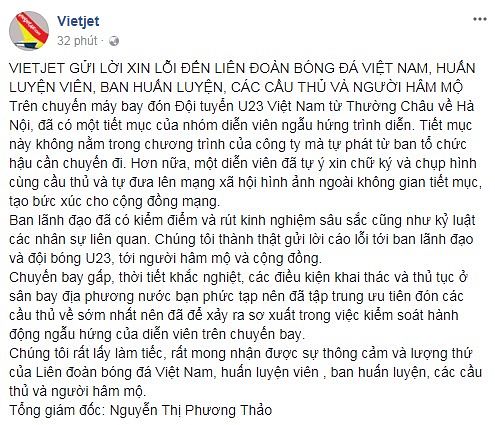 In the post, Thao apologized to the team and Vietnamese football fans all over the country for the bikini show. However, she asserted that the stunt wasn't a planned performance by her company, but "an impromptu celebration by [the] trip's organizers."
Moreover, she maintained that VietJet had nothing to do with the photos as they were "intentionally leaked by an actress to local social media platforms." Thao also mentioned bad weather and the rushed timeline of the flight as the reasons for letting the bikini scandal happen.
The statement was also met with overwhelmingly negative responses from netizens because, to be honest, how dumb does she think we are? A call to boycott VietJet has been going around on the local cybersphere ever since.
"Such an insulting apology! If [the bikini show]'s unplanned, could the models even bring the costumes and props illegally on the plane from the airport?" Tran Hieu, a Zing reader wrote. "Is our aviation security that loose?"
At the time of writing, the apology note has been removed from the page and the Vietnamese brand page of VietJet also disappeared from Facebook.
[Top photo via Kenh14]
---

Related Articles:
---