Rare lumber is being used for construction that is underway on a pedestrian area along the Perfume River.
In an effort to boost tourism to Vietnam's former capital of Hue, a four-meter-wide, 380-meter-long road is being built along the southern bank of the river, according to VnExpress. The new road will connect the existing Nguyen Dinh Chieu Walking Street with Ly Tu Trong Park when it is completed by the end of 2018. It had originally been scheduled to start in July 2016 for the 10th Hue Festival this April.
This new walking street is the first part of a project to improve tourist offerings along the Perfume River that includes new and renovated parks, an outdoor stage, commercial buildings, and sightseeing spots. It is ultimately expected to cover 840 hectares (2,070 acres) on both sides of the river. The project is co-chaired by the city and the Korea International Cooperation Agency, which contributed US$6 million.
However, the project is receiving criticism for the timber laid atop concrete pillars planted into the riverbed. The planks are made of gỗ lim (Erythrophleum fordii), which is listed as endangered by the ICNU Red List of Threatened Species. The hardwood trees' natural range extends from the border of China to Quang Nam Province. While plantations were established in the 1950s, demand still outpaces what can be sustainably sourced.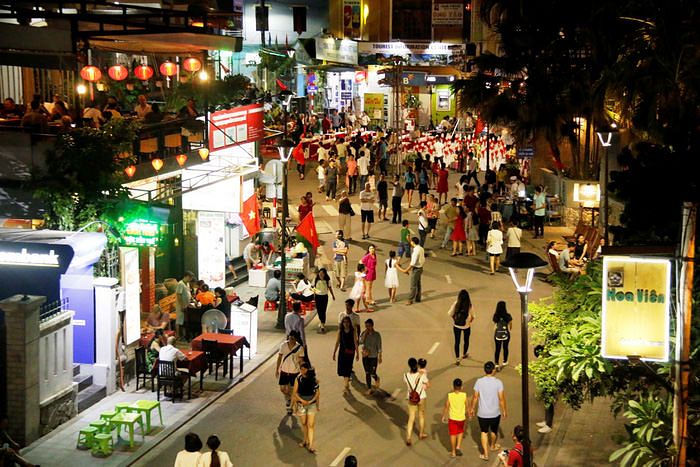 Nguyen Dinh Chieu walking street is also expected to connect to a new weekend pedestrian zone that opened in the city last September. It includes Pham Ngu Lao, Vo Thi Sau, and Chu Van An streets, which close for pedestrians every weekend from 6:00 pm to 2:00 am on Friday and Saturday evenings and from 6:00 pm to midnight on Sundays. The quickly dubbed "backpacker quarters" features live music performances, street food, and portrait painters.
A video feature by VnExpress shows the raucous atmosphere filled with Vietnamese youths drinking beer, backpackers strolling with banh mis in hand, store mascots gyrating to EDM, and traditional performances put on by costume-garbed musicians.
[Top photo via VnExpress]
---

Related Articles:
---