In April 2010, a ranger in Dong Nai Province's Cat Tien National Park found a rhino skeleton with its horn chopped off. Illegal poachers had killed the last Javan rhinoceros on mainland Southeast Asia.
"It began around 2011 when I came upon an article in one of the local newspapers about the skeleton," Tuan Andrew Nguyen tells Saigoneer, recalling what led him to start research for "My Ailing Beliefs Can Cure Your Wretched Desires." In his ongoing research and work, Nguyen explores the implications of humans' archaic beliefs in mythical healing – beliefs which have allowed humans to become violent towards nature.
The horned mammal's demise is the focal point of his latest exhibition, "Empty Forest," the second phase of "My Ailing Beliefs." It turns the exhibition floor of The Factory Contemporary Arts Center into an otherworldly landscape of lifeless animalistic forms. The sculptures of the animals embody both the familiar and the peculiar, retaining the most recognizable body parts of rare creatures while amalgamating them with industrial elements. Their muted, monochromatic exteriors are in stark contrast to the eerie purple neon light permeating the space.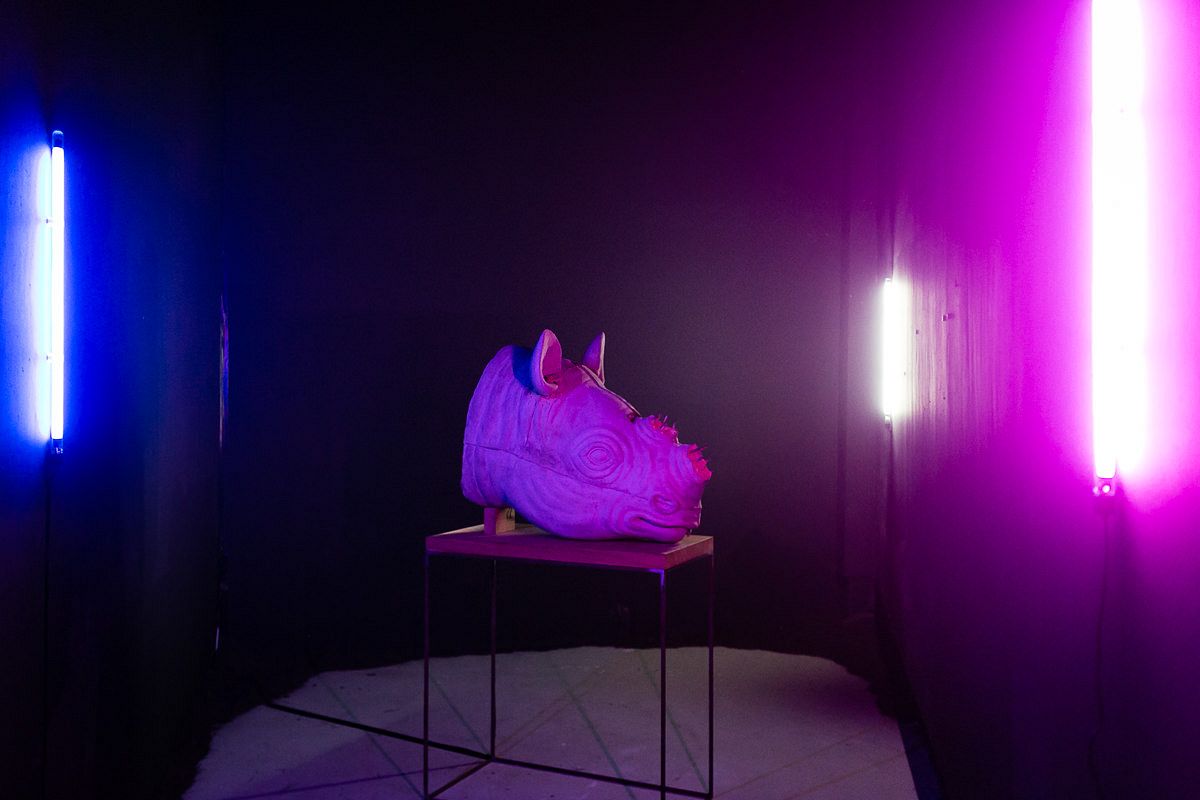 On the walls behind the sculptures, visitors find photographs of the animals, replicas and skeletal remains, a fascinating juxtaposition between the reverence for and destruction of wildlife.
At one end of the hall, a video displays an alternate reality in which Vietnam's last Javan rhino has an afterlife conversation with Cụ Rùa, the sacred turtle from Hanoi's Hoan Kiem Lake, who died in 2016. Against a cascade of discordant music, the two drifting spirits reflect on the near-extinction of their own species and others at the hands of humans as well as their boundless sociopolitical, economic and spiritual desires.
Nguyen was born in Saigon and grew up in the United States with his family. In 2004, he returned to Saigon to spend time with his maternal grandmother, with whom he bonded over a mutual love for humanities and the arts. He has been based in the city ever since.
During his time in Vietnam, the founder of The Propeller Group and co-founder of San Art has found himself fascinated by stories he reads about the consumption of rare animal parts by local people, and their inclination to venerate these items.
"I am interested in objects that have had lives and/or been given a 'life' from our 'worship'", Nguyen tells Saigoneer via email.
The artist embarked on his research project by reading articles and books, browsing databases, visiting museums and corresponding with sources such as rangers at Cat Tien National Park or restaurants that serve rare animals.
The exhibition borrows a term coined by Kent H. Redford in his 1992 article "The Empty Forest." The phrase refers to ecosystems that, despite having fully grown trees, are void of large mammal species due to hunting, poaching, and rampant deforestation.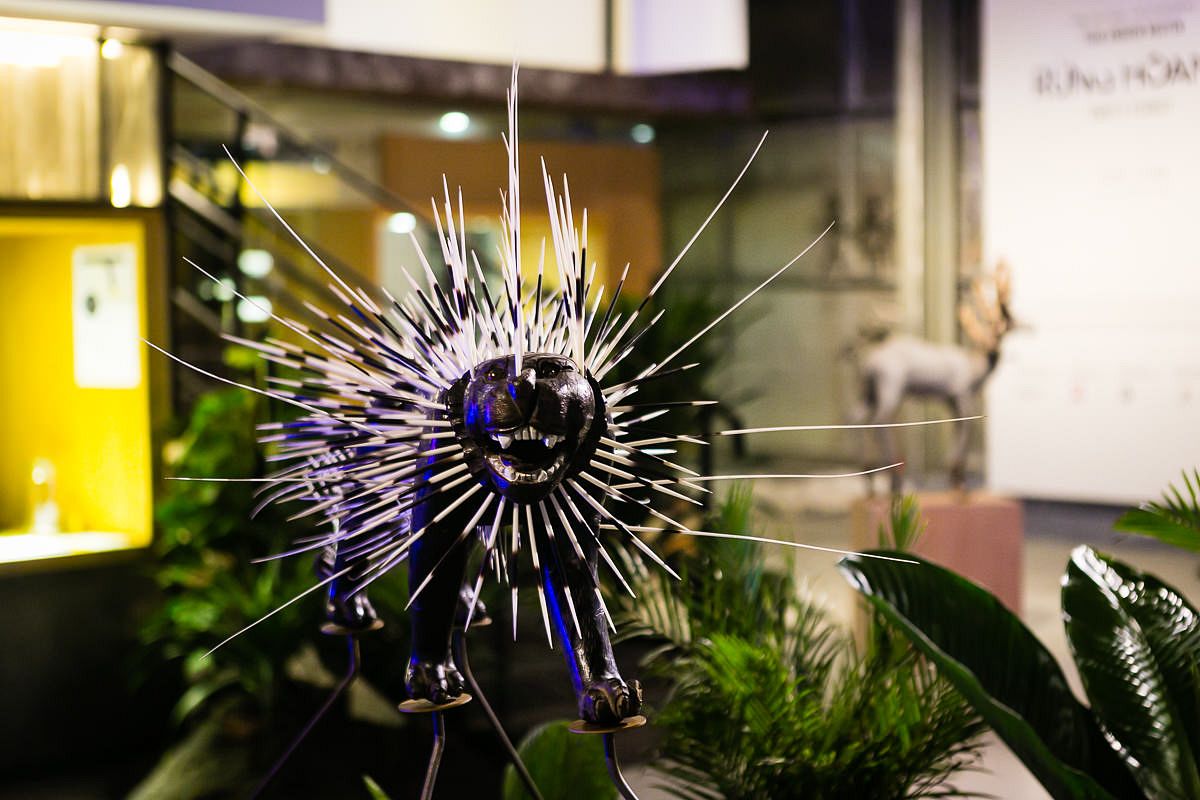 "Vietnam is one of few places on the planet with such high levels of biodiversity and yet has one of the highest rates of animal extinction among all the nations of the world," Nguyen elaborates.
According to the Climate Change Resilience Center, a Hanoi-based environmental NGO, Vietnam is among the top 30 countries in terms of decreasing mammal, bird, and plant species.
Nguyen attributes this irony to the human obsession with worshipping and consuming animals. At an artist talk for the exhibition, he drew attention to the concept of pleonexia – a form of avarice that transcends mere greed – and pointed out that even when scientists discover new species, the discovery is often framed to show how it could benefit humans financially.
Indeed, the exploitation of nature by man is nothing new. For millennia, humankind has turned to animals for food, clothing, entertainment and much more. While acknowledging all these needs and desires as factors impacting natural resources, Nguyen highlights a particular endemic in Vietnam: traditional medicine practitioners claiming that the body parts of certain rare animals can cure diseases and improve health. Demand spurred by these beliefs has helped cause populations of important species such as the Indochinese tiger, Javan rhino, and Asian elephant to plummet.
"[The killing of the last Javan rhino in Vietnam] is a historical moment that was made possible by a series of events," the artist recounts. In 2008, a rumor spread that an unnamed Vietnamese politician had been cured of cancer after consuming rhino horn, which is made of keratin, the same substance in human fingernails. This caused a resurgence in demand for the substance.
Despite scientific evidence that shows rhino horn has no medicinal efficacy, poachers are still hunting rhinos to supply local and regional customers. These horns fetch astronomical prices – almost US$100,000 a kilogram in black markets in Asia – and the nouveau-riche of countries like Vietnam and China are eager and able to pay for the perceived luxury.
The World Wildlife Fund (WWF) estimates that the number of rhinos poached annually in Africa has risen by 9,000% since 2007. That year 13 rhinos were killed, while in 2014 a record 1,215 were poached, largely because of demand from Asia.
The rhino is far from being the only animal whose population is fast diminishing due to the combination of misguided beliefs and growth in spending power. The pangolin, a mild-mannered mammal whose scaly exterior has allowed the species to survive for 80 million years, has fallen victim to an insatiable demand for its scales and meat.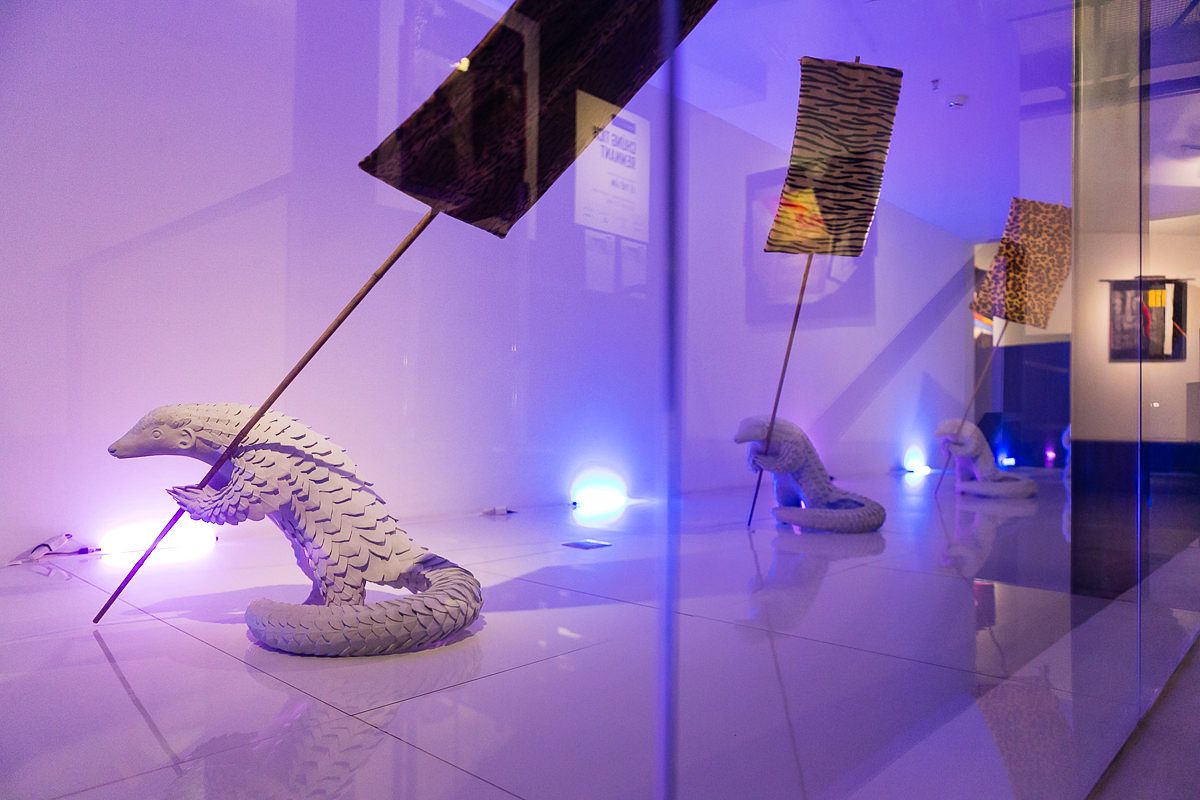 Approximately 100,000 pangolins are removed from the wild, sold for hundreds of dollars per kilo, and shipped to customers in China and Vietnam every year. These consumers consider their meat a luxury and hail their scales as a cure for all kinds of ailments.
In a 2014 op-ed for CNN, John D. Sutter, a senior investigative journalist at the news organization, noted that the Vietnamese government had banned the use, sale or possession of pangolins. However, due to inadequate enforcement, there are still restaurants where pangolins are served in numerous dishes. At these restaurants, staff members slaughter pangolins right in front of customers to ensure freshness and authenticity.
Thanks to donations from readers of the op-ed, a PSA commissioned by Education for Nature Vietnam was broadcast on 60 national and provincial television channels across the country to raise awareness of the illegal nature of the pangolin trade, and the necessity of conserving the mammal. Despite this effort, the global status of pangolins now ranges from vulnerable to critically endangered.
Nguyen further discusses another facet of humans' relationship with the natural world while explaining his work.
"We consume the image as much as the animal," he says. He emphasizes the human tendency to view animal forms as a type of beauty that can be both utilized and revered, citing animal prints on clothing and animalistic decorative artifacts as examples.
He draws a parallel between the way humans have combined parts of real animals to create mystical creatures to worship – such as the dragon or the kirin (a deer-like animal with a dragon's head) – and the way people find themselves subscribing to unfounded beliefs that certain animal parts will heal them.
"There is a way we worship and a way we consume animal forms that operate similarly," he says.
The artist also believes that the propensity to impose a human system of morals and ethics onto animals, or anthropomorphizing them, allows us to judge them in a negative light when their behavior does not comply with our worldview, which then leads to the justification of their killing.
"It creates a relationship with animals that drives us to consume them, and I want to destabilize this relationship," Nguyen shares, explaining why he has chosen to mutate animal forms in his sculptures.
To create these bizarre transmogrifications, Nguyen worked with a factory in southern Vietnam that makes concrete animal statues to display in parks or residences. For certain statues, before they were completed, Nguyen intervened by adding parts from humans or other animals, or by introducing industrial components like metal and concrete.
For instance, 'Headlights and Sirens' features the cement body of a deer sporting antlers made from plastic human hands mounted on metal wires. Its hooves, meanwhile, have been replaced by plastic toes.
Nearby, at the center of 'You Don't Need Cages to Keep Things From Flying' stands an eagle whose wings have been replaced with loops of metal wiring sprouting from its torso, holding the bird in captivity.
Certain sculptures were also fashioned from found objects. One such example is 'Laws of the Jungle', where artificial porcupine quills are evenly inserted throughout the surface of a wooden panther that was used as a household decoration decades ago, creating a hybrid that is both and neither of the animals.
At the exhibit's artist talk, Nguyen brought up the concept of the Anthropocene, a proposed era that begins with the start of humanity's significant impact on the earth's geology and ecosystems. While debate continues in the scientific community over whether this epoch should be formally recognized, Nguyen believes that humans have physically changed how the world evolves.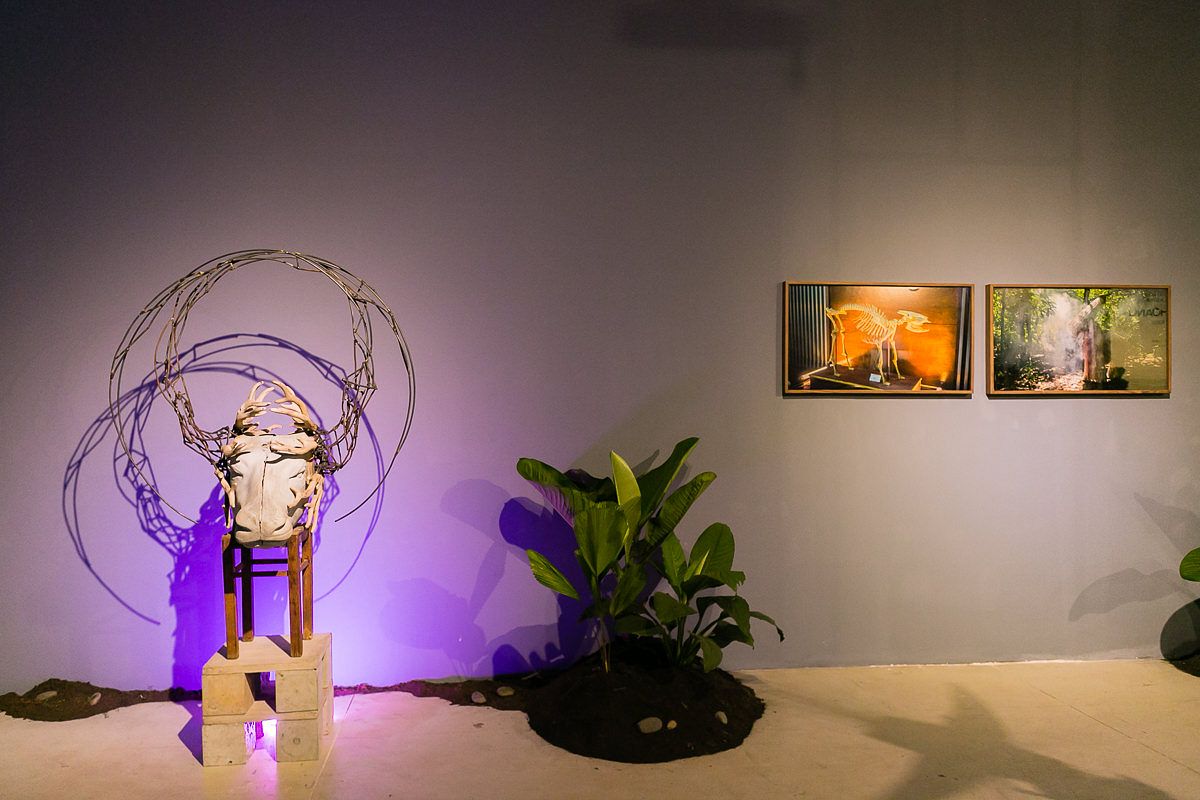 Nguyen does not seek to criticize any specific system of belief. Instead he recognizes the importance of these beliefs in Vietnamese culture and the role they have played in the country's resistance to colonial powers. However, the distorted and dismembered creatures, the harrowing and didactic conversation between the deceased rhino and turtle, and the evidence of our fixation with worshipping and consuming animals provides a bleak view of our relationship with the natural environment: an unsustainable, merciless existence that virtually guarantees the extinction of all living organisms.
"Many scientists believe we only have 100 years left as a species," Nguyen says, a view based on his research.
He hopes visitors to the exhibition will explore the sociopolitical and cultural layers behind the animal objects, and discover deeper implications beyond animal rights and protection.
"I am talking about changing the way we think and the way we live," he says.
Empty Forest is on display at The Factory Contemporary Arts Center until February 7, 2018.
---

Related Articles:
---