A new report by environmental NGO Greenpeace shows the ugly truth behind the "musical chairs" game countries are playing in the global plastic waste trade.
The study, titled "Data from the global plastic waste trade 2016–2018 and the offshore impact of China's foreign waste import ban," was released this week. As the name suggests, it analyzes how the world's major plastic waste exporters and importers have been affected by China's blanket ban on all foreign waste imports.
Greenpeace collated import-export data from January 2016 to November 2018 of the top 21 exporters, such as the US, UK and Japan; and the top 21 importers, most of which are in Asia and Southeast Asia, like Thailand, Indonesia, Vietnam, India, and more. The results show the flow of plastic waste before and after the China ban, as well as if and how importers have implemented ways to stop the subsequent flood of waste to their shores.
It all started in July 2017, when China warned the World Trade Organization that it would halt all plastic waste imports the following year. And it did: from January 2018, China has said no to a significant portion of yang laji, or "foreign garbage" in Chinese, including everything from plastics and textiles to mixed paper. Imports fell from 600,000 tons per month in 2016 to around 30,000 tons by the end of 2018.
Since then, the report shows that total plastic exports have dropped by half globally, an expected consequence considering, as of the end of 2017 before the ban, China accounted for 56% of the world's imports. Another worrying trend also emerged: the majority of plastics were instead diverted to less-regulated countries; in this case, most of Southeast Asia.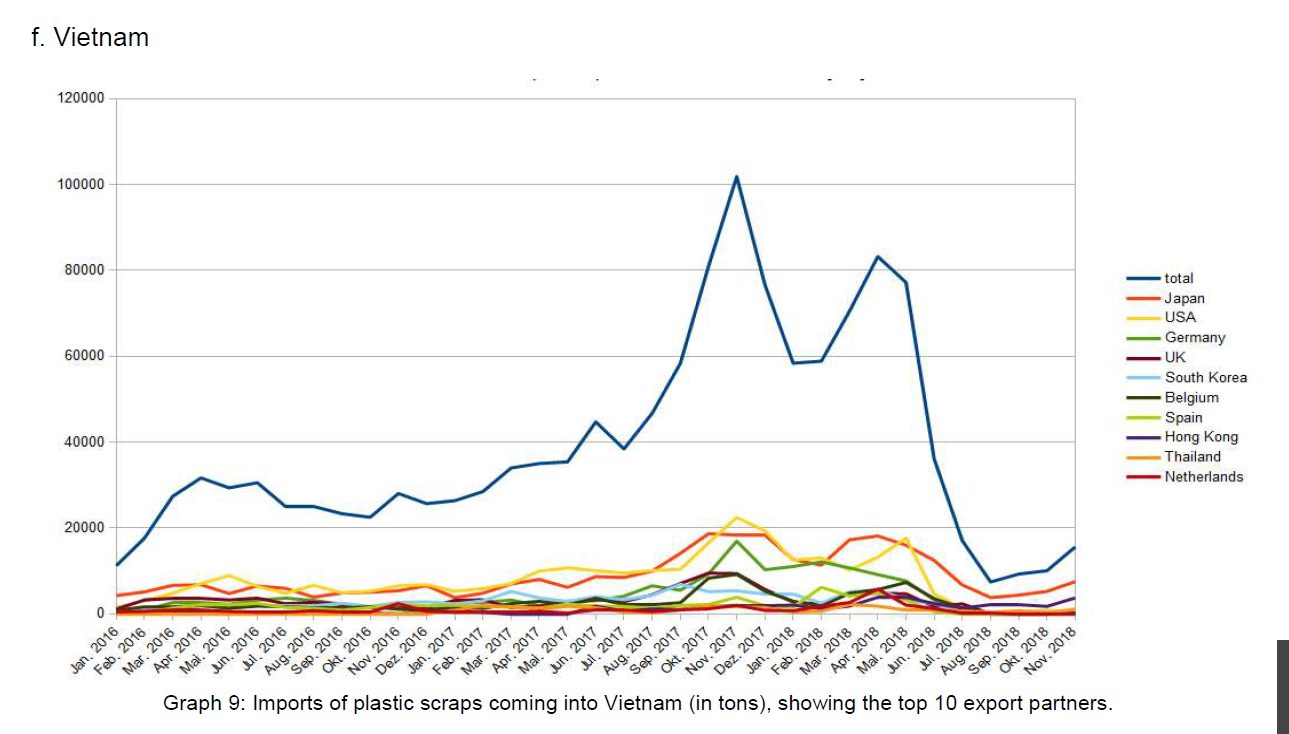 In the beginning, plastic waste arrived in Malaysia, Vietnam and Thailand. According to statistics Greenpeace compiled, Vietnam's imports started increasing rapidly in July 2017, when China made the announcement, from around 40,000 tons per month to a peak of 100,000 tons in November 2017. Imports dropped dramatically to 7,500 tons monthly in mid-2018 and picked up slightly to 16,000 tons a month in late 2018. Thailand and Malaysia also observed similar trends.
The plummeting amount of imports was a result of a government policy imposed in July 2018 that sought to crack down on illegal waste shipments, as Vietnamese ports were smothered in thousands of containers of paper, plastic and metal scrap. Vietnam also announced a stop to issuing new licenses for waste import, while Prime Minister Nguyen Xuan Phuc vowed to launch criminal investigations into those who unlawfully import plastic waste into the country. Most recently, in April 2019, the Vietnamese government declared that it's working to completely ban waste imports by 2025.
According to the Greenpeace research, Vietnam has joined China, Malaysia, Taiwan and Thailand as countries in the top 21 importers that have either placed restrictions on, or outright prohibited, scrap imports. While this is a positive sign for their residents, it also spells troubles for others that haven't yet come up with similar regulations, such as Indonesia, Turkey and South Korea.
"Once one country regulates plastic waste imports, it floods into the next un-regulated destination. When that country regulates, the exports move to the next one. It's a predatory system, but it's also increasingly inefficient. Each new iteration shows more and more plastic going off grid — where we can't see what's done with it — and that's unacceptable," Greenpeace East Asia Senior Campaigner Kate Lin explains in a press release.
[Photo/CC BY]
---

Related Articles:
---