Last week, public school students in Vietnam officially commenced the new school year. Images of neatly ironed new shirts, áo dài and schoolyards filled with children made headlines across the country, but a special set of first-day photos at a remote school in Quang Nam Province were the most talked-about in recent days.
In a feature to commemorate the first day of school, Tuoi Tre shone the limelight on a tiny school house in Tak Po Village in Nam Tra My District of Quang Nam. The region is the home of a sizeable population of Xo Dang people, an ethnic minority living along the highlands of the Truong Son Mountains.
By any measure, Tak Po is a special school. It only has a few rooms, catering to 34 students, the children of Xo Dang farmers in the area. The closest town is 10 kilometers away, but it's impossible to reach the school via car, bus or even motorbike. Tak Po's handful of teachers have to walk on foot for two hours from central Nam Tra My to work, usually bringing enough food and teaching materials to last a week before making another trip.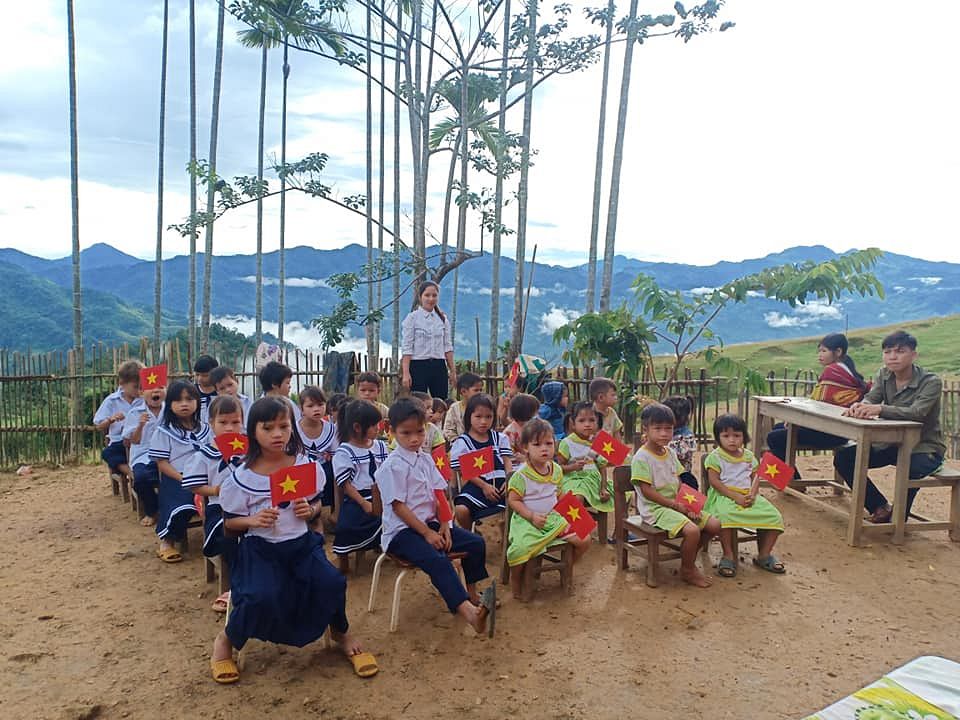 The photo shows a small new-year ceremony held right in front of the classroom. A Vietnamese flag, surrounded by paper flowers, stretches on a white background. Below, schoolchildren in a smattering of colorful clothes listen intently on rickety wooden chairs. Because the school doesn't have enough chairs, six of them have to squat on the floor at the end. The scene is a stark contrast to the festivities and lavish decorations institutions in Saigon or Hanoi employ in their ceremonies.
The photos of Tak Po were taken by Tra Thi Thu and Riah Uoi, two teachers at the school who organized the simple ceremony in hopes of creating memories for their students. Thu and Riah, however, didn't expect their casual, albeit very nicely composed, phone shots to inspire such overwhelming support.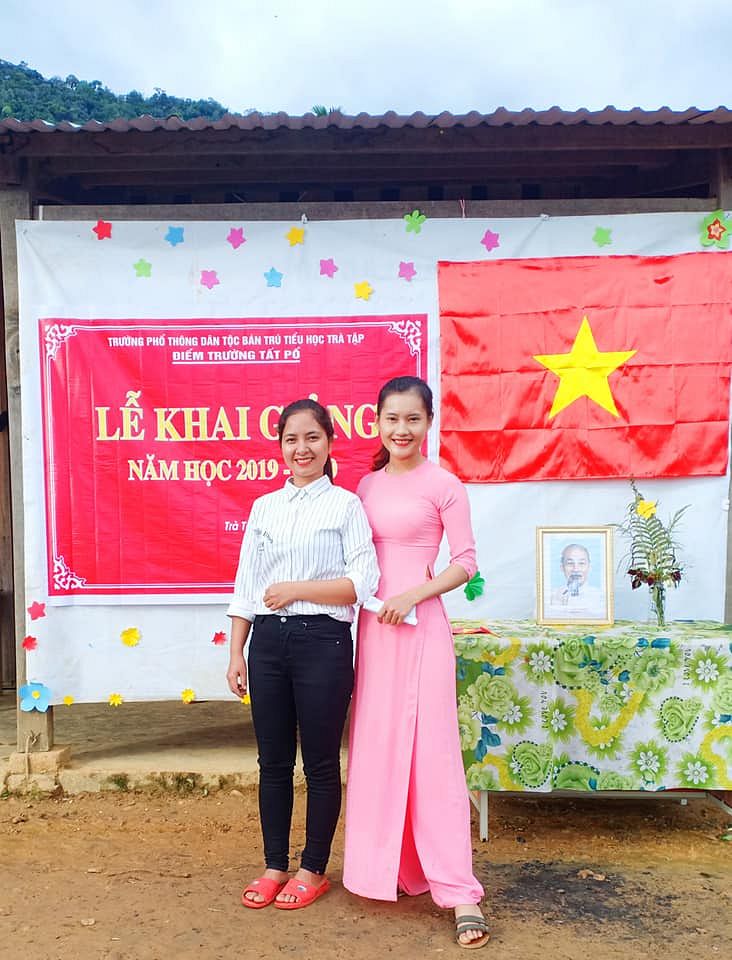 "At first I just thought that it's normal to take commemorative photos on the first day of school. Riah Uoi and I took turns taking photos of us and the kids," Thu told Tuoi Tre. "But now, the photos have traveled so far that I'm shaking just looking at them again. It's all like a dream."
According to Thu, she's been teaching in Nam Tra My for five years, but this is the first year she was assigned to Tak Po. She studied pedagogy in her hometown in Quang Nam Province and graduated in 2014. After a period of unemployment, she was a few months into a job as a factory worker when her sister, also a teacher in Nam Tra My District, asked if she wanted to teach in the highlands. Being a teacher is Thu's lifelong dream, so she accepted without reservation, despite her sister's warning about the post's challenging working conditions.
"At first, I cried almost every day, but the thought of leaving the school to return home has never crossed my mind," she reminisced. "After I finished crying, I tried to think positive thoughts. Then I visited the village to hang out with the people and the kids. Over time, I got used to it and stopped crying."
Since their story was shared on Tuoi Tre, Thu shared that dozens of teachers, parents and citizens across Vietnam have reached out to them with encouragement and support. Others have also expressed interest in constructing a new school for the community and helping out with teaching materials.
When asked what the school needs the most, Thu explained: "Both us [the two teachers] and the children don't need anything much. Because, even though the school faces hardships, it's the common situation of schools in all remote areas [in Vietnam]."
"We're content with the facility we currently have. Though it's not built from concrete, this was a gift that members of a volunteer group from Ho Chi Minh City created for us two years ago," Thu elaborated. "A sturdier school is something we don't dare to dream of yet, because I know that it's a challenge. The one thing that both local residents and I want the most is a proper road, even if just a small path for motorbikes to reach [the village]."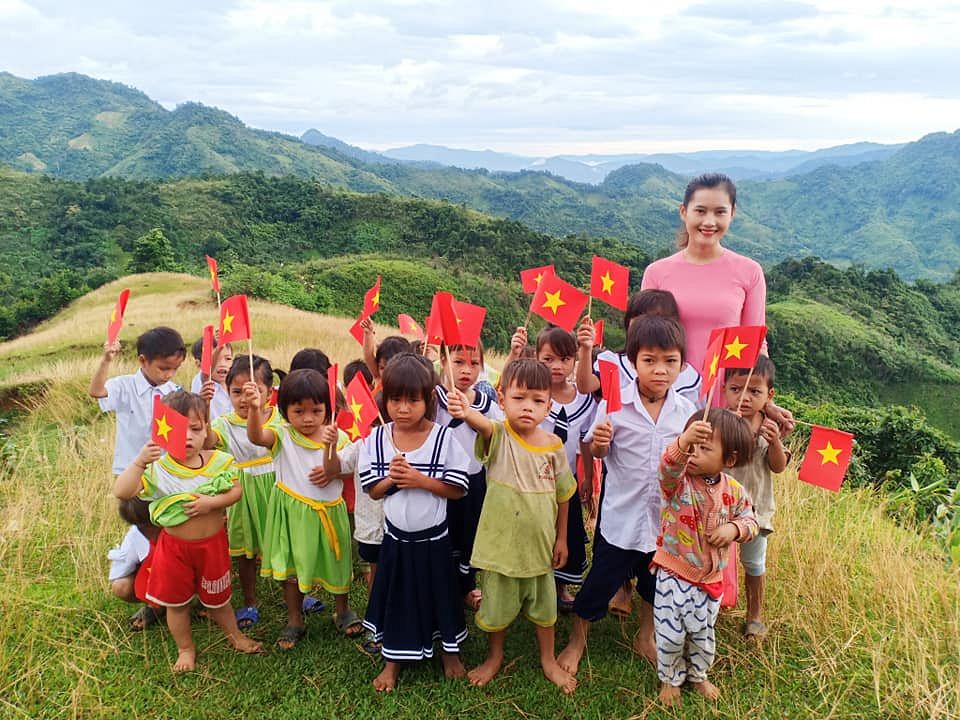 At the time of writing, a group of Asian Institute of Technology alumni has announced that they're looking into building a new schoolhouse for Tak Po. On September 11, officials from the Nam Tra My People's Committee also visited the school to give presents to the students and survey the path connecting the village with the nearest town to seek central funding for a future road. According to Chairman of Nam Tra My District Ho Quang Buu, building a proper road will not only benefit Tak Po, but also 25 other similar schools in the province's most remote areas.
[Photos courtesy of Tra Thi Thu via Facebook user Mít Pé]
---

Related Articles:
---