While the mystery surrounding central Vietnam's mass fish deaths remains, the four coastal provinces affected by the die-off are not alone in their plight, as locals in the northern province of Thanh Hoa have lost roughly 19 tons of fish after a nearby company dumped wastewater into the river.
According to Zing, dead fish had been clogging the Buoi River for days when, on May 7, a neighboring factory belonging to Hoa Binh Sugar JSC admitted it had released thousands of cubic meters of wastewater into the river.
The company's wastewater treatment facilities were not yet completed, a representative for the company told Zing, which led Hoa Binh to dump the excess from its overflowing reservoirs into the river. Though Dan Tri reporters found the company had released between 250 and 300 cubic meters of wastewater a day between March 15 and April 25, Vice Director of Environmental Protection Le Van Binh from the Thanh Hoa Department of Natural Resources and Environment informed Zing the company may have discharged as much as 2,000-3,000 cubic meters of wastewater into the river on May 3-4, resulting in the mass death.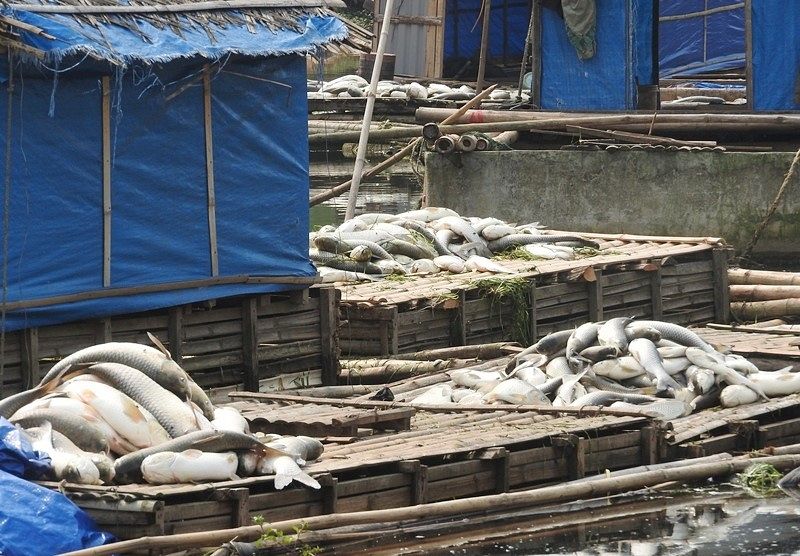 While provincial officials have ordered the company to stop releasing wastewater into the river and ordered the completion of its water treatment facility, locals are now left with no livelihood and scores of dead fish.
Authorities are now tasked with recording the damage along the river as well as destroying the polluted fish, reports Lao Dong.
For the moment, locals have been instructed not to use the river water or consume local fish. Though most have heeded these instructions, one family in the area fed its dead fish to a pig, which later died as a result, while another family consumed the fish themselves and fell ill shortly thereafter.
According to Doi Song & Phap Luat, authorities officially ordered Hoa Binh Sugar to pay damages to 34 of the fish farming families affected by the pollution. With an estimated 17,555 kilograms of dead fish, Hoa Binh are required to pay a market price of VND80,000/kg for the lost product, or over VND1.4 billion (US$62,790), by May 18 at the latest.
This is not the only such incident to take place in Thanh Hoa in recent weeks: just days after the mass fish death on Buoi River, residents along Lach Bang River also experienced a spate of pollution-related fish deaths, reports VnExpress.
[Photos via Zing]
---

Related Articles:
---