If you didn't know what the phrase "10-meter air pistol" meant before this weekend, you're not alone.
Now, however, most people living in Vietnam have no excuse. In case you live under a rock and missed the news, Vietnam won its first-ever Olympic gold last weekend thanks to shooter Hoang Xuan Vinh, who edged out his Brazilian competitor by just .4 points on the last shot in the men's 10-meter air pistol.
This is an impressive feat on its own but, according to Tuoi Tre, Vinh's victory is made all the more remarkable by the fact that the world-class shooter is short-sighted and trained for the competition without bullets.
Due to the high cost of ammunition, Vinh and his teammates seldom have the opportunity to practice with actual bullets. Nguyen Tan Nam, head coach of Hanoi's shooting team, told Tuoi Tre that his squad of roughly 100 shooters had not "heard the sound of gunshot for ages".
"As there is no ammunition, every day when they come here for training, the shooters just raise the gun, pull the trigger to hear the 'tick' sound, and that's all," he told the news outlet.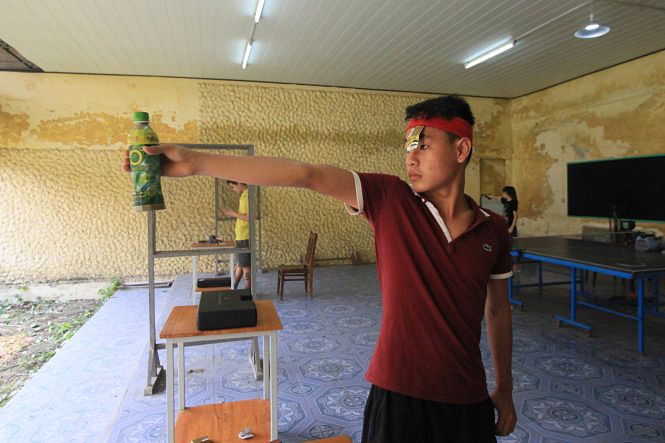 For Vietnamese shooters, ammunition is only used by those training to attend competitions. In preparation for the Rio Olympics, Vinh and his teammate, Tran Quoc Cuong, were given 100 rounds a day, however one member of the national shooting team who wished to remain anonymous told Tuoi Tre that the ammunition shortage has grown particularly dire in recent times.
"That a team has not had a single bullet to practice with for a whole year is unprecedented," the athlete said, according to the news outlet.
While this shortage makes training difficult, it also presents a challenge for coaches.
"The biggest headache is that as the athletes train without bullets, we cannot evaluate their skills and ability," head coach Nam told Tuoi Tre.
While this isn't great news for Vietnam's nationally ranked shooters, it certainly makes Vinh's accomplishment even more extraordinary.
[Photo via Thanh Nien]
---

Related Articles:
---