Vietnam is one step closer to breaking out in đi bão bedlam.
The men's U-22 team has advanced to the Southeast Asia Games semi-finals after scoring a draw against Thailand last night, while the women's crew cruised into the finals after coasting past the Philippines.
In the final game in the group stage, Vietnam only had to come within one goal of Thailand to advance, but went down by two to the defending champs early on. A precisely-placed header from Nguyen Tien Linh in the 15th minute and a picturesque penalty shot again from Linh in the 71st minute tied it up. The game ended in a draw, which was enough to send Park Hang-seo's squad to the semi-finals, where they will square off against Cambodia tomorrow, November 7, at 7pm.
Quang Hai, the star midfielder and team captain, went down with an injury during the December 3 match against Singapore, but could be fit enough to play if Vietnam advances to the finals on December 10. The other teams playing for a spot in the finals are Indonesia and Myanmar. Since 1993, either Thailand or Malaysia has taken the top spot, so whoever wins will represent a new champion in town.
While receiving less attention then their male counterparts, the women's team has been quite successful so far in the games. Despite dominating against the Philippines on Thursday in Manila, it took until the 60th minute for them to notch the go-ahead goal. Nguyen Thi Tuyet Dung followed up with the proverbial nail-in-the-coffin second score in the 84th minute.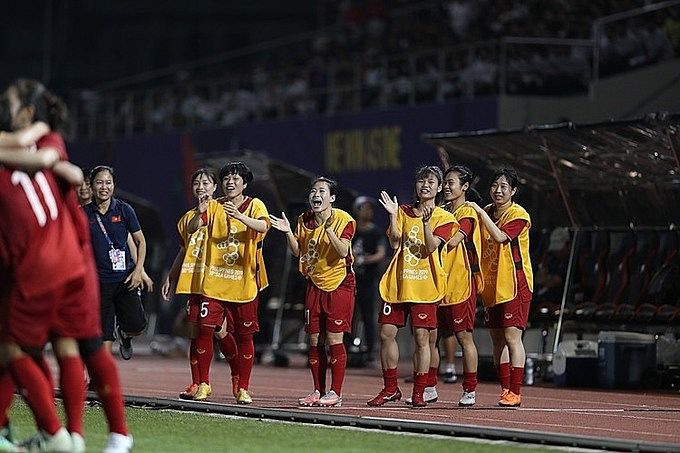 On Sunday, the women's team will face off against Thailand in a rematch of last year's finals, which they won. Vietnam will aim for their third gold medal in four years and 8th overall in the regional tournament.
[Top image via Thanh Nien and Vien Vong]