During a recent trip to Đà Lạt, a friend invited me for coffee at 5:30am. The frosty climate of the Central Highlands mornings concerned me, but upon hearing the pitch about a whimsical cafe that operates on a "now you see me, now you don't" basis, I immediately said yes.
"Anh ơi, where are you based tomorrow?"
Tiệm Cà phê Một bàn, true to its name, only has one foldable table, just enough to fit various coffee-making apparatuses like travel burner, gas canister, grinder, filter cones, beans, etc. Everything can fit neatly in an old camera bag.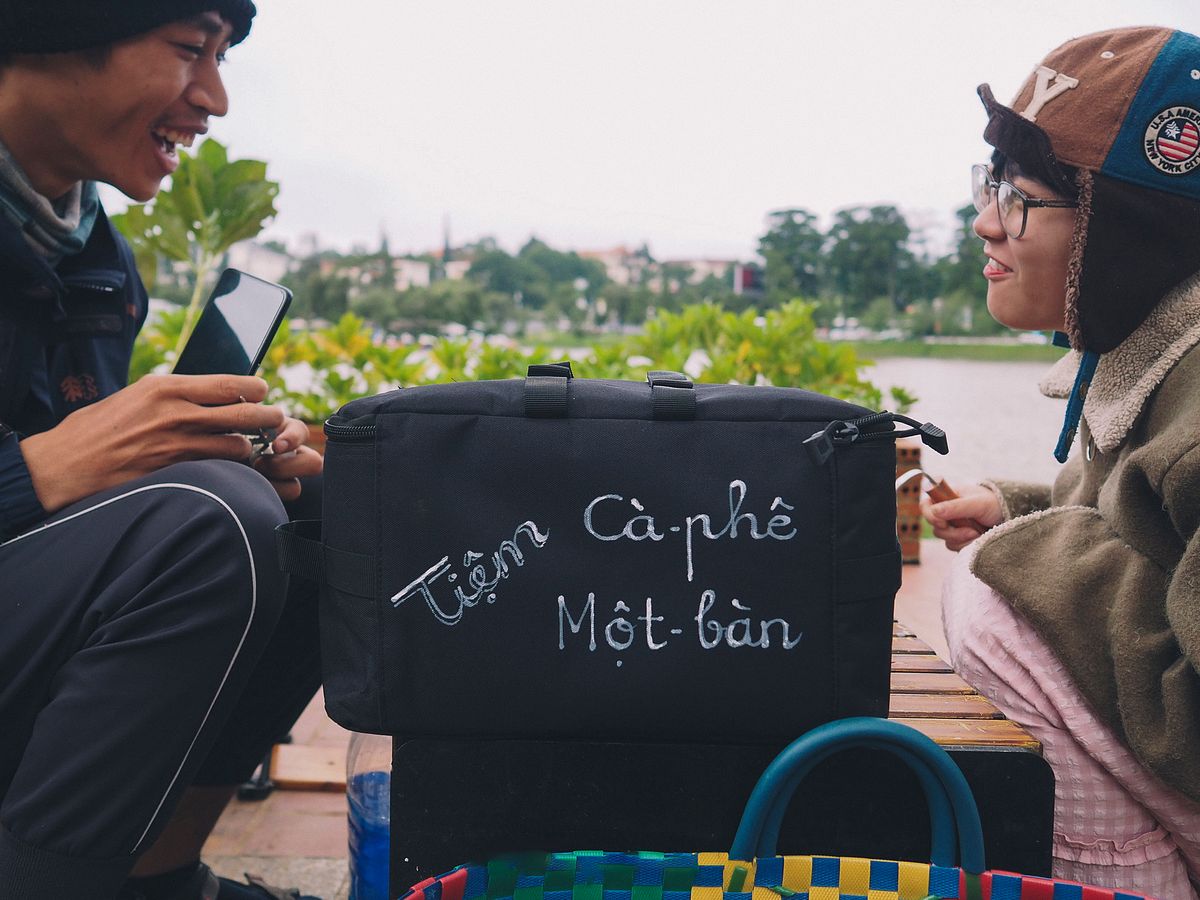 The coffee shop's founder, Sói, has many roles: a leather artisan, a hiking guide, and even an "amateur" barista — to use Sói's own word. Tiệm Cà phê is a safe space for him to both play with and learn about coffee. As someone who enjoys being on the road, he decided that every day, he would open the cafe at a different location. Sometimes, it's open in the forest, by the beach, by a lake, a stream, in the middle of a field; if he's in the mood to people-watch, Tiệm would settle down at a park or public plaza.
Confining his operation into one table is intentional. Instead of each person, pair, or group of patrons sitting at separate tables, everybody who wishes to enjoy the coffee can only sit together, so they can talk to one another and connect easily. "Every stranger eventually becomes a friend," Sói explained.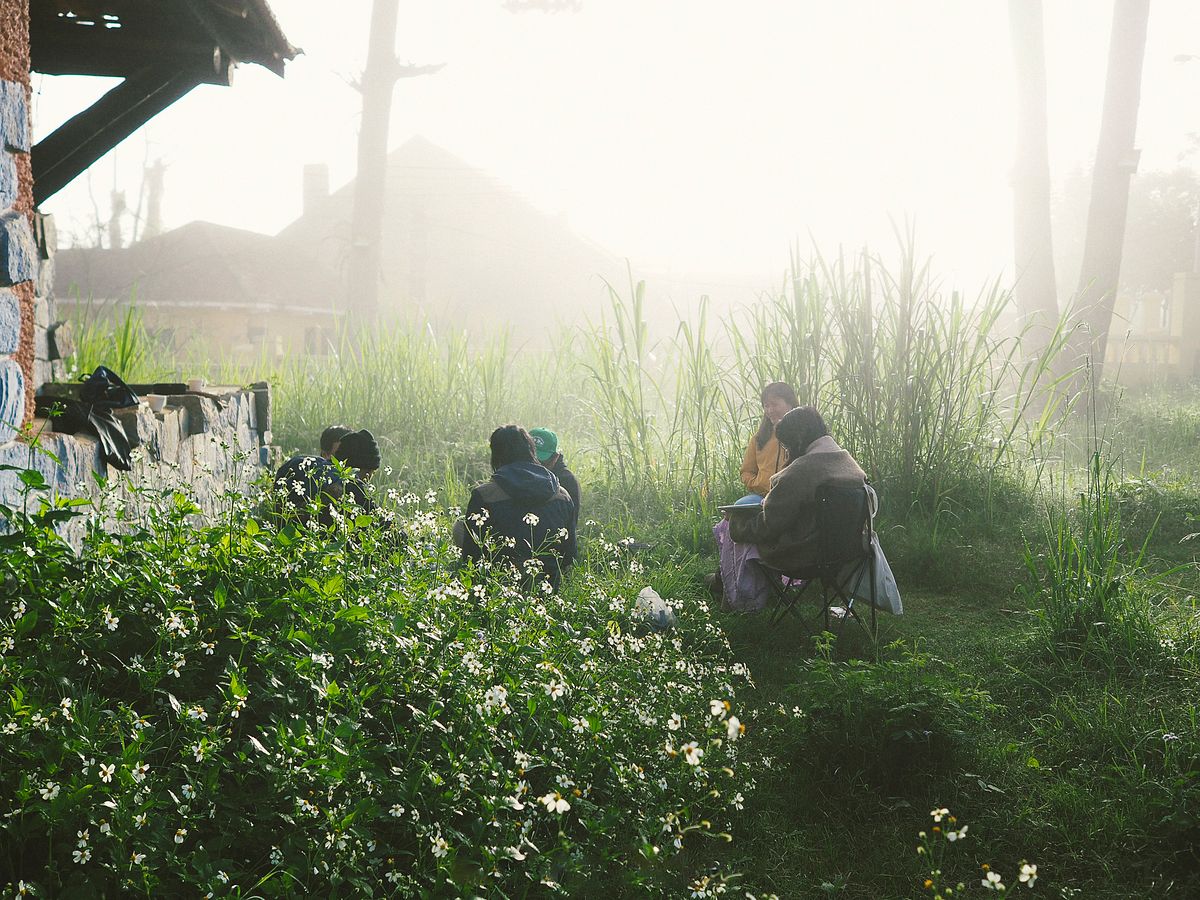 Apart from these quirks, Tiệm Cà phê Một bàn is also peculiar in its opening time from 5am to 7am, when Đà Lạt is quite deserted, reminiscent of the city's past decades. Amidst a layer of morning mist, guests gather around the table to sip hot coffee, converse with new faces, wait for the sun to rise, and get their first daily dose of dopamine before embarking on their usual routine.
No expectations, no restrictions
Whether he's working on a piece of leather, trekking, or brewing coffee, Sói always seeks to bring people together. When he was still running a leather workshop in Hanoi, he often invited customers in for tea; after moving to Saigon, he treated them to pour-over coffee made of Arabica beans, which were still quite new in the country at the time. The barista pours hot water in, the coffee slowly drips down while the filter retains the coffee grounds. "For their first visit, when asked if they want coffee, people often think of black or milk coffee, but once they witness the process of making craft coffee, they are all quite astonished because it looks like a tea ceremony."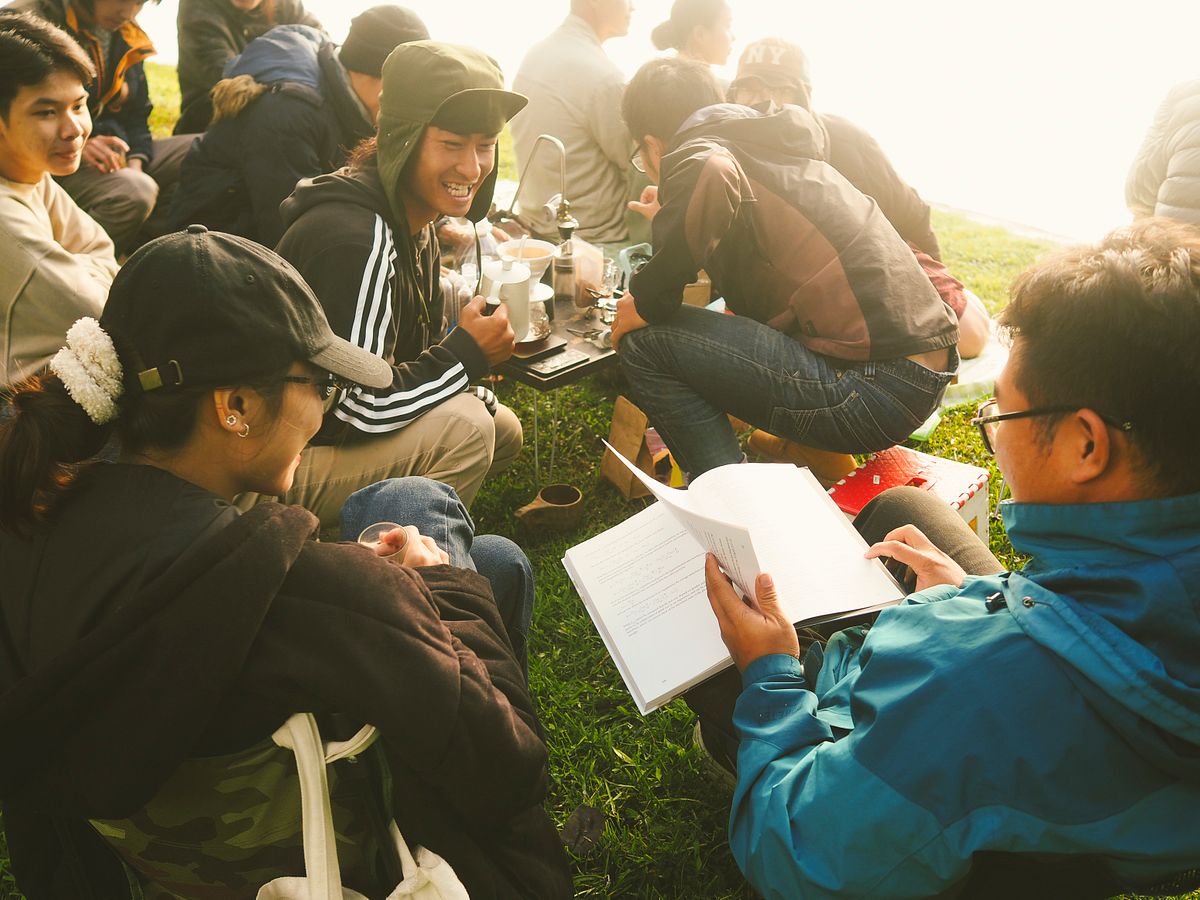 The workshop was tiny, made even more cramped by the many people surrounding the small table in the middle. Guests would just sit down right next to one another; one would get a cup of coffee while others engaged in lively conversations. "At that time, an idea popped into my head. I thought: 'Wow, this is like a cafe, except there's only one table.'" That was the exact moment the name and concept behind Tiệm Cà phê Một bàn came into existence.
The entire "coffee shop" happened because of personal interest and not to make profits, so Tiệm has neither set prices nor a menu. It serves whatever is available on the day and patrons pay however much they want. Every morning, there are 5–6 varieties of beans from different roasteries to choose from. "Sometimes, we purposely pick a type of bean because we want the first pitcher of the day to smell and taste a specific way. Other times, we just choose… at random."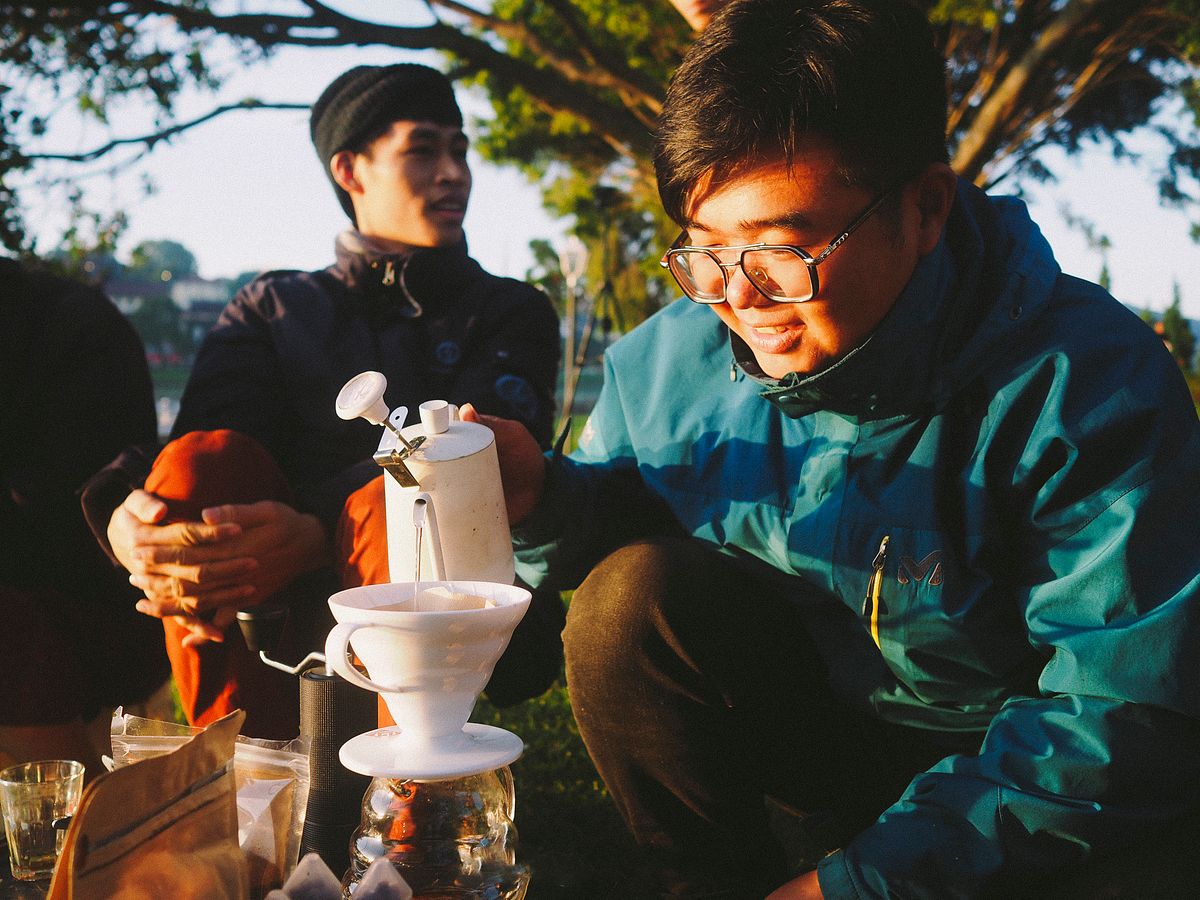 "The pour-over method gives baristas room to 'perform.' Oftentimes even with the same bean variety, it could taste differently through the hands of different brewers. When we launched Tiệm, we hoped to promote this experience as well — that feeling of no expectations, no restrictions."
May I have a đen đá with stream water?
The cafe doesn't have a set location, so naturally its patrons also come from all sorts of regions, with their own life experiences, lessons, and passions to share. "Their stories make up the soul of Tiệm and fulfill us every day, like the wind, rain, sunlight, and water nurturing a tree. Tiệm is like a tree hosting playful children. They sit beneath the tree, lean on it, grow up with it, sharing their joy."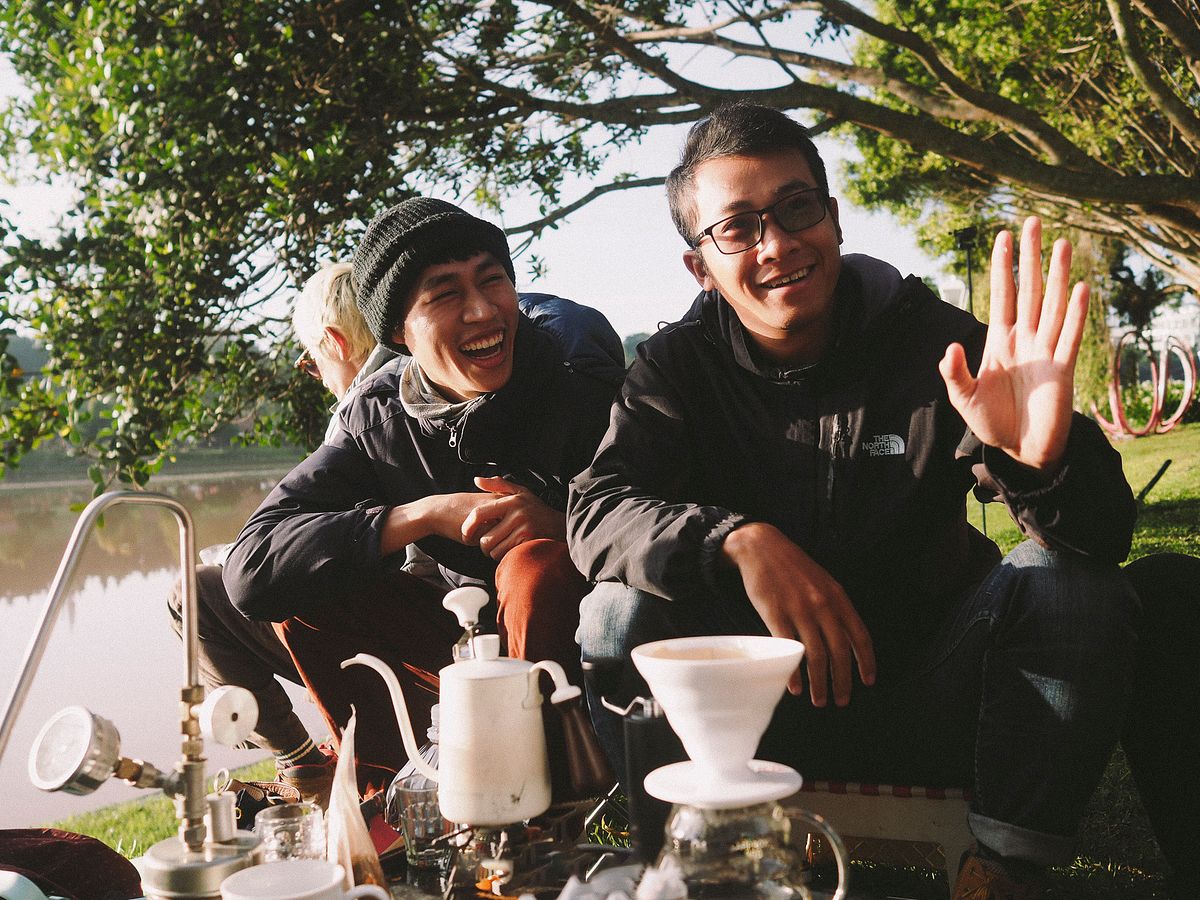 Before officially putting down roots in Đà Lạt, Tiệm Cà phê Một bàn has spent some time across localities in Vietnam and even overseas. The owner remembers like yesterday a number of past locations that are special for so many reasons, such as the town of Ladakh in India, nestled at the foot of the Himalayas.
"It will always be my home. Over nearly a month staying here, I amassed nearly 30 coffee sessions all over this surreal dreamland. One day I was on the deck, looking over the garden of a red-white house right beneath a mountain, with stone fences and lush wildflowers. Some afternoons, I spent time along the bank of the primordial Nubra and Shyok rivers. Some mornings, I sat on the grass right next to the profound azure of Pangong Lake, taking in the rows of snow-covered peaks in the distance."
In Vietnam, Sói reminisced about the early days with the drizzle of Hoàn Kiếm Lake, the pristine streams of Bidoup, and the mornings by the creek in the forest of Nam Cát Tiên he struggled with making a fire. "The Bidoup jungle is Vietnam's most breathtaking jungle to me," he recalled. "The water there was the freshest, sweetest I've ever tasted and used to make my coffee. In the morning, I woke up, washed my face, tried to find a big rock to sit around, made a fire, and scooped water straight from the stream to boil and make coffee."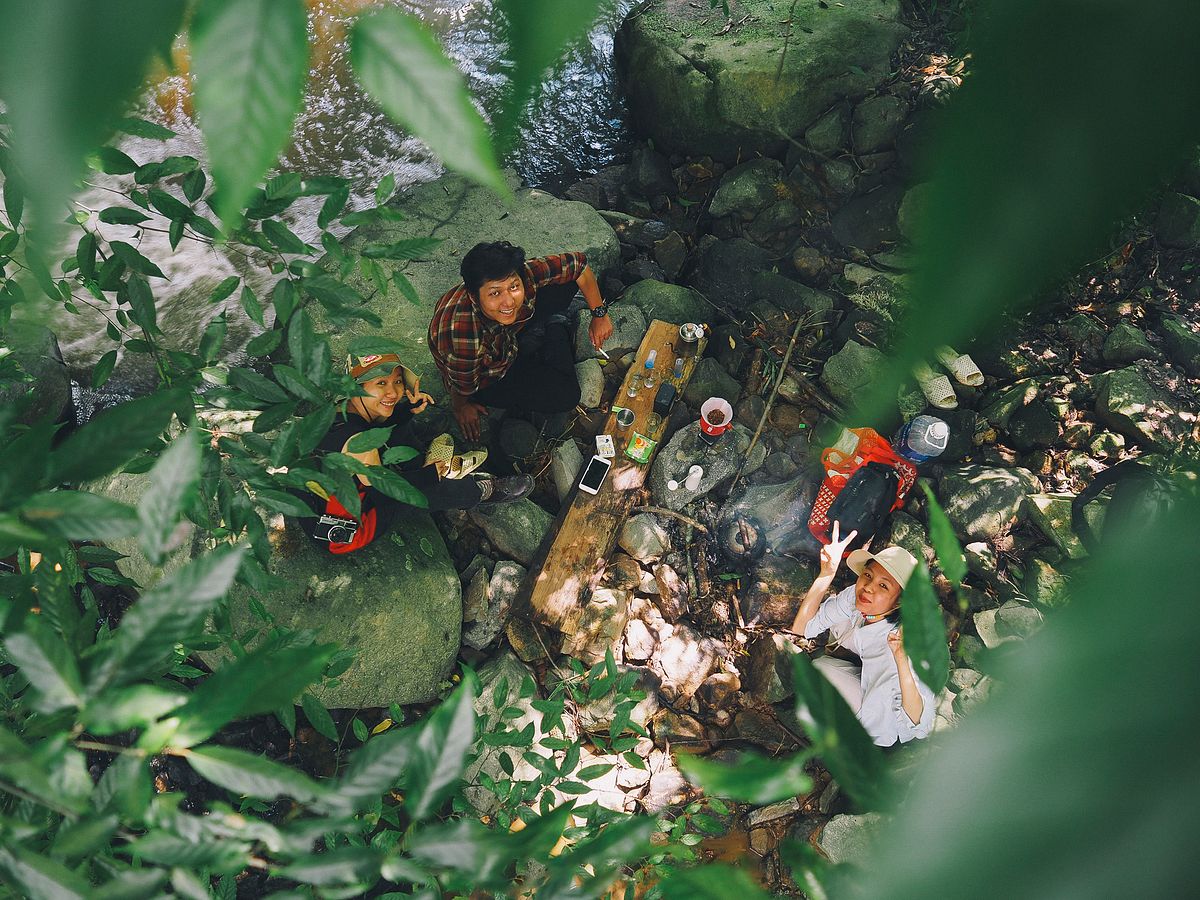 Today, as Sói explained to me,Tiệm Cà phê Một bàn is an excuse to wake up early, to experience the many facets of Đà Lạt, and to facilitate chance meetings, with or without purposes. You can seek out Tiệm yourself, or it will bump into you. And during these chance meetings, Tiệm can help you appreciate Đà Lạt more.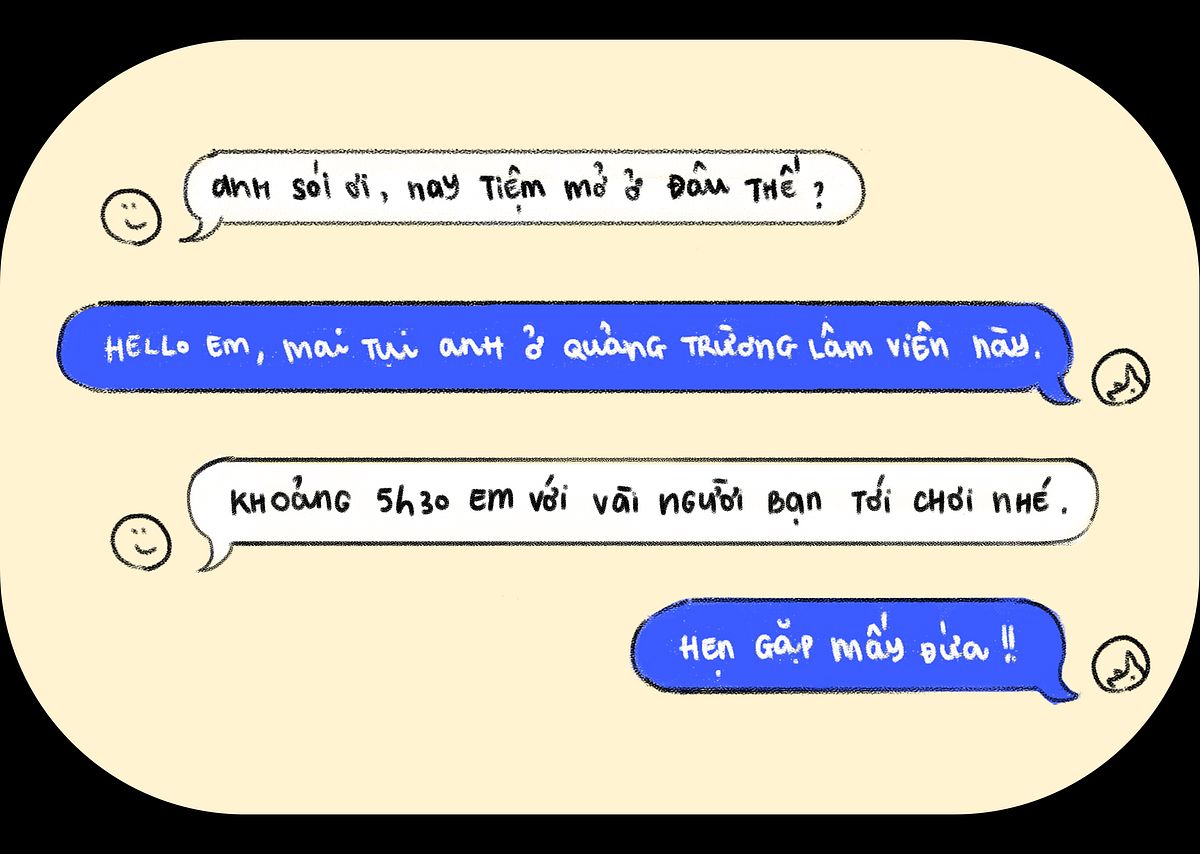 Aspiring guests to Tiệm Cà phê Một Bàn can contact the place's Facebook page to find out where the "location of the day" is.
To sum up:
Taste: 4/5
Price: 5/5
Atmosphere: 5/5
Friendliness: 5/5
Location: 5/5