The brutal beating, caught on camera, has made national headlines in both Vietnam and South Korea. While the man has been detained, some are worried that this incident represents just the tip of the iceberg.
Over the weekend, netizens in South Korea were shocked to discover a short clip depicting a man ruthlessly abusing a woman. In the footage, he repeatedly slaps, then kicks and punches her in the head and stomach as she cowers on the floor in a corner.
"Didn't I tell you that you are not in Vietnam?" he shouts in Korean in the video, the Korea Herald reports. A toddler is also present at the beginning of the clip, crying and begging for his mother.
The people in the video were later identified as a Vietnamese-Korean couple living in Yeongnam, about 390 kilometers south of Seoul. The video appeared on the internet last Thursday and a report was filed the next morning by a Vietnamese acquaintance of the victim, who told the police that her friend was beaten "because she did not speak fluent Korean." Yeongnam police arrested the husband on Saturday while the victim, who is only known by her initial G., is still receiving medical care at a local hospital.
She suffered from fractured ribs and broken fingers. Speaking to Zing reporters at the hospital, G. was still reeling from shock. She was born in 1989 in Ninh Thuan Province and has only been living with the husband since June 16.
"In the beginning, he told me to fetch something for him but I couldn't understand. I got the wrong thing so he slapped me and started hitting me," she recounted. "After that, he brought up all previous conflicts and beat me for hours."
According to G., they started dating back in 2014 while working together in a shipyard in South Korea. He was in the process of finalizing a divorce from his then-wife. Still, his bad temper had reared its head on numerous occasions, so she tried to break things off many times and even changed her job and living location to avoid him. At one point he hired a locksmith to break into her house, forcing her to continue the relationship.
When she got pregnant with their child, he told her to have an abortion, but she refused and moved back to Vietnam to give birth, intending to raise the child as a single mom. Eventually, he convinced her to marry him after the baby was born; they got their marriage license in March and started living together in June.
The footage has gone viral both in Vietnam and South Korea, whose social media users unanimously condemned the husband for beating G., especially in front of their toddler. It even caught the attention of national leaders. Yesterday, South Korean Prime Minister Lee Nak-yon brought up the assault in a meeting with Vietnamese Minister of Public Security To Lam. Lee said that the incident is "regrettable," and that he's sorry for the incident, Yonhap News reports; he also promised to improve efforts to safeguard Vietnamese expats in South Korea.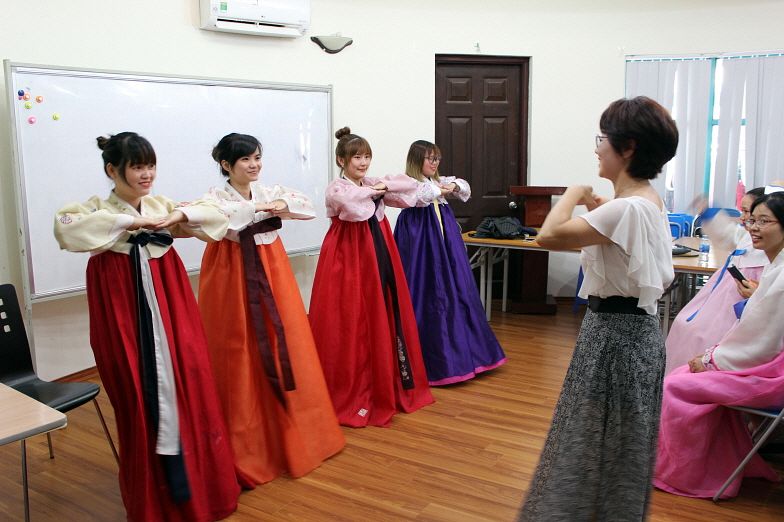 Such improved regulations are much-needed, but long overdue, considering the population of Vietnamese brides in the East Asian country. In 2016, a study by South Korea's national statistics organization showed that Vietnamese women accounted for the most foreign brides in the country, making up 28% of the group, compared to Chinese (27%) and Filipino (4.3%).
These marriages, however, often go poorly, as roughly 40% of Vietnamese-Korean pairs end in divorce before the five-year mark due to reasons including language and cultural barriers. In some extreme cases, like G.'s, things can get ugly fast, but according to her, she's hardly the first woman who has suffered at the hands of a violent husband. Her friends, who are also Vietnamese brides in South Korea, frequently suffer spousal abuse, but rarely speak up due to their inadequate Korean language skills and fear that the police won't believe them.
"My friends usually stay silent so the incident will pass, but because I managed to film [the abuse], it has blown up," G. told Zing, adding that she didn't want things to get out of hand for fear of worrying her mother and family members.
[Top image via Korea Times]
---

Related Articles:
---