What Saigon venue offers the best mountain view? This may seem like an absurdist question given the city's notoriously flat landscape, but if you go up high enough, you are actually able to see them rise on the distant horizon. But before recognizing these peaks, you are liable to get lost marveling at the city as it unfurls below in all its neon glory below.
Perched on the 66th floor of the Vinpearl Landmark 81 - Autograph Collection hotel, the Oriental Pearl makes a profound first impression via the floor-to-ceiling windows lining the walls. The city's canals slither in the shadows of skyscrapers, airplanes gently glide at eye level, and verdant Thủ Thiêm cowers from encroaching construction cranes like a rabbit trembling before a hungry fox. At night, neon lights greatly outnumber all the bad ideas you've ever had.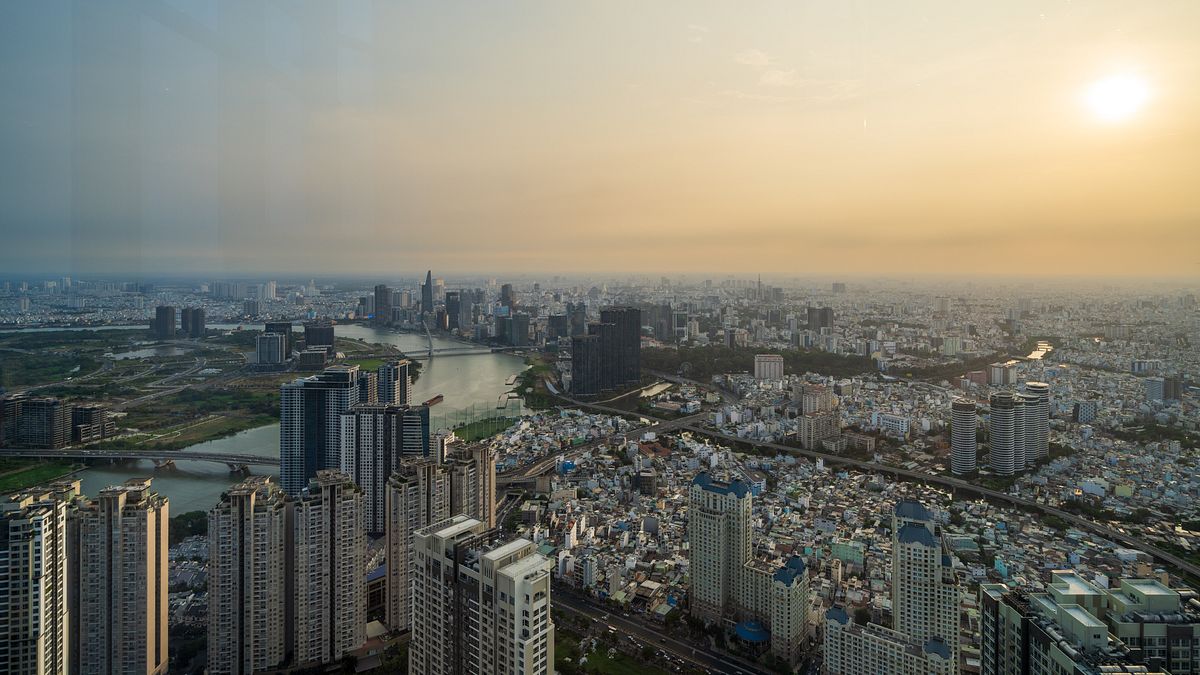 While open for all-day dining, the best time to visit the Oriental Pearl is probably Thursday through Sunday evenings when the cityscape is at its most energetic and also when the dinner buffet is served. When you eventually take your focus off the tremendous scenery, you'll discover an impressive spread of seafood, meat and prepared dishes that span Western, Asian and Vietnamese culinary traditions. You won't find too much decoration, however, because as Executive Chef Le Trung told Saigoneer, "the product is the centerpiece, the ingredients are the color."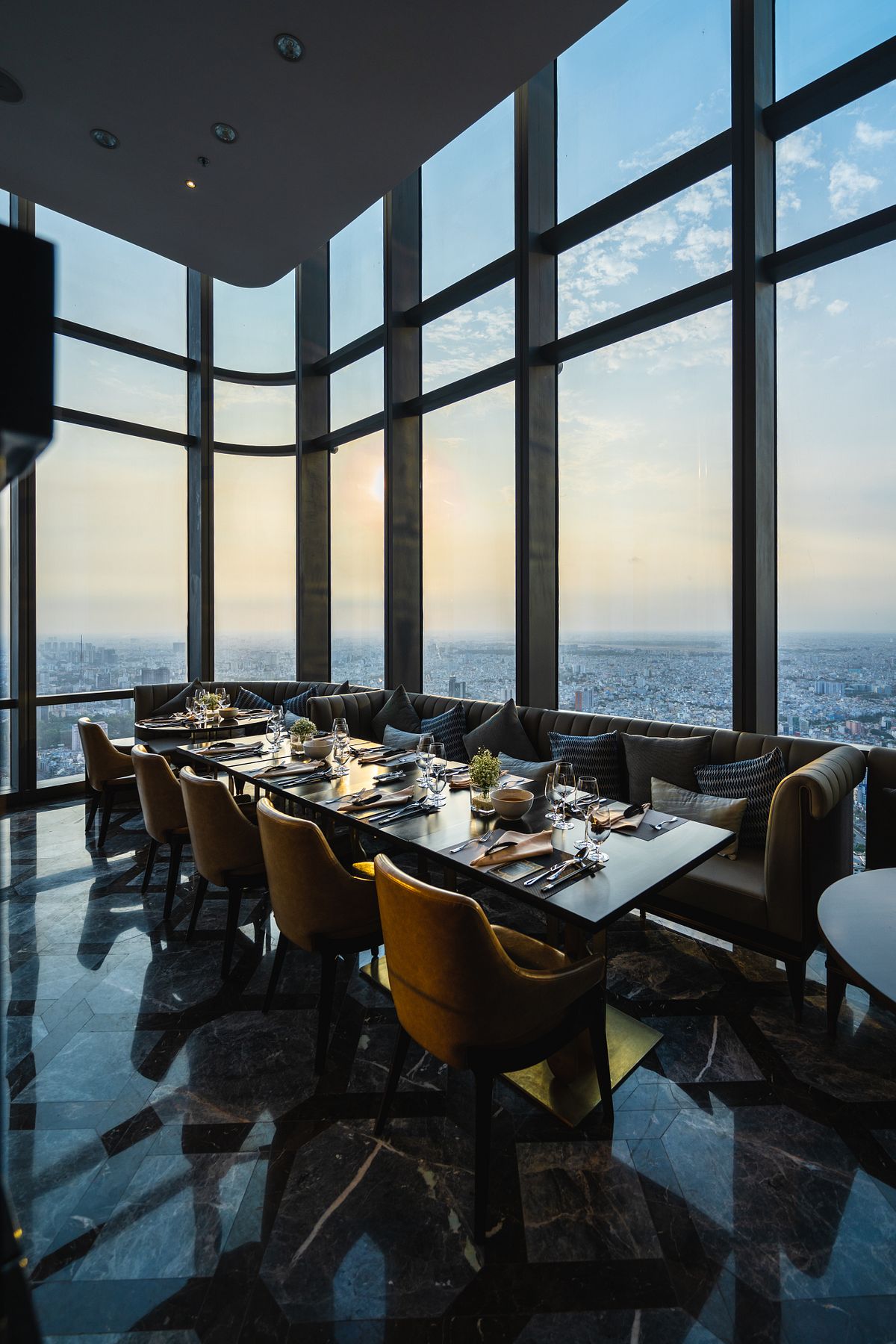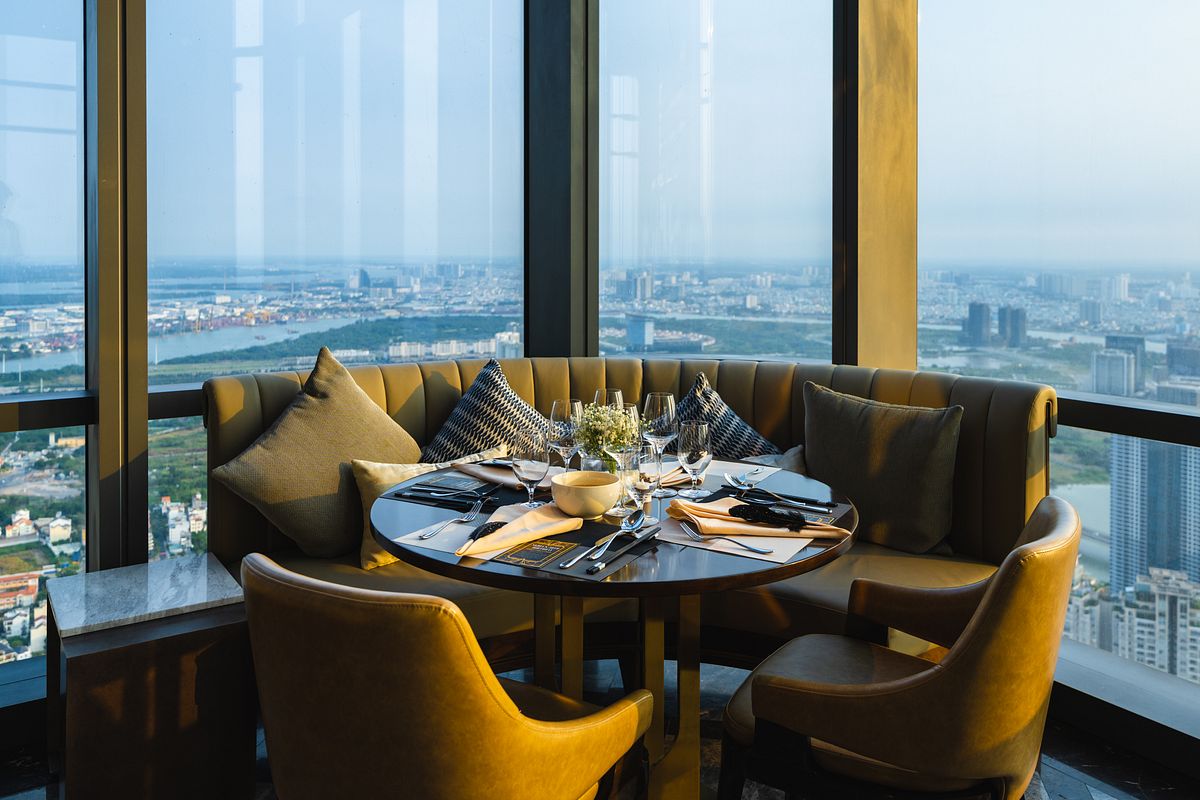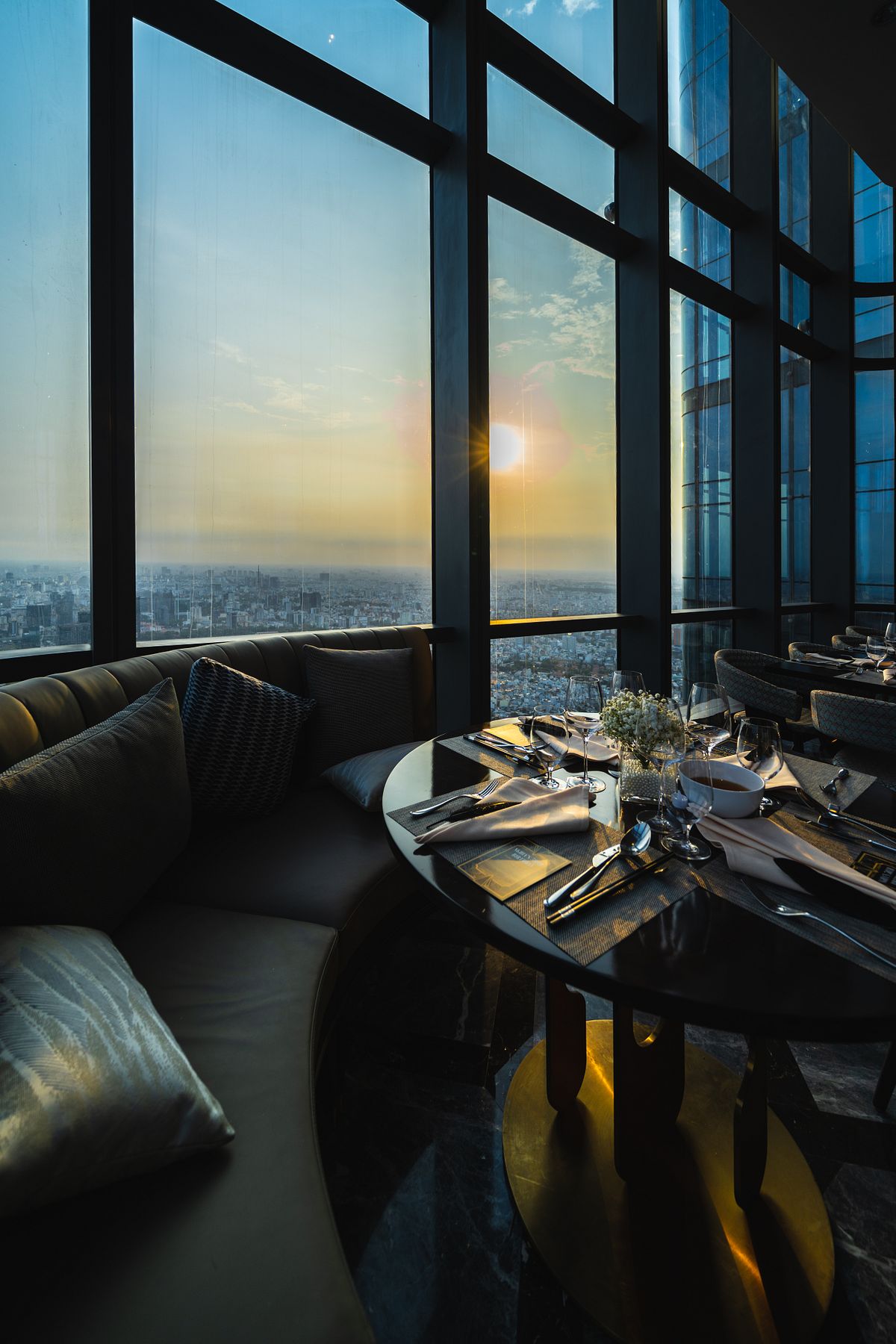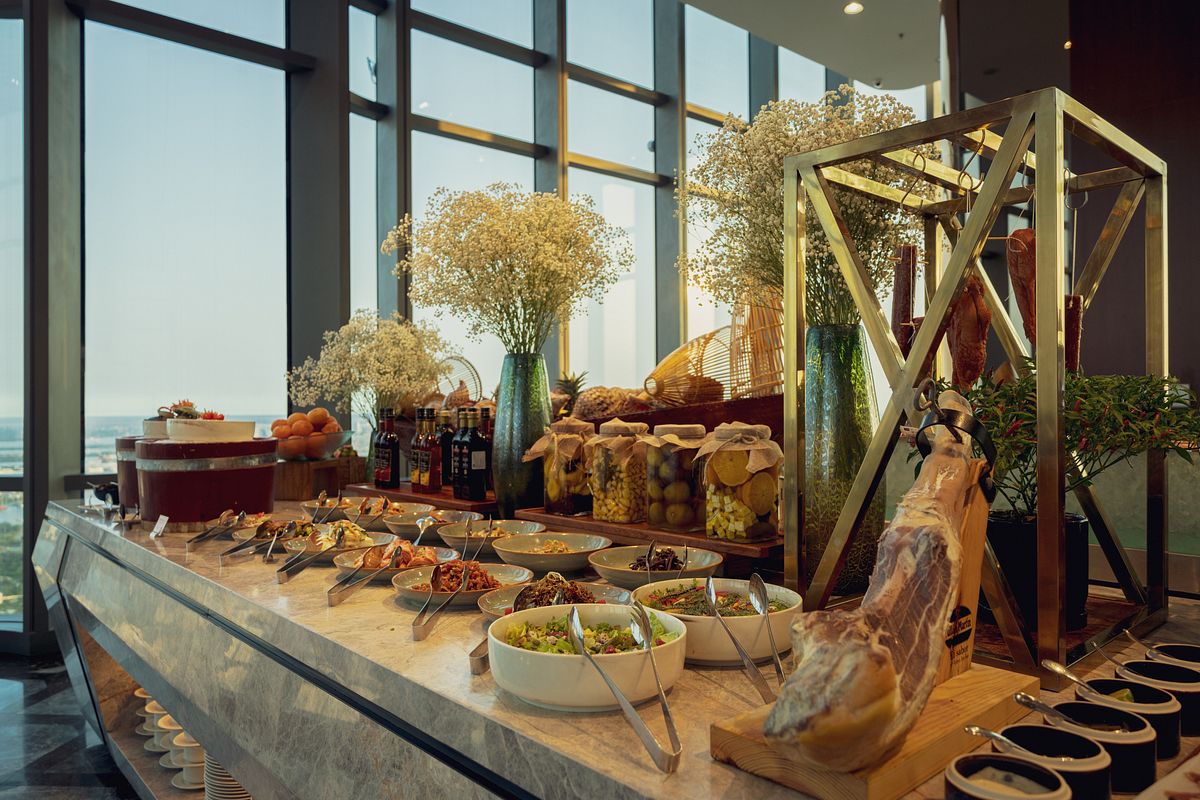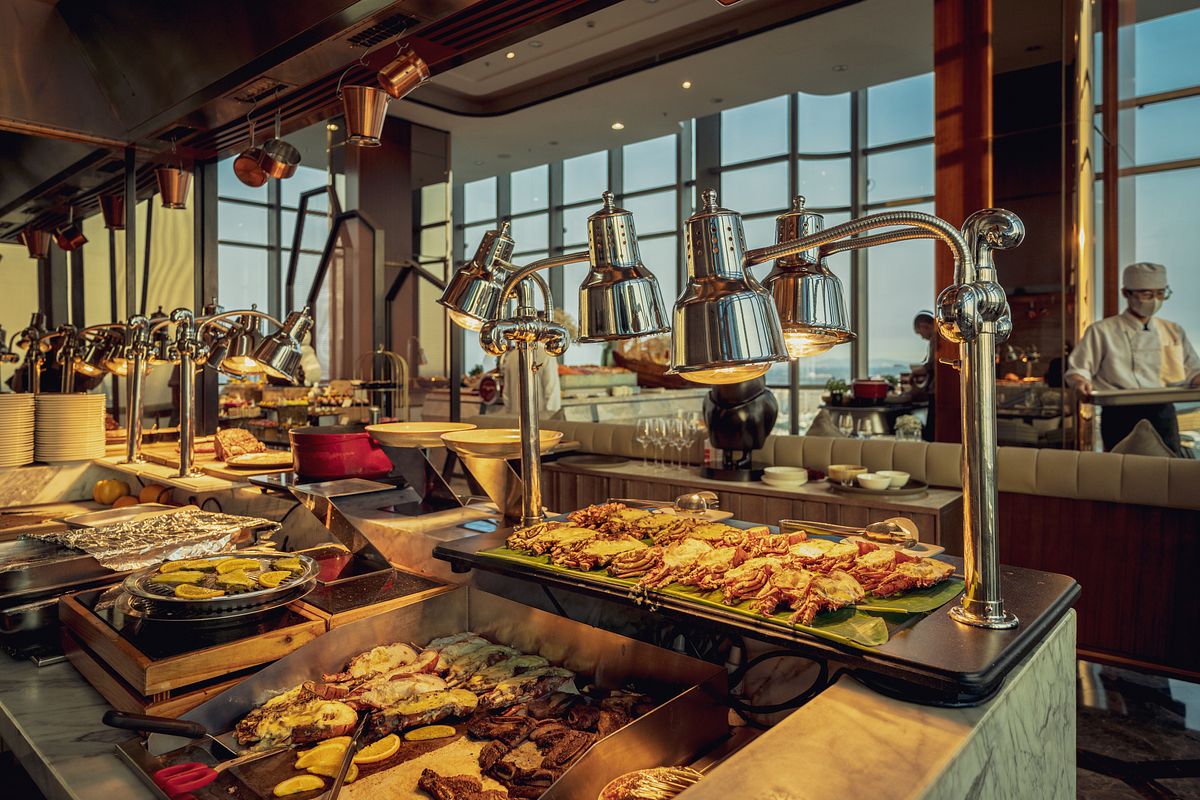 Indeed, a prism-like stretch of seafood includes prawns, crab, lobster, oysters, and tuna, octopus and salmon sashimi reaches from the center of the room towards the back windows. Chef Trung has been with the restaurant since its pre-opening four years ago, but a recent change to Marriott management and subsequent development of new purchasing departments has improved the quality and selection of available items, including particularly fresh seafood.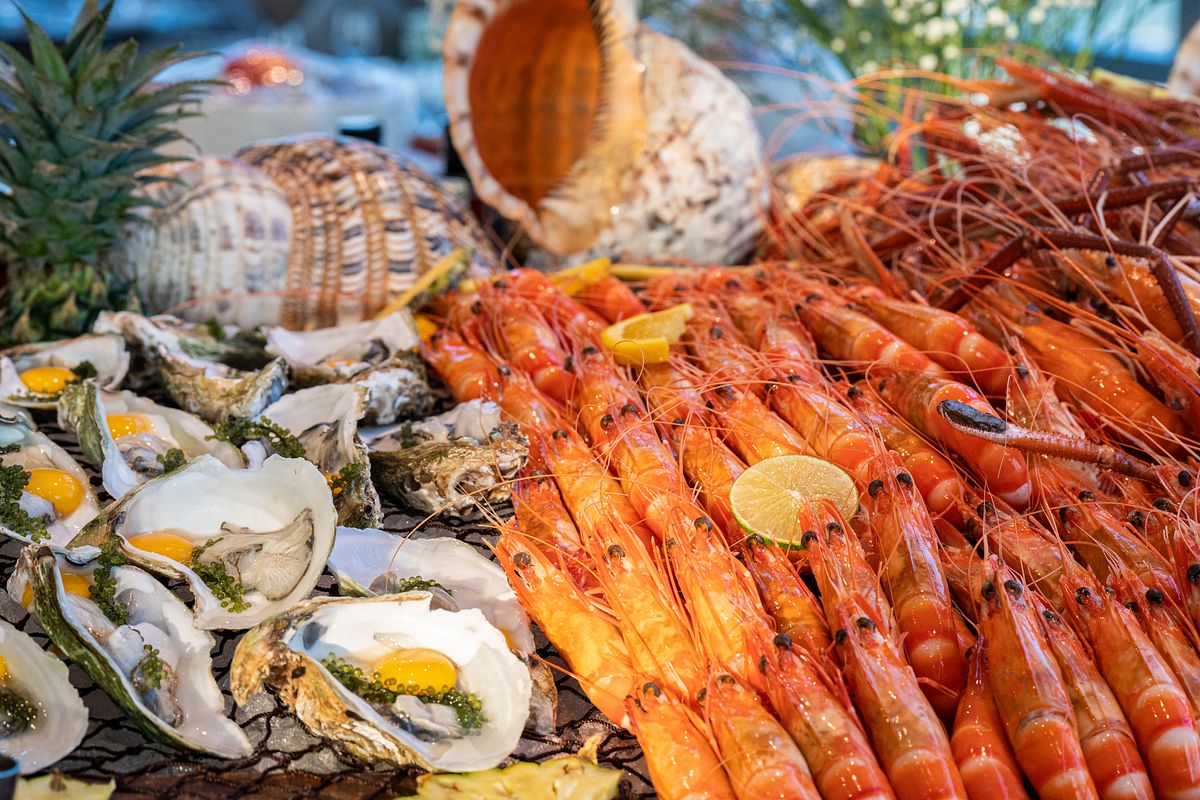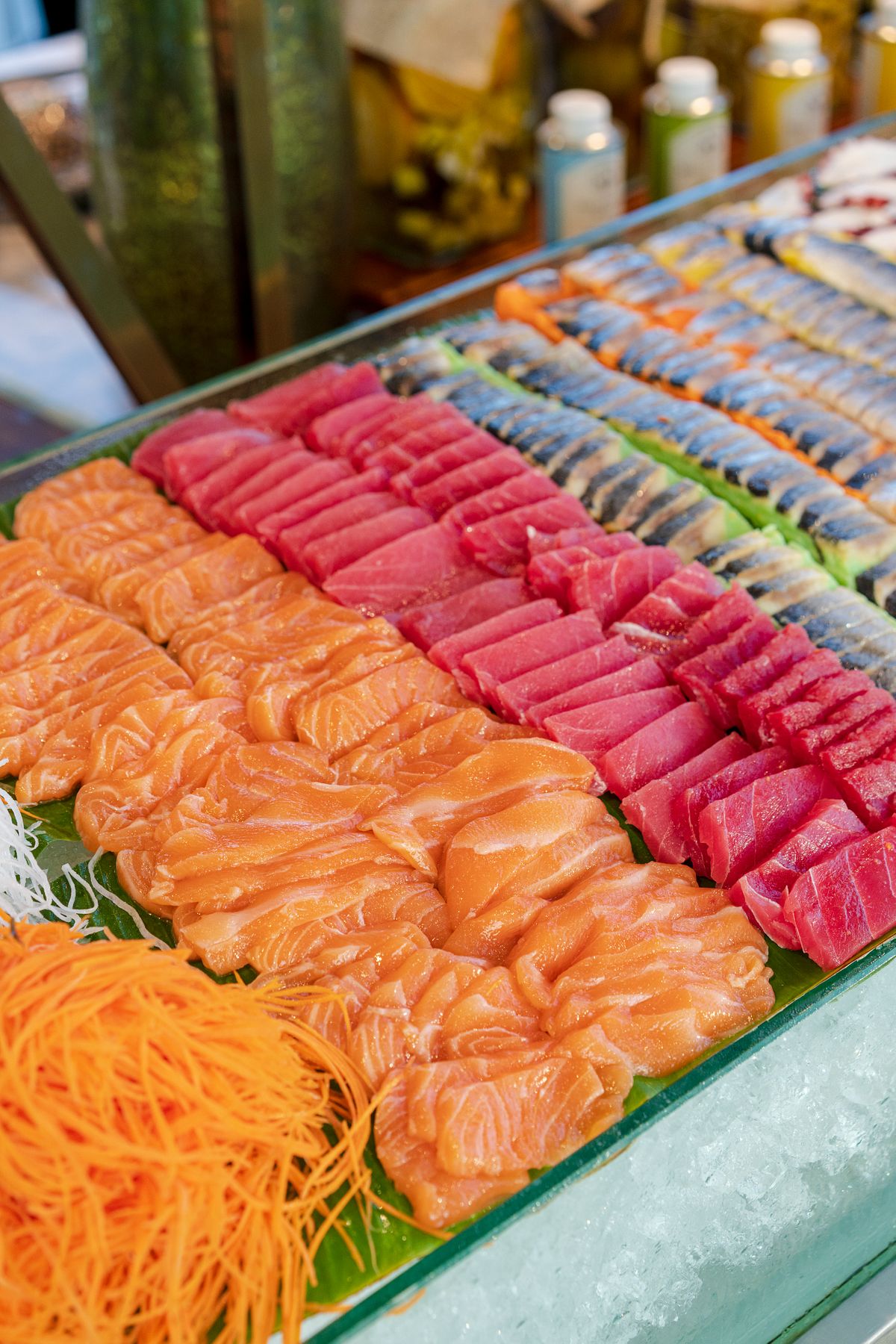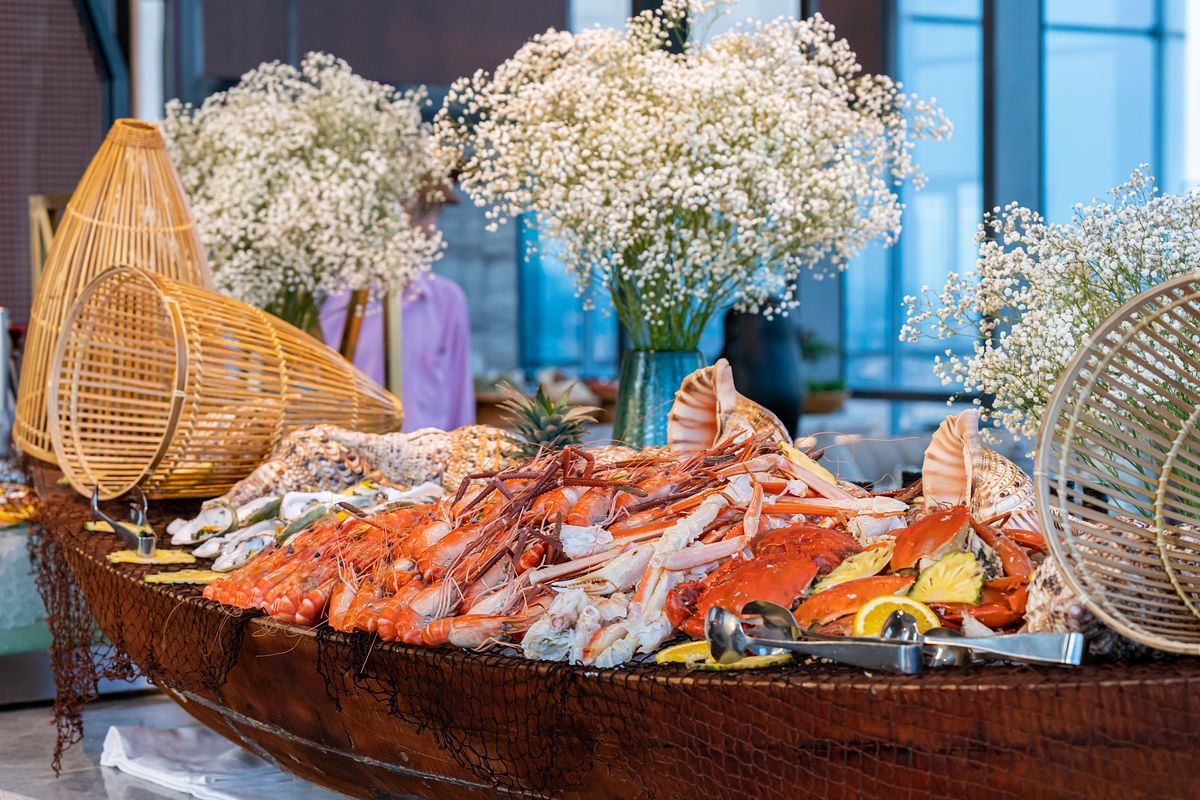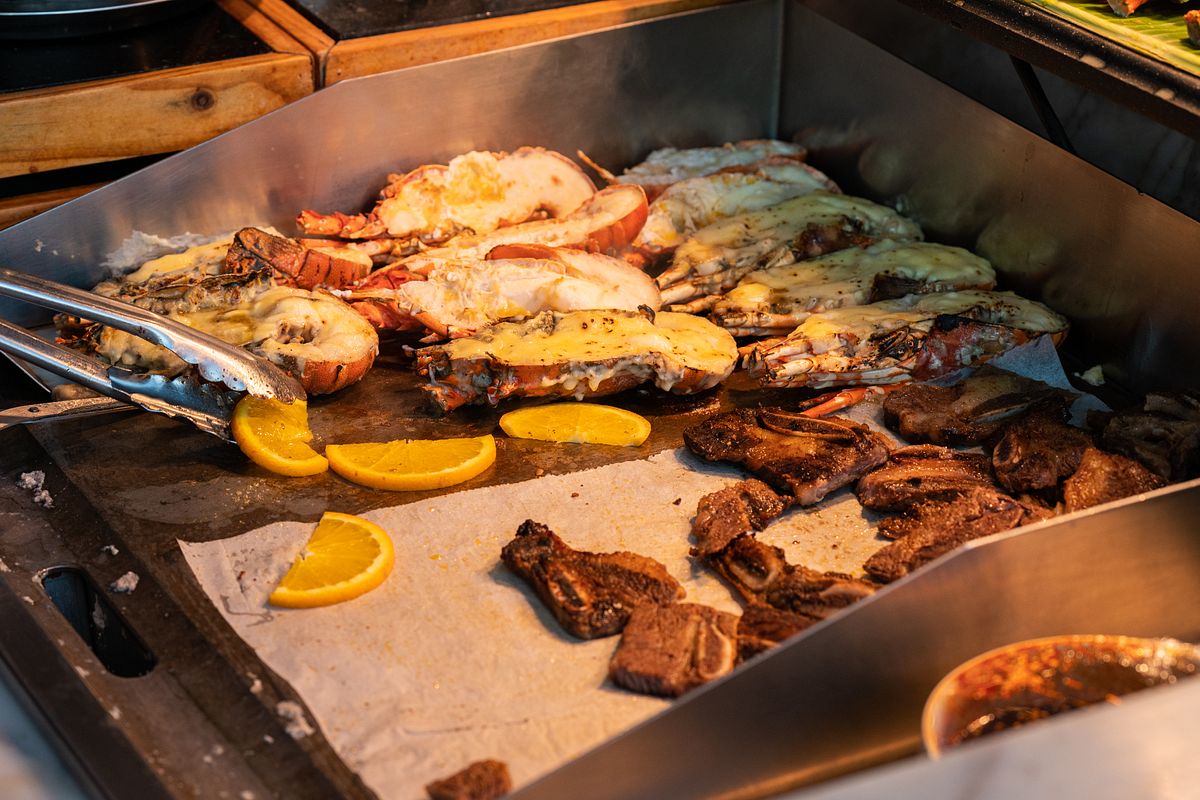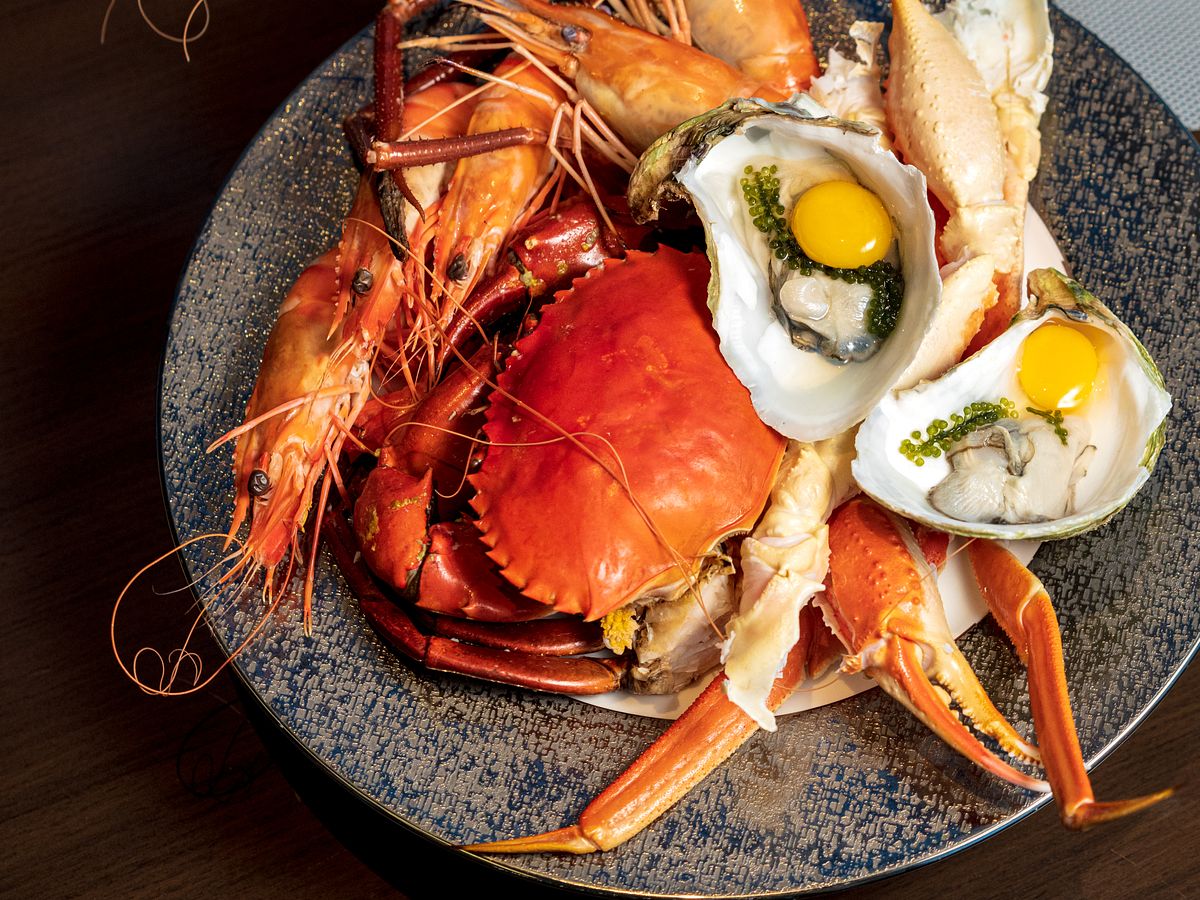 The Oriental Pearl has also shifted its focus to include more international dishes as exemplified by the guest-favorite uni (sea urchin) sauce pasta prepared in an enormous block of cheese that melts onto the spaghetti before it is topped with a juicy piece of lobster. The dish was recently removed from the menu as part of the regular rotation schedule, but diners were so vocal in their desire for it that it was brought back. A single forkful of the rich, salty, umami-smothered offering explains people's loyalty to it.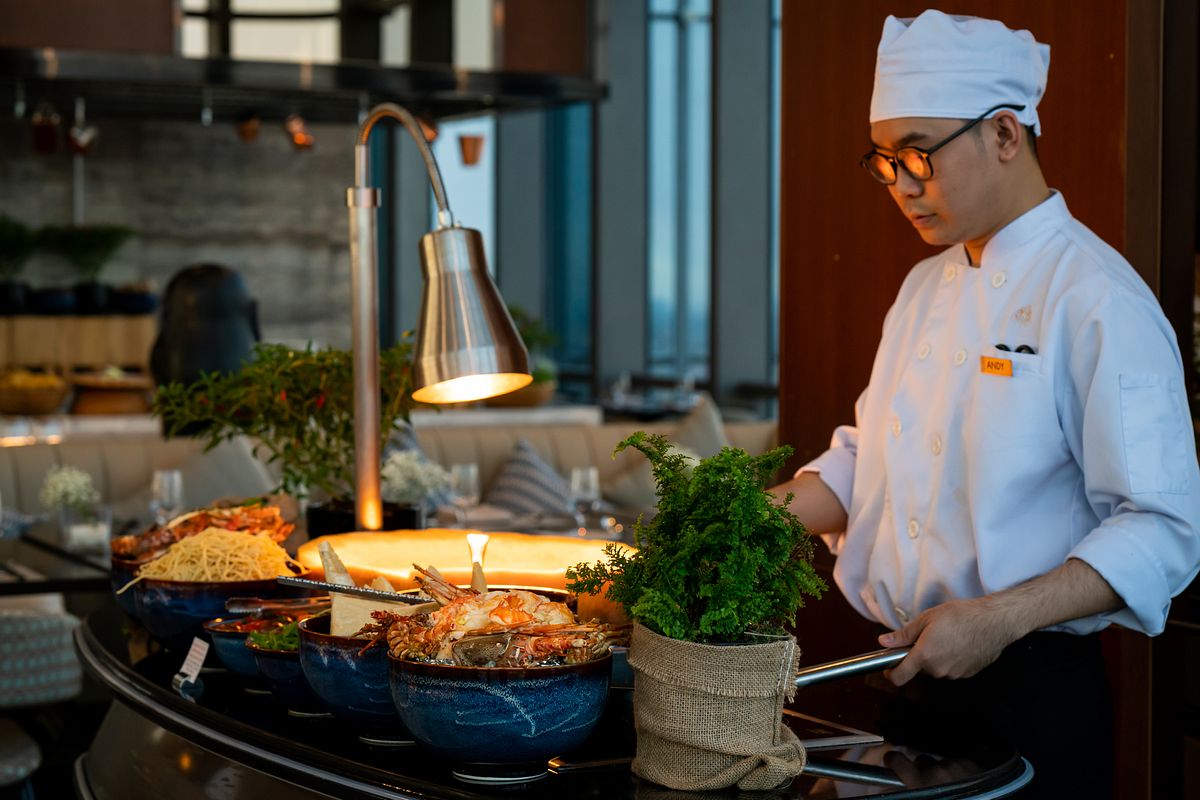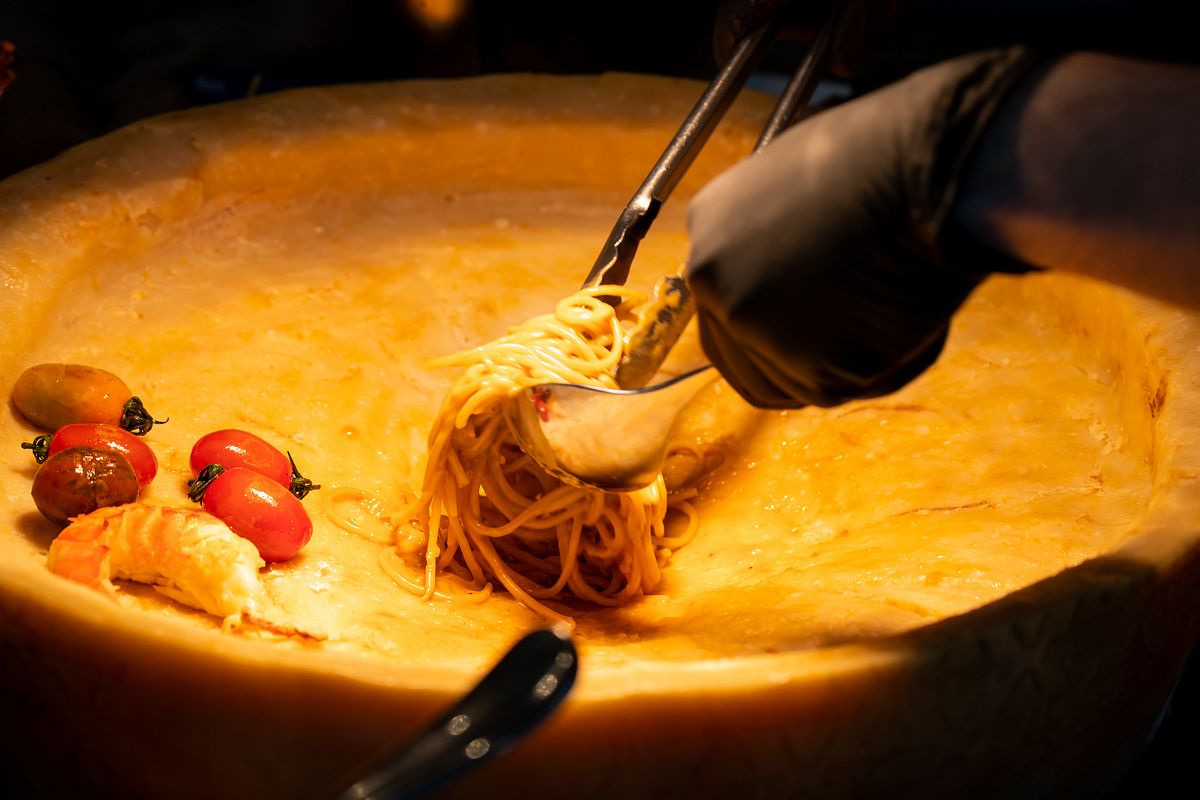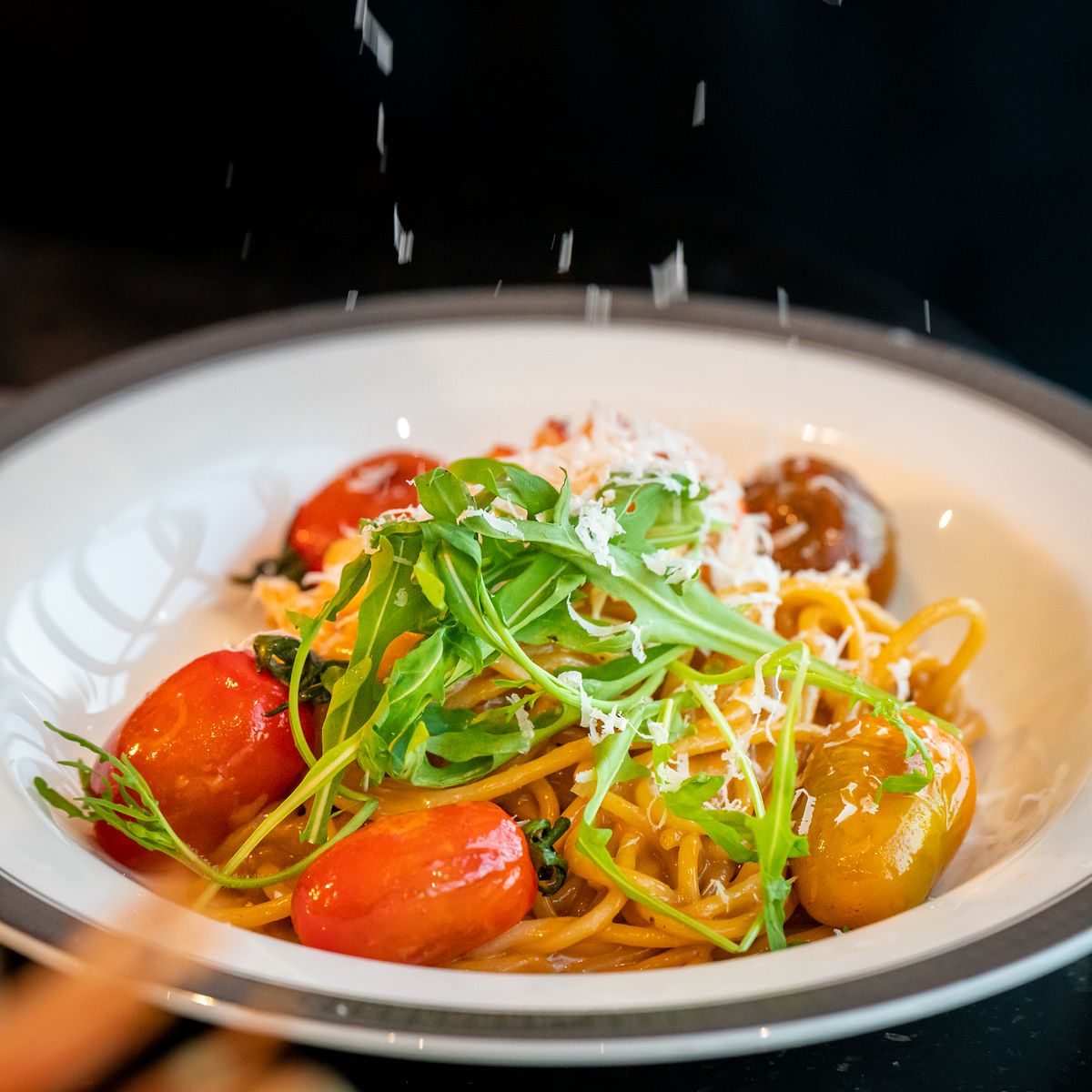 The restaurant's most famous item, however, has not only remained on the menu since opening day but has origins that stretch back decades. Born in Hanoi and later raised in Australia, Trung first learned about phở while watching his mother prepare it. With every new city he moved to, including stops in Singapore, Macau, Phú Quốc and Hanoi, he tweaked his recipe and techniques. His signature Landmark Pho is made with nearly 400grams of Australian wagyu beef and short-ribs, meaning each bowl contains practically an entire steak's worth of meat in addition to a heaping pile of fresh rice noodles that Trung selected after visiting 20 to 30 noodle producers. He chose these made in a simple family home and delivered fresh because they are "smoother, softer, silky," he says before making a slurping gesture. And it's true, they have the perfect texture for absorbing broth before slipping between one's lips.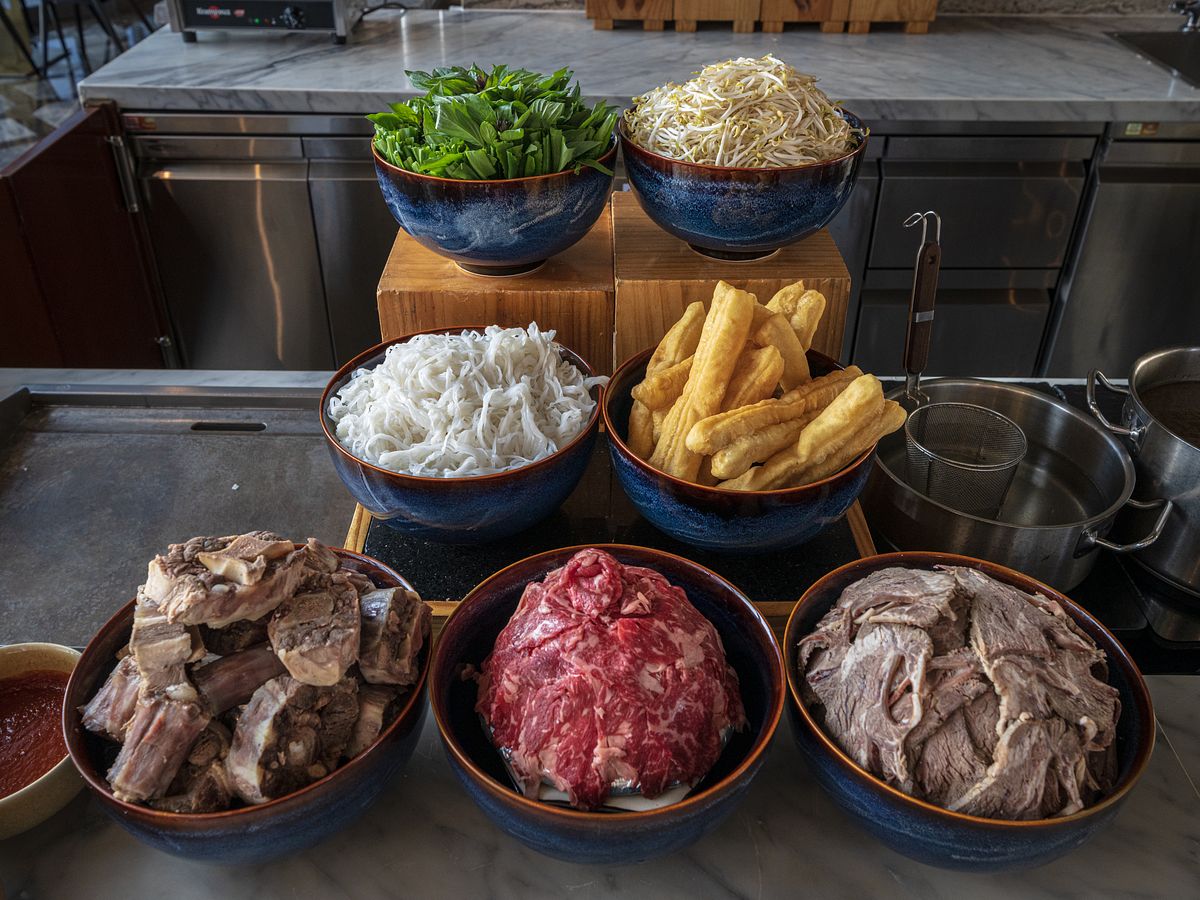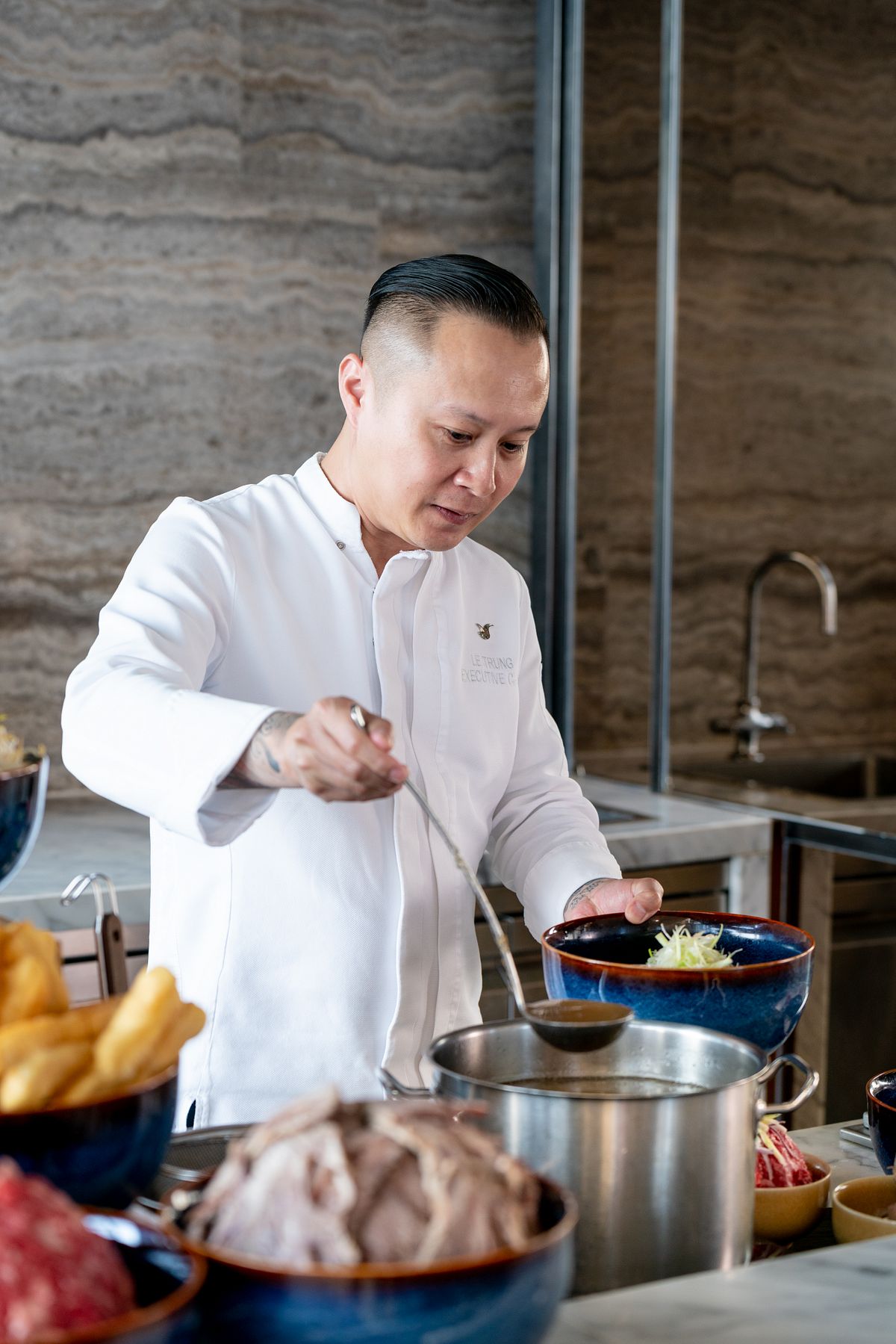 The Landmark Pho isn't special just because it is made with large amounts of expensive cuts of meat and exemplary noodles, though. Trung and his team take special care in its preparation, including cooking the broth's beef bones for 3 hours at full heat before letting them simmer for 48 hours. The oxtail skin is left on during cooking and after removing it for serving, the skin is added to the stock for the next day to impart maximum meat sensuality.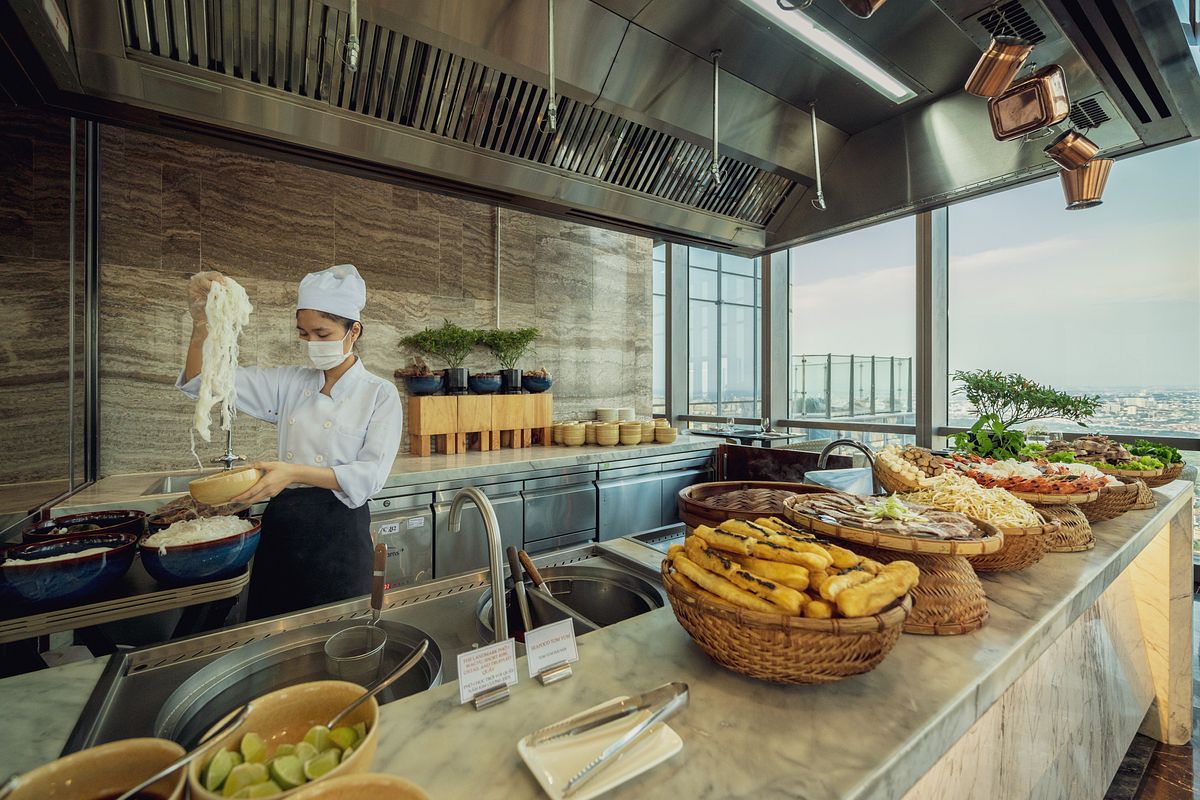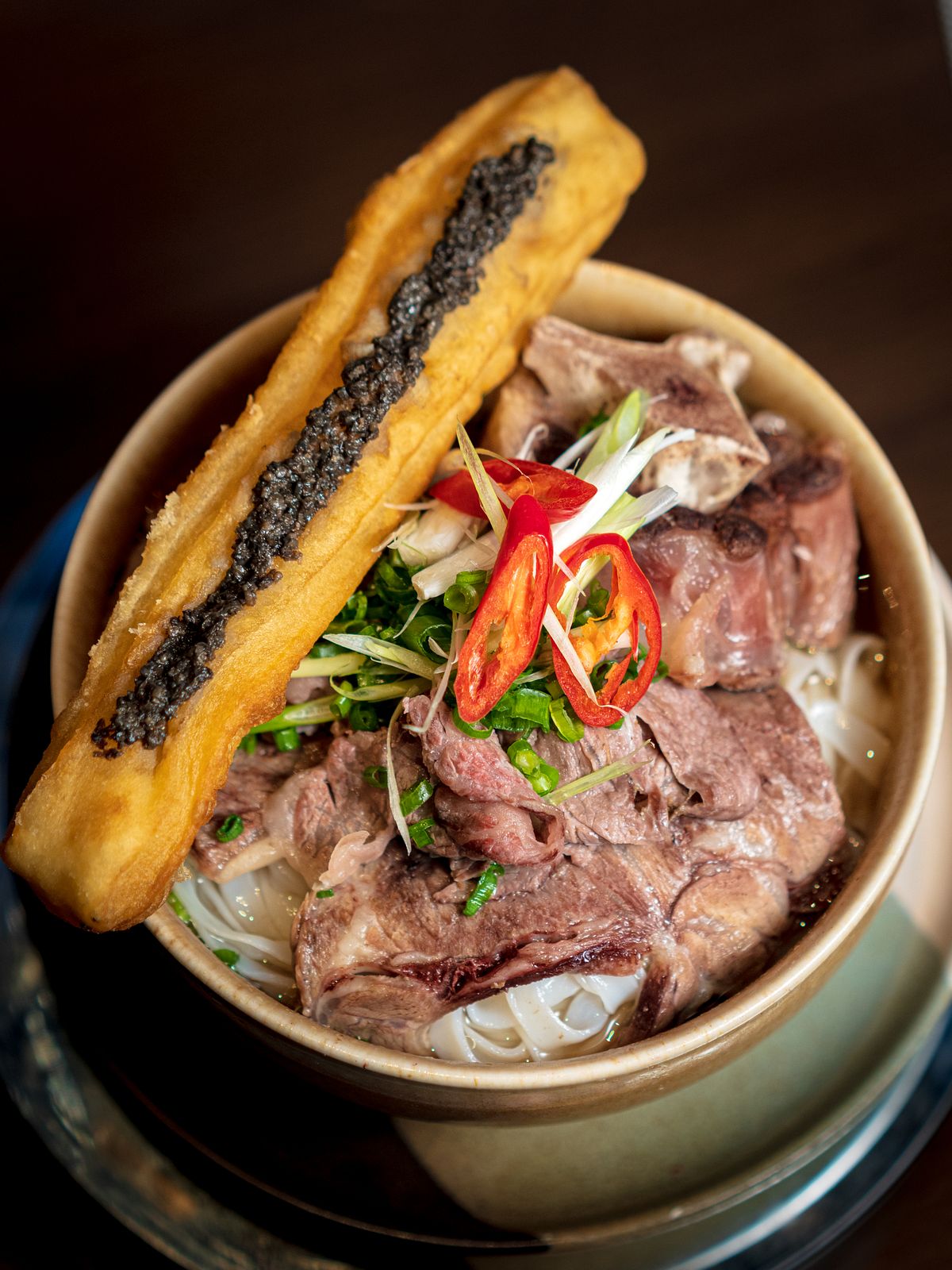 While a normal bowl of Landmark Pho is a full meal, one can also experience smaller portions of it served as part of the buffet where a final touch of elegance comes in the form of truffles dolloped atop the fresh quẩy for dipping. This allows guests to explore other items including those that are part of the two-month rotating focus on different foreign cuisines that is kicked off with a visit by a top chef from abroad. Saigoneer visited during the Korean period that involved Korean beef tartare, bibimbap and a plethora of fermented items. A focus on Japanese, Italian and Thai will arrive in the coming months.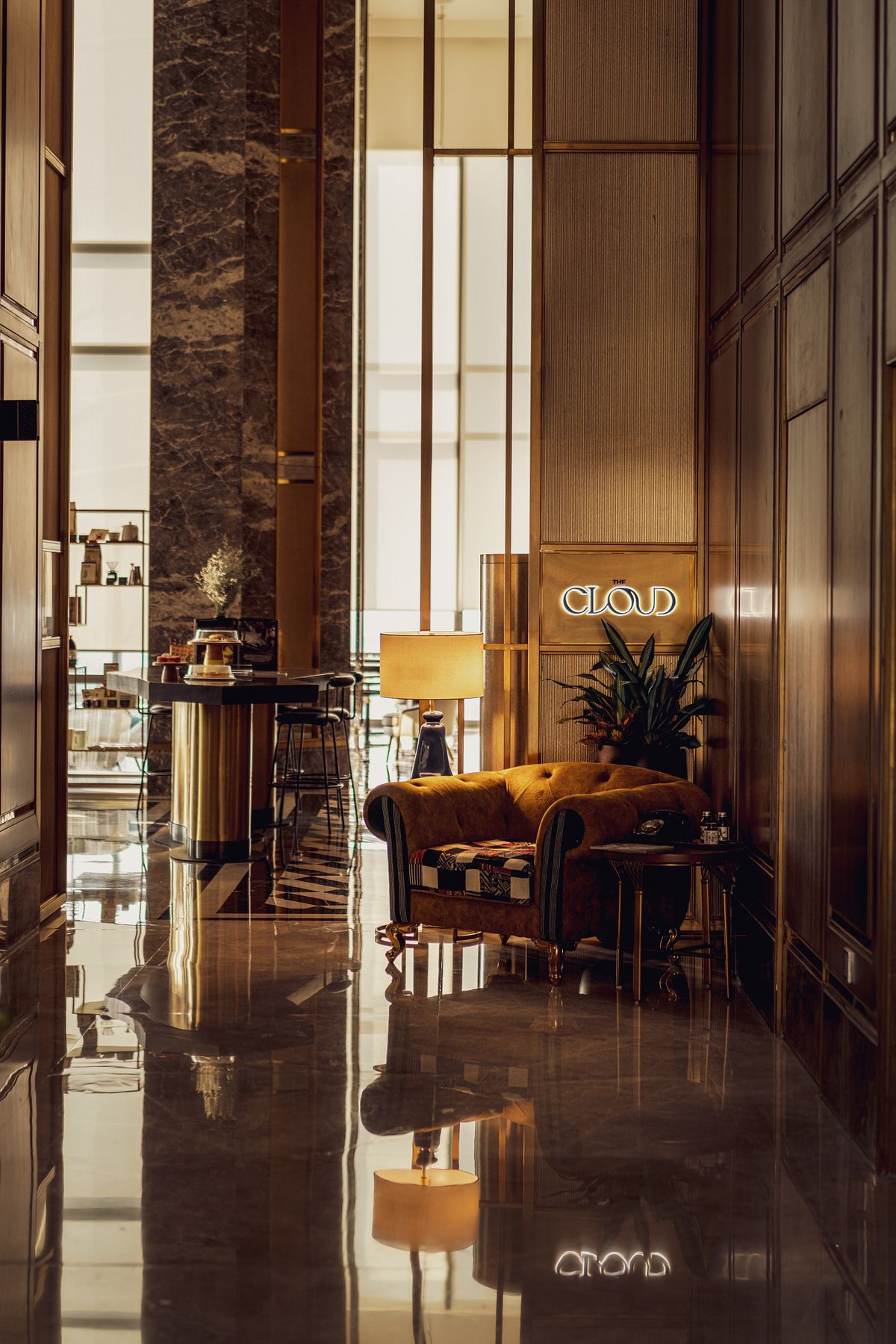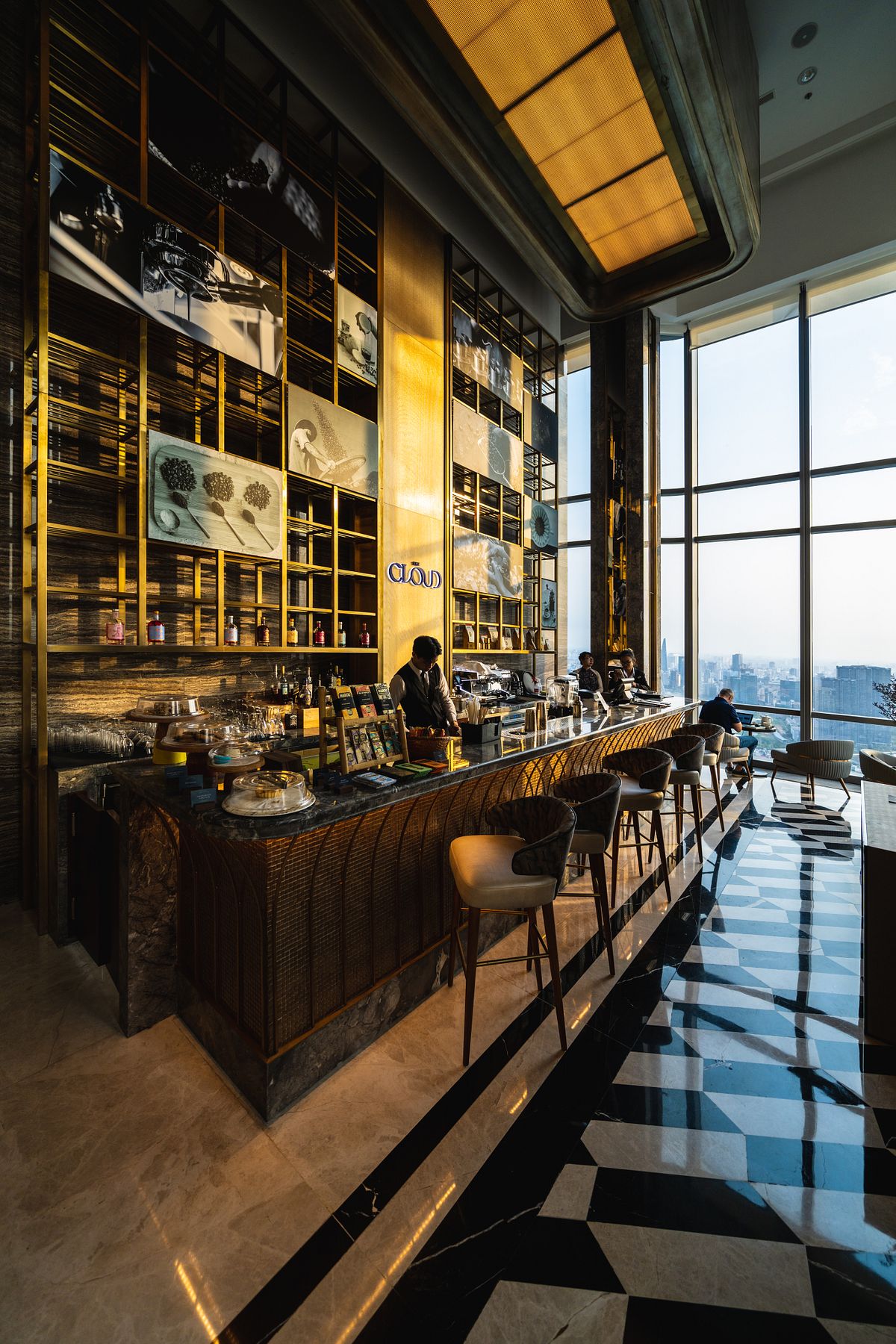 Vinpearl Landmark 81 - Autograph Collection doesn't restrict its spectacular view to people who come for a full meal, be it a la carte or buffet, however. Those that want a lighter snack or midday caffeine jolt can stop by The Cloud. The cozy, sun-bathed chairs are a great place to sip on a Lacàph beverage and have a sweet or savory bite to eat while doing some work or meeting with colleagues. And when the sun begins to drop in the sky and the outdoor deck cools down, it becomes a fantastic place to share some glasses of organic and natural wines paired with snacks.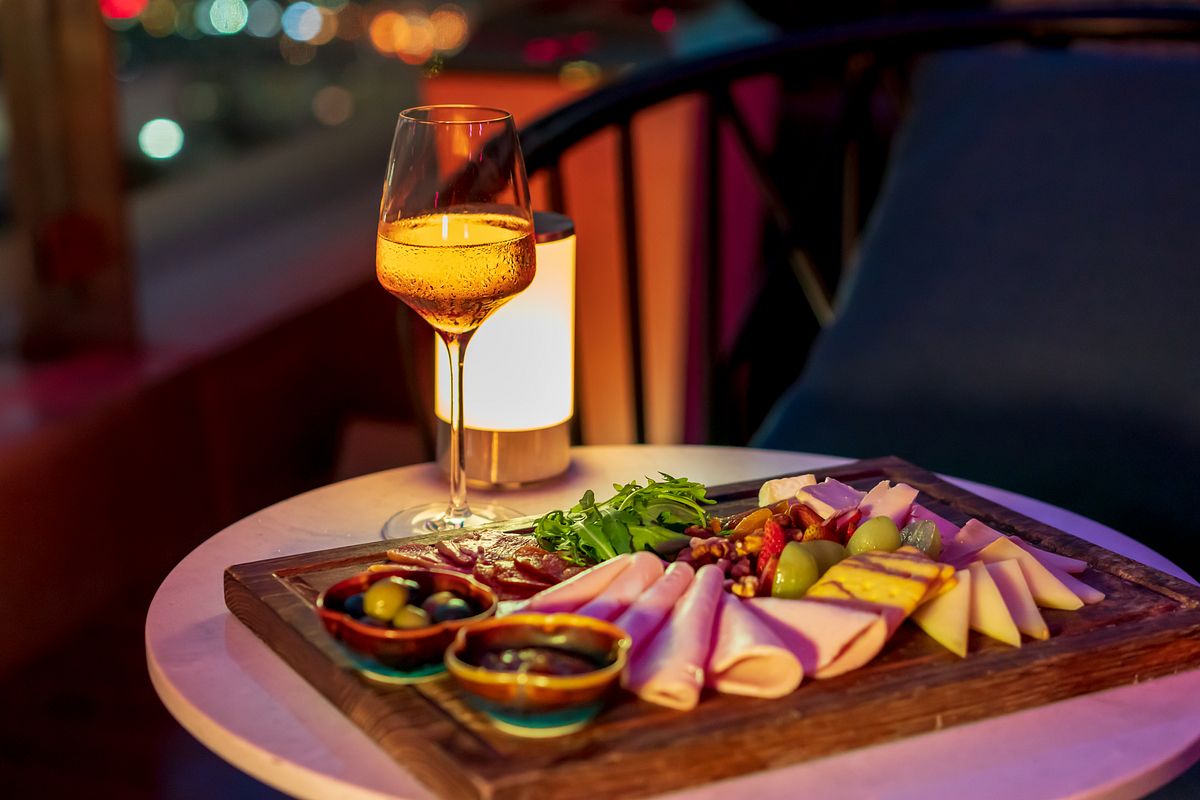 Everyone in Saigon has at some point stared up at Landmark 81's imposing presence on the horizon and wondered what the view is like up there. You'll likely find it even more impressive than you had imagined. You'll also be pleased to discover that the varied, extravagant meals at The Oriental Pearl are worthy of the views they are paired with.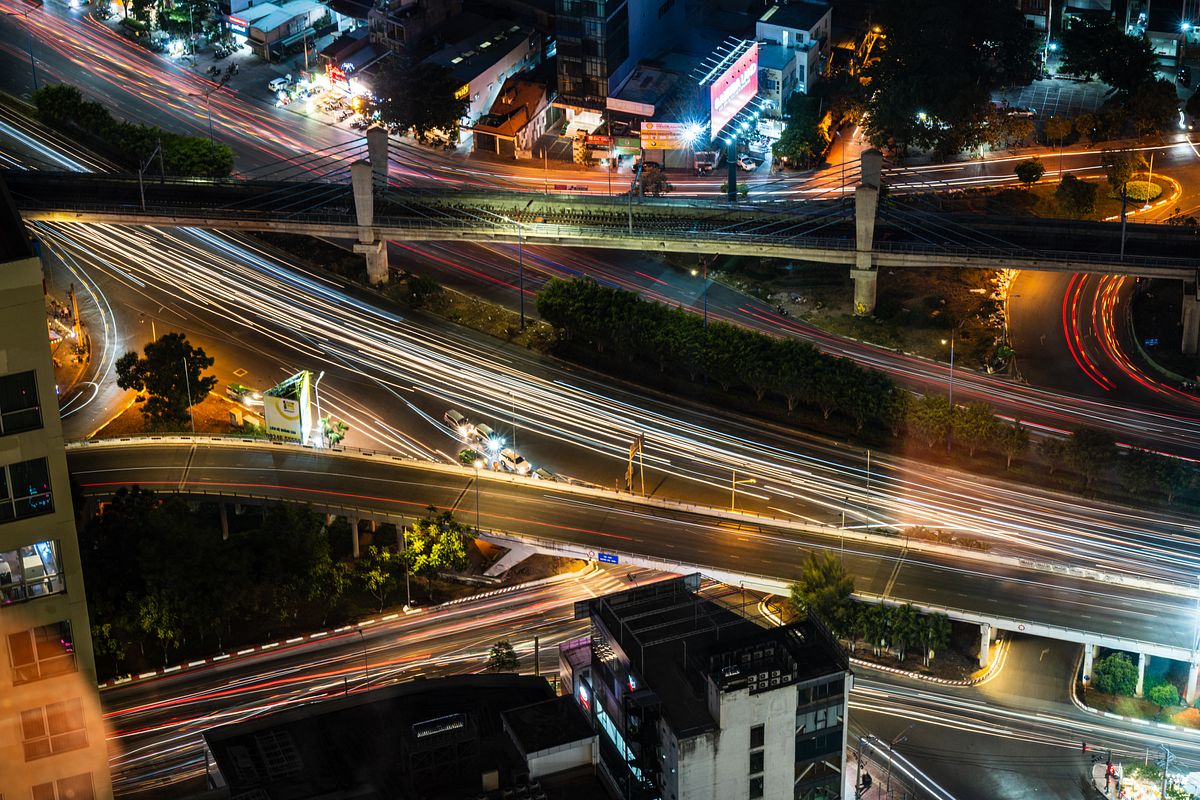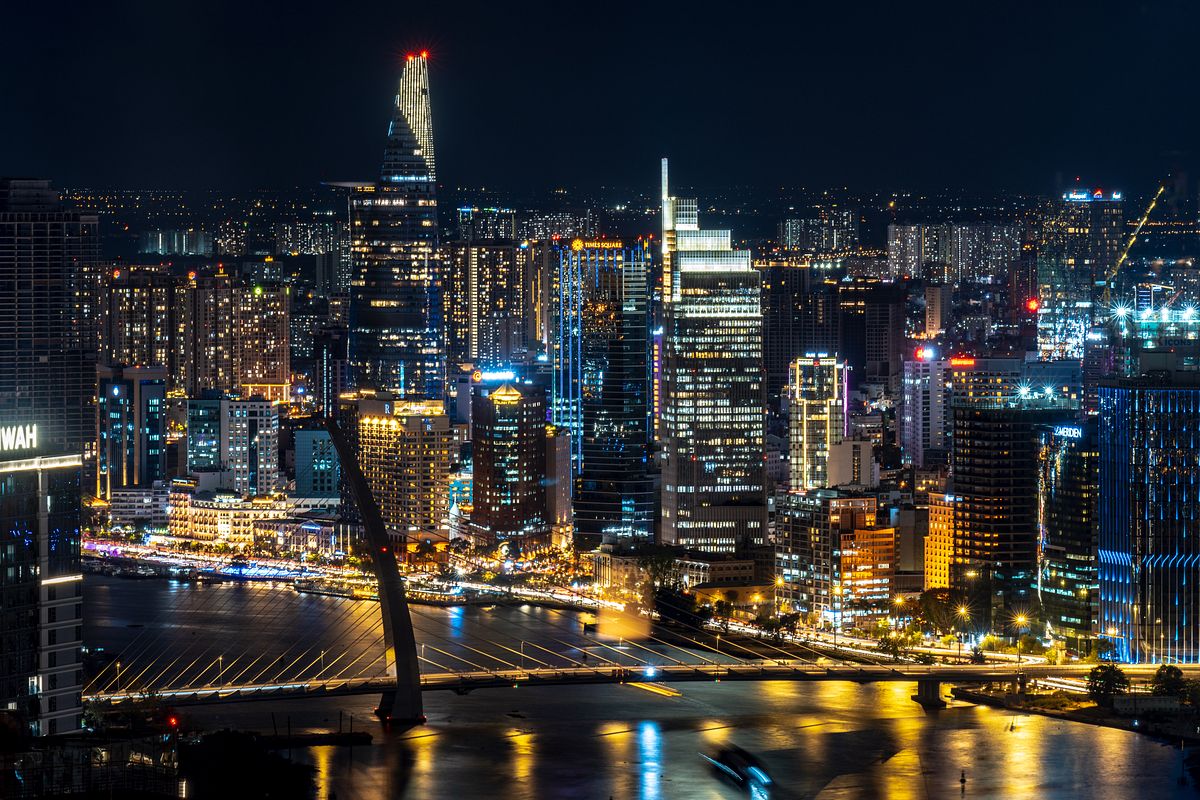 Eat Out with Marriott Bonvoy is back for a food festival so you can savor special dishes across Vietnam until August 31st. As part of the event, Vinpearl Landmark 81, Autograph Collection has 2 limited edition offerings at Oriental Pearl — a Premium Seafood buffet above the clouds for VND1,450,000 featuring an elevated selection of local specialties such as wagyu beef pho, uni & lobster every Thursday, Friday and Sunday. The Famous Landmark 81 Pho Choc Troi featuring a combination of traditional flavors with a modern twist, crafted using the finest indigenous and imported ingredients such as Wagyu shavings, US short rib, 48hr Oxtail broth for VND750,000. Advance reservation is required. Not applicable in conjunction with any other discount, voucher, or promotion.
Vinpearl Landmark 81 - Autograph Collection's Facebook
028 3971 8888
720A Điện Biên Phủ, Vinhomes Tân Cảng, Bình Thạnh, TP HCMC