I was prepared to hate A Tourist's Guide to Love on sight. As a movie setting, Vietnam has been burned by foreign productions one too many times, so I often find myself dry-heaving whenever any international project announces its intention of portraying Vietnam on screen.
The trailer for Netflix's latest travel romantic comedy A Tourist's Guide to Love didn't inspire much confidence. An American tourist visits a strange and exotic location in the Far East and magically finds enlightenment thanks to the help of robe-wearing, otherworldly locals — the premise sounds exactly like Eat, Pray, Love and the myriads of destination romances it spawned, i.e. vapid with a whispery kiss of orientalism. Still, I am but a blind moth drawn to the destructive blaze of terrible romcoms, and there's a tiny part of me that secretly wonders how our nation's backyard would appear in a bona fide Netflix production, so one Saturday in April, I allowed myself to be guided to love *gags*.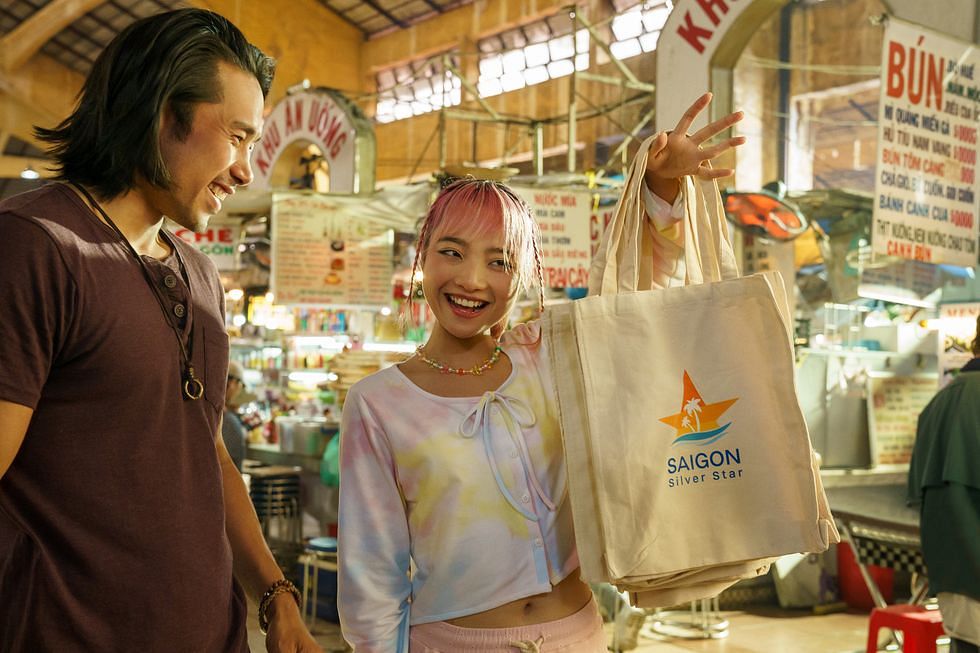 Our heroine, Amanda Riley (Rachael Leigh Cook), is a travel executive for American luxury travel agent Tourista. Her boyfriend of five years suddenly announces that he has taken a job in Ohio and wants to put their relationship on pause, despite her expectation that he would propose. Heartbroken, she dumps him and takes on a company mission to do an undercover inspection trip to Vietnam to scope out family-run tour company Saigon Silver Star as a potential acquisition. Here, Amanda joins a tour group led by free-spirited guide Sinh Thạch (Scott Lý), whose uncle owns Saigon Silver Star, and slowly falls for him as they, and a handful of perky travelers, traverse the length of Vietnam. The trip, whimsically chauffeured by Sinh's cousin Anh (Quinn Trúc Trần), includes shopping in Bến Thành Market, walking under lanterns in Hội An, sampling street food in Hanoi, beaching in Đà Nẵng, and a spontaneous detour to Thôn Chàng, Sinh's hometown, to meet his bà nội (Lê Thiện).
A Hallmark carbon copy with a whiff of durian
Cook, a romcom veteran, aces the part with practiced ease. Amanda is a textbook Hallmark female lead, a girl boss from the city with a flair for orderliness who's sorely in need of some adventure. Under Cook's deft hands, Amanda's neuroses appear relatable and her wide-eyed appreciation of Vietnam's supposed hidden charms seem genuine. Considering the script's allergy to nuanced characterization, Cook has done an admirable job making Amanda likable, even though she constantly refers to herself in the third person as "Amanda Riley." By the end of the movie, "Amanda Riley" feels less like a person and more like a Harry Potter spell, so I would strongly advise against taking a shot every time a character says "Amanda Riley" on screen.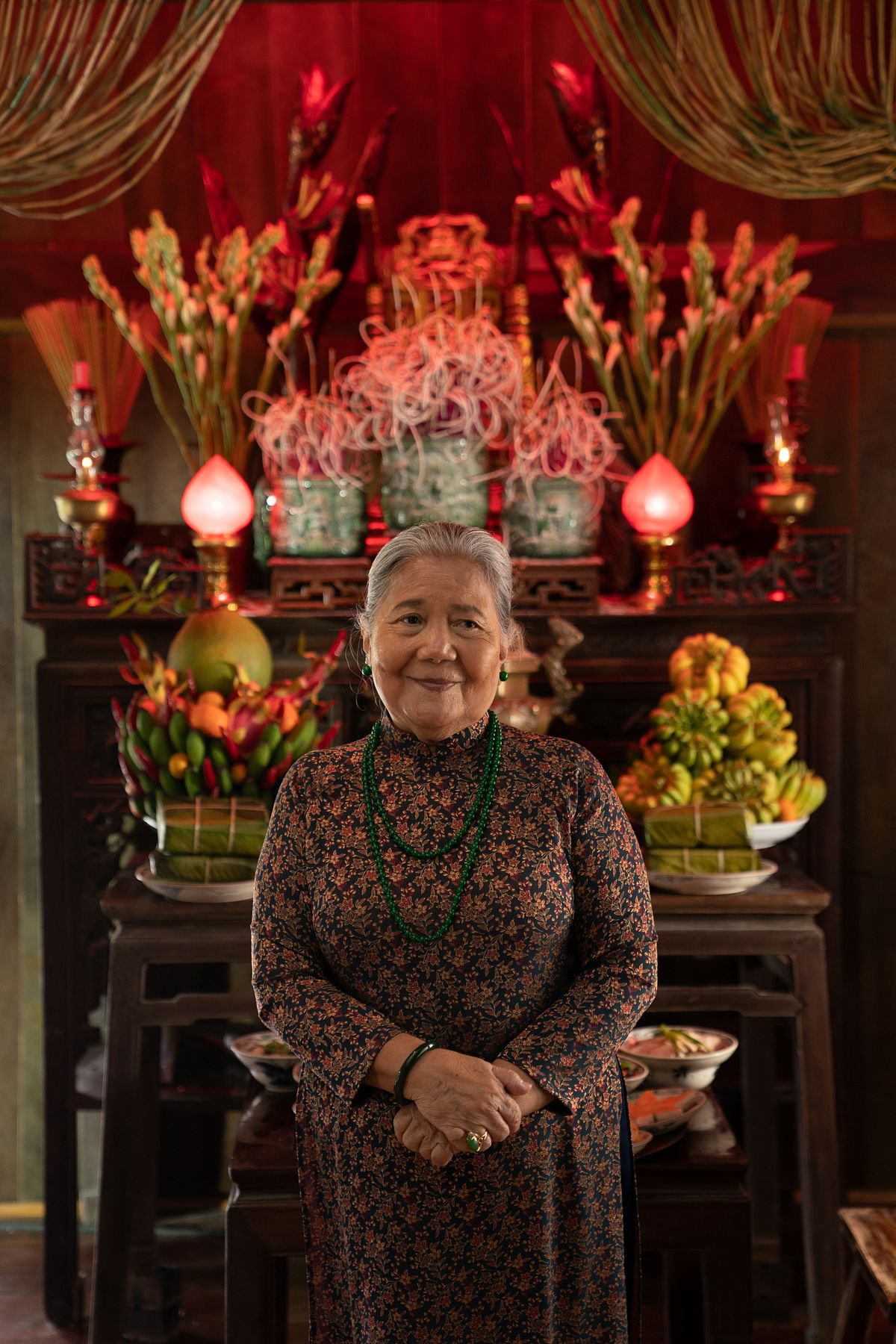 Lê Thiện and Quinn Trúc Trần also thrive despite their narrative constraints, imbuing their performances with infectious warmth and positivity. It's comical, however, to witness the lengths to which the movie will go to demonize Amanda's boyfriend in order to get us to root for the main leads to end up together. John (Ben Feldman) is a forensic accountant; his Instagram handle is @Forensic_John; he loves flight reward points; and I guess a production assistant accidentally burned the rest of his character description page. Ben, if you're reading this, after Superstore and The Perfect Man, you really don't deserve this, fire your agent.
Ironically, even @Forensic_John has more chemistry with Amanda than Sinh, played by newcomer Scott Lý. For the majority of the running time, Sinh mostly functions as a Tourism Edition fortune cookie dispenser, dropping nuggets of travel wisdom like "Embrace the mystery," "Travel is good, it forces us out of the comfort zone," and "Sometimes traveling is soaking in the atmosphere." To be fair, there's a certain earnestness to Sinh that I appreciate in spite of the wooden acting, not to mention the fact that this film is perhaps the first-ever foreign production to cast a Vietnamese male actor in a lead role that calls for any smidgen of sex appeal. Previously, Saigon-based indie drama Monsoon featured a main character of Vietnamese descent, but cast British-Malaysian Henry Golding instead.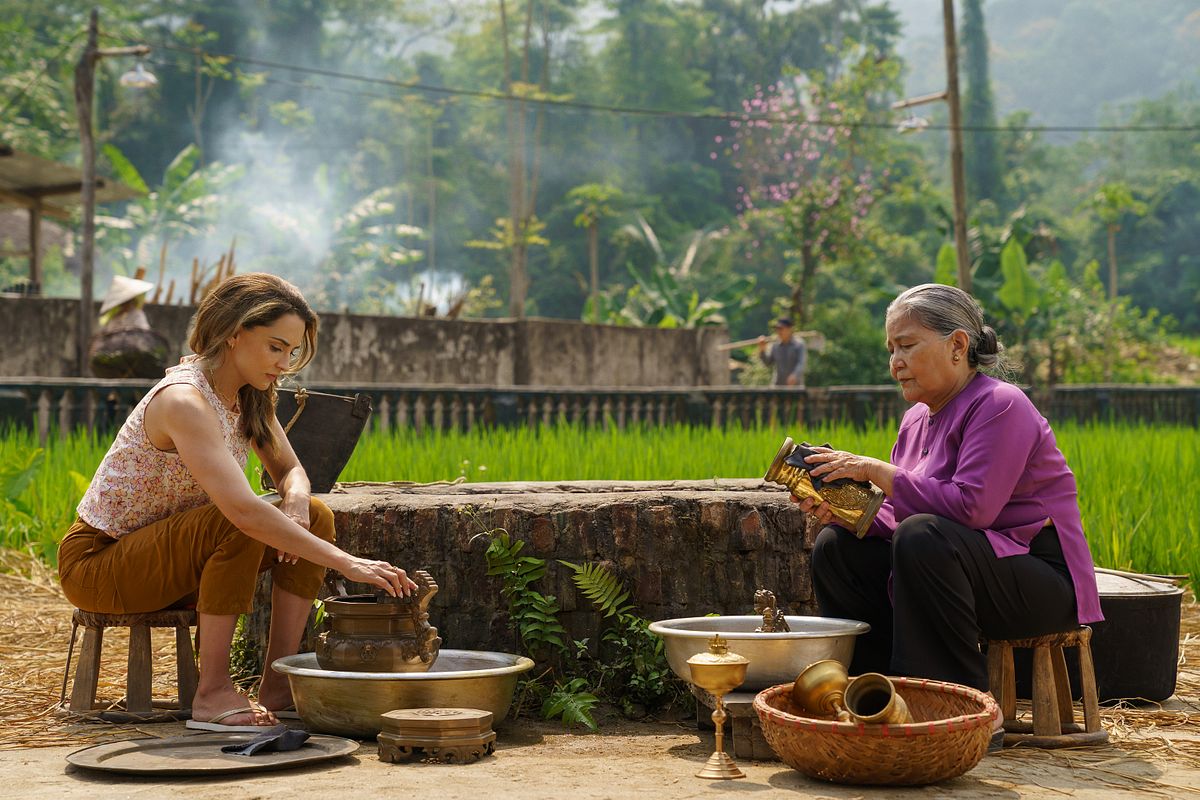 Knowing the quirks of the formulaic romcom genre, I think A Tourist's Guide to Love actually does an acceptable job when it comes to the "Love" component of the deal, but those unfamiliar with the geography of Vietnam should take its "Tourist's Guide" with a generous amount of caution. As someone who frequently travels by bus in Vietnam, I can't believe these poor American tourists were subjected to a staggering 41 hours of traveling on the road across the length of Vietnam, and not even on a sleeper bus.
The tour starts in Saigon; Anh drives the group to Hội An; they swim in Đà Nẵng and visit the Mỹ Sơn Sanctuary; Sinh suggests a detour to his home village in Hà Giang; and finally, they come down to Hanoi on the last leg. If Google Maps is any indication, that itinerary amounts to over 2,200 kilometers of sitting on a bus over bumpy rural roads. Does A Tourist's Guide to Love violate the Geneva Convention? Does their travel insurance cover hemorrhoid treatment? While it's not impossible, I doubt that any tour company in Vietnam would suggest this miserable road trip to their clients, especially when air travel is so convenient and cheap.
A happy ending for Vietnam tourism
Putting aside the script's many logistical hiccups and formulaic characterization, what's left to see in A Tourist's Guide to Love? The answer is Vietnam, which emerges as the clear winner both in the movie world and in real life. Sure, Amanda Riley and Sinh have a happy ending and share a chaste tongueless kiss outside the Hanoi Opera House. Whatever. What gets me going is the fact that we finally get the happy ending we deserve.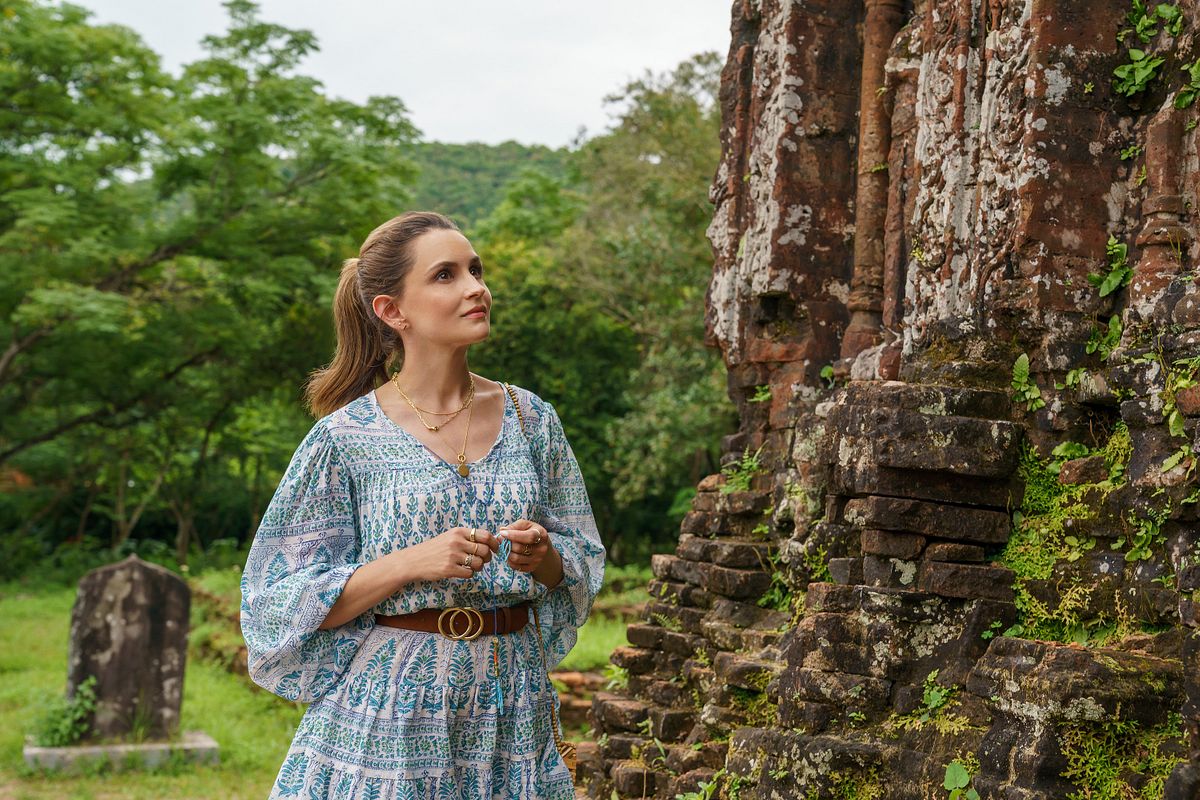 Amongst their foreign-language titles, Netflix's Vietnam track record has been disappointing to say the least. The Spanish comedy Thi Mai, about a trio of middle-aged women who travel to Vietnam to adopt a child, has a tacky dog meat gag right in the trailer. Spike Lee's critically acclaimed Da 5 Bloods portrays Vietnamese characters with the same tropes that have been tired since Apocalypse Now — who can forget that cringe-worthy chicken scene? A Tourist's Guide to Love has managed to stay away from stereotypes and cheap racist jokes, apart from that time when Amanda first encounters Sinh and immediately starts using Google Translate, assuming he doesn't know English.
Still, in an effort to remain inoffensive, at times, it overcorrects by making the tourist group too agreeable to the point of creepiness. Every new activity, destination, and scenery announced by Sinh and Anh is met with unbridled enthusiasm and nary a question nor complaint. I would have said something if my tour guide fails to book me Bà Nà Hills tickets that I paid for, and instead decide to ship me halfway across the country to a stranger's house, even though that stranger turns out to be an adorable grandma. It's almost like they are not real tourists, but paid actors hired to hype up Vietnam tourism. Wait.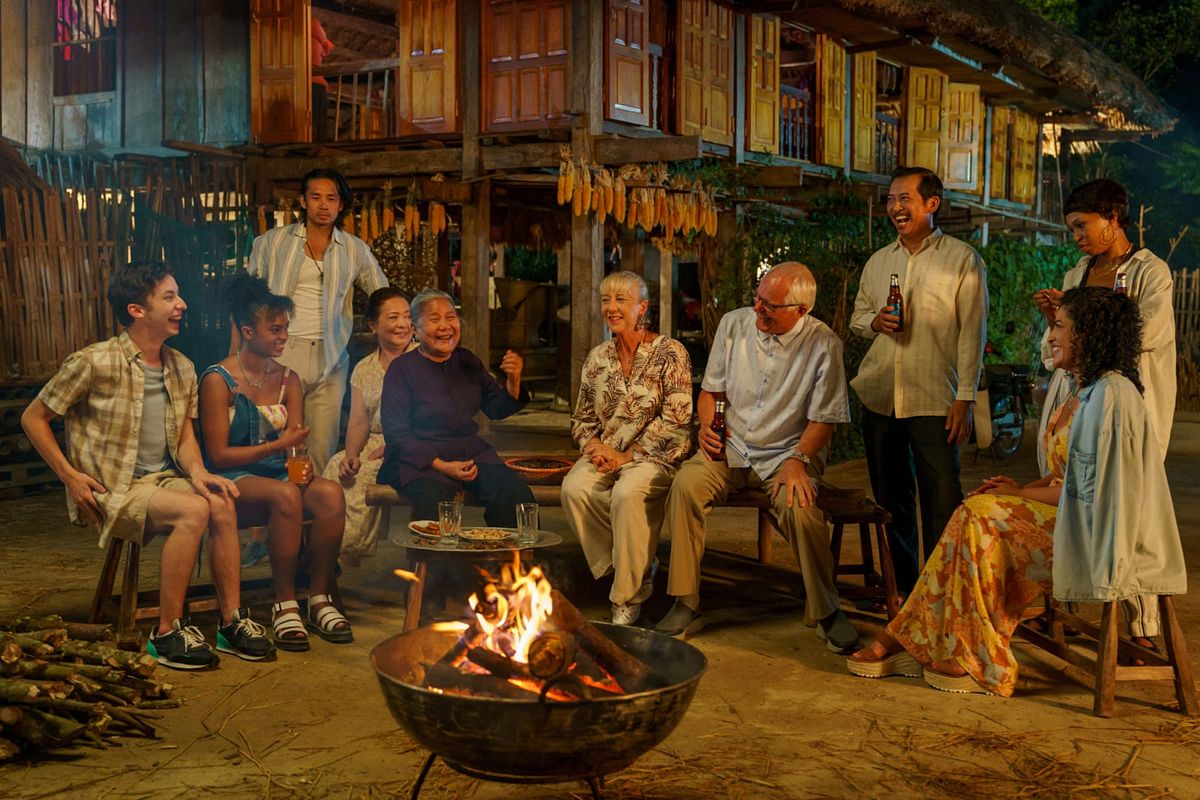 Jokes aside, A Tourist's Guide to Love has one hundred percent delivered on its promise of being a tourism romance thanks to the decadent feast of travel montages that would make any national tourism board shed tears of joy. Orgasmic bites into gỏi cuốn in Bến Thành Market, a rare win for durian, flirting over National Geographic-esque bundles of incense sticks, cozy family time making bánh chưng for Tết — this movie is the best promotional video for Vietnam tourism on the market right now. As much a decent job as Rachael Leigh Cook did as an actor, she was better as a producer on the film, because the production team demonstrated valiant efforts to depict Vietnamese culture accurately and Vietnamese landscapes in the best light possible. The soundtrack of hip V-pop songs is a welcome touch. Another tiny detail that pleases me is the fact that Amanda's áo dài fits her well, and she looks radiant in that slow-motion reveal, the rose details on the dress matching the actual rose blossoms in the shot perfectly.
For much of the film's running time, Sinh spouts a lot of bullshit travel platitudes, but one line stays with me: "I know some Americans think of Vietnam only in terms of war, but it's just a small piece of our history." Intentionally or not, this is the one sentence that boils down the movie's ultimate message about Vietnam to the world — not just in the realm of tourism, but in general — one that I think many can resonate with. A Tourist's Guide to Love is inoffensive and naive to the point of boredom, but, at the end of the day, it means well.