How would you define a "queer" film?
This question keeps echoing in my mind the whole time I spent working on this feature. The simplest approach is perhaps to look for films featuring LGBT characters, but one would discover quickly through watching that, just like in real life, movie characters often don't put a label on their sexuality. At times, there are no heartfelt coming-out announcements, convenient Tinder sexuality toggle, or in-universe verbal confirmations.
There's also one major problem with just blindly looking for queer characters in film: just because there are LGBT parts in a production, it doesn't mean that the story is theirs to tell. Queer characters are not rare in Vietnamese media projects, from television dramas to stage skits, for the last three decades, but they more often than not occupy the jester role for comedic effects through crude physical comedy or gender-based raunchy jokes. Just queer presence is not enough; for me, a queer film must depict meaningful queer presence not tethered to the function of merely embellishing straight narratives.
In my rabbit hole of research on the definition of queer films, I stumbled upon a succinct nugget of wisdom from Helen Wright, the coordinator and co-founder of the Scottish Queer International Film Festival. When asked the same question above, Wright answered: "For me, a film is queer if it somehow counters or challenges heterosexuality. That could be through representing LGBTQ+ characters or it could be through a stylistic approach which is somehow queer or which counters hetero-film aesthetics."
The queer films featured in this ranking certainly do not comprise all LGBT-themed productions from Vietnam, but they are some of the most prominent pieces of queer media out there in local popular culture. They are selected because they feature at least one queer-presenting lead character in a non-tokenistic way that either challenges heterosexual norms or celebrates queerness, or both! Some productions with standout queer parts like the gay fathers of Ngôi Nhà Bươm Bướm (Butterfly House, 2019) or the trans character in Đập Cánh Giữa Không Trung (Flapping in the Middle of Nowhere, 2015) are not included as they are not main characters.
10. Cầu Vồng Không Sắc (Rainbow Without Colors, 2015) | Director: Nguyễn Quang Tuyến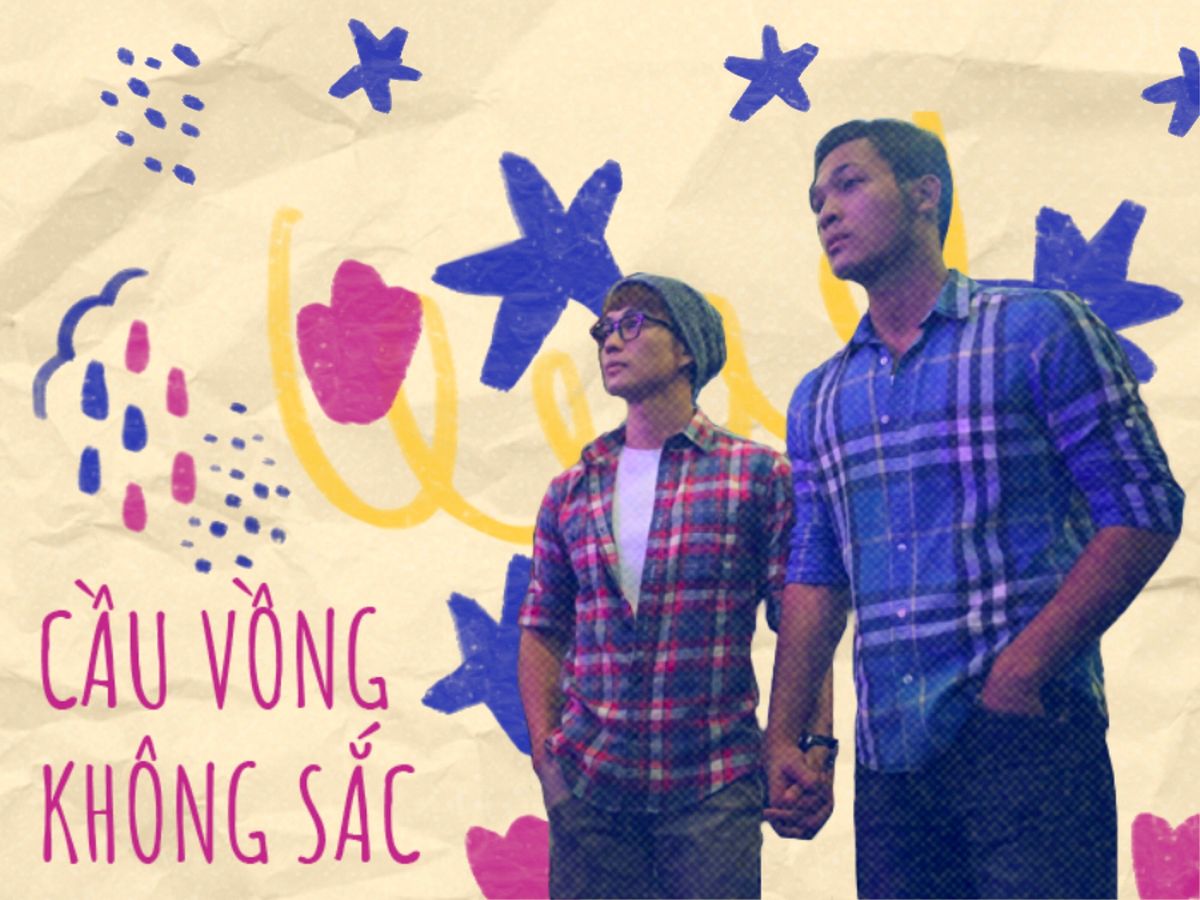 On paper, Cầu Vồng Không Sắc might sound like a much-needed addition to the canon of queer films in Vietnam: a solemn, somewhat grisly dramatic feature that serves as a cautionary tale for parents of homosexual children against rejecting them for who they are. Its overarching message of "homosexuality is not a disease" is appropriate for the time, but how this message was delivered left a bad taste in my mouth after watching. The two lead characters, both gay males, grew up together and fell in love to the chagrin of their parents. Tragedy strikes and the couple is fatally separated forever, driving the surviving half to insanity.
Even though the production deserves some credit for its attempt to build two conventional gay leads freed of stereotypical flamboyance, Cầu Vồng Không Sắc doesn't actually treat them like real people. Outside their romantic connection, we know nothing about them. Their quirks, hopes, drives, motivations, and personalities are non-existent. For a film that was trying to destigmatize gayness, it only managed to accomplish the opposite — proving that gay people are only defined by their sexuality. The natural landscapes of Đà Lạt are nice to look at, but the cinematography indulges too much in music video techniques and an odd horror movie overtone. All in all, Cầu Vồng Không Sắc has a valid message, but delivered it in the most melodramatic, preachy, and contrived way possible.
Treatment of queer characters: Like soulless stick figures in an STD brochure. [1/10]
Overall quality: A bolero karaoke music video that won't end. [2.5/10]
Cringe-o-meter: Over-the-top gay frolicking on fields of flowers to a pop-music soundtrack. [8/10]
9. Trai Nhảy (Gigolo, 2007) | Director: Lê Hoàng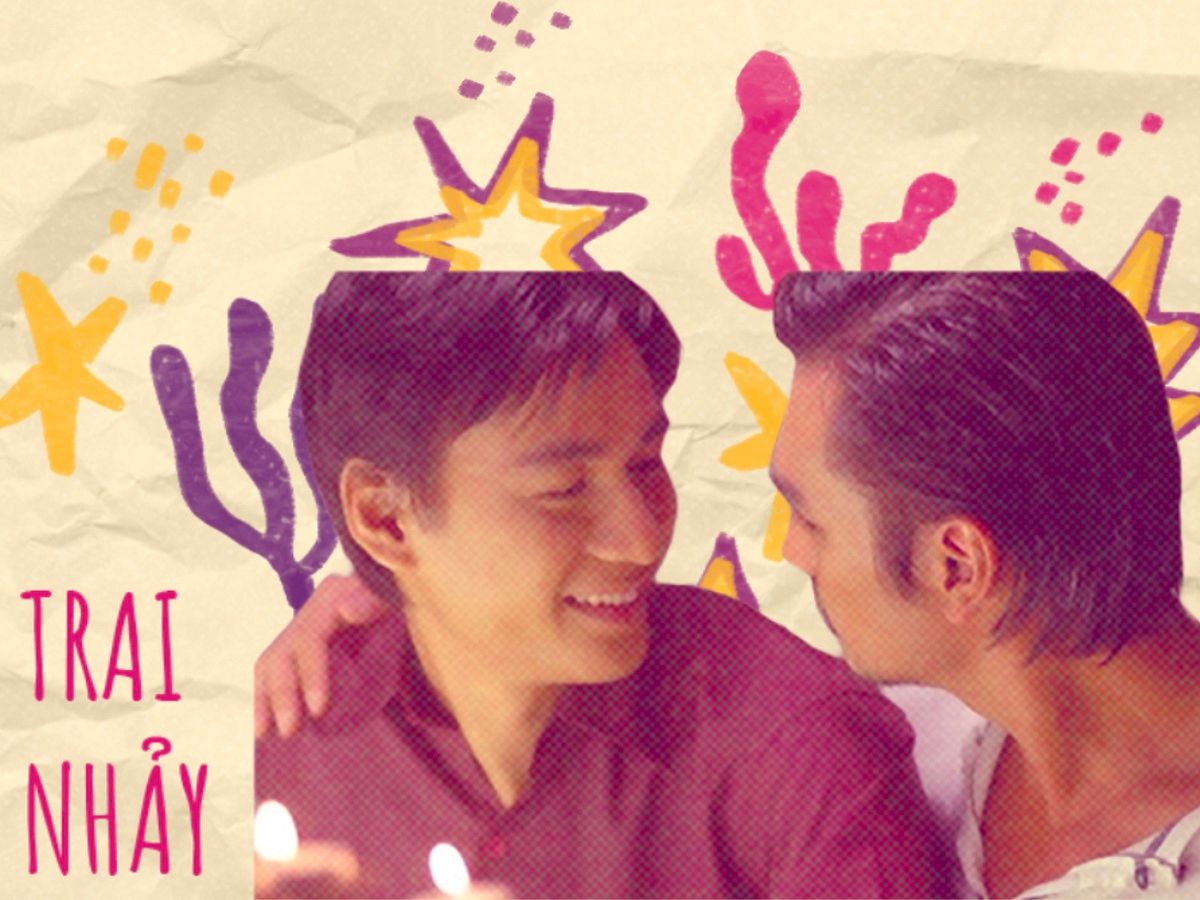 The early 2000s marked the first time film productions in Vietnam could enjoy commercial releases, the earliest of which was Gái Nhảy (Bar Girls, 2003), written and directed by Lê Hoàng and released to unprecedented public interest. Following the box office success of his trilogy on Vietnam's sordid nightlife, Hoàng put forth Trai Nhảy in 2007, a foray into… Vietnam's sordid nightlife, just told via the lens of male sex workers.
Trai Nhảy chronicles the life of Tuấn (Ngọc Thuận), a straight street masseur whose quest for social mobility pushes him into the male companionship trade and the arms of cougars and Tony (Đức Hải), a gay, wealthy Việt Kiều. Lê Hoàng's talent for scriptwriting is undeniable, as he managed to weave together taboo topics and humor into a compelling story that's both enthralling and emotionally charged. Trai Nhảy's queer representation, however, is obsolete at best and downright damaging at worst. Tony is predatory and touches Tuấn non-consensually while the latter was drunk. Towards the end, he also revealed a trip to carry out gender reassignment surgery in Thailand, a decision he made because he believes deep down gay men are women. Of course, to be fair, there's a chance that Tony might be a pre-op trans woman experiencing gender dysphoria, but the film never makes any allusion to this possibility, so I'm inclined to believe that this is just garden-variety ignorance on Lê Hoàng's part.
During an era when racy shock factors were the main draw for movie-goers, Trai Nhảy might have successfully lured in curious voyeurs eager to peep at Vietnam's supposedly hidden corners, but it did little to promote public understanding and sympathy for queer Vietnamese.
Treatment of queer characters: As dated as using "bê đê" as an insult. [3/10]
Overall quality: Well-written script with a vibrant support cast and arresting score. [6/10]
Cringe-o-meter: Major misinformations regarding homosexuality and transgenderism. [6/10]
8. Lạc Giới (Paradise in Heart, 2014) | Director: Phi Tiến Sơn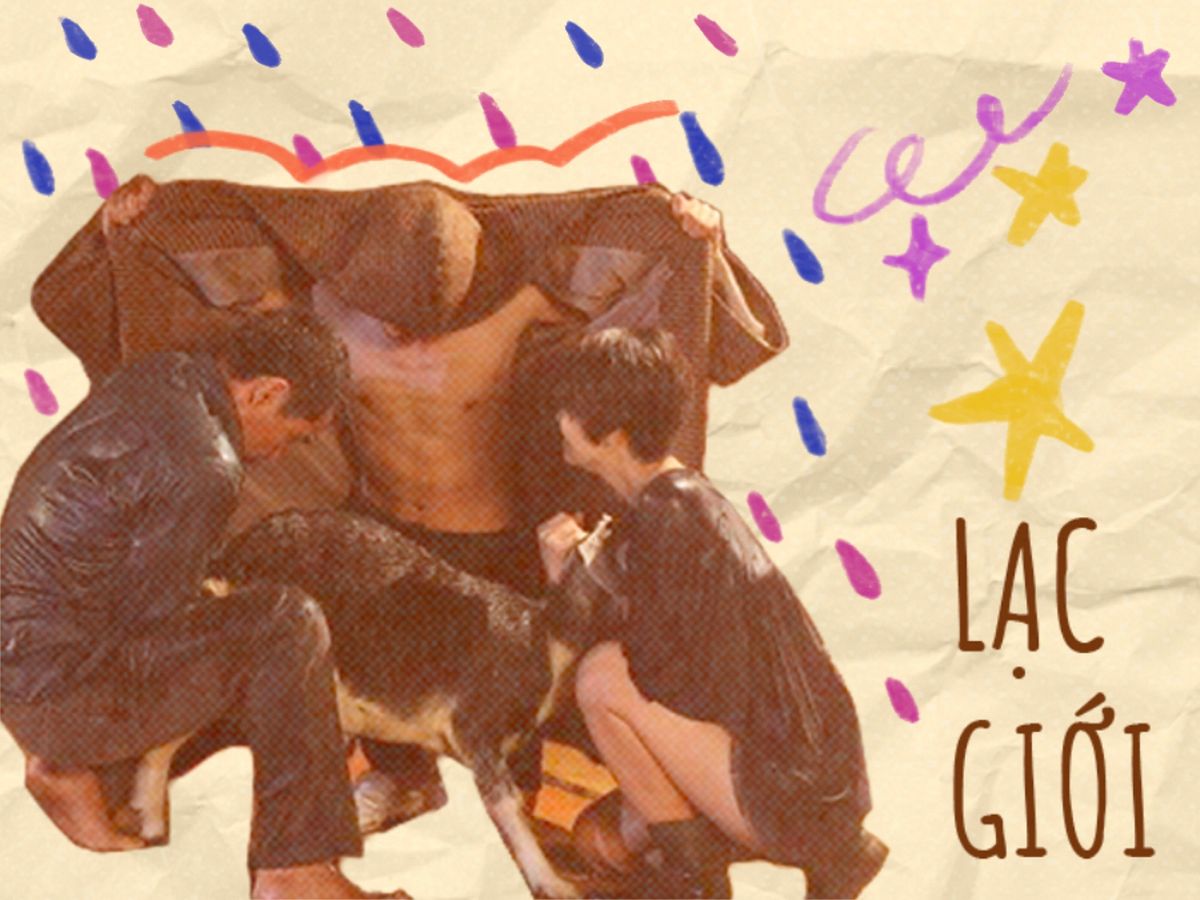 As the only contender in the list featuring a canonically bisexual character, Lạc Giới is a hodgepodge of melodramatic shenanigans that could pass for a Mexican telenovela: a runaway inmate, high-speed chases, a bisexual love triangle, medical miracles, sensual seduction, and a herd of goats. Trung (Trung Dũng), a convict on the way to prison, escapes the police by seeking shelter in a goat ranch run by no-nonsense but sultry nurse Kim (Mai Thu Huyền). The desolate ranch in the Ninh Thuận countryside is owned by a faceless Việt Kiều man, who established the homestead as a safehouse-cum-sanitarium for his ill gay son Hải (Bình An) and hired Kim to take care of the place and Hải. Trung seduces Kim while also developing feelings for Hải. Scandal!
Lạc Giới is riddled with so many bizarre goat metaphors and illogical plot holes that Trung's convoluted romantic dalliances seem vanilla in comparison. It does deserve credit for normalizing the queer relationship as Trung and Hải's gay connection is never met with ridicule or bigotry by in-universe characters. Overall, the film's tone, writing and storyline seem more fitting as an episode of the 2000s television soap Cảnh Sát Hình Sự rather than on the big screen.
Treatment of queer characters: Somewhat cloying but the normalization is welcome. [7/10]
Overall quality: Direct-to-video. [4/10]
Cringe-o-meter: Odd metaphors and imagery all around. [6/10]
7. Sài Gòn, Anh Yêu Em (Saigon, I Love You, 2016) | Director: Lý Minh Thắng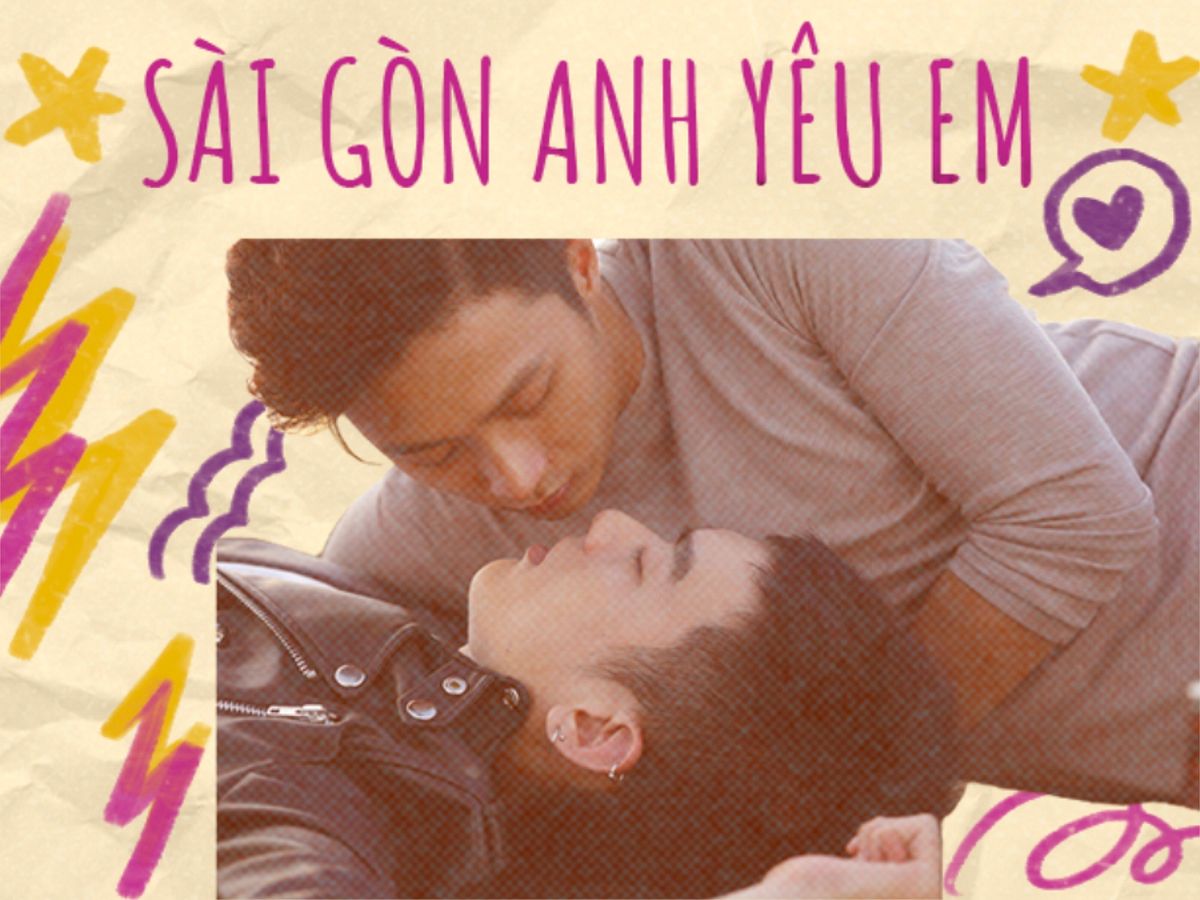 Borrowing from the format of anthology films like New York, I Love You and Paris, je t'aime, Sài Gòn, Anh Yêu Em sets out to tell an overarching story involving five pairs of interconnected characters living in Saigon, each with their own mini-narrative. It's quite a win for queer representation that three out of the ten main leads are gay men. In one of the five segments, Đức (Brian Trần) returns to Saigon, years after being adopted into an American family, in search of his biological father. He met and formed a connection with Khánh (Cường Đinh), a bar proprietor. Another segment features Mỹ Mỹ (Huỳnh Lập), a gay man working in event planning, who lives with his mother Mỹ Tuyền (Phi Phụng) in their home salon.
Huỳnh Lập's segment serves as the anthology's comedic relief, though luckily not at the expense of his sexuality. The mother-son relationship has great chemistry, allowing them to nail both humorous and heartfelt sequences with aplomb. Đức and Khánh are pretty to look at but mind-numbingly boring with no chemistry and lackluster acting. Perhaps it's a sign of progress that gay storylines today can just be dull instead of tragic, flamboyantly comedic, or an impassioned act of activism. With the exception of the mother-son pair and the cải lương-centric segment, the remaining three range from mediocre to downright unwatchable. In a nutshell, Sài Gòn, Anh Yêu Em has some good moments and decent queer representation, but is ultimately as meaningful a tribute to Saigon as an iPhở T-shirt.
Treatment of queer characters: On equal footing with the rest of the cast. [7/10]
Overall quality: Excellent set design and filming, but clichéd plot. [5/10]
Cringe-o-meter: The discrepancy between stage veterans and celebrity first-time actors could give you whiplash. [5/10]
6. Mỹ Nhân Kế (The Lady Assassin, 2013) | Director: Nguyễn Quang Dũng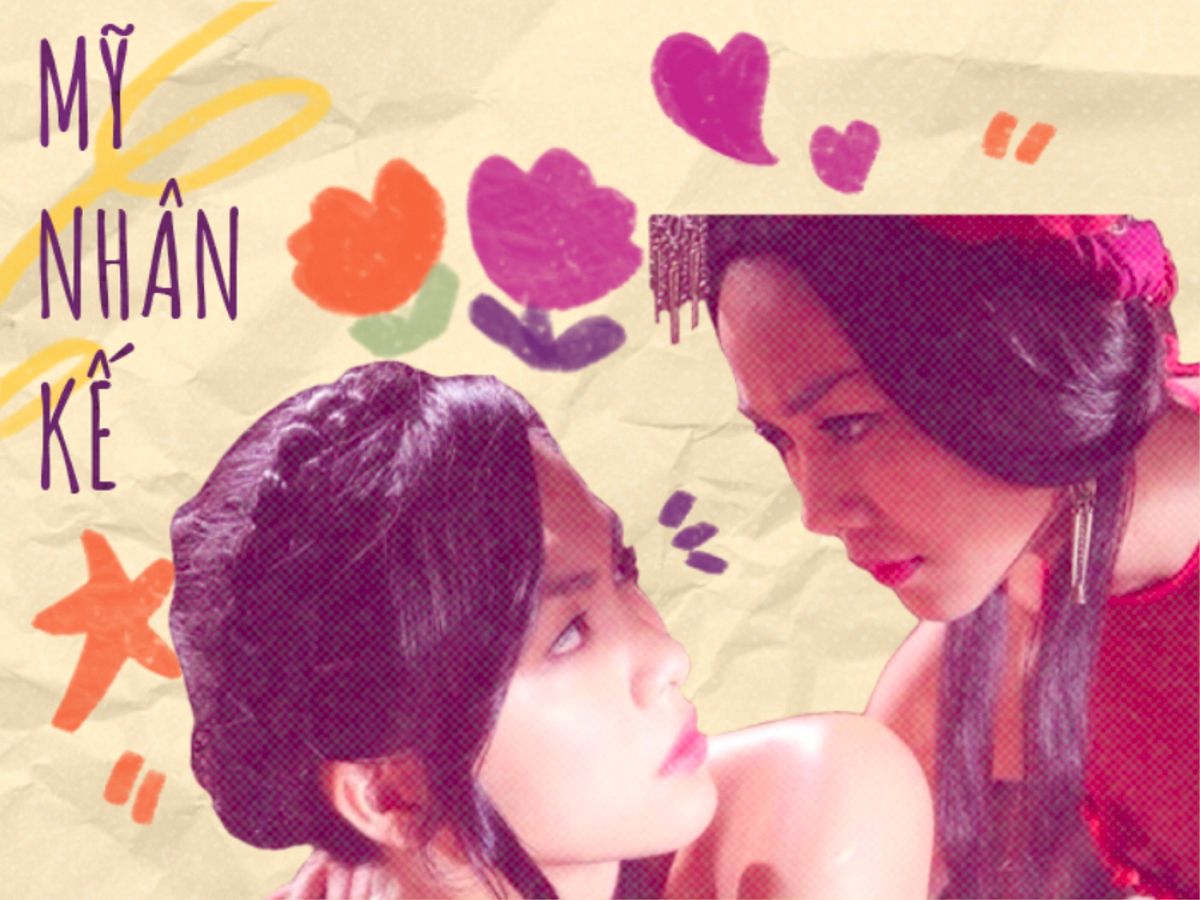 In a world of boring routines and beige interactions, we have to be grateful for camp. It's the core element behind why Eurovision, RuPaul's Drag Race, and Mỹ Nhân Kế are so successful. Mỹ Nhân Kế is set in Đại Việt-era Vietnam and tells a fictionalized story of a band of female assassins who run an inn as a front for their criminal operation: fighting thugs and corrupted officials, killing them, and stealing their valuables. The gang leader is Kiều Thị (Thanh Hằng) who recruits other downtrodden damsels into her "family" and teaches them martial arts and sepak takraw(!?). They are also color-coded and fight using a wicker ball attached to a long string — think Sailor Moon-meets-wuxia-meets-ancient Vietnam.
Kiều Thị's tightly run ship is rocked by the arrival of the mysterious Linh Lan (Tăng Thanh Hà), a seemingly harmless aristocratic noblewoman who was kidnapped by a band of thieves. She's inducted into the group and develops an intimate connection with Kiều Thị. The sexual orientation of the two is never confirmed, but the homoerotic undertone is palpable and it was heavily implied that Kiều Thị had a female lover who had left the group. The murderous bed-and-breakfast is based on a gorgeous oceanside lot in Cam Ranh, Khánh Hòa, so the sparkling central Vietnam sea is featured extensively, though at times, the film seems more like a stage play due to the single location setting. Still, Mỹ Nhân Kế is thoroughly entertaining because it's so ridiculously campy! The sepak takraw balls are not just weapons, our girls employ them in every aspect of their life, from cleaning a table with flair to playing beach wicker ball. Fight scenes are surprisingly well-choreographed, and the female characters are nicely fleshed out, despite some technical shortcomings.
Treatment of queer characters: Woman-loving-woman girl boss FTW. [7.5/10]
Overall quality: A lot of fun, though the last fight is way too long. [6.5/10]
Cringe-o-meter: Some wooden acting but overall acceptable. [2/10]
5. Yêu (Love, 2015) | Director: Việt Max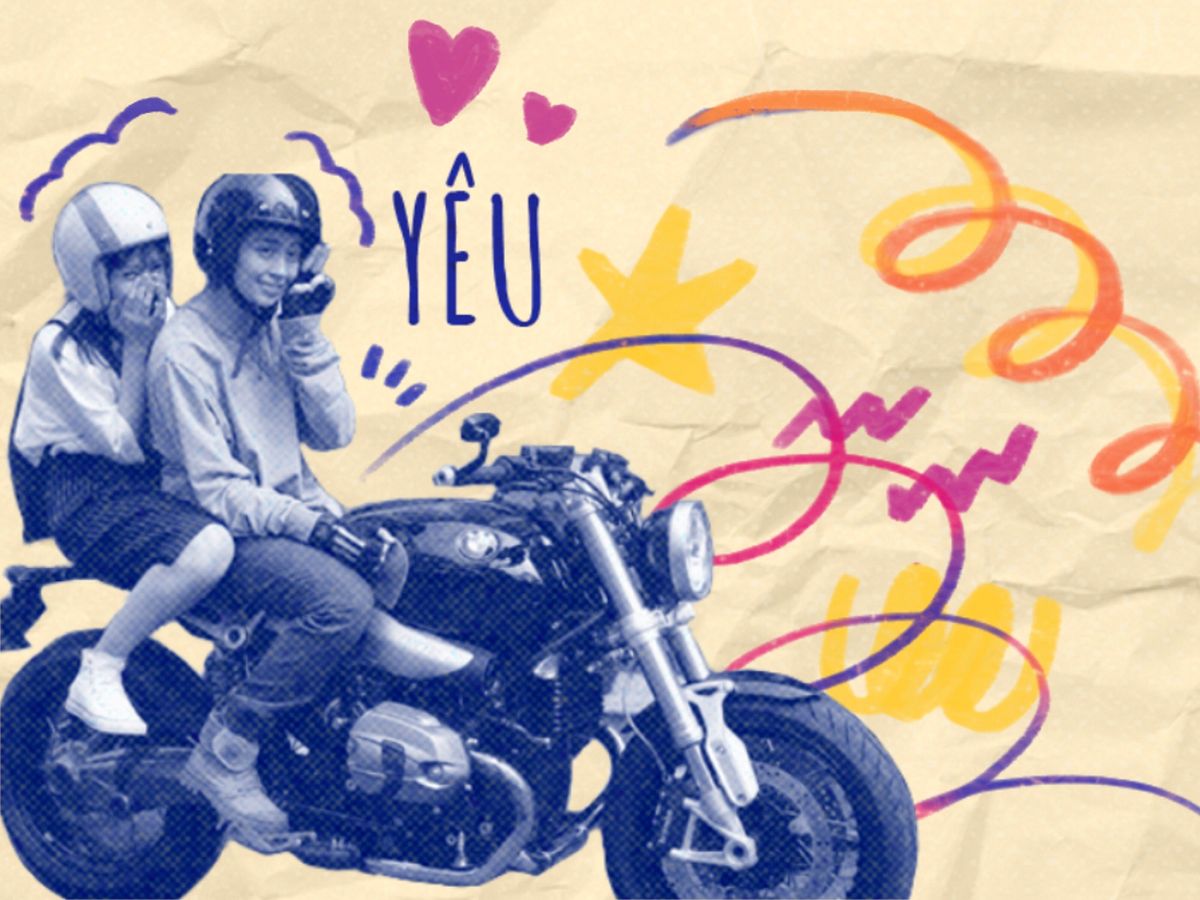 In his directorial debut, Việt Max chose to adapt the Thai LGBT classic The Love of Siam for the Vietnamese audience, albeit with a female couple instead. Even though this was also the first time Chi Pu and Gil Lê were given lead roles, they delivered commendable performances as childhood friends-turned-romantic partners with an air of first-love innocence that feels fresh and heart-warming. Lesbian couples are a rare species even in the cinema landscape now, so to have a full-length woman-loving-woman story done with such care and sensibility is a treat.
The plot, nonetheless, shows the movie's age when it comes to Vietnam's perception of gay people. In one scene, Nhi (Chi Pu) tries to reject her ex-boyfriend Hoàng (Bê Trần) by openly admitting that she has feelings for Tú (Gil Lê). Unbeknownst to her, a catty classmate has recorded the entire interaction and uploaded it on Facebook, effectively outing Nhi to the entire university cohort. The next day, Nhi becomes the target of much virtuous pearl-clutching and malicious gossip on campus — this would never happen in today's Vietnam, especially not in the college setting amongst Gen Z. All told, Yêu is an instant queer classic that offers feel-good warmth, decent acting, and relatable characters who are easy to root for.
Treatment of queer characters: As sweet and pure as a childhood pouch of frozen yogurt. [8/10]
Overall quality: A complete story with distinct cinematic language and well-crafted narrative, even though the plot is not too inventive. [7/10]
Cringe-o-meter: A few supporting characters have stiff acting, but luckily they are too minor to matter. [1/10]
4. Lô Tô (2017) | Director: Huỳnh Tuấn Anh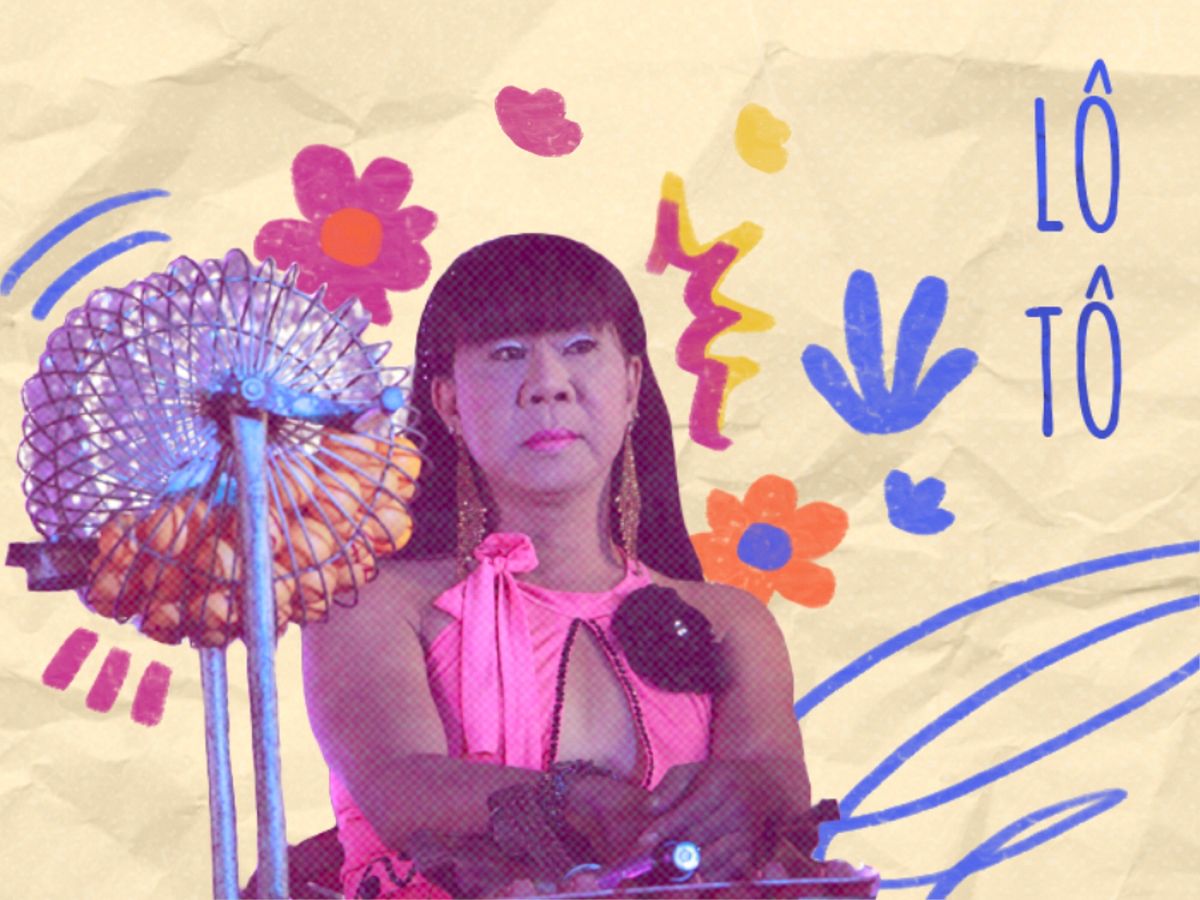 Lô Tô is a fictional adaptation of the award-winning documentary Madam Phụng's Last Journey by Nguyễn Thị Thắm. While its predecessor is widely consider an instant classic in the admittedly limited pantheon of Vietnamese LGBT media, Lô Tô is a surprisingly solid addition in its own right thanks to the powerhouse performance of Hữu Châu and other supporting cast members. Châu plays Lệ Liễu, the leader of a nomadic troupe of lô tô performers traveling across the Mekong Delta to set up bingo game nights and other festival attractions. All of the performers are trans women, each with their own personality and demeanor, though united by their outcast status in society.
Even though there's an undercurrent of tragic misfortune throughout the troupe's story, every trans character is wonderfully written and acted. They're incredibly humorous, contemplative, and kind despite their circumstances. It's a joy to watch the banter between the characters and a chilling experience to witness the craftsmanship behind Hữu Châu's depiction of Lệ Liễu. The two straight characters, while having specific functions to bolster the story of Lệ Liễu, are underwhelming amid the fantastic queer cast. Even though it's literally in the name, the movie is stingy when it comes to displays of actual lô tô calls and performances, a major missed opportunity.
Treatment of queer characters: Complex and nuanced with so much humanity to give. [8/10]
Overall quality: It manages to hold its own compared to the source material thanks to sublime acting and a charming cast. [7/10]
Cringe-o-meter: The (almost) rape scene is redundant and detracts from the main story. [4/10]
3. Hot Boy Nổi Loạn (Lost in Paradise, 2011) | Director: Vũ Ngọc Đãng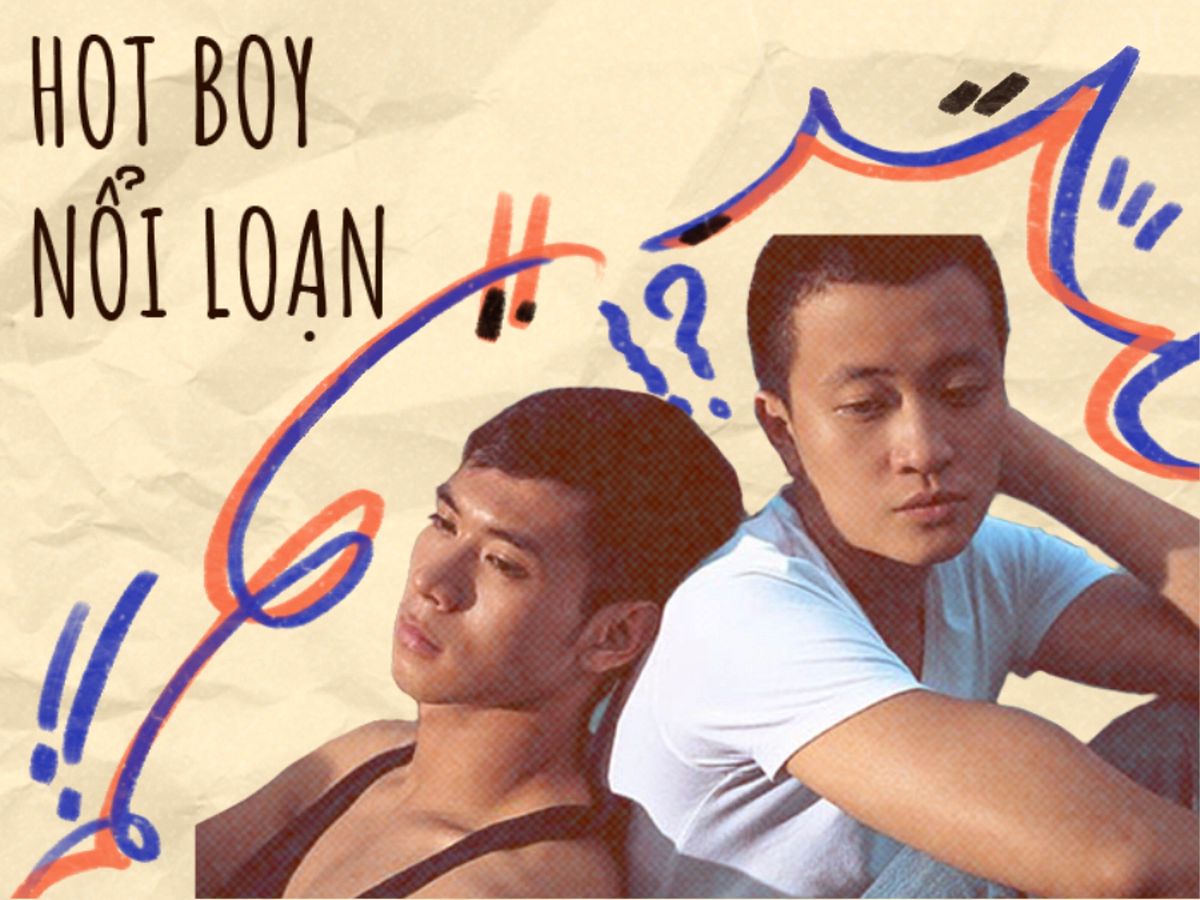 Hot Boy Nổi Loạn is a bit of an odd addition to the timeline of Vietnamese cinema due to its non-traditional structure: there are two storylines shown in tandem, but the characters of the two do not interact or relate to one another, even though they share similar themes. The queer narrative revolves around the murky lives of Saigon's gay sex workers through the lives of Lam (Lương Mạnh Hải) and Đông (Linh Sơn). On his first day in Saigon, Mekong Delta native Khôi (Hồ Vĩnh Khoa) falls victim to the pair's trickery and loses all his money. The rest of the story explores the convoluted dynamic between the three.
Bleak is probably the overarching tone that Vũ Ngọc Đãng employed to depict queer characters in Hot Boy Nổi Loạn. Khôi escapes his hometown due to his parents not accepting his sexuality, and has to resort to menial jobs in Saigon to survive, sleeping in squalid group homes and bathing in public bathhouses. Lam picks up johns on the street, lures them to remote fields to rob them at knifepoint, and suffers from the fatal consequences of his crimes. Đông is a manipulative, abusive red flag with abs. Gay sex workers and homosexuality are depicted in a straightforward manner with neither shame nor praise, albeit not with pride either. At the end of the day, Hot Boy Nổi Loạn isn't here to wave the rainbow flag or tiptoe around taboo subjects, its aim is to delve into diverse and real aspects of the queer experience in Saigon, even if sometimes those are as murky as Saigon River water.
Treatment of queer characters: Like a tear-streaked, cum-stained heavy sigh. [7.5/10]
Overall quality: Major nostalgic values and much arthouse sensibilities. [8/10]
Cringe-o-meter: Lam has a tad too many pseudo-philosophical lines with cringy delivery. [3/10]
2. Song Lang (2018) | Director: Leon Lê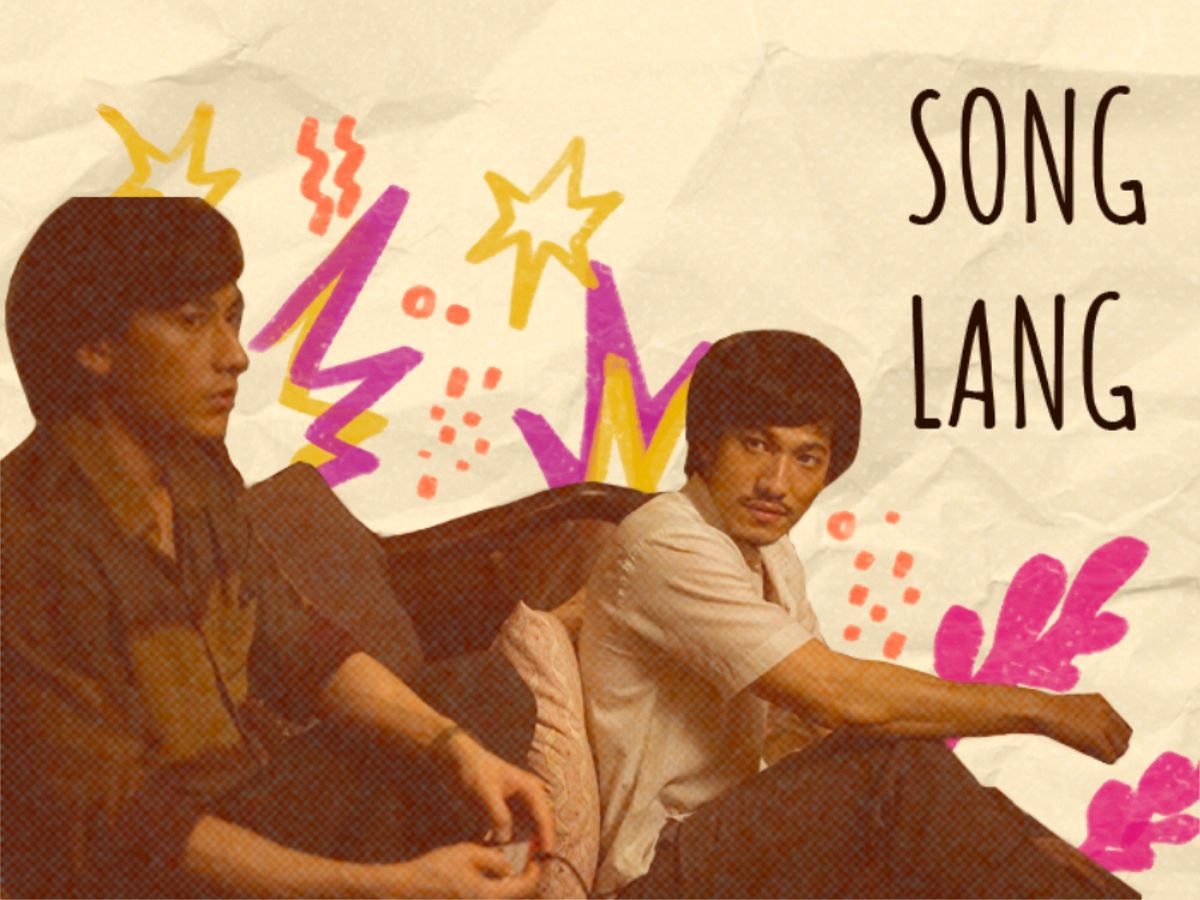 When Song Lang first came out, debates broke out on local social media regarding the nature of the relationship between the two leads and whether they portray a same-sex couple. Dũng (Liên Bỉnh Phát) is a loan shark's brutish collector who goes about town antagonizing borrowers into repaying. Once, during a trip to vandalize a victim's cải lương theater, Dũng encounters Linh Phụng (Isaac), a cải lương performer with a daredevil streak who stands up to Dũng's intimidation. The two become friends after Dũng defends Phụng from drunk diners, bonding over their love of NES games and shared childhood traumas.
Song Lang has perhaps this list's subtlest queer representation, in that the main male characters are not in a relationship, do not share physical affections, and never mention their sexual orientation at all. In Song Lang, intimacy is built up through heartfelt conversations, creative resonance, and just the pure desire to be good for the other person. Those seeking out Song Lang in hopes of watching LGBT fan service on screen will be disappointed, but the film's queerness is honestly the least impressive aspect of it. Song Lang was the most stylish film to hit local theaters in the 2010s, presenting a meticulous, nearly dioramatic depiction of 1980s Saigon, down to every movie poster, VHS tape, and tablecloth. The cải lương excerpts featured are not only a treat to watch, but also foreshadowing devices that run parallel to the main narrative.
Treatment of queer characters: If only Song Lang spent just a bit more running time to explore the attraction between the leads more. [8/10]
Overall quality: Gorgeously shot and elegantly styled. [9/10]
Cringe-o-meter: [0/10]
1. Thưa Mẹ Con Đi (Goodbye Mother, 2019) | Director: Trịnh Đình Lê Minh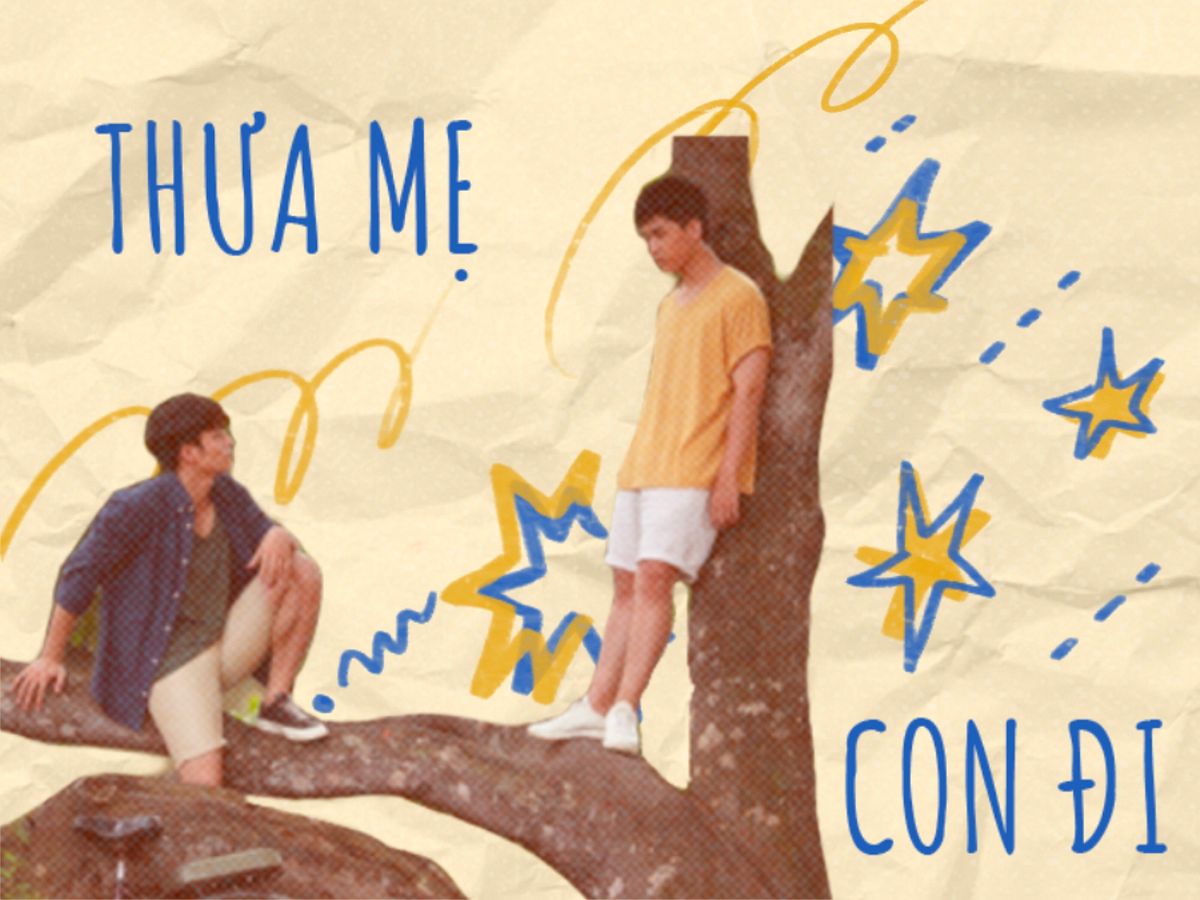 Is there any surprise that Thưa Mẹ Con Đi is at the top of this ranking? It's the most recent entry in the list and also one that demonstrates the most nuanced, authentic, and open-minded treatment of queer characters, in addition to superb cinematic sensibilities and stellar acting performances. We've come a long way since Trai Nhảy in 2007, and Thưa Mẹ Con Đi's existence shows that the industry is on an optimistic upward trajectory when it comes to LGBT-themed films.
The movie revolves around the big family of Văn (Lãnh Thanh) with Paris by Night veteran Hồng Đào as Hạnh, the matriarch and Văn's mother. After studying in the US, Văn takes Ian (Võ Điền Gia Huy), his Vietnamese American partner back to the homeland to visit as the couple tries to navigate how to come out to the family and convoluted domestic politics. The script deftly juggles many issues plaguing contemporary gay Vietnamese like coming out, expectation to continue the bloodline, gay bashing, and lack of privacy in big households. Văn and Ian's relationship and personalities are well-fleshed out and believable. At its core, Thưa Mẹ Con Đi is both a queer story and a family story, and what lends it authenticity is how it recognizes that in Vietnam, freed of the religious bigotry and legislation that often haunts other nations, queer acceptance is intertwined with the family.
The only saddening aspect about Thưa Mẹ Con Đi is how it underperformed in the box office, despite positive reception from both viewers and critics. Is the Vietnamese public still averse to explicitly LGBT media products or was this a marketing blunder? No matter what the underlying reason is, the lack of commercial viability might pose major hurdles to the growth of LGBT films in the future.
Treatment of queer characters: With complexity, humor, and warmth. [10/10]
Overall quality: Pitch-perfect performances from the supporting cast of veteran actors, an emotive score, and a deeply resonant script. [9/10]
Cringe-o-meter: An on-screen depiction of gay bashing might be triggering for some. [1/10]