Ho Chi Minh City authorities are creating a proposal to build a rail network connecting Saigon and five other provinces in the Mekong Delta.
According to Phap Luat Online, the new train line will cover 134 kilometers and stop at 10 stations. Freight trains will be subject to a speed limit of 200 kilometers per hour on the standard 1,435-millimeter-wide gauge track, while passenger trains may be allowed to travel at a faster pace.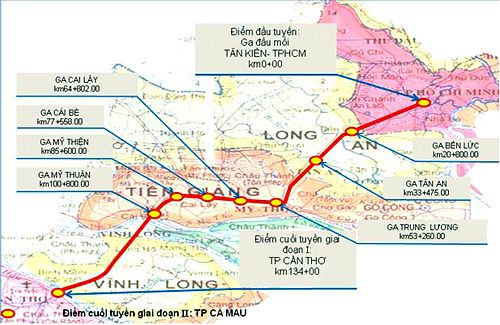 Once the line is completed, commuters will be able to travel from Saigon to Can Tho in 45 minutes, compared to the four hours it currently takes to cover the 169-kilometer route between the cities on the road.
The Mekong Delta line will cost an estimated US$3.6 billion. When news of the proposal first came out in 2013, according to the Saigon Times, representatives of the China Development Bank in Vietnam reportedly offered to provide a loan of US$1 billion for the project.
According to the news source, Vietnam's Phuong Nam Institute of Science and Technology stated the railroad will be a necessary feature of economic development in the region. For one, it will affect labor distribution in the Mekong Delta, while satellite cities will also be created near the stations with a focus on clean industry and agriculture.
The railroad industry in Vietnam currently faces staunch competition from other means of transportation. In 2016, trains only serviced 1.3% of goods and 1.9% of passengers, according to government statistics cited by VnExpress. Railroads received a meager 3% of infrastructure investment from the government in the same year which, as the former Deputy Minister of Transport La Ngoc Khue argued, might have marginalized the industry's potential.
However, this may change in the coming decades, as the National Assembly recently approved the new Railway Law, which includes a separate chapter on high-speed rail lines.
[Photo via Vietnam Travel]
---
Related Articles
---