Ask any Vietnamese person to describe a typical wedding album from memory and the answer is likely to be the same each time. The bride wears a floor-length gown or a full áo dài khăn đóng getup, the groom has a suit on, and the background is a picturesque view of nature. But newlyweds Ngoc Tran and Tuan Anh Nguyen had something else in mind.
The couple's whimsical series of wedding portraits, taken by Nguyen Phan Anh, feature the bride and groom in pre-Doi Moi clothing styles: Tran in a matching floral pajama set and Nguyen in a tank top and trunks, both wearing tổ ong slippers. They stand before Saigon backdrops few would consider picture-perfect. In one instance, the couple is photographed in front of a small neighborhood phở eatery complete with hungry patrons; in another, they're at a makeshift coffee shop in an old apartment complex.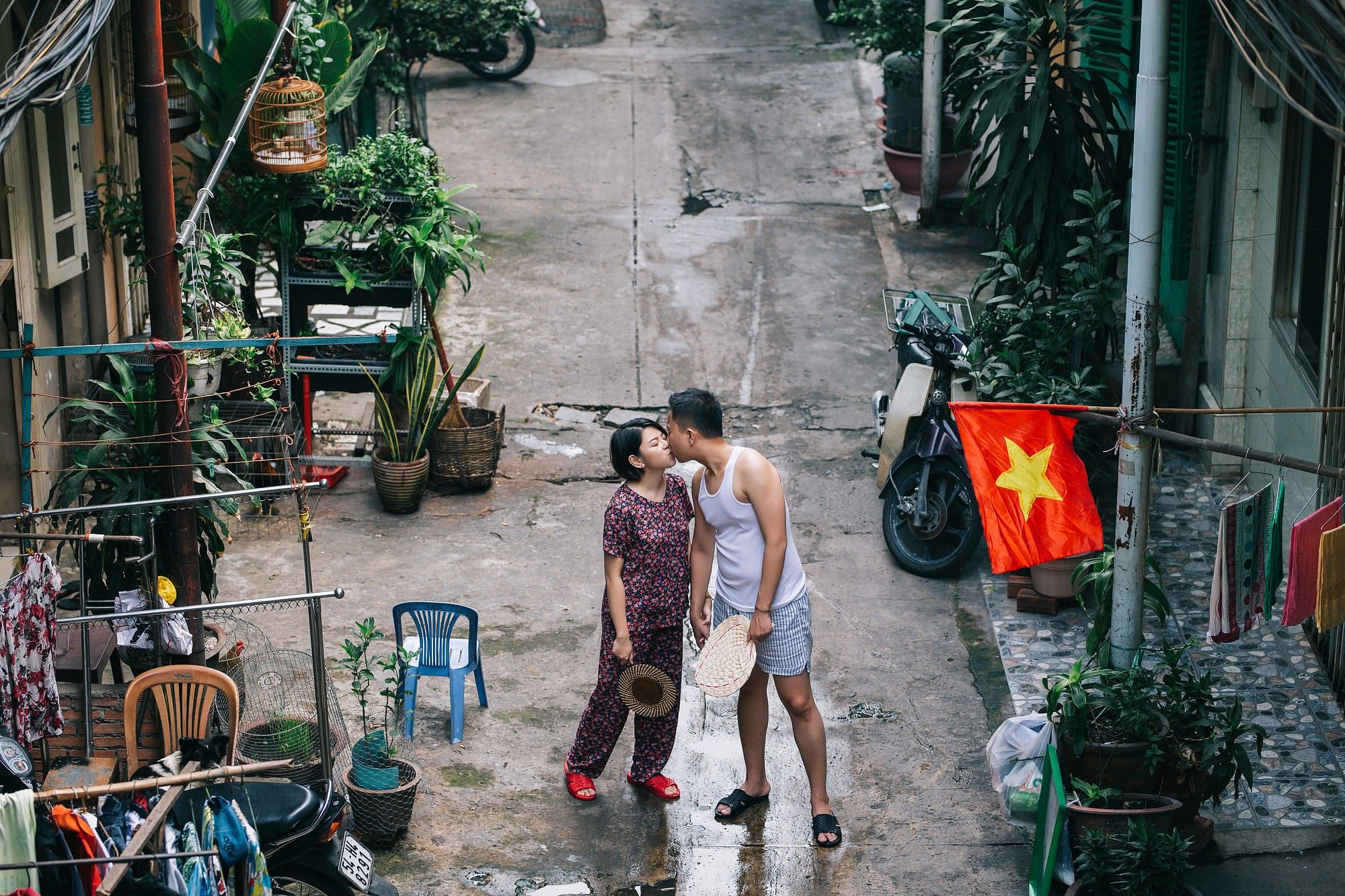 "We wanted something so ordinary and so special at the same time," Tran tells Saigoneer via email.
The marketing executive wanted to portray a happiness transcending the glamour of superficial things. She chose a pre-Doi Moi concept for this wedding album because of her love for traditional Vietnamese images, especially those of old married couples in their pajamas sharing a drink.
"They got through the hard parts of life together, and I wanted to create something like that," Tran explains.
The logistics of the photo shoot were quite simple: all the photos were taken over the course of one morning at locations just a stone's throw from Tran's house. Opposed to bespoke wedding costumes that cost a fortune and require months of work, Tran and Nguyen got their outfits from Ben Thanh Market, and the tổ ong slippers were gifts from a friend.
The newlyweds then recreated casual activities from their daily life, from slurping up delicious bowls of phở while fanning themselves in the hot weather, to hanging out on a sun-soaked balcony and grabbing a cà phê sữa đá. There are no formal or extravagant poses: the storytelling of the pair's romance is just as unassuming as their surroundings.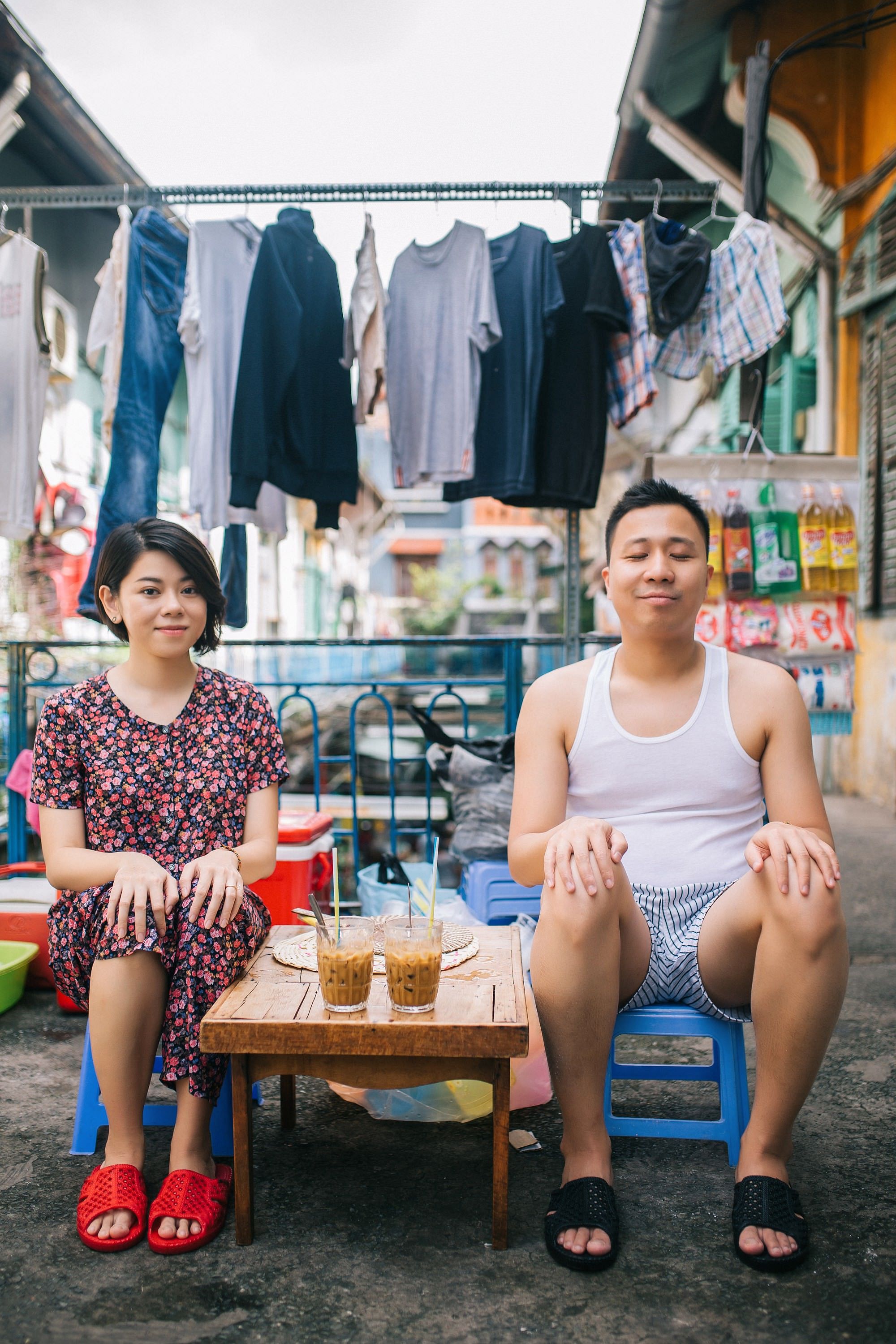 "I intended to be crazier but my hubby was afraid of annoying other people," says Tran.
The road to marriage for 26-year-old Tran and 30-year-old Nguyen was no conventional tale either. The pair had been introduced previously in the UK, where they completed their undergraduate and post-graduate degrees, but Tran didn't take to her future husband until they met again three years ago in Hanoi. The initial attraction between the two blossomed after a series of daily phone conversations, following the former's move to Saigon while the latter remained in the capital.
Despite Nguyen having initiated the phone calls, Tran was the first one to make a move. "I kissed him first; I was the impatient one," she playfully recounts.
The duo were determined to make it work despite the distance. "We made a deal of meeting every three weeks," she says.
According to her, the hardest part was being unable of being physically present to comfort each other through sadness and hardships. Nonetheless, they believed in solving every problem together as soon as it arose, and avoided fighting whenever they met up. They attribute their successful relationship to honesty, optimism and straightforward communication.
"You have to sacrifice something for [long-distance relationships] to work," Tran elaborates.
The couple finally had their happily ever after after years of tremendous effort: on a rainy day in Taiwan, unsuspecting Tran was taken aback when her then-boyfriend got down on one knee.
"I was in my T-shirt and shorts with no makeup. I cried immediately," the Buon Ma Thuot native recalls.
The pair tied the knot in November and now reside in Saigon. Tran reveals that the couple also created two other wedding albums apart from their tongue-in-cheek pre-Doi Moi portraits: one takes the traditional approach with gowns and suits, while the other is an homage to Tran's parents' old wedding photos, where the bride dons a timeless red velvet áo dài.
As we wish the newlyweds all the best for their marriage, check out more of their photos below: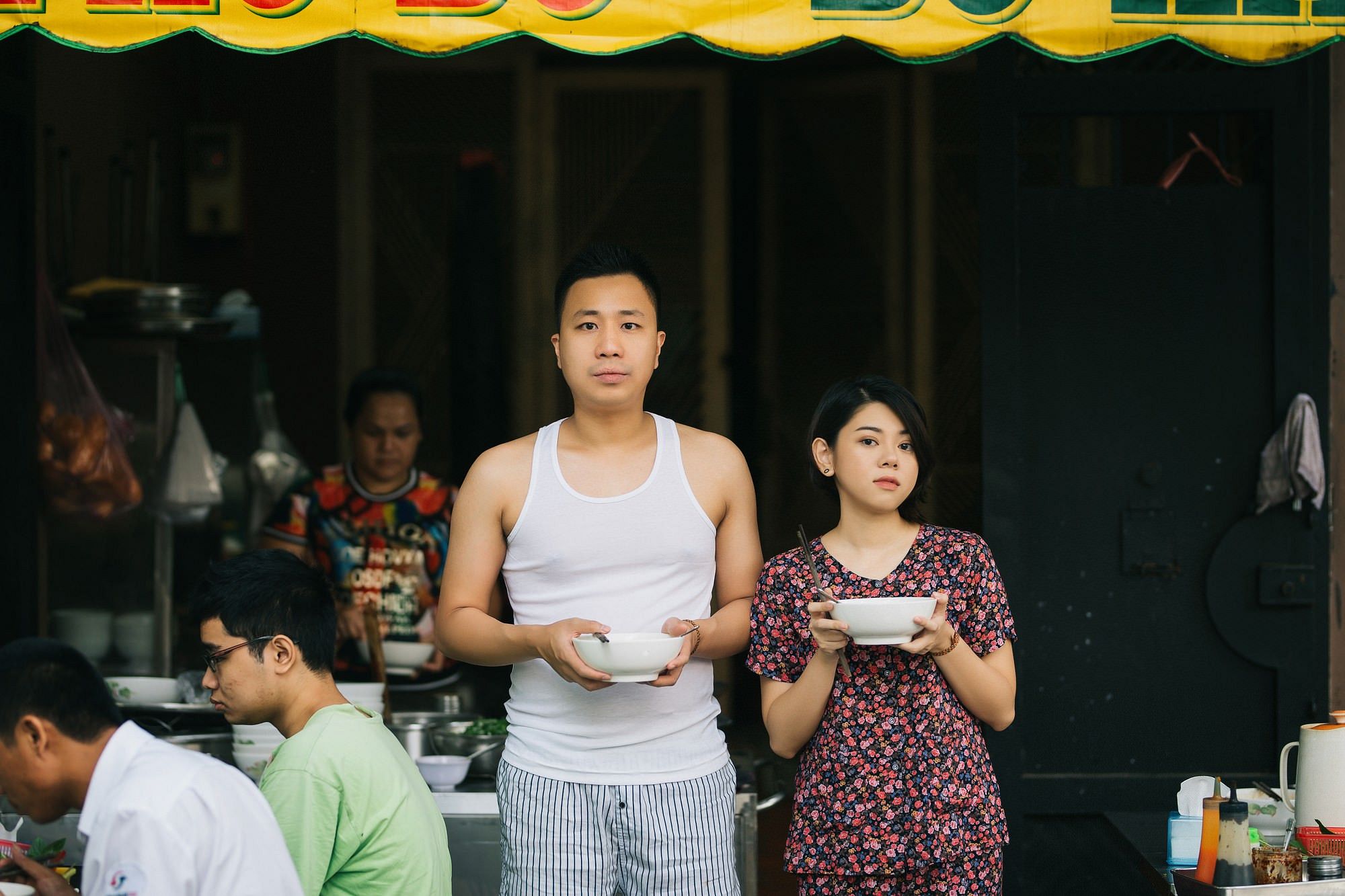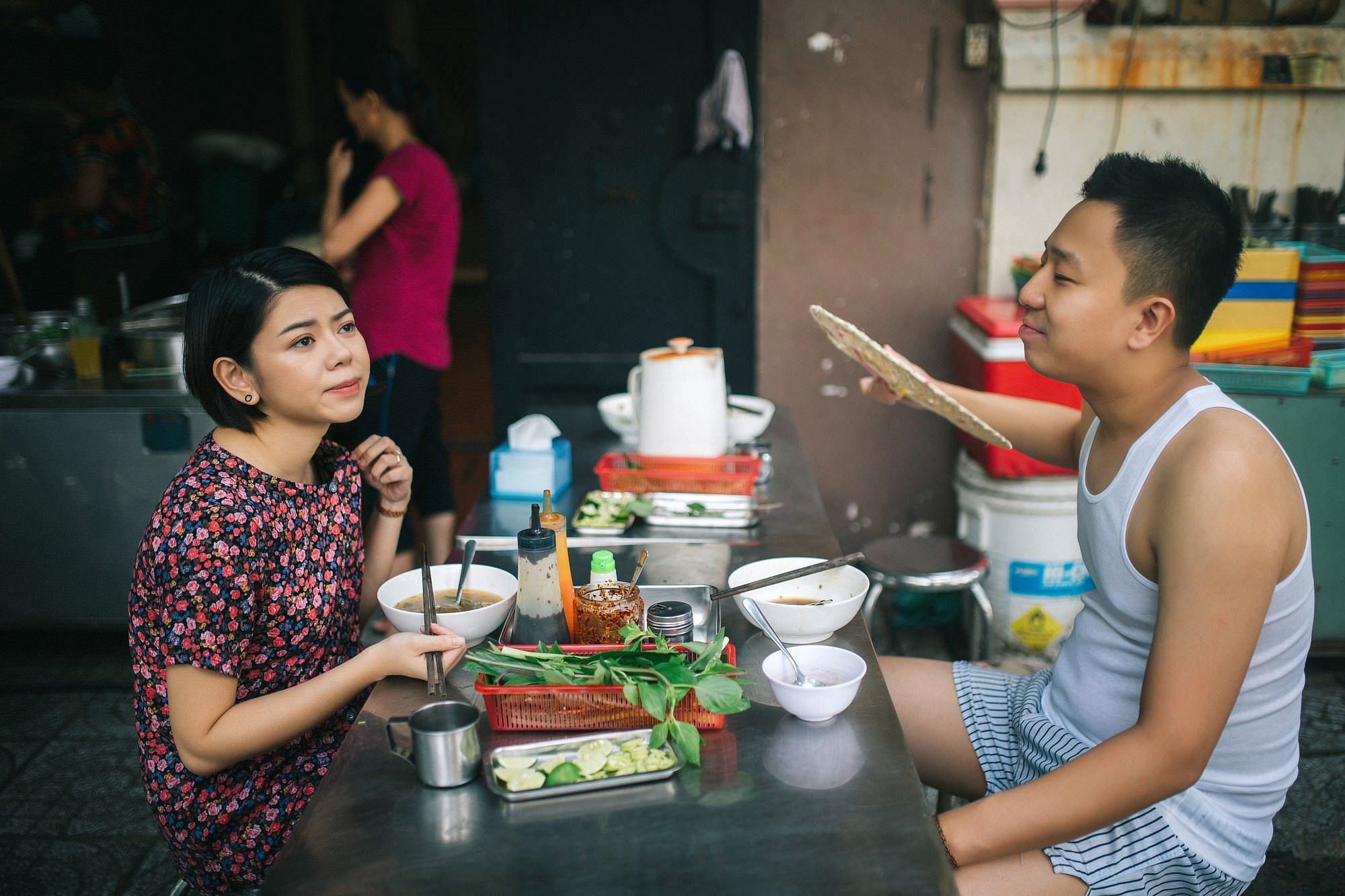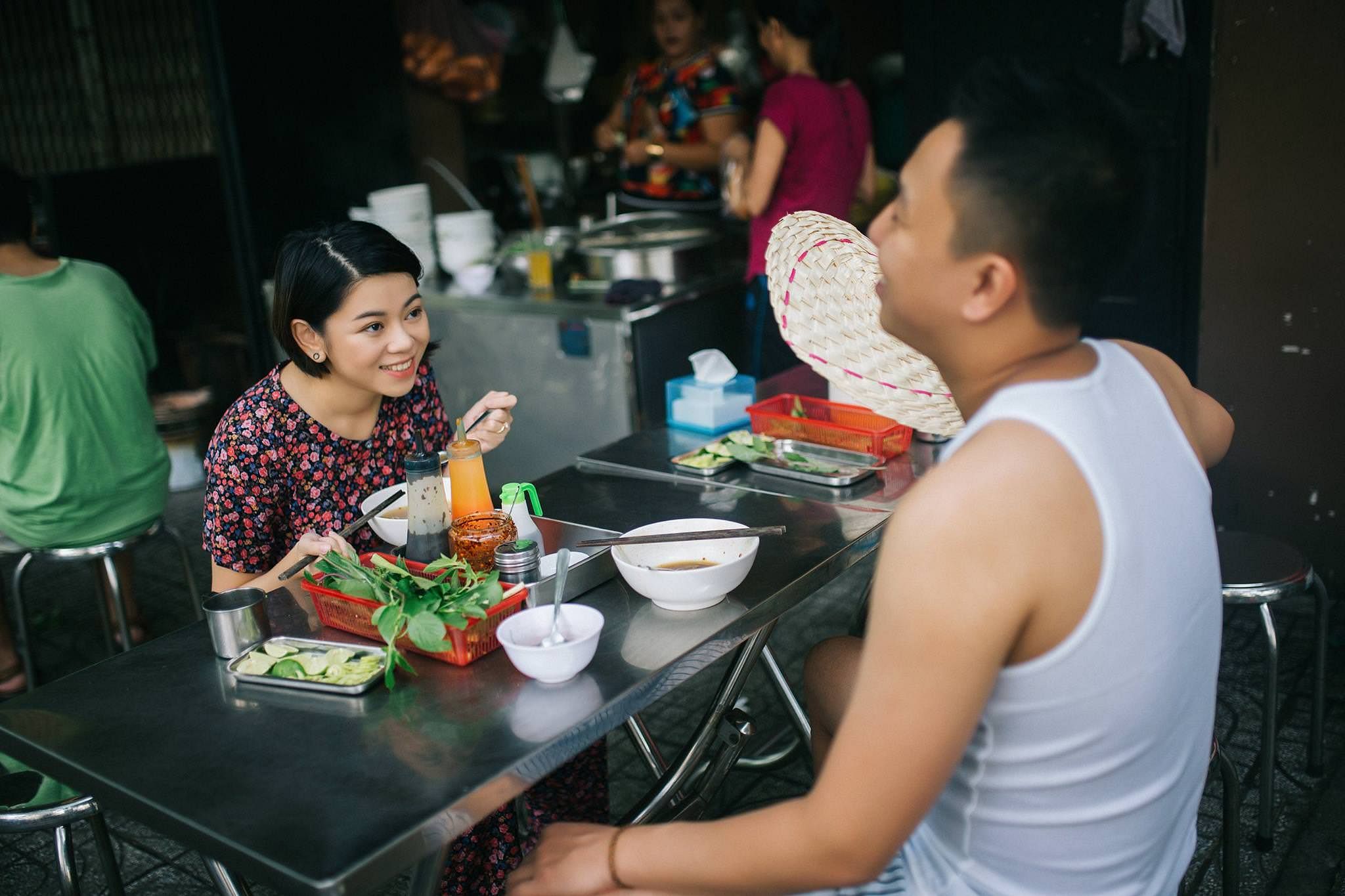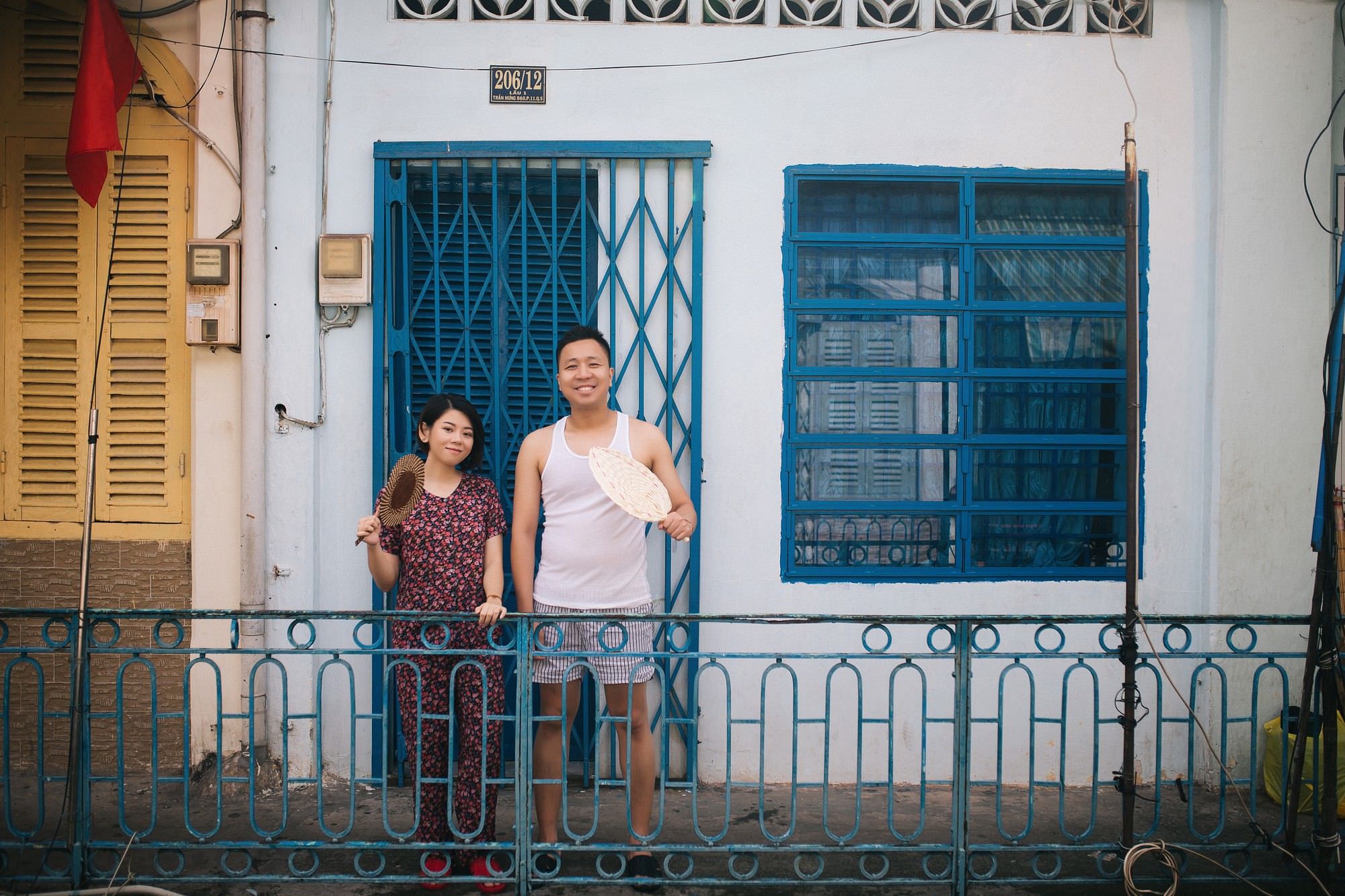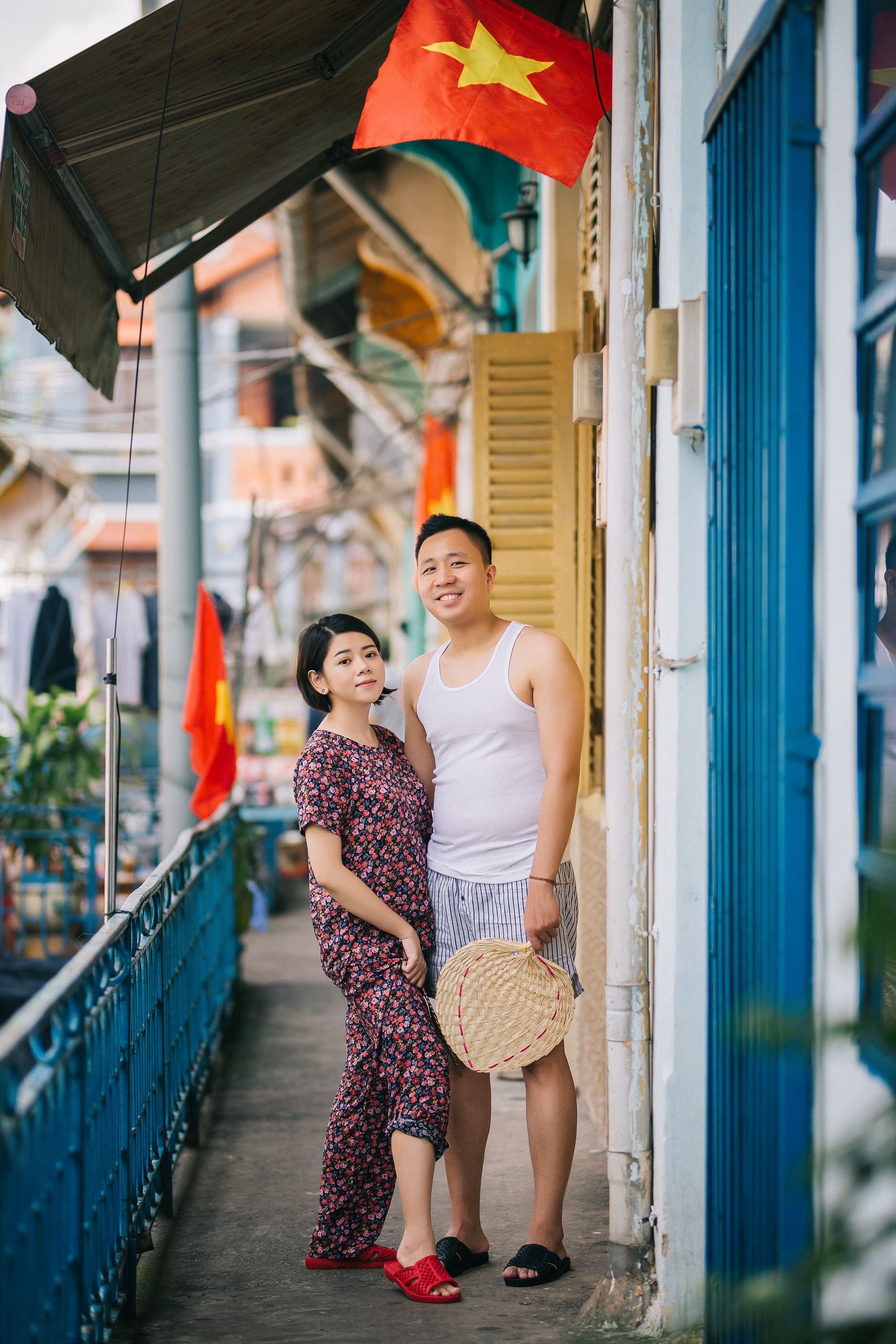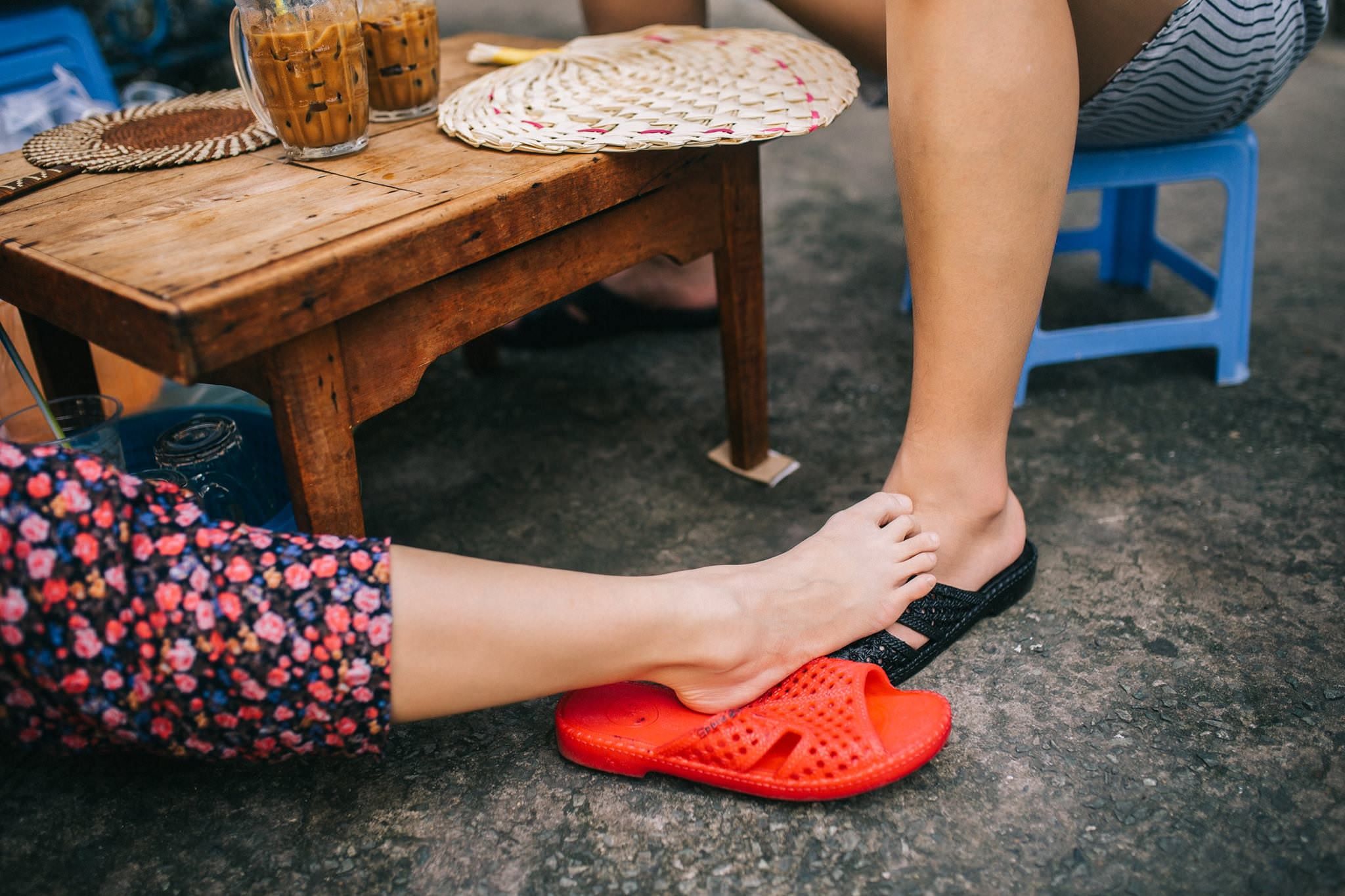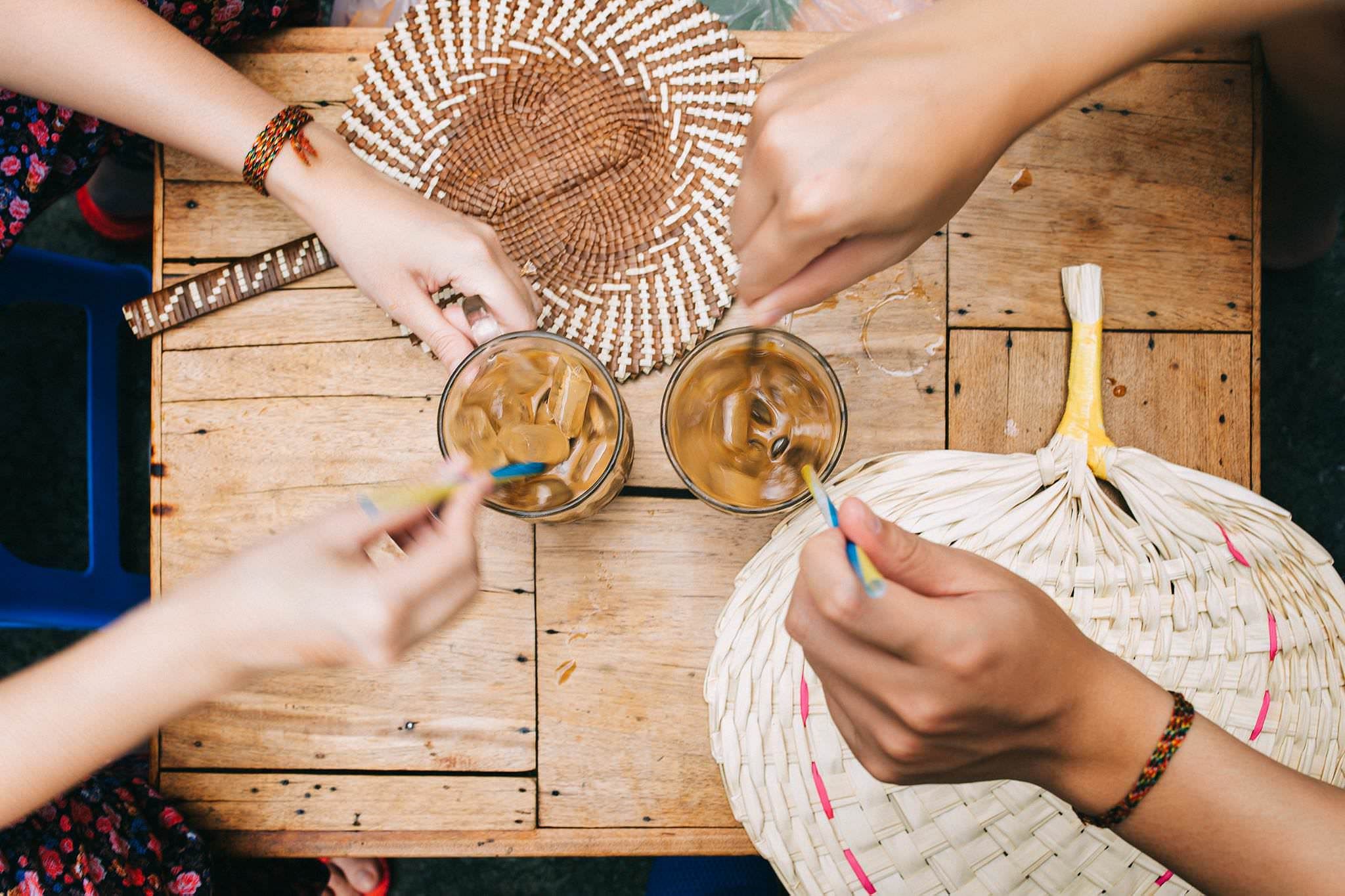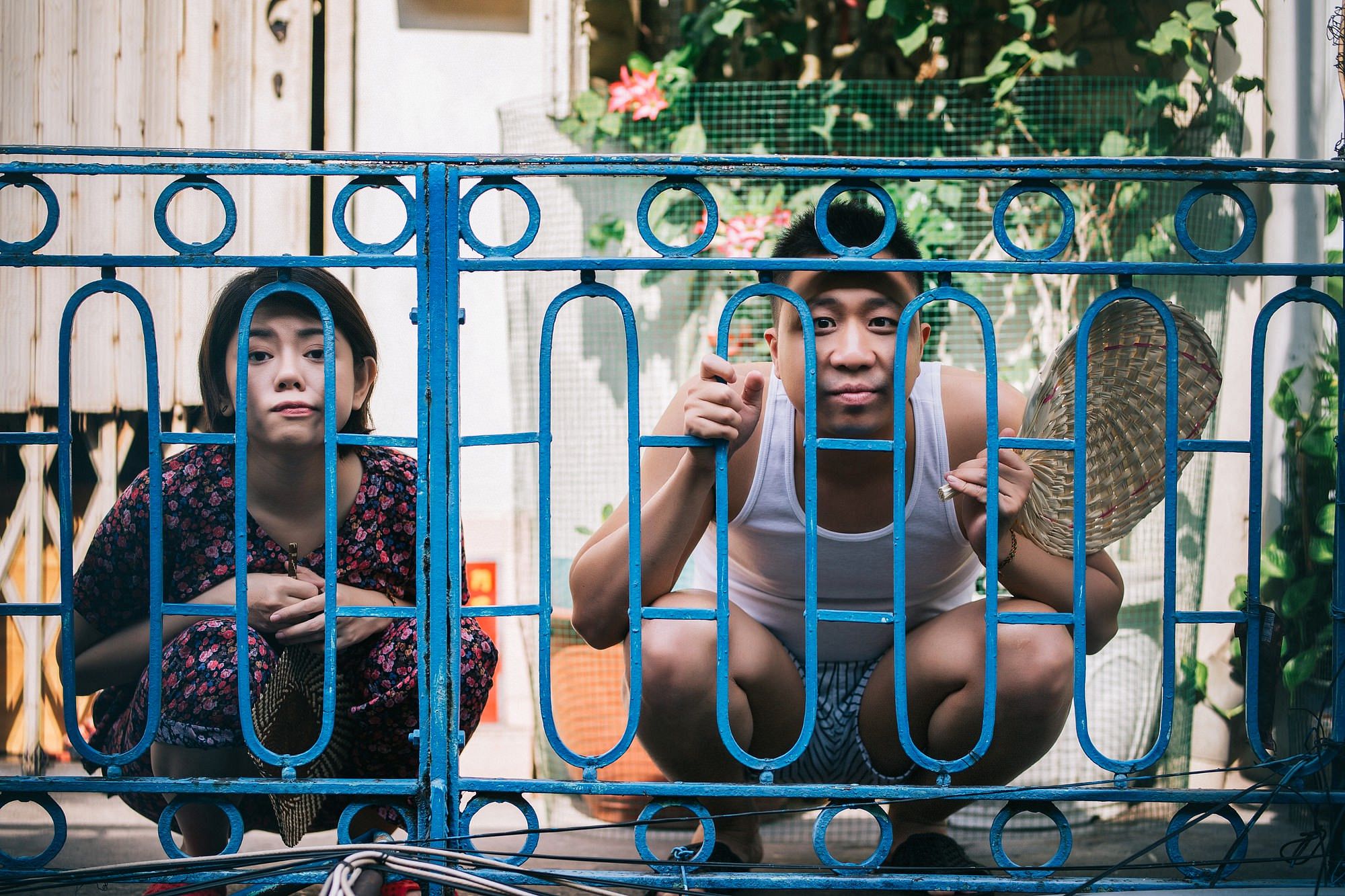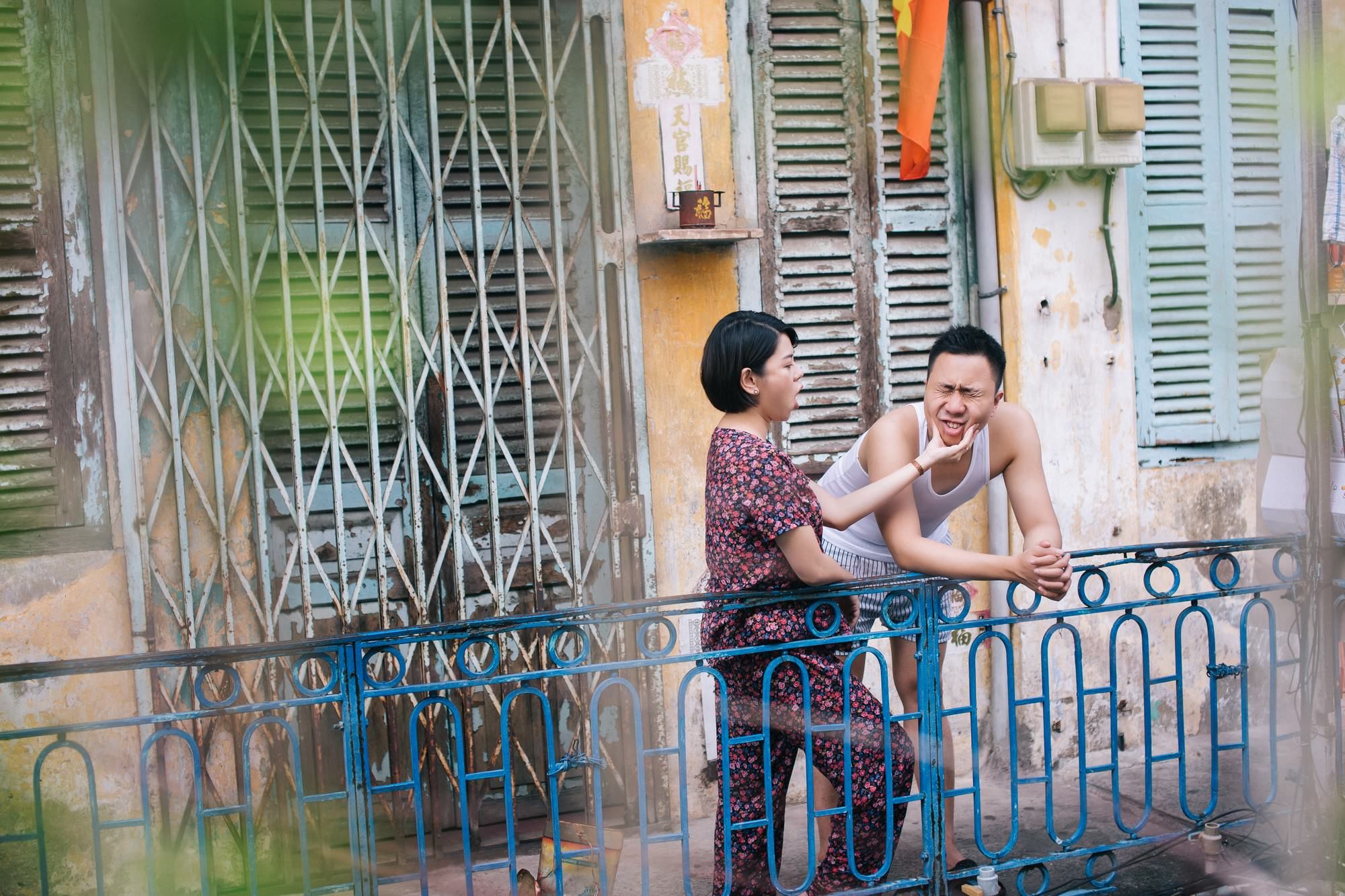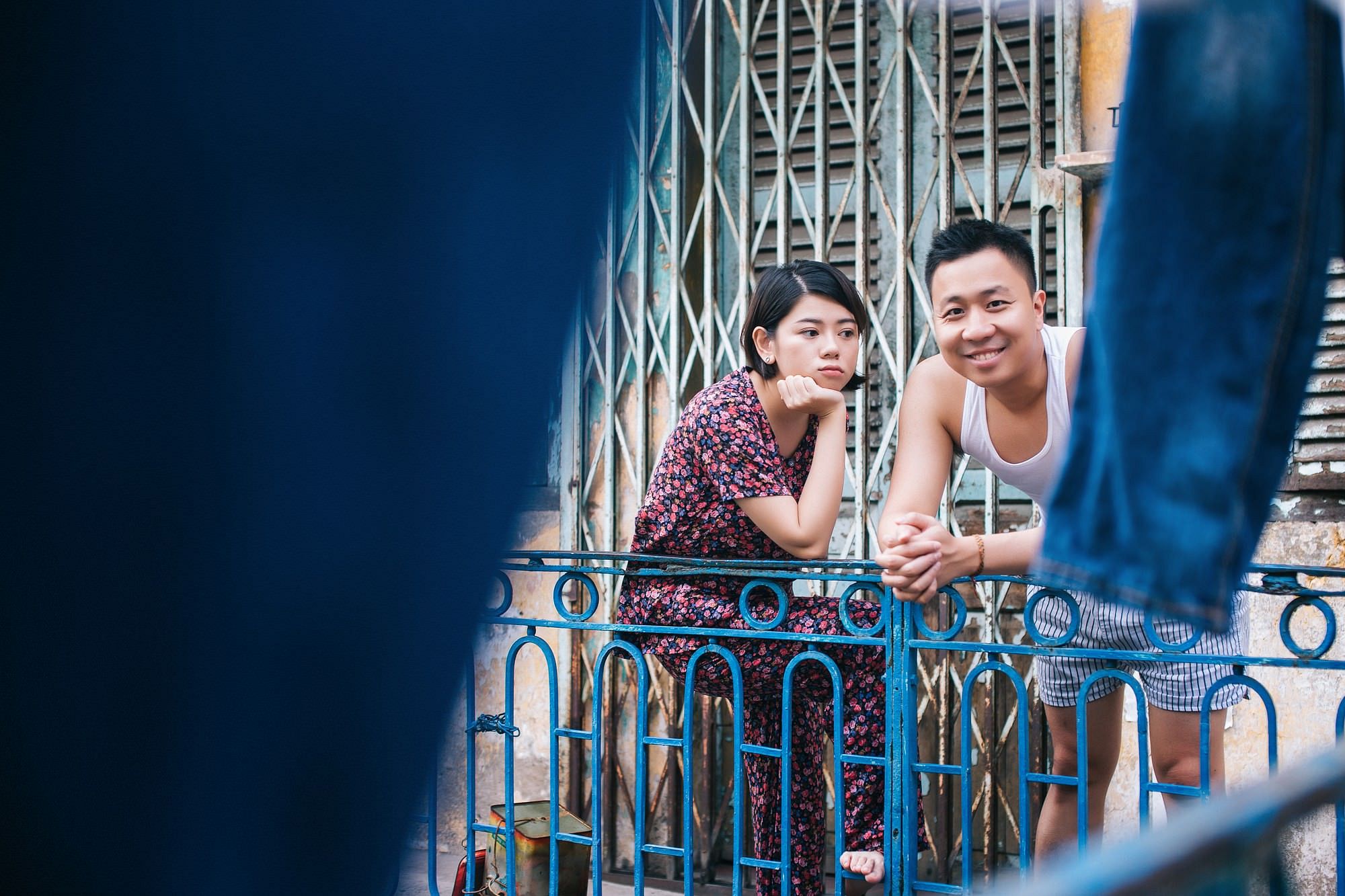 [Photos via Facebook user Ngoc Tran]
---

Related Articles:
---