For one week in late January, the group exhibition "Encounters: Reflections into the spaces surrounding families living with autism" transformed the top floor of the Vietnamese Women's Museum in Hanoi into a meandering space of interwoven images, sounds, and questions regarding autism.
Curator Nguyen Quoc Thanh deliberately eschewed a heavy-handed ethnographic approach in his selection of artworks made by six remarkably young artists, who are either siblings of people living with autism or self-taught photographers working with public health researchers on the issue. Collaborative labor, care, and criticality enables the exhibition to deftly resist dominant modes of portraying autistic subjects as "abnormal" or "disabled" – disempowering labels that often circulate through conversations on disability in contemporary Vietnam.
Some of the most poetic works in the show were made by Tram, a young photographer who documents the suburban home of an autistic young man whom she visits named Quang. One of her pictures shows an old steel door drenched in sunlight. From afar, the scene looks like something out of a romantic movie, but up close it is clear the glass panes of the door are gone, and the flimsy frame is held together by duct tape that deceptively blends into the vermilion sunlight.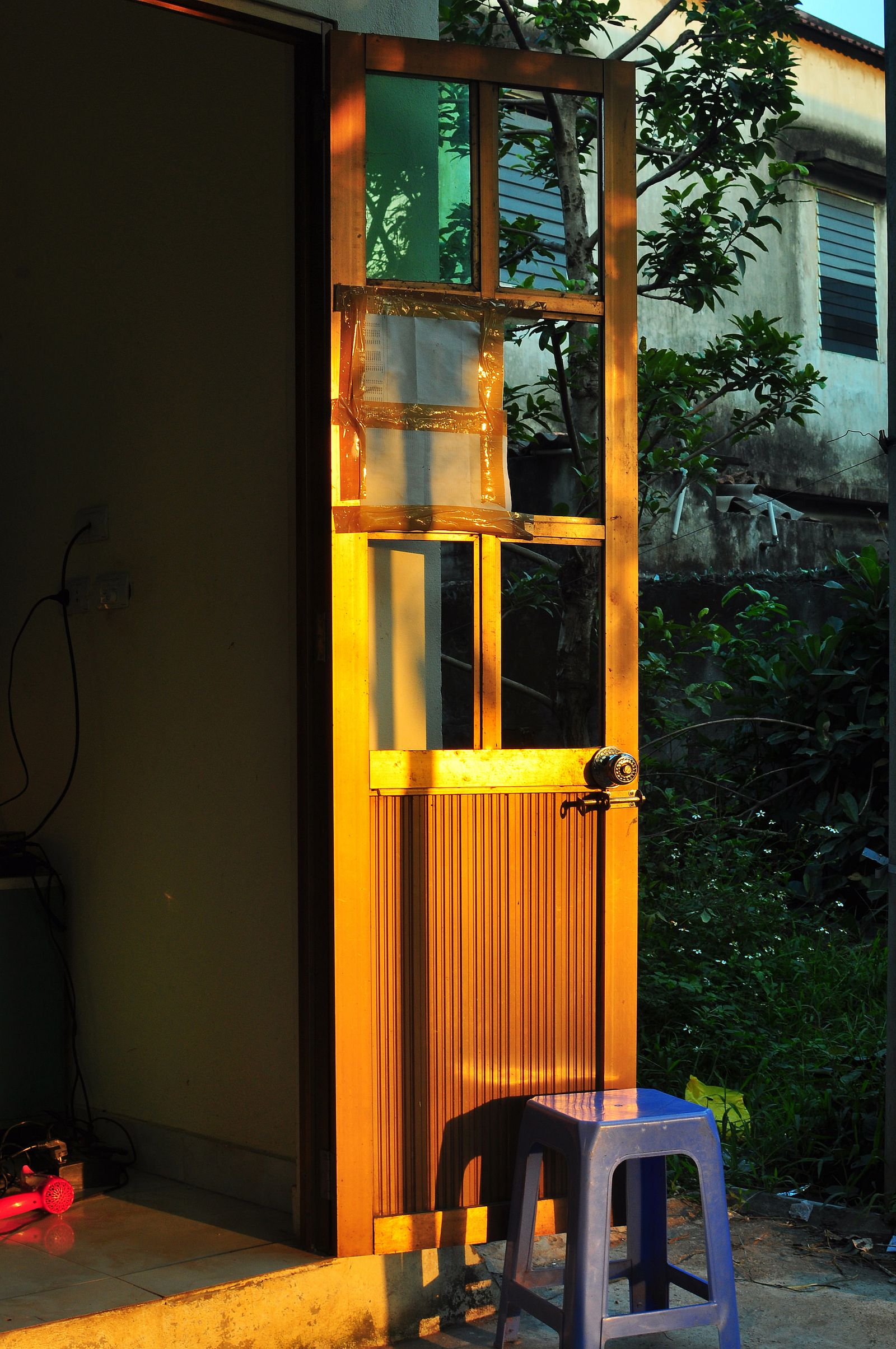 During the art tour, the curator told us it was Quang who broke the glass. The anecdote shatters any romanticizing interpretation of the images as we are reminded of the daily incidents and breakages common in a family with a special needs child. The forlorn look of the useless door exudes loneliness, an atmosphere shared by other images of Quang either leaning against the wall, sleeping on the floor or having a meal by himself.
Another work among Tram's melancholy photographs shows a single streetlight. Similar to the sunlit shot of the door, this picture of light was also taken during Tram's visit to Quang's home. The family picked a house with a verdant garden far from Hanoi's maddening inner city so Quang could have more space to move about.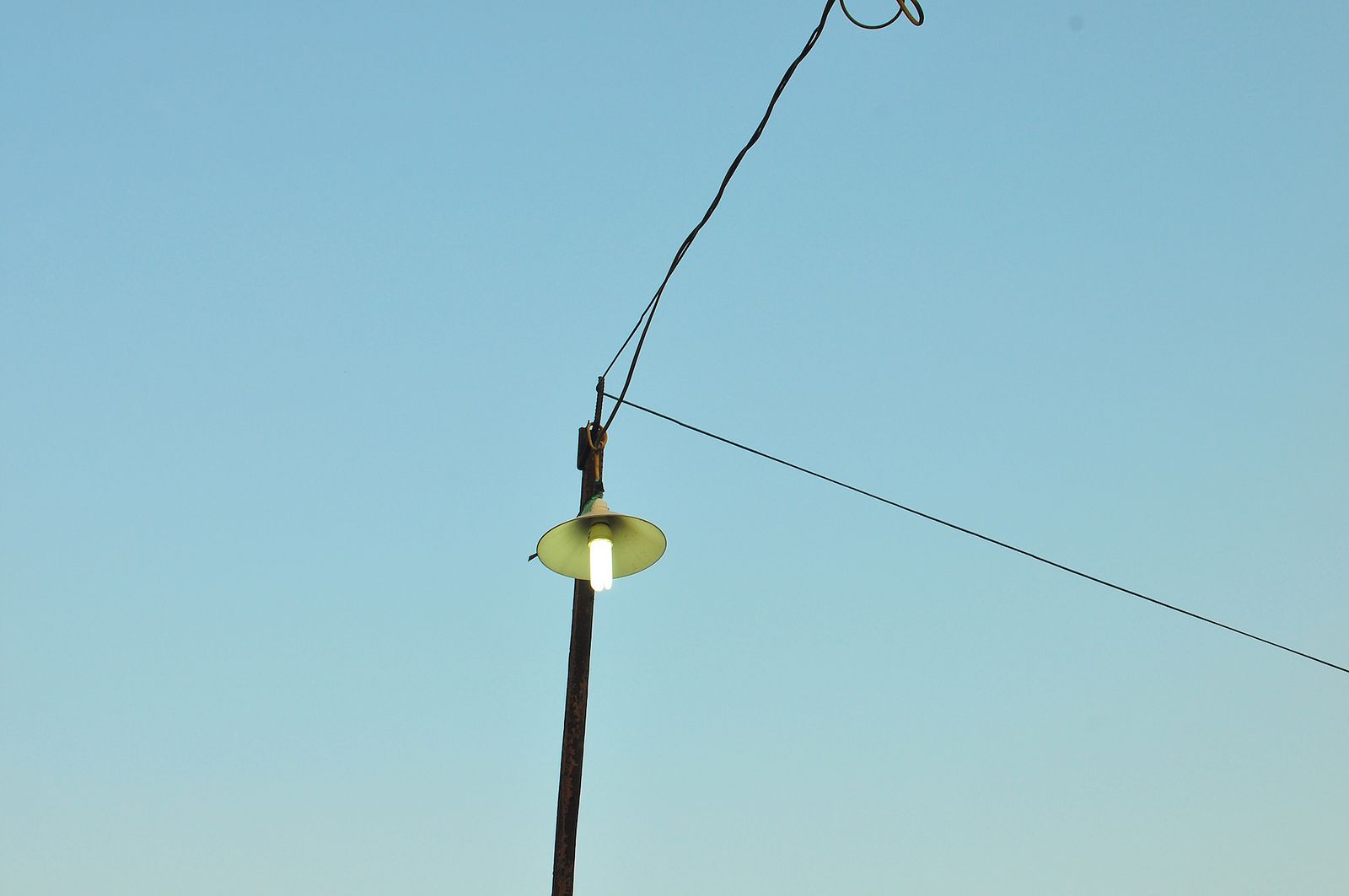 In a blue photograph that bookends Tram's quiet pictures, the absence of looming skyscrapers and the fragility of the streetlamp are more than enough to convey a sense of isolation perhaps shared by the autistic youth, his secluded family, and the photographer herself. Tram is aware of her position as an outsider tottering the line between a visitor and an intruder who penetrates and surveys the private life of a mentally disabled individual.
Instead of exoticizing the subject's struggle or strangeness, the photographer remains cautious of the voyeuristic gaze and opts for inexplicit shots of shadows and light. Her few portraits of Quang tend to be either blurred or taken from a skewed angle, which calls attention to the meditative nature of documentary photography.
Quynh, the younger sister of Quang, has also chosen photography as her medium, albeit in a much more intimate and personal manner compared with Tram. Also bypassing explanatory representation, Quynh cleverly zooms in on the hands of her brother. As the human body's primary haptic instrument, hands suggest an unmediated and primordial way of sensing the world.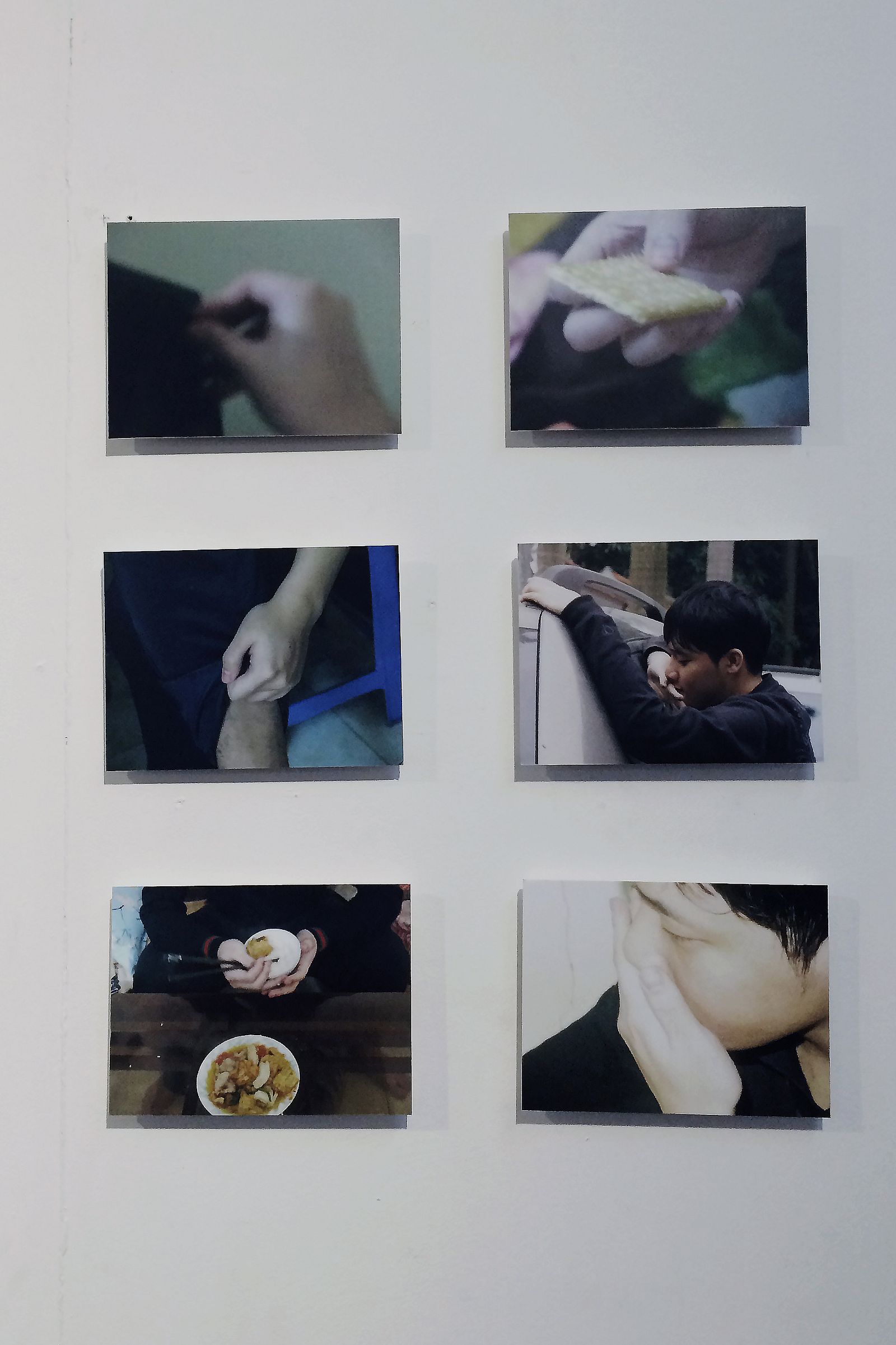 Throughout his sister's powerful set of images, Quang often appears to be lost in thought or thoughtlessness, holding up a pink hairdryer, running his fingers through damp hair or fingering his lips in a daydream eternally inaccessible to anyone but himself.
During the art tour – a fascinating mode of exhibition viewing due to the wealth of information divulged by the curator and artists – Quynh shares personal stories to invite viewers into the inner world of her brother, and to some extent, her own. The photograph of Quang pointing at a Google image of a mung bean pastry, for example, shows her brother's habit of using images instead of verbal description to inform their parents of his meal preference.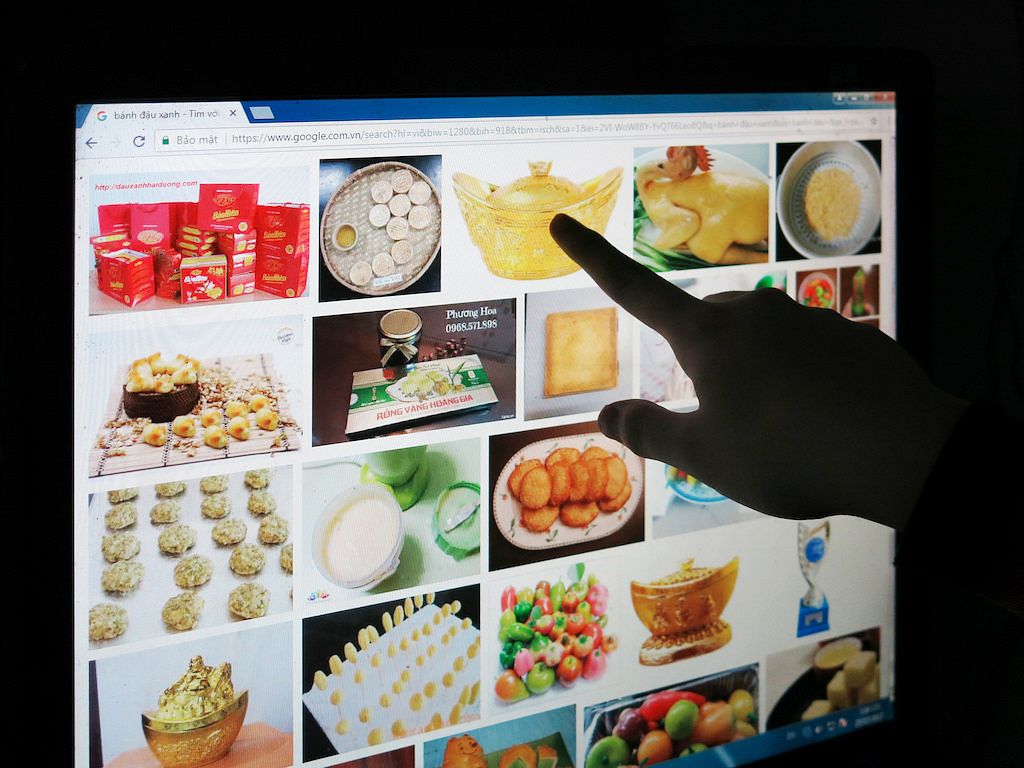 Walking us through multiple pictures of Quang picking at his overgrown fingernails, Quynh tells us that without their parents' assistance with nail-clipping, Quang would scratch himself to the point of bleeding. Other shots of Quang caressing a flesh-colored stream of silky fabric or stroking a floral blanket are harder to explain, even for his sister. The young man simply derives pleasure from touching soft textures.
A conversation between a public health researcher and Quynh is included as an audio installation next to her profoundly moving pictures. In the recording, she admits that her love for her brother occasionally manifests as admonishments or complaints ("he doesn't have to do chores; everyone does everything for him; his hands are soft like those of babies"). In the background, her brother makes his presence conspicuously audible by clapping or screaming.
Quang's high-pitched noise comes off as particularly jarring when juxtaposed with his sister's quietly beautiful pictures, in which he appears almost like a brooding film star. Despite her own confession of myriad inconveniences caused by Quang's condition, Quynh's photographs carry tremendous affection for her special brother.
In one mesmerizing shot, we see Quynh's hand lightly touching her brother's forehead as if performing a mind-reading trick by the sheer brush of a fingertip. Closely photographing Quang instead of ignoring him on the daily basis, Quynh says, is her effort to understand her brother.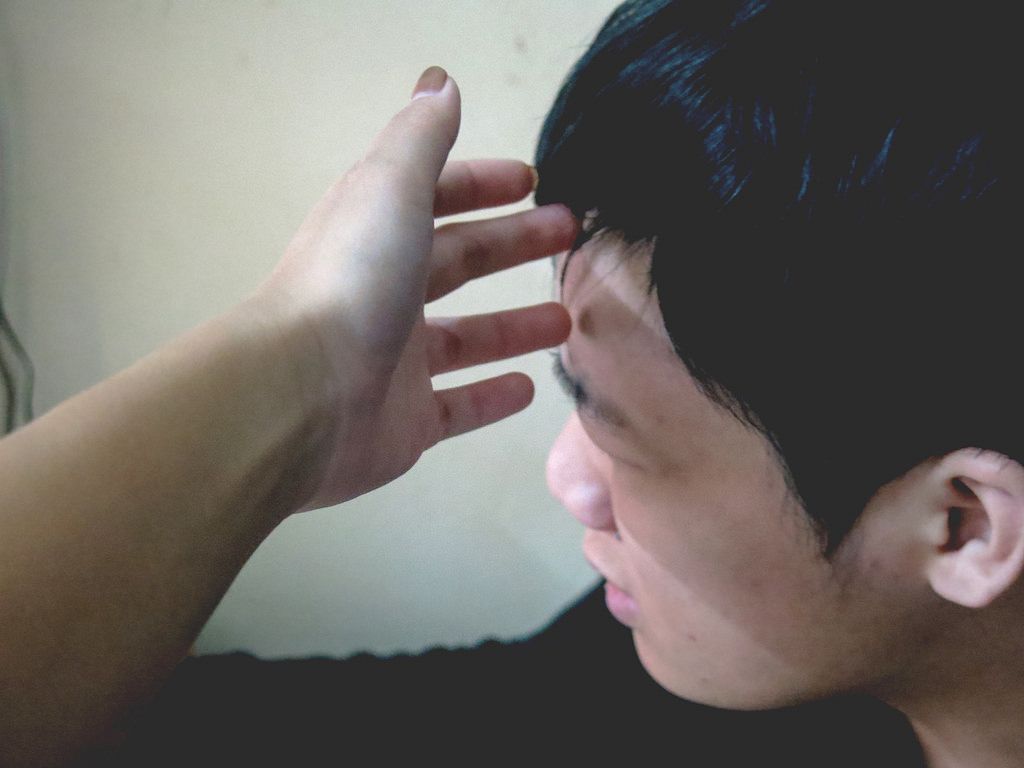 Various works in the exhibition show reveal different ways of representing people with autism. Duong Thuy Ly, an untrained photographer, focuses mostly on the possessions of an autistic youth, pushing viewers to make sense of mundane objects: a stack of Japanese manga, posters of Hollywood superhero movies, tubes of paint scattered on the floor.
In several pictures, the owner of these objects explicitly refuses the camera, either shielding his face with drawings or blocking the lens with his outspread palm. These gestures could be easily attributed to a "normal" teen "simply being shy." Trinh Mai Chi, the boy's younger sister, reiterates this impression in her handwritten commentary on a mirror installed near the gallery's atrium: "On the outside, no one could tell he suffers from autism." Similar to other works in the show, the comment complicates our assumptions around how (ab)normality is performed.
Taking us outside of private homes, Le Anh Dung's photographs give us a glimpse into a school for autistic students. In a corner of the playground, a pair of teenage boys hurl two basketballs at a basketless wall (top photo). The orange orbs' low-level flight and the boys' relaxed stillness form a strange moment of play, a deflated form of athleticism that demands no rallying audience.
Photographer PQN's food pictures, on the other hand, resonate with innocence. In preparation for her future collegiate life overseas, the high-school senior studies for her IELTS at trendy coffee shops, where she develops a penchant for food photography. That these pictures of Instagrammable ice-cream or cakes have nothing to do with her autistic sister refreshes the exhibition's aim to challenge normative narratives of autism, especially those made by the family.
The naïve simplicity of PQN's photos reflects the teenage impulse to record private routines for the gaze of social media, an imported phenomenon embraced in Vietnam with an intensity not unlike the blazing trail of Vietnamese students attending English-speaking universities abroad.
Bourgeois values are gently complicated as the photographs are projected over a pink desk shared by the two siblings, a lovely sign of sisterhood, and a pink book of princess stories that belong to the absent sister. As PQN's slides of consumption and mobility flash by, a powerful contrast emerges between the maturing teen and her eternally infantile sibling.
Throughout the week-long exhibition, the curator, artists and researchers not only display the visual, but also facilitate numerous occasions for families, activists, artists and other cultural producers to engage in communal art-making (with artist Dinh Thi Nhung) and conversations on the experience of having autistic family members or the ethics of documenting autism.
These education-oriented sections of the exhibition breed different kinds of encounters other than the private relationships between artists and subjects or between the viewer and what is on display. Operating at the tricky intersection between the introversion of art and its social function, "Encounters" leaves viewers with lingering questions on how to create and view visual documents of the autistic, and to a larger extent, people with disabilities or any marginalized or oppressed being.
Instead of dramatizing or turning the pain of others into a spectacle, the show's amateur yet observant works ask us to withhold judgment and look at an "Other" with patience, rather than patronizing presumption. Instead of injecting viewers with the singular determination to pathologize and cure autism, the exhibition leaves us longing to humbly look into the complex world of the autistic, the permanent outsider.
---
Related Articles:
---