How one's family celebrates Tet can reveal a lot about where they hail from.
Although most of the nation shares some overarching Tet rituals like giving out lucky money, there are some discrepancies in the way families from different geographic regions celebrate the national holiday. This is evidenced by things such as which kind of food people relish during Tet or how the ceremonial fruit display, or ngũ quả, is put together.
Saigoneer has compiled a few of the regional differences between Tet celebration in northern and southern localities in the form of illustrations. It's also important to note that Tet celebrations are a very personal activity and each family may choose to follow or discard certain customs to fit their unique situations; therefore, a Saigon family with roots from northern provinces might practice traditions from both extremes of the country. Moreover, for a crop of young Vietnamese whose time is divided between both Saigon, Hanoi, and even other countries, the differences that we presented might not ring true anymore.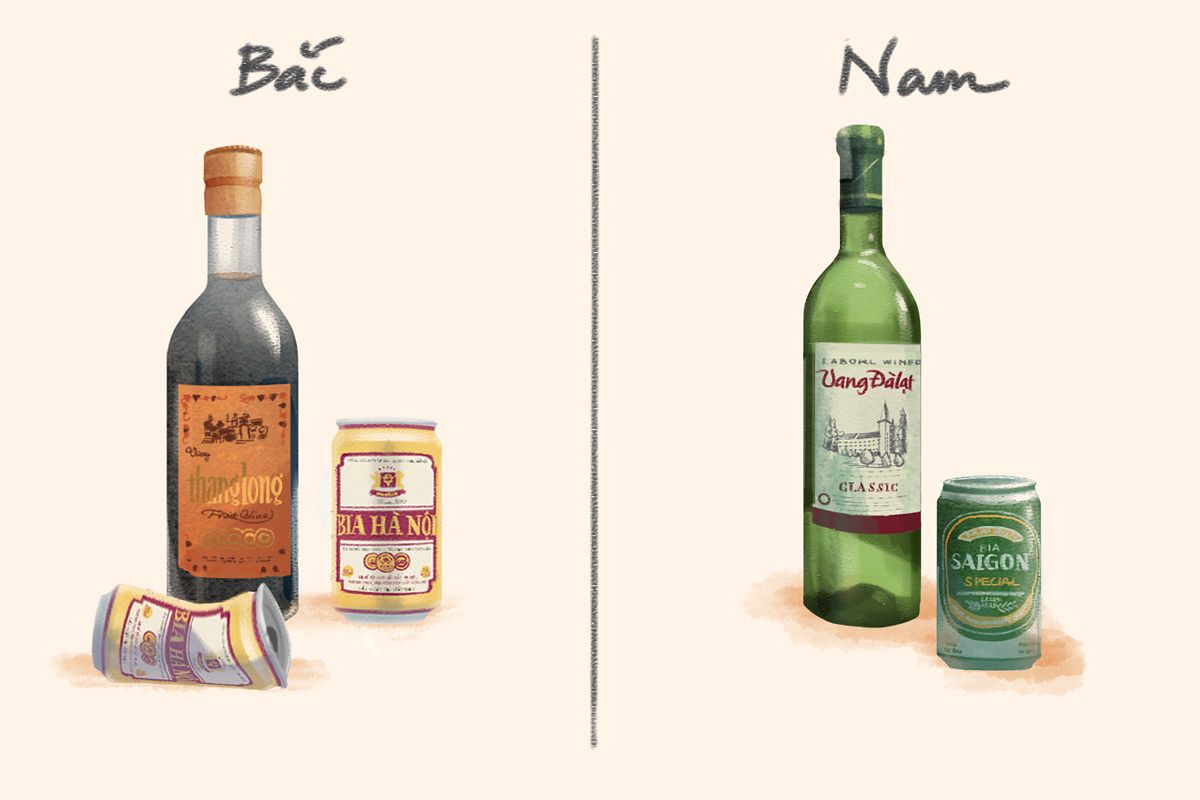 1. Beverages
Hanoians and Saigoneers tend to savor local products with flavors that are catered to their palates.
2. Tet activities
In Hanoi, popular games include phỏm, a card game based on contemporary playing cards; and tam cúc, a Chinese-style card game commonly played while waiting for bánh chưng to cook. Residents in southern localities, especially children, enjoy rounds of bầu cua cá cọp, a simple dice game with animal figures that originate from Southern China; and cờ cá ngựa, a localized version of the French board game jeu des petits chevaux, which simulates a horserace.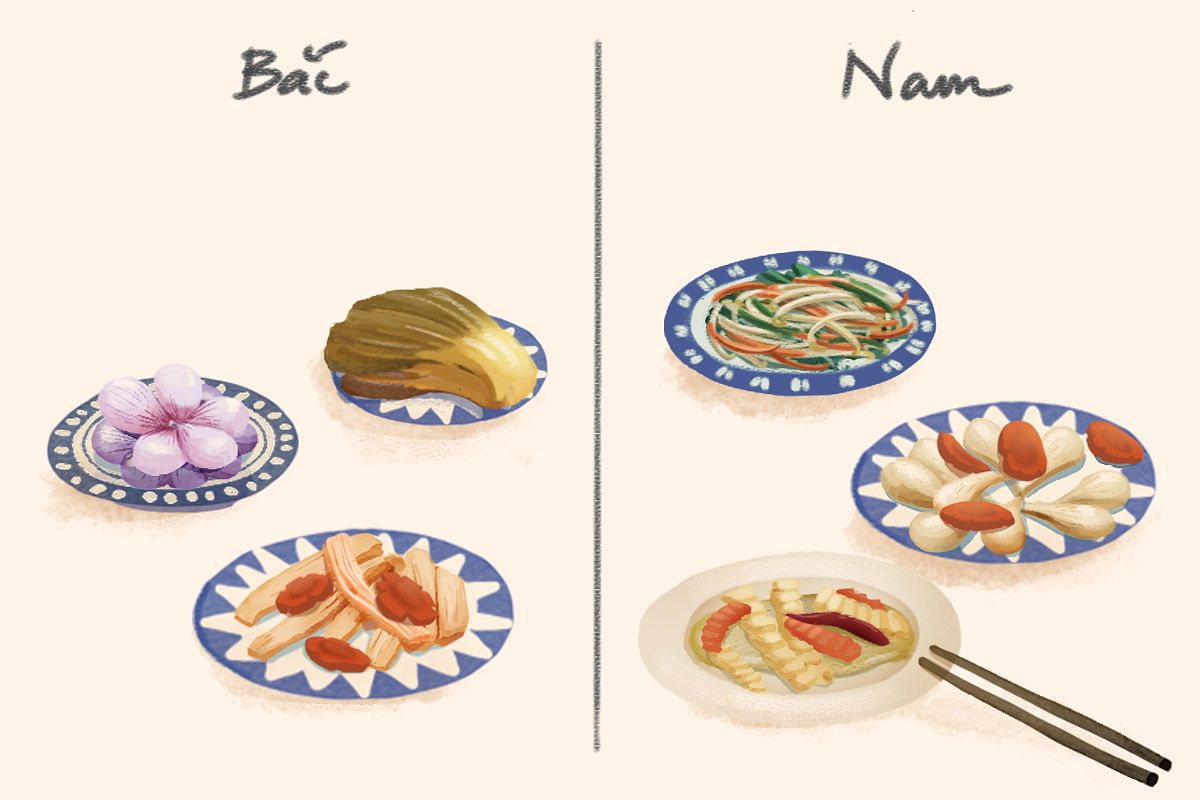 3. Tet side dishes
A crucial component of Tet banquets is pickled and preserved accouterments. Northerners typically enjoy pickled mustard greens and shallots while southerners have a penchant for pickled củ kiệu, an Asian allium with sweet, juicy bulbs.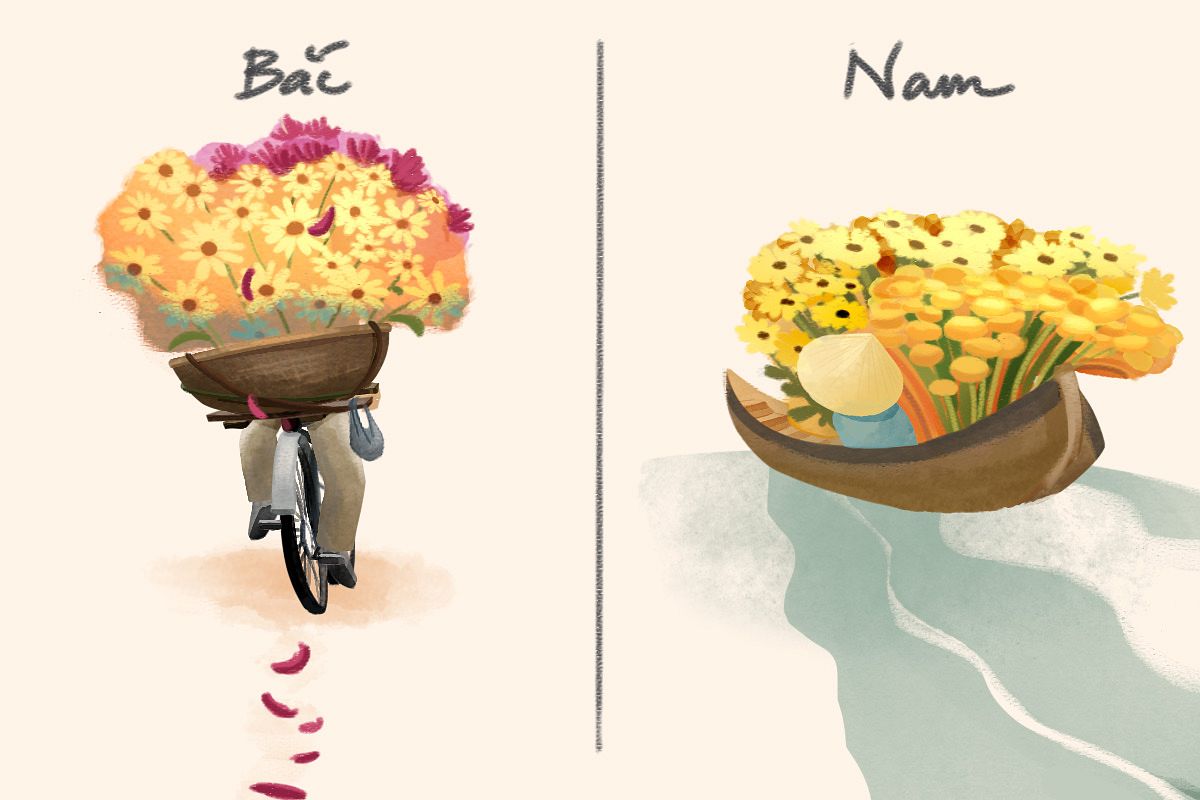 4. Spring flowers
Saigon and the Mekong Delta are connected by an extensive river network. Hence, flower plantations in the latter traverse across the region every Tet to sell flowers to southern metropolises via boat. Hanoians, however, might be more familiar with scores of mobile flower vendors on local streets who sell plants right out of their trustworthy vehicles.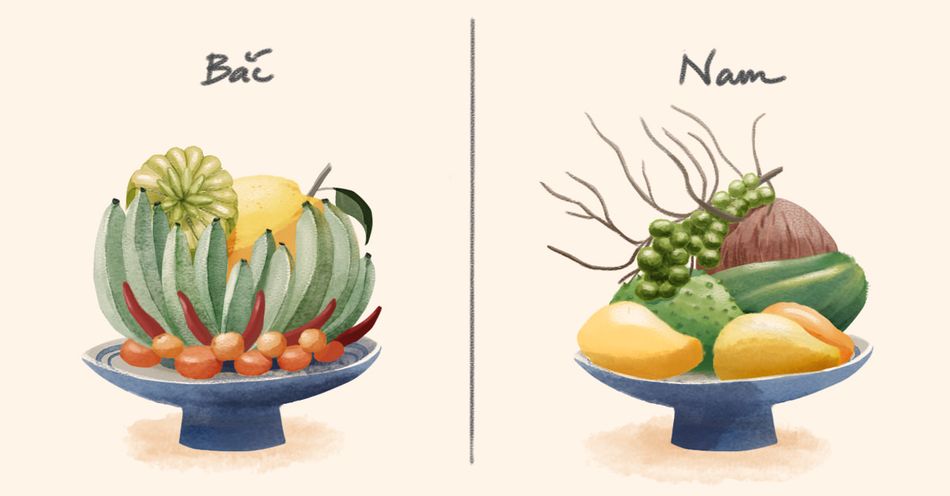 5. Fruit display
Households in northern provinces put together their fruit displays, or mâm ngũ quả, in accordance with the five elements: metal, wood, water, fire, and earth. Each type of fruit symbolizes an element through its color. Therefore, sometimes, Saigoneers may find rather "odd" fruits in a northern fruit tray, such as chili, persimmon, and Buddha's hand. Fruit display from southern localities, however, follow a simpler rule: soursop, coconut, papaya, mango, and fig. This is because onomatopoeically, the name of these fruits in Vietnamese form a Tet "slogan": cầu vừa đủ xài sung, which loosely means "may [our fortune] be sufficient [next year]."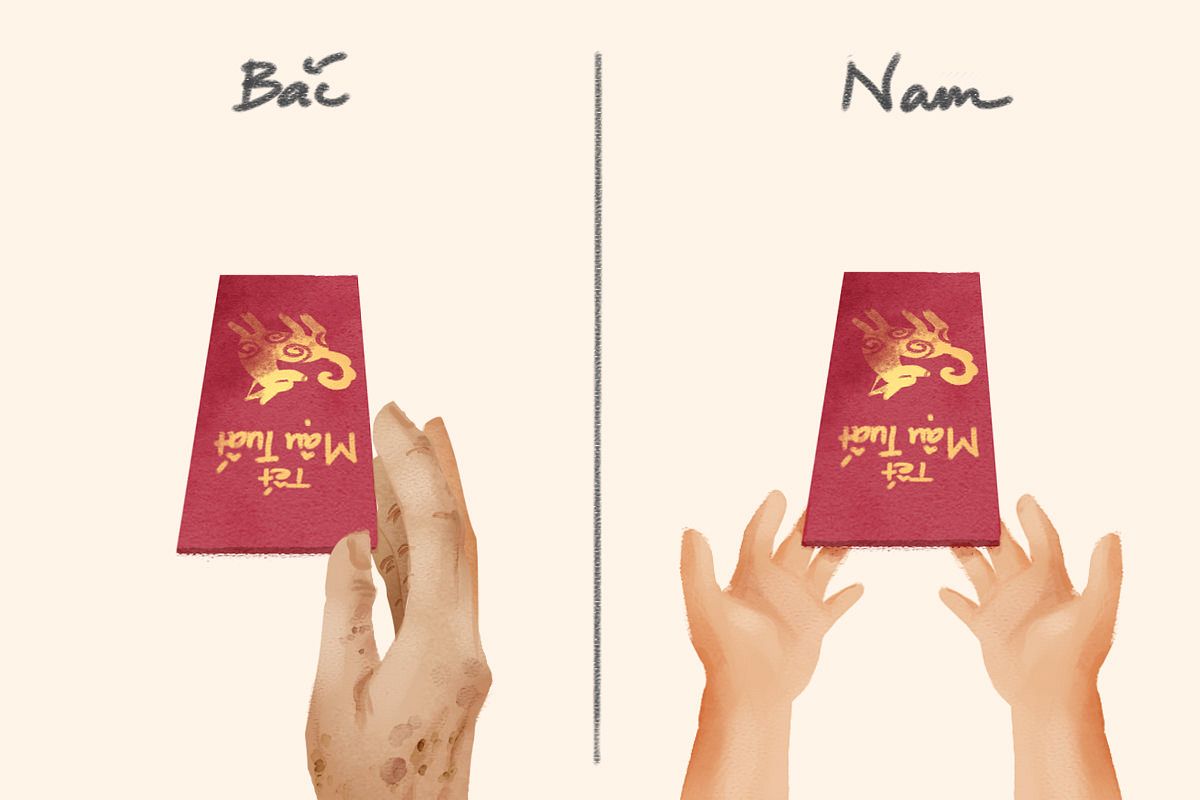 6. Who gets the money?
This is a debatable topic as money-giving is a subject that's highly personal and unique to each family. However, traditionally, some families in northern provinces also give lucky envelopes to older members, in addition to children.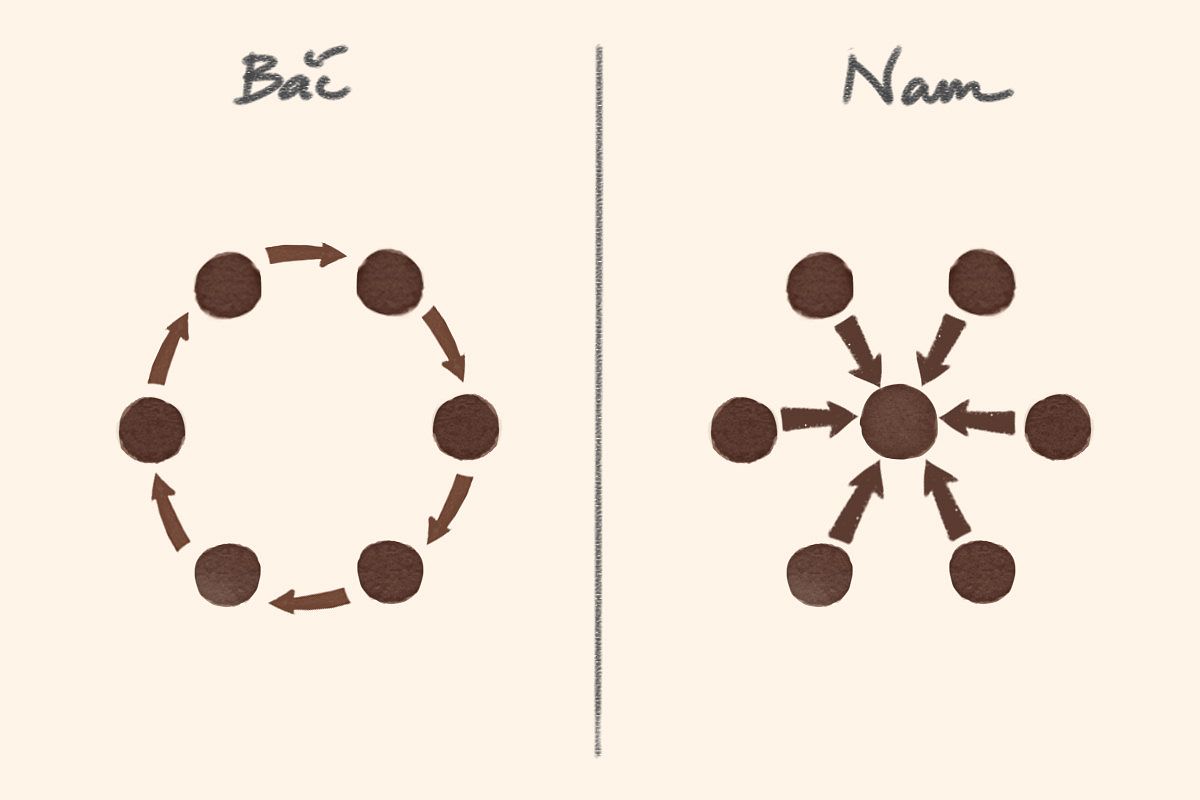 7. Tet musical chairs
All over the country, Tet is seen as an occasion for feasting and non-stop partying. However, it's common for northern families with many households to schedule parties each day of Tet in a different homestead to make sure no one is left sober. In Saigon, families usually congregate in one house, where the partying might extend for days (I'm serious, 2015 was a wild year).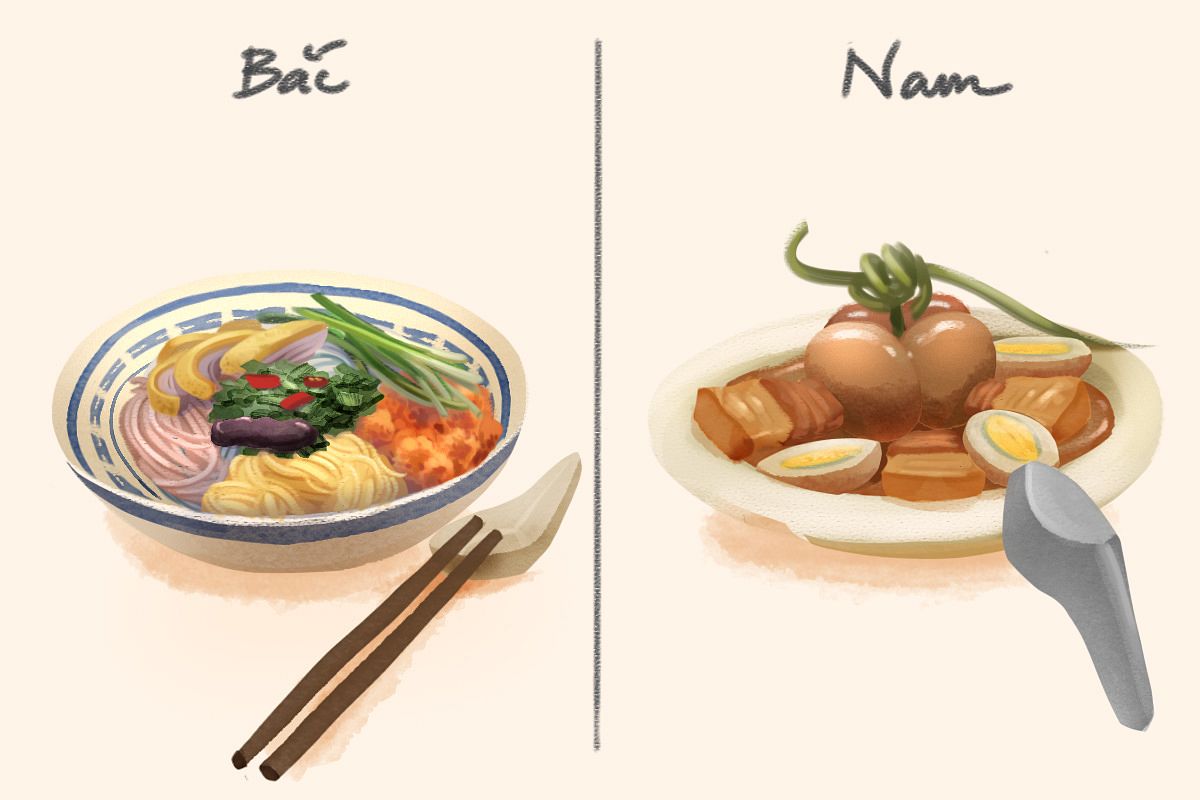 8. The offering
On the first day of Tet, families traditionally orchestrate a ceremony for their ancestors which usually consists of the fruit display, pickles, bánh chưng or bánh tét. For the pièce de résistance, in northern provinces it's a bowl of bún thang, a noodle soup with colorful toppings (think bibimbap, but with noodles); in southern localities, it's usually a bowl of braised pork.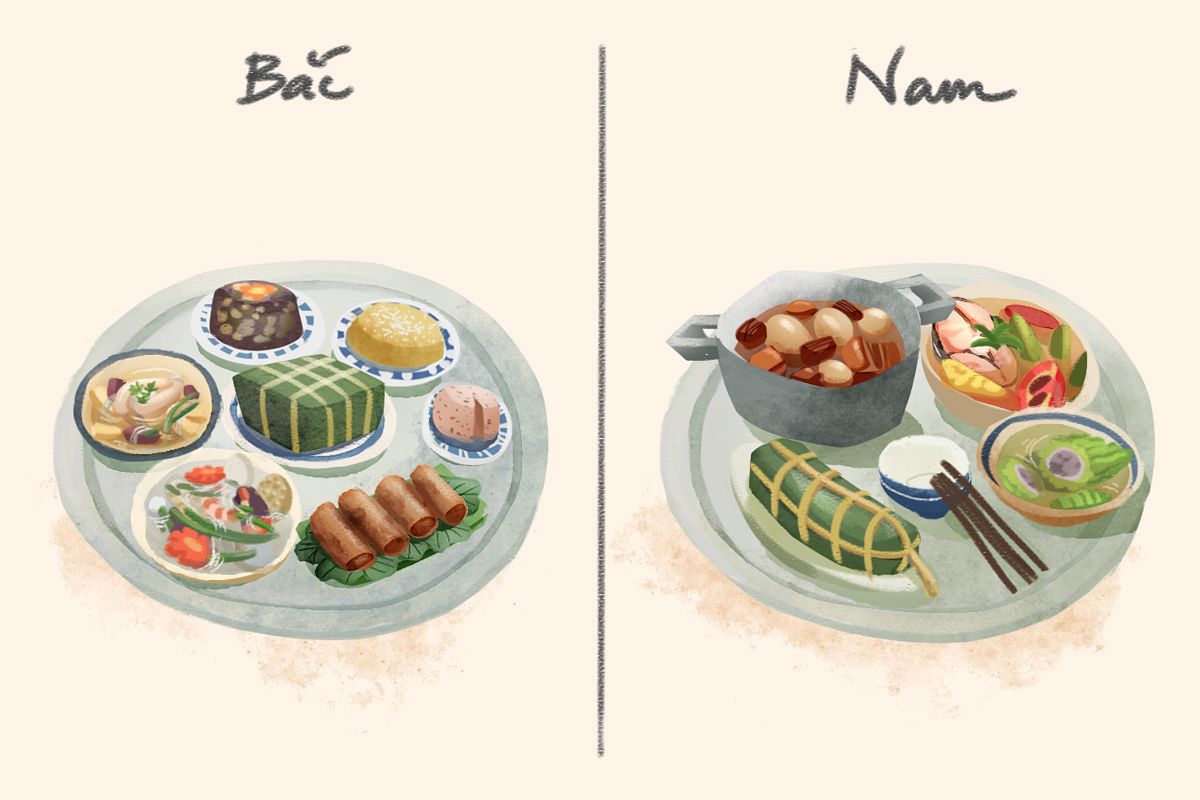 9. Tet dishes
According to northern traditions, a Tet family banquet usually features special cold-weather fare like thịt đông, which is a form of pork jelly, and warm sticky rice. A bánh chưng is also a must-have for northern families, though today one can find the leaf-wrapped cake everywhere due to the presence of northern natives in southern and central provinces. For communities in the Mekong Delta, soups using southern staples like bittergourds and freshwater fish are common, in addition to bánh tét.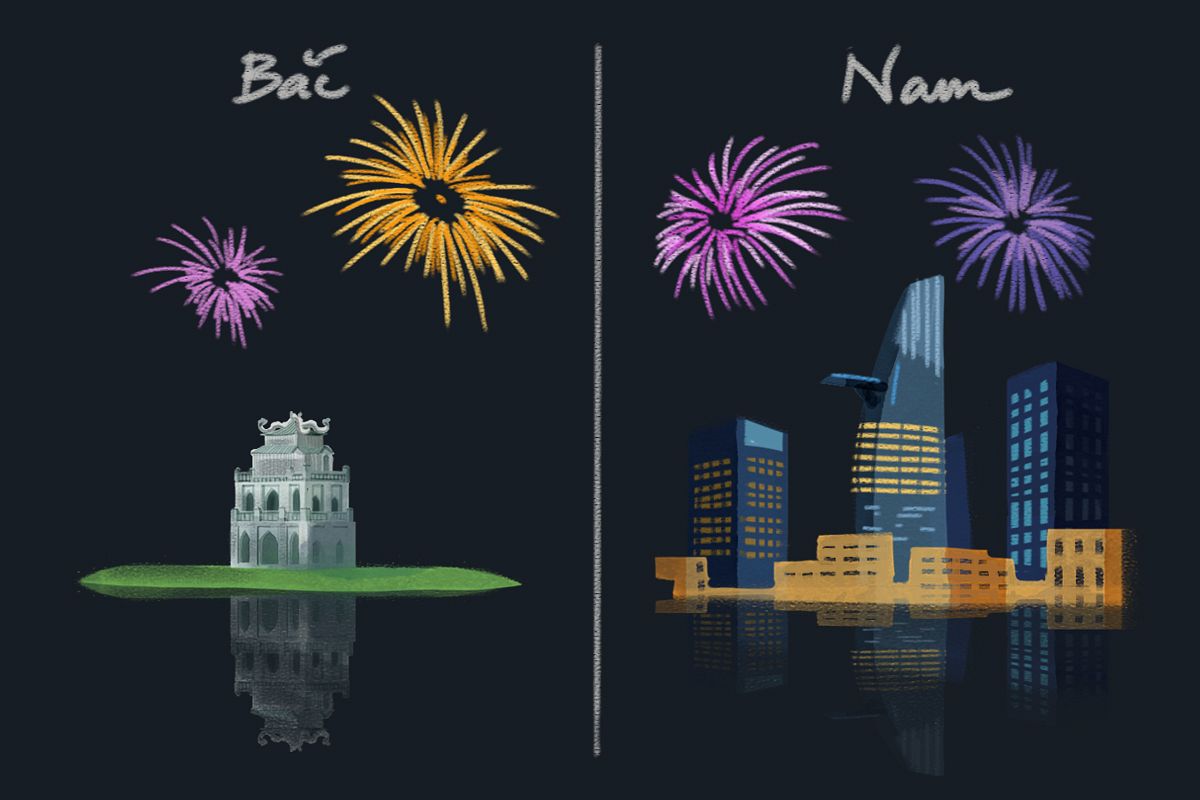 10. Fireworks
When the clock strikes 12 on the last day of the lunar year, the sky of major cities across Vietnam bursts into a display of colorful pyrotechnics. In Hanoi, the best place to watch these fiery performances is the pedestrian area around Hoan Kiem Lake and Dong Kinh-Nghia Thuc Square. Saigon residents, on the other hand, usually congregate along the Saigon River near Bach Dang Wharf.