Following the success of bike-sharing programs from New York to Beijing, Vietnam is planning to launch pilot programs for 5 cities in 2015.
The proposal for the program was submitted by the Transport Ministry late last year and has garnered support from Deputy Prime Minister Hoang Trung Hai. As part of the plan, by 2015, cities must submit a detailed roadmap to address traffic issues and improve public transport.
Bike-sharing schemeshave seen incredible success over the past 2 years. In 2013 there were 535 programs encompassing a fleet of 517,000 bikes, up from 375 programs and 236,000 bikes in 2011. China's Wuhan and Hangzhou bike-sharing take the crown for largest in the world with 90,000 and 60,000 bicycles, respectively.
Since details about Vietnam's bike-sharing program have yet to be released, it will be interesting which model is adapted. Many programs, such as New York City's 'Citybike,' are designed for quick 30-45 minute trips while others, such as the German Rail Companies 'Call a Bike,' encourage trips of up to 48 hours.
This infographic shows how some major city's bike programs stack up against each other. Click here for a larger version.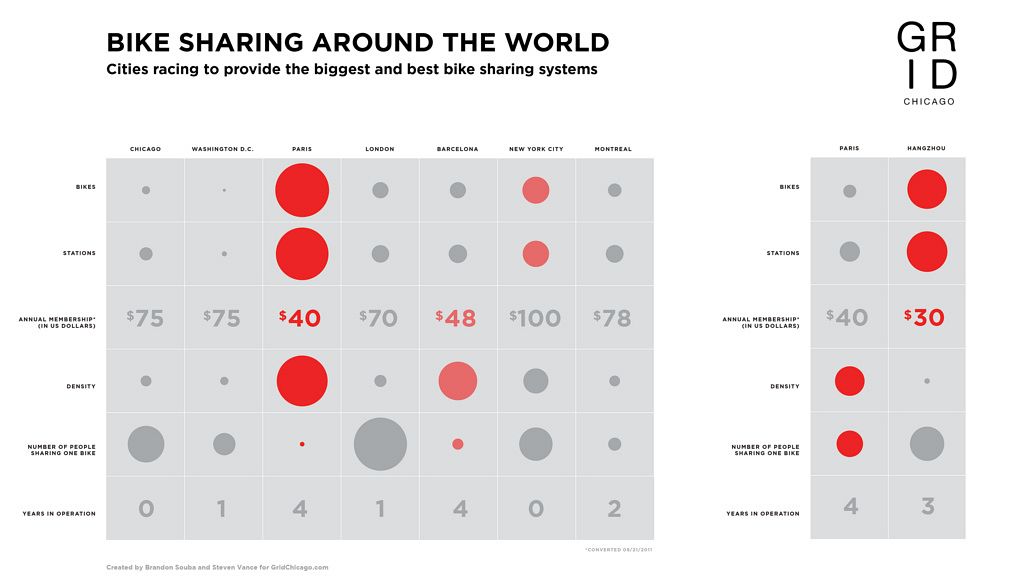 Like many other similar initiatives, though administered by the government, funding and service will come from the private sector:
"Khuat Viet Hung, a senior ministry official, told the Lao Dong (Labour) Newspaper recently that several private companies were ready to run bicycle rental services at very reasonable rates," reported Vietnam Net.
As one can imagine, the main challenge for the program is logistics – i.e. finding parking spots for rows of bikes.
Hung mentioned Saigon's District 1 and Hanoi's Old Quarter as ideal areas for the pilot program.
Bike-sharing is one of many initiatives Vietnam is considering to address worsening traffic and air quality. The country has toyed with banning motorbikes from cities, restricting car access to downtown areas and changing school and work schedules while implementing plans for bus rapid transit and metro systems.
[Vietnam Net // Photo via drpavloff]