Given that Vietnamese munch on 2 billon Choco Pies each year, it may come as no surprise that another mass-produced "food," instant noodles, are also consumed at an astronomical rate.
According to the World Instant Noodle Association, Vietnamese go through 5.2 billion packs in instant noodles each year, making up 4.9% of the 105 billion sold worldwide. China is the unchallenged leader in this category, gobbling up 46 billion packages. However, on a per-capita basis, each Vietnamese eats 57 packs annually with China checking in at 33. (South Korea leads the world in per capita consumption at 69).
It's not surprising then that even though vendors make a small profit on each pack sold, they more then make up for it in volume, according to a recent article in Tuoi Tre.
Do Van Truc, a trader from Hoc Mon District, told the paper that even though he only earns VND3,000 in profit from a 24-package carton of Hao Hao instant noodles, one of the country's most popular brands, he sells up to 50 packages per day.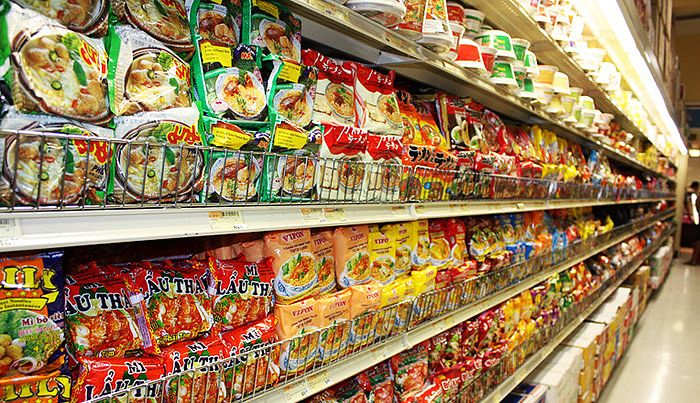 "So I earn at least VND1.23 million ($58) only from selling two types of instant noodle a month," Truc said. "The earnings are far higher than from selling milk products."
Supermarket representatives from Co.op Mart, Big C, and Lotte Mart said the noodles have some of the most stable sales of any commodity.
Instant noodles are high in carbohydrates and sodium so this high level of consumption is bad news when it comes to Vietnam's public health.
However, health site, Livestrong, says that some clever addition and subtraction can help boost their nutritional value:
"To decrease the sodium content, discard all or part of the seasoning packets provided and substitute parsley flakes, garlic powder or onion powder from your pantry. Add vitamin- and fiber-rich vegetables, such as green peas, cabbage or celery. Additional flavor and protein can be provided by bits of lean meat or fish. Also, try sprinkling your soup with sea vegetables, such as kelp or dulse granules, to increase its mineral content."
[Top photo via Su Lin]