McDonalds might not have opened its first Saigon outlet yet, but growing youth obesity rates are already a major public health issue. To combat the epidemic, HCMC schools are instituting standard lunches to ensure students are receiving adequate nutrition.
A survey by the Ho Chi Minh City Nutrition Center and Department of Education and Training revealed a disturbing uptick in child obesity rates which stood at 38.5 percent in 2009, up from 19.8 percent in 2002. Another report found that only 37.7 percent count vegetables in their daily diets while many face deficiencies in iodine, iron, and vitamin A.
On Tuesday, Ho Chi Minh City educators introduced a framework for standard meals to be applied to elementary schools this academic year. They identified 40 dishes with high nutritional value to be added into rotation by early September.
Dr. Do Thi Ngoc Diep, director of the nutrition center, said that well-balanced meals will not only help students increase their height but also improve their brainpower.
Since late 2012, pilot programs for healthy eating have taken place at a number of HCMC schools with encouraging results.
Compared to its neighbors, as of 2011, Vietnam still ranks quite low in obesity rates. Though it's probably fair to assume that these numbers have increased over the past 2 years.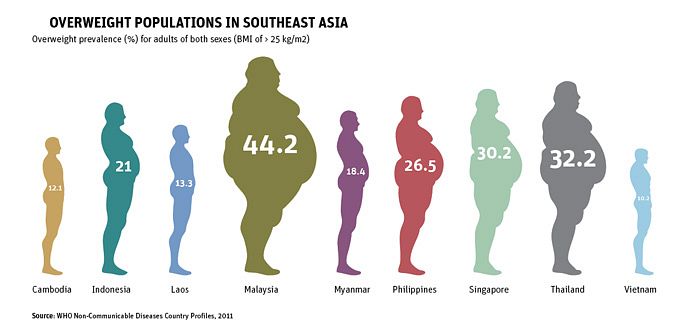 [Tuoi Tre]