For those condemned to a long daily commute along that busiest of city arteries, Điện Biên Phủ street, the clean, elegant lines of the Hồ Chí Minh City Eye Hospital (Bệnh viện Mắt, Thành phố Hồ Chí Minh, www.benhvienmat.com) – the former Clinique Saint-Paul – offer a refreshing contrast to the surrounding urban clutter.
Funded and operated by the Sisters of Saint-Paul de Chartres, the Clinique Saint-Paul was built in 1936-1937 at the junction of rue Legrand de la Liraye and rue Pierre Flandin (modern Điện Biên Phủ and Bà Huyện Thanh Quan streets) to replace their earlier Clinique du Docteur Angier (1908), which had stood at 1 rue Docteur Angier (now Nguyễn Bỉnh Khiêm street), immediately behind the St Paul's Convent.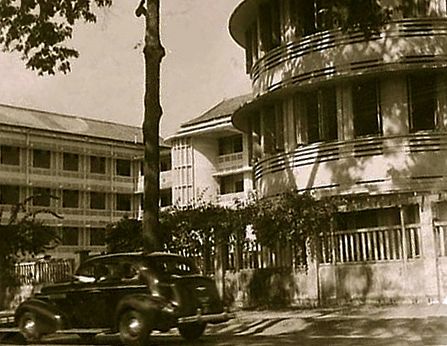 The new Clinique was built by the Société Indochinoise d'Études et de Constructions (SIDEC), one of the leading construction companies in the colony, which was also responsible for the Tân Định Market as well as numerous other civic works in Cambodia.
---
Related Articles:
- [Video] Take a Ride Through the Streets of 1963 Saigon
- Old Saigon Building of the Week: Cercle des Officiers Building
- 10 Old Pictures of Art Deco Buildings in Saigon
---
The Clinique was designed by distinguished Saigon-based architect Louis Chauchon (1878-1945), whose other major works include the Public Library (now the National Library of Cambodia, 1924), the Psah Thmey Central Market (1937) and the Palais du Commissariat de France (1938) in Phnom Penh and the Pavillon de la Cité Universitaire in Hà Nội (1942).
According to the Echo Annamite newspaper, the Clinique was inaugurated on 19 December 1938 in the presence of Cochinchina Governor André Georges Rivoal and several other local dignitaries. Its Director, Dr Roton, treated them to a tour of the state-of-the-art facilities which "made a great impression on the visitors."
Functional yet elegant, the Clinique is noteworthy for its stylish fusion of art deco curves and traditional four-panel roofs. Truly a sight for sore eyes.
Tim Doling is the author of the forthcoming book of walking tours entitled Exploring Hồ Chí Minh City (Nhà Xuất Bản Thế Giới, Hà Nội, 2014) and also conducts 4-hour Heritage Tours of Historic Saigon and Cholon. For more information about Saigon history and Tim's tours visit his website, www.historicvietnam.com.