Some may say that modern performance art in Vietnam looks the way it does thanks to the works of Tuan Le and his colleagues. Almost two decades into a series of smashing theatrical successes across the country, Le invites Saigoneer into the creative power behind AO, Teh Dar, and Lang Toi.
About 17 years ago, Le decided to turn his career on its head.
Raised in Germany and Vietnamese by birth, he had found success as a performing artist. In Paris, he'd been performing in the well-regarded Cirque D'Hiver. In Germany, he created his own show, starring a Vietnamese émigré at odds with the European city. In an unforgiving industry, things were going well.
But Le's return to Vietnam, alongside colleagues Lan Maurice and Nguyen Nhat Ly, has since re-defined theatrical arts in the country. Their crowning work, the AO Show, is now in its sixth consecutive year. Their company, Lune Production, has become a national darling, producing success after success and essentially taking up permanent residence in the opera houses of both Saigon and Hanoi.
As Lune Production's creative director, Le has found a winning recipe. Beginning with a traditional Vietnamese ethnic group as subject matter, Le and his colleagues infuse their shows with dancing, circus acrobatics, songs and regional musical instruments, allowing his ensembles — composed of both professionals and members of the relevant ethnic groups — to run wild with their characters.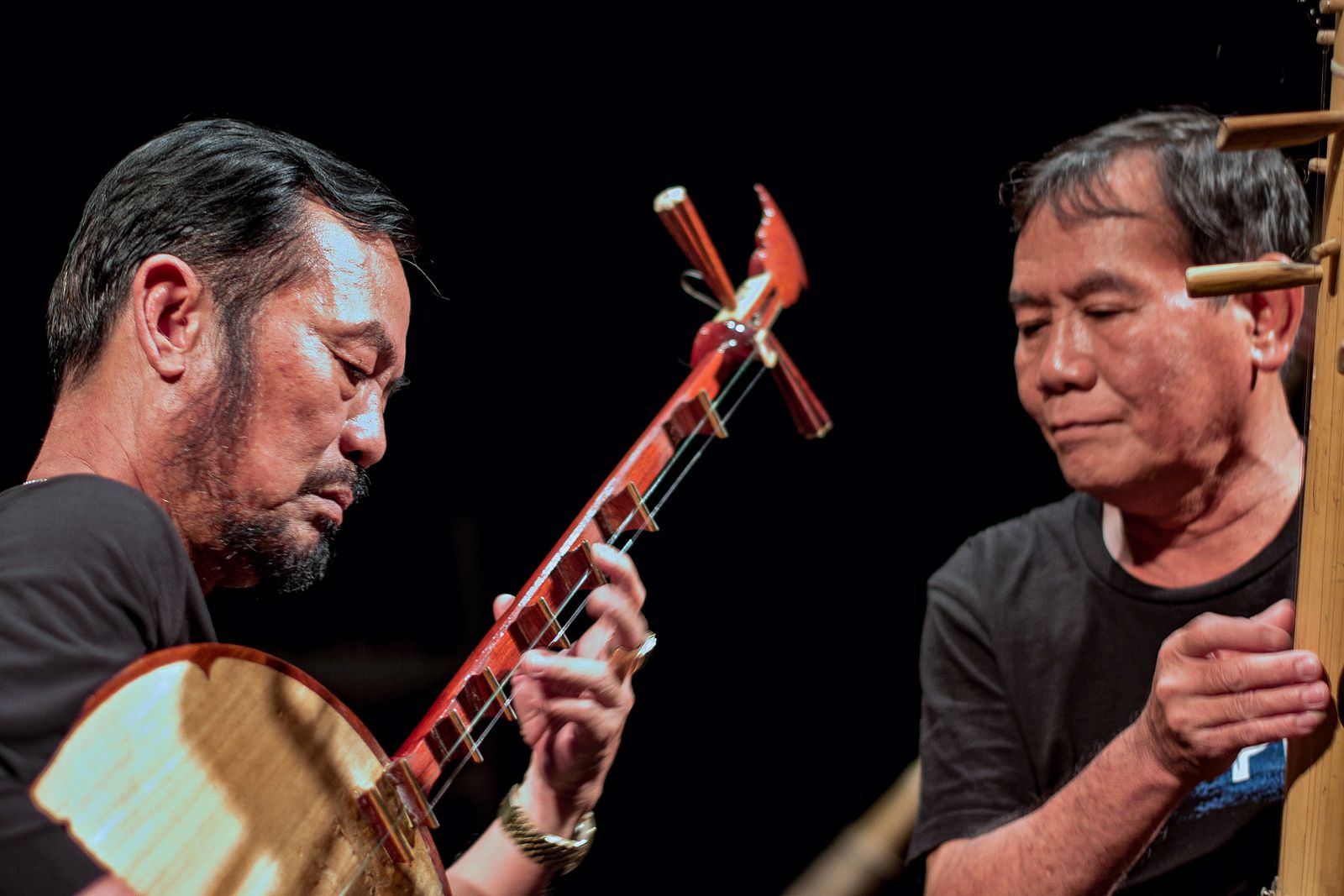 The result is non-traditional and often spellbinding. His shows, like AO, are laden with personality. Audiences witness tender moments between lovers in the Saigon streetlight, interrupted by an upstairs neighbor ejecting wastewater out the window. AO whirs through the agricultural history of the Mekong Delta before focusing on familiar people in the city.
By contrast, Le's most recent show, Teh Dar, exists in a world of its own that is unrecognizable to most show-goers. Taking the Central Highlands as its subject matter, language, costumes and tradition combine for an in-your-face effect. Quite literally, flying stunts that feature bamboo poles nearly reach the audience, and a dream-like siren song in the K'ho language pulls viewers' attention into the reeds on stage.
More than in name, Lune Production seems to have become a substantial echo to the west's Cirque-du-Soleil. The performance company even has a theater of its own in Hoi An. The bamboo dome by the iconic city's river rivals that of the Cirque D'Hiver in Paris, where Le once performed. Outside of it, Saigoneer sat down with Le before that evening's performance of AO.
We're here to talk about the AO Show, which is on now, and also about all the shows that you, Ly, and Lan Maurice have created. I'm really interested in talking about that, but I want to start 10 years ago. Can you tell us where you were when you decided to come back to Vietnam and create art here?
It started even much earlier than that. Ly, Lan Maurice and I were in Europe, I was performing in the Cirque D'hiver. At that point, it wasn't even my wish to do something in Vietnam, but we came up with this idea that we should give and share our knowledge of whatever we have been doing.
But for us, it wasn't like we were going back to Vietnam, we were going to Vietnam. We were going to share our knowledge, to build an artistic system that did not exist before.
I had to convince my friends, my people, with the vision that I had — that we have, Maurice and Ly and I — to build a larger show. Of course, it's just a show, but imagine, when we started it was just three people. Now Lune Production has almost 200 people working in the company, in Saigon and Hanoi. It's been a success, and people believe in it. It's very important for the country to deliver an artistic message to the world that everyone can feel and can understand without any translation.
You say that you and your team brought a certain amount of knowledge back to Vietnam. Do you also feel like you found stories in Vietnam that were perfect for your acrobatic medium of storytelling?
Our shows, like Teh Dar, tell a completely different story. Yes it's a story about a minority people from the highlands, but more than that the show is about the subject in the world today. Everywhere in the world, in America, in Africa, in Canada, even in Europe, there are still groups of people living in their ethnic group. More and more people don't talk about that.
If you go to see a Teh Dar show, it's not announced that the show is from Vietnam. I believe nobody would have any connection to it. It has nothing to do, really, with Vietnam, the Vietnam you can see when you travel. It's very unique, and our responsibility is not just to present what it is, but to get to all these people, giving them a vision, letting them build their image and their story.
And the Teh Dar show is about the K'ho people?
No, not only the K'ho, but all the ethnic groups in the highlands.
Do you feel like you are showing audiences the beauty of a different type of Vietnam?
I don't think it's much different. It's just a difference of perspective. What is beauty? That's what matters. First, it's about the aesthetic, and second it's about the message. How you speak, how you use your body, how you use the music. The Teh Dar show starts with three men who open the show with their prayers. These men do their prayers in their own language, and I don't understand what they say, and I will never ask them what they say, but this is the real moment, the moment that makes the show special.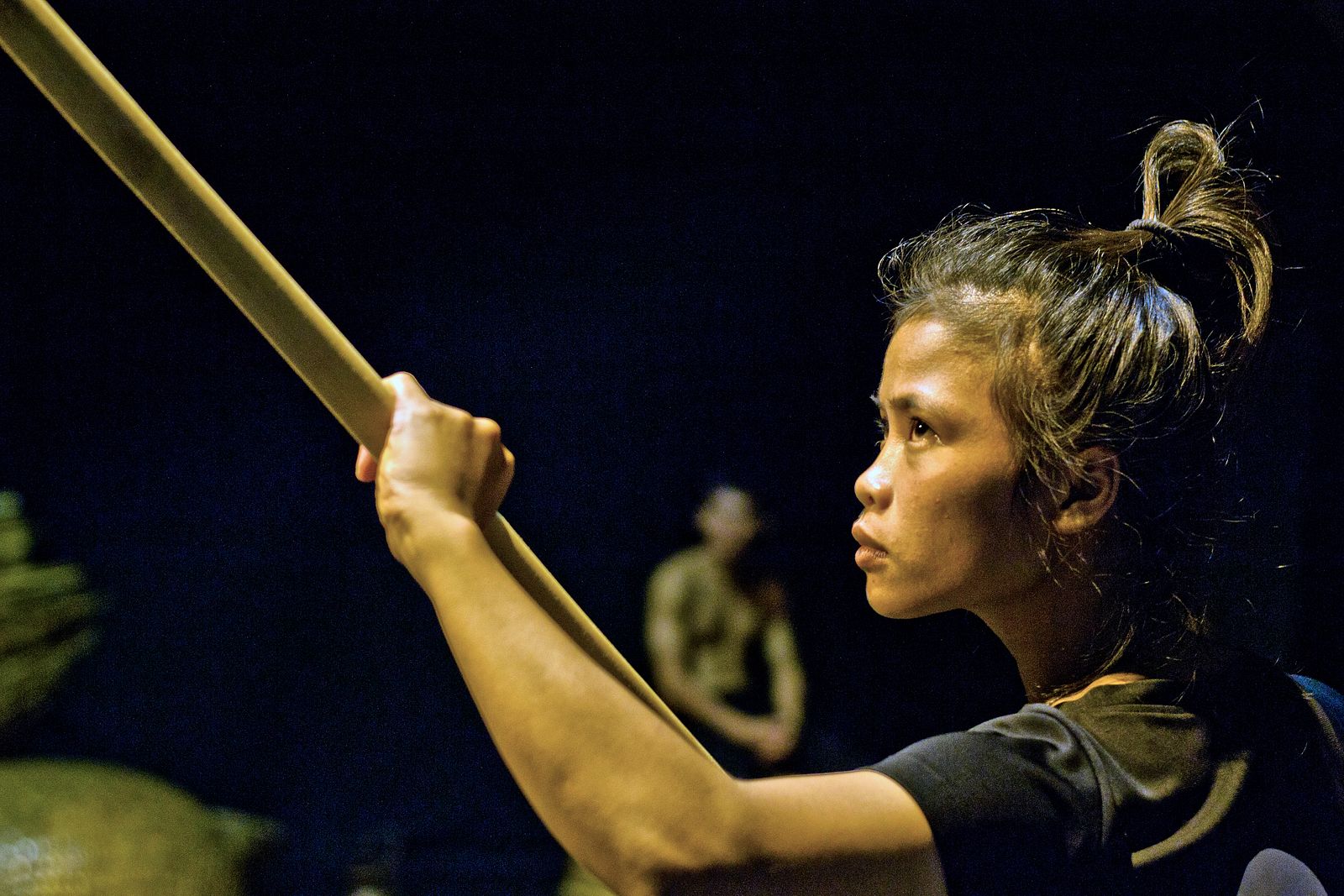 Another of the most beautiful moments of the show comes at the end, when there's just one man, hitting his gong and walking out of the theater...but to be able to do this, the feeling is very important, to sense that they can deliver that beautiful moment. For me, the development for the show is doing less, not more.
Can you speak about how you introduce each of your actors to the story that they are going to tell? It seems like there is a real connection between the actors and the characters they become. Maybe a year ago they didn't even know that character, but on stage they are larger than life.
This only happens when you have time and you're really being together with them.
Are the personalities their own, or are they taken from the communities from which each show gets its theme?
Some of them are their own, but some of them are taken from research. Part of Lan Maurice's method involves what we call 'playing and finding things.' This is the first step for the artists, throwing everything out. They have to be empty, clean everything in their mind and in their soul, just to be pure first. And then they can be like children.
With my shows, I focus on creating a big frame, and inside that, there are a lot of messages. The message you can receive and feel is up to you. I don't tell a precise story.
How much of that story do you create on your own, and how much do you find when you visit the highland regions, for example, in your research?
For Teh Dar, I went into a ceremony for the dead in the highlands, a funeral. It was about noontime, very hot, and those people were walking around playing their music, some of them wearing masks, and another wearing an outfit that looked like a leaf.
I re-created these things, the leaf outfit, the masks, in the show. But, the mask for me is something mysterious. You can't really tell and you can't really understand it. In rehearsal, I started to put it on the back of the actor's heads. Why? Because I think there are always two faces and two personalities with each person. We just show one, even though, behind that, there is something that you can never get.
This is also true in the highlands because they believe in their reality. They also believe in their dead people, that they're still alive. In that ceremony, I remember one very old woman. She was sitting on the grave of one of her ancestors. Suddenly, she began to talk and sing at the same time, for 20 minutes, at times crying. I don't think she noticed the people around her; she was living in that moment. And then, suddenly, she just stopped and began laughing and joking with her family again.
You currently have three shows. Can you tell me about the newest show in production?
The new show is about the Cham people. Like with Lang Toi and Teh Dar, we go into a specific area in Vietnam. We work with the people and tell their story. I am the creative director, but really I support them to create their story. I would not be able to write it by myself, without them. With Lang Toi it was the same thing. I don't pre-write anything. I come to the first auditions, sometimes not having any idea.
It sounds a little bit strange, but that's how we work.
How do the local people react to the openness of your ideas?
Many years ago they thought it would be a very traditional show, where we just played their traditional music on stage. But it's not traditional. Can you believe that in the AO Show and Teh Dar, nothing is written on any piece of paper?
They just play. There's nothing written down. It's music based around a mood, sometimes with a rhythm, but nothing is fixed. If we changed the musicians, then the entire music for the show would need to be changed.
It's been 17 years since you returned to Vietnam. Have you felt that you are moving in the right direction, that the art you are creating is being well-received and that your vision is successful?
For us, this is the only way it could have happened in Vietnam. The AO Show, as you know, is the longest-running show in the history of Vietnam. It's been accepted in the country. When AO went to France, over 95% of the tickets were sold before it arrived. It was incredible.
When we go overseas with Teh Dar, I know it will be an explosion. When it goes, I'm afraid it will never return to Vietnam. I'm sure that Teh Dar will hit the US I'm confident about that.
If it does, it will show Americans a different Vietnam.
You know, when I talk to people about Teh Dar, I don't even mention anything about Vietnam. My friends know I'm Vietnamese, but I don't describe Teh Dar that way.
It's been almost twenty years. Would you say everything is coming together?
Yes. I would say with Lang Toi, in 2009. We opened the show in a small theater under the Eiffel Tower, in Paris. One director left his card at the show. I must have been busy at the time and I didn't meet him, but later when I picked up the card, I read his name. It was Franco Dragon, who created the first 10 shows of Cirque de Soleil. He more or less created its artistic vision. He's one of the biggest in the world.
Later, in Belgium, when we opened our show, he told his entire office to come to see Lang Toi. And it's this little show, but I knew then, already, that we were doing the right thing.