Jack Clayton is an artist from East London who has spent the last four years travelling. His inspiration for his art work is drawn from his experiences around the world and a representation of his environment. He specialises in woodcut relief printmaking which is actually a traditional art form of Vietnam and of Asia in general. In addition to the woodcut, he also uses intricate pen and ink illistrations.
Jack is then able to entwine the images into the grain of wood, letting the natural patterns inform and dictate the work in progress.
Jack says that finding materials can be a bit of a challenge here but other than that, the available resources are generally good quality and very affordable. His original woodcut prints range from VND200,000 to VND 1 million and digital prints go for for VND200,000 to VND400,000 respectively. He doesn't sell his original illustrations as he keeps them for exhibitions.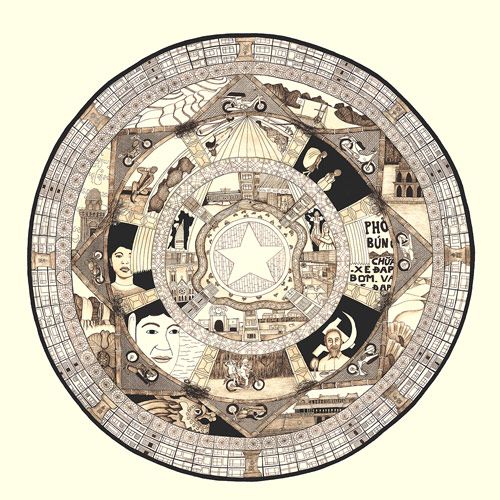 The above piece of work is named the "Đông Sơn Drum." The ancient Đông Sơn drums of Vietnam depicted scenes of daily life, war, animals, birds and boats. Jack's own take on this illustrates everyday patterns, his own influences from living in Vietnam for the past two years and notable landmarks. In essence, he has designed his own personal drum face.
This exhibit aptly named "Inspirations" encapsulates Jack's experiences in his home town of London and in Austraila and Vietnam where he has travelled to. This artwork merges together different symbols of the three major places. For Jack, it's an impossible challenge of the travelling artist to contain a global wide body of culture and influence in a single cohesive image. It never really meshes together wholly so Jack tries to capture the confusion in a way that is void of pretentiousness.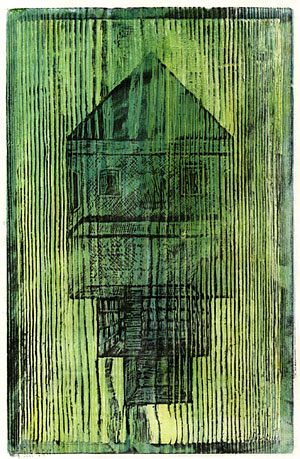 This piece of work is Jack's response to a dream. One restless night the renowned pyschoanalysit Carl Jung dreamt he was wandering through a house that represented the different levels of human consciousness. With each level he descended the interior became more and more ancient, until he reached the lowest basement containing nothing but mud walls and a chest in which he found his own skeleton. The print above was prduced in the FransMasereel Centrum in Kasterlee, Belgium.
Jack has exhibited his work at the previous Melting Pot's at Saigon Outcast and was at the last installment showcasing some new artwork at his stall. He hopes to host his own workshops at Saigon Outcast too. I went along to the event on 22nd and 23rd February and was impressed with Jack's detailed and interesting artwork. I loved the Đông Sơn Drum piece and actually bought one for myself. I think it'll look great as a centrepiece on my living room wall. Very talented!
Jack is always looking for more opportunities to exhibit his work so please contact him if you're interested, you can email him at: clayton_art@live.com