If Japan's "cat island" or Taiwan's "cat village" are public venues maintained by collective efforts, Saigon's cat shelters are run by Samaritans who take care of local felines using their own limited savings.
In a perfect example of the collision between life and art, Saigon-based rapper Datmaniac recently released a music video for his 2017 hit 'May Con Meo' (Some Cats), which was filmed at a private "cat shelter" in District 8. The video was produced by media network Yeah1, showing Dat and the 200 furry residents of the home. In his signature black beanie, baggy shorts and an orange T-shirt, he pets cats, sways with the beat while spitting fire.
The term "cat shelter" is an appropriate designation, but it might sound too proper when in actuality, it's just the rental home of Dinh Thi Kim Chi, a cat lover who converted her two-bedroom house into a shelter for stray cats. Now 54, Chi has been saving street cats for over 22 years. Every new addition will be treated if wounded or sick, and then neutered.
Apart from the hundreds living at her home, every night at 10:30pm, she hits the streets of Saigon to feed homeless cats, ones living on the roof of marketplaces, beneath bridges, in meandering hẻm, and more. The first trips usually end at midnight, when she rests for an hour before heading out again at 1am. Without stable income and additional help, keeping the strays fed is a daily struggle for the 54-year-old, especial on money made from selling scrap metal and plastic.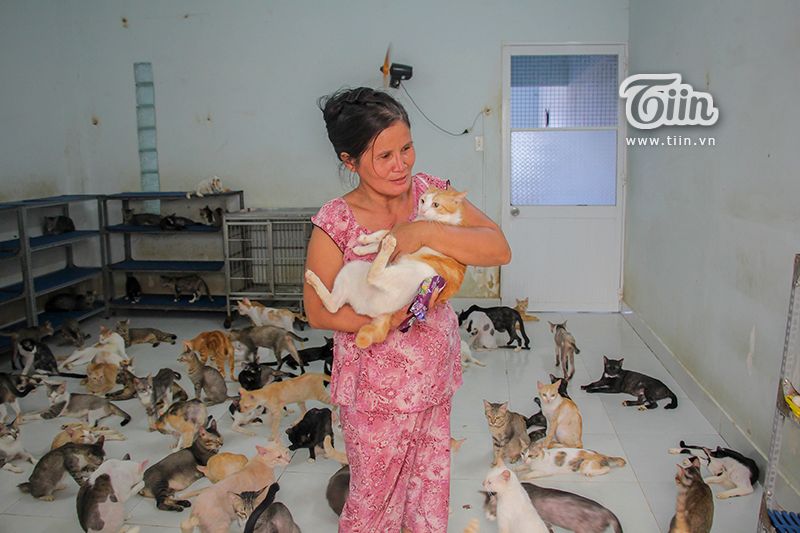 Chi's life story was featured on several local news sources in November 2017; it also made its rounds in the local Facebook community. Since then, many animal lovers in Saigon have sought out her cat shelter to help out with cat food, rice, and money to hire a daily cleaner. A positive ending to a positive snippet of life in Saigon.
Datmaniac and the producers filmed the music video at Chi's home in March, after the rapper got back from Malaysia. Last month, Suboi and Dat were invited to participate in MTV Asia's hip-hop special Yo! MTV Raps, along with 31 other artists from all over the world.
Watch the music video for 'May Con Meo' below:
[Video via YouTube channel YEAH1 MUSIC]
---

Related Articles:
---