Upon entering the gallery section, visitors find themselves in a dark space lit only by Le Brothers' video installations on the wall and by the shiny red reflections coming from the two cage-like sculptures adjacent the entrance door.
This is only the second exhibition in Saigon (last one was in 2011 with the video 'Into the sea') by the twin artists from Hue and it opens the second portion of 'Red - Màu Đỏ' on display at the Observatory until 15 April.
The centre video of the three-piece installation comprises a series of prominent writer's and poet's intimate monologues about the meanings and correlations of the colour red in Vietnamese history and culture, which inevitably touch the themes of past wars, communism, the relation between North and South and folklore.
In the other two screens, we see the artists themselves in an art-making performance in which they are covering, with glossy red paint, two opposite subjects - in one a male model sitting in the Buddha's lotus posture and in the other, everyday modern objects such as stereo speakers, telephones, typewriters but with the exception of a small laughing Buddha statuette, which could signify the current presence of religion and philosophy in Vietnam despite the overwhelming present of constantly evolving technological objects in people's lives. In both videos, the artists perform in a pitch black room so that the viewers' attention is focused solely on the subjects of their work and the suggestive power of the colour red.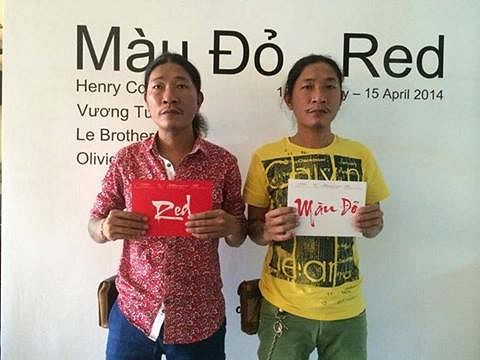 The entire exhibition is dominated by the colour red present in both the sculptures, the paint in the videos and in even the English subtitles, but moreover it hints about the dichotomies present in Vietnamese views about Vietnam itself.
The artwork presented is a continuation of Le Brothers's exploration of both moving images art as well as of Vietnamese political ideology, economy and society with particular attention on the relationship between past and present and the post-war consciousness of North and South.
Also the colour red is a recurring element in their art, as previously seen in their video installation 'Into the Sea' - presented at the 2013 Singapore Biennale. In the evocative three-piece video, inspired by the twins desire to revisit and understand their childhood land, the twins bind each other with red fabric.
As the curator, Frederic Sanchez, mentioned, the second part of Red is in distinct contrast with the monochromatic painting of the first portion, mainly due to the strongly charged meaning associated to the pieces which summon the essence of an entire nation through art.
Moreover, it is such a rarity to have Le Brothers's work on display in Saigon that I would urge anyone not to miss this opportunity.