Obsessed with antiques, a Vinh Tuong man, Nguyen Van Truong, collected 8,000 of them over 30 years and found an ingenious way to show off his collection - using them to coat the walls, gates and garden of his house, discovered Tuoi Tre.
Nguyen, a carpenter by trade, discovered his passion when painting some furniture at an antique dealer's house and began collecting and dealing antiques.
Over the years, his fascination grew into an obsession and he started buying up any antique he could lay his hands on.
In his obsessive quest, he journeyed to other provinces and searched through shops and garbage heaps for the historic items, some of which date back to the 17th and 18th centuries.
As his infatuation grew, he began to lose money since he never sold any of his treasures. He even borrowed money from relatives and friends but never stopped adding to his collection.
His hoarding consumed most of the space in his house so he began to embed his beloved antique plates, bowls, coins and vases onto his house with sand and cement.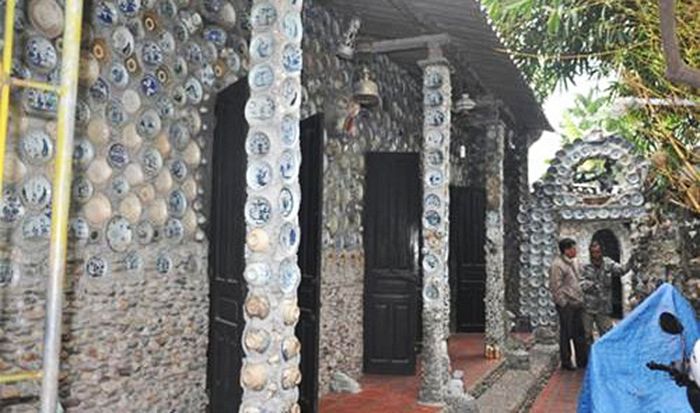 He hopes his home/antiques gallery will help the younger generation to see and appreciate history.
[Tuoi Tre]