Experimental music composer, mixed media artist, multi-instrumental performer, pianist and singer, theater-music composer, improvisational sound artist: describing the work of a key figure of the Vietnamese contemporary music scene like Tran Kim Ngoc is challenging.
Ngoc is also founding-director of DomDom, the first center dedicated to developing contemporary and experimental music in Vietnam, and organizer of Hanoi New Music Festival.
Independent from the mainstream system, sometimes isolated as a composer, she decided to forge her own path as arguably the first musician to develop contemporary experimental music practices in Vietnam. As a result of her trans-disciplinary vision for art and music, she has gained an international reputation for creating works with a distinctly Vietnamese identity, as well as an indigenous 'grammar' with which to engage a wider global contemporary audience. The contribution of Kim Ngoc to Vietnam's avant-garde sound art scene has led to recognition by Forbes Magazine as one of the 50 most influential women in Vietnam in 2019.
Traditional Vietnamese music through a contemporary perspective
Kim Ngoc, whose dad was also a musician, studied piano at the Hanoi Conservatory of Music, which mainly focuses primarily on western classical music. After graduating from the composition department, she continued her studies in Cologne, Germany, where she studied composition with Johannes Fritzsch and improvisation with Paulo Alvares.
In an interview, she shared how upon returning to Vietnam, she began a journey towards her own personal form of expression. Despite being more exposed to classical western music, encountering Vietnamese traditional music was a discovery for her, yet also familiar, a "reconnection" that completed her musical lexis.
She learned how to play traditional Vietnamese instruments, following her own instincts to feel their essence. In her compositions, she uses traditional Vietnamese theatrical forms (tuồng and chèo) and instruments from Vietnamese folk like the đàn bầu (monochord zither) or đàn tranh (16-string zither), which are similar to the Japanese koto.
She learned under the supervision of folklore masters. Kim Ngoc explains the difficulties she encountered when trying to learn traditional music in Vietnam, as most of "the masters are getting old and their knowledge is transmitted from mouth to mouth." Besides, the current educational system at conservatories has constrained the preservation of Vietnamese musical heritage.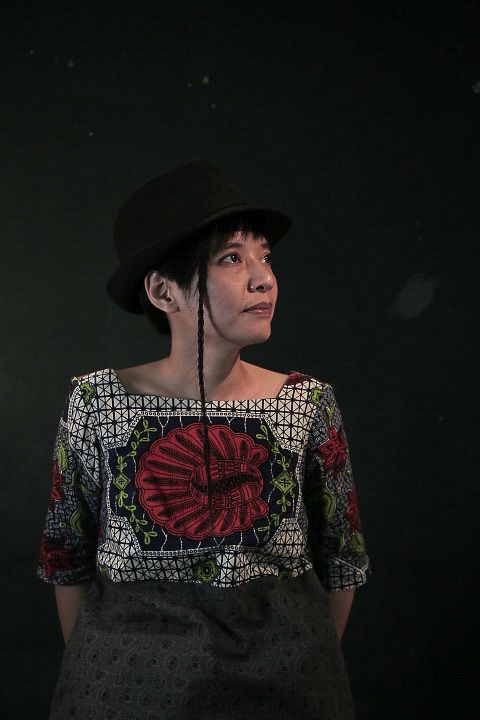 Music, space and scene: "Theater is my nature"
The works of Kim Ngoc cover chamber and orchestra music, video/sound installations, improvisation and computer music, mixed media and music-theater compositions. Her most notable works have been presented at overseas festivals like the Munich Biennale Festival and the (Re)Thinking Improvisation Festival in Sweden.
As a composer, she defines herself as "the intuitive type." Kim Ngoc shared that composing is "an entirely internal process" which she finds extremely pleasurable, a process without a fixed form, as "the concept of each piece determines each of their forms."
Her transgressive art language is especially apparent in her music-theater compositions. "Theater is my nature," she said. Kim Ngoc describes her first music-theater piece ('Song of a Vagabond Child' from 2000) as the result of "an instinctive impulse," because at that time she was not familiar know the concept of music-theater.
Afterward, she studied in Germany and met Stockhausen, Heiner Goebbels and Manos Tsangaris — prestigious representatives of German music-theater. However, she believes that, despite the presence of European elements in her compositions, there is no single term to describe her works. She explores experimental possibilities with more freedom than music-theater elsewhere.
When asked her about a possible relation to butoh (a form of Japanese dance theater) in the aesthetics of her work, she replied: "Butoh has not directly influenced my works; the real influence is Buddhism, because it is also related to my way of life."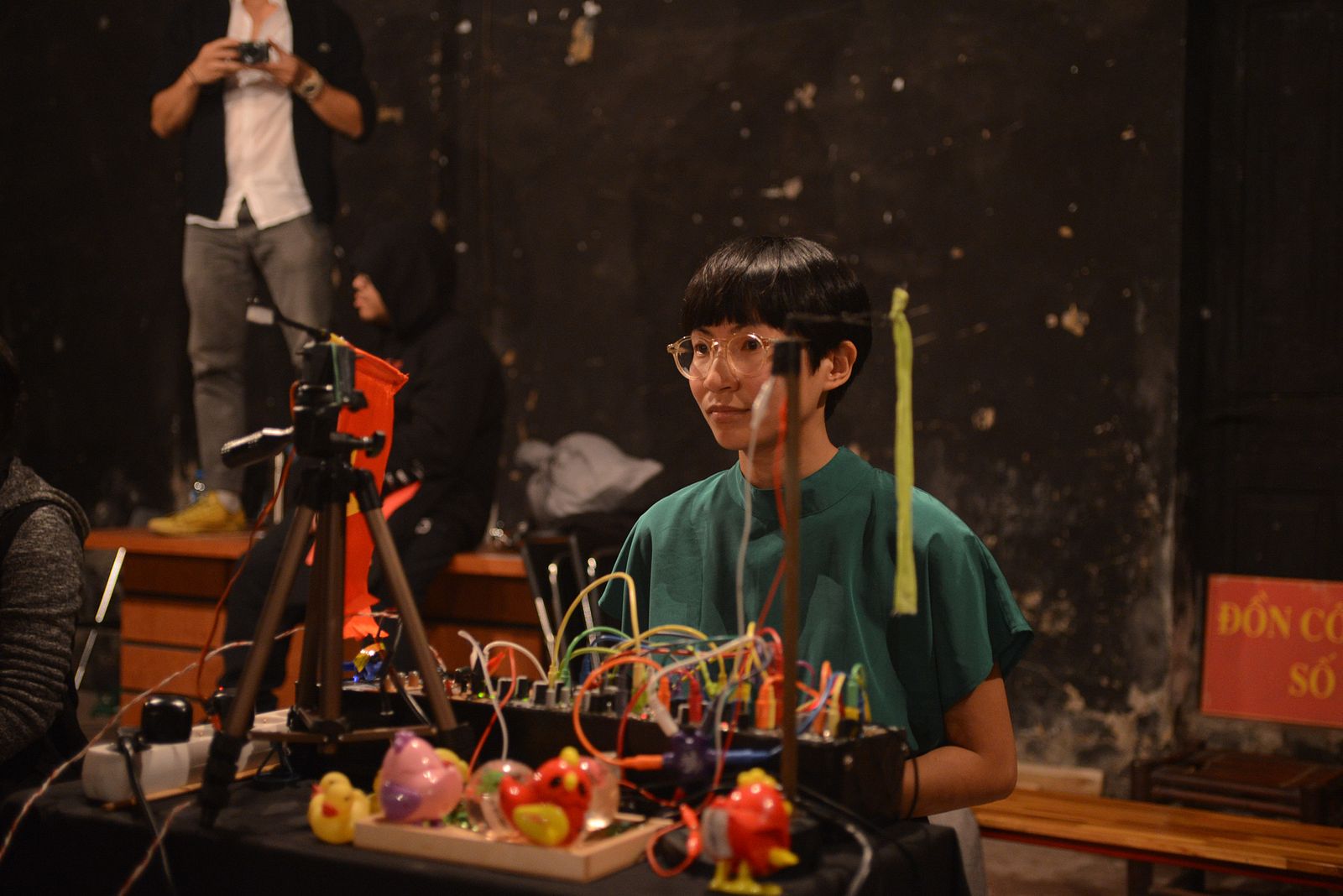 Collective improvisation, collective inspiration
As an improvisational sound artist, Kim Ngoc describes improvisation as "playing ping-pong, listening and responding without preparation, being very attentive to the other talker/player." In this regard, she explains the importance of collective improvisation: "Playing together with other musicians is a collective work where you can get inspiration from the way of composing and thinking of other colleagues."
Another point of discussion is how improvisation in experimental music is taught at DomDom Center. Courses are based on 20th-century visionaries of chance-controlled music such us the German composer Stockhausen and John Cage, whose major influences lay in Southeast Asian cultures, as well as Indian philosophy and Zen Buddhism. However, it is not about importing these types of aesthetics and philosophies in the classes. What Kim Ngọc admires from western experimental music is that "the pieces are creations of truly independent individuals," the kind of musicians she wants to develop in Vietnam.
However, many young people in Vietnam don't have a firm understanding of improvisation, though some are interested in it, she says. Therefore, Kim Ngoc gives talks about the process of improvisation before concerts as a way to bring audiences closer to the form.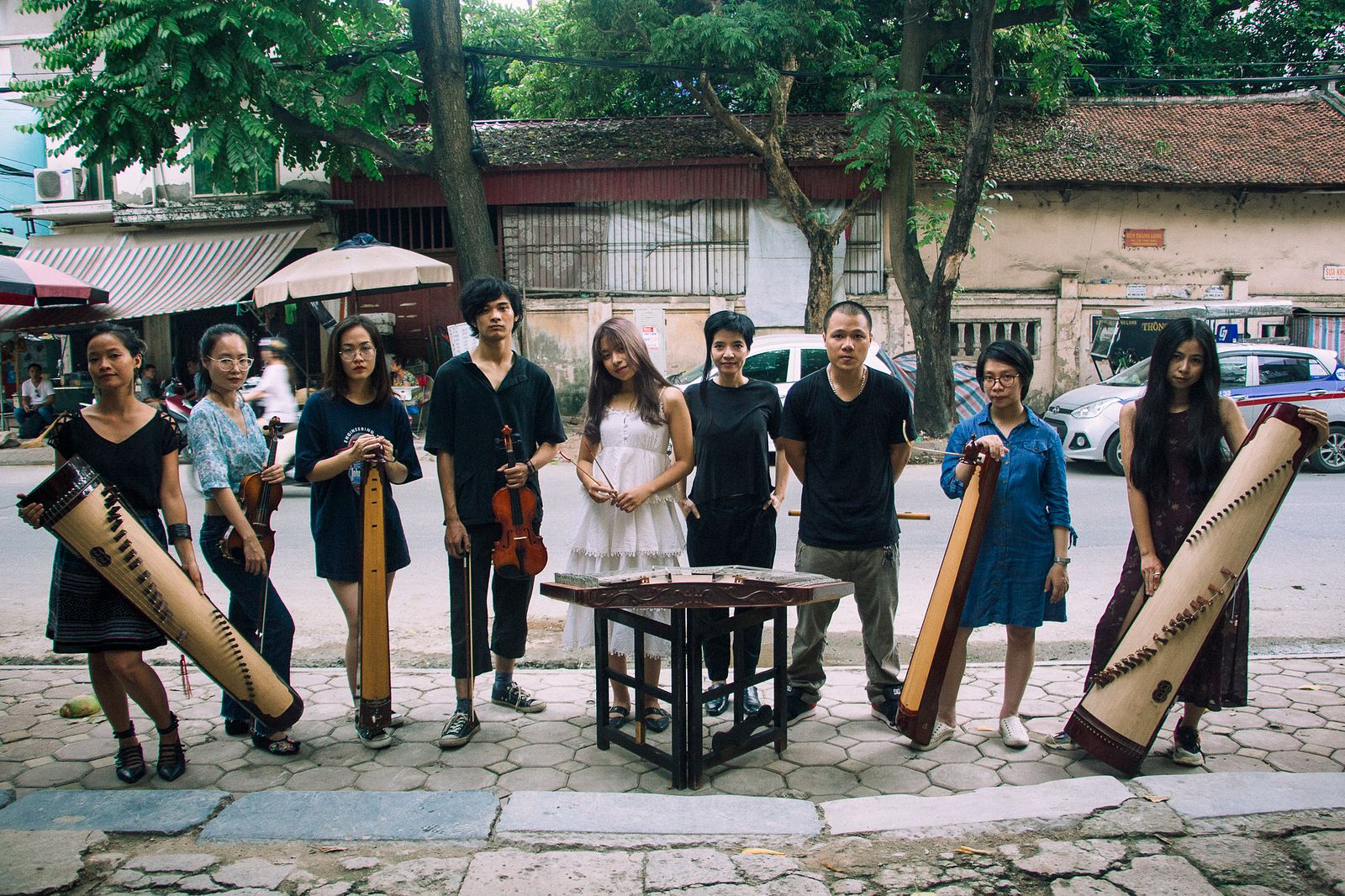 DomDom: the Hub for Experimental Music & Art
After two years of researching local music institutions and the music community in Vietnam, Kim Ngoc established the DomDom Center for Experimental Music in 2012 in Hanoi as a non-profit and independent organization. As the first hub for contemporary music and art in Vietnam, DomDom offers innovative education programs from a contemporary perspective.
On the map of contemporary global sound art, where does the individuality of DomDom reside? Their courses focus on a multifaceted vision. The students learn through diverse tools and manners of creation and expression, from traditional music to contemporary sound art scene, as a whole process to extend their personal artistic language freely.
Another key feature of DomDom's courses is improvisation. "Chị đại" Kim Ngoc — meaning "big sister" in Vietnamese — is a nickname given by her students and fellow artists. At the center, she teaches with a perspective based on the relationship between "traditional" music and her own musical practices. When asked about composition in the teaching program, she emphasizes the effectiveness of improvisation, rather than a conventional study of theories of composition to understand the ideas of 20th-century music. She considers learning improvisation as an immediate, intuitive and practical way of being "in touch" with the philosophy of contemporary music.
Alongside educational programs, DomDom offers residency programs, monthly concerts and other public programs. DomDom has influenced the careers of young Vietnamese musicians such us Luong Hue Trinh (electronic music), Huong DonNa (traditional instruments and electronic music), Nguyen Thuy Dung (đàn tỳ bà, a stringed instrument), Phu Pham (electro-acoustic music) and Nguyen Do Minh Quan (electronic music).
Hanoi New Music Festival
When Kim Ngoc returned to Vietnam from Europe in 2009, she decided to organize an experimental music and mixed-media art festival. The Hanoi New Music Festival is now organized by DomDom every two years and features sonic and musical works by artists and musicians both from within Vietnam and overseas.
According to Kim Ngoc, one of the interdisciplinary aspects of the festival is "the presentation of artworks that involve the linguistic, the visual, and the physical body." She also conceives it as an initiative to help build the contemporary experimental music scene in Southeast Asia and a contribution to developing artist networks in the region.
The festival has become a reference for contemporary experimental sound art in Vietnam and Southeast Asia. Kim Ngoc has created a cultural ecosystem to gather both foreign and local musicians and artists from different academic and non-academic backgrounds. In the 2018 edition, the concert program included contemporary classical music, music-theater, improvisation and connected traditional and electronic sounds. Alongside these elements, Kim Ngoc included a symposium as an opportunity for researchers and musical scholars to contribute to the discourse in Southeast Asia, a region traditionally absent from the global contemporary music discourse. Kim Ngoc, for her part, is working to change that.