Tomorrow morning, Vietnam's biggest LGBT festival, Viet Pride 2015, will kick-off in Saigon with a wide-ranging selection of events, from workshops, art shows, and community activities to a large parade.
Since July 12, similar Viet Pride festivals have taken place in cities across the country.
Following last year's theme of education, Viet Pride 2015 seeks to raise visibility and inclusion of gender and sexuality diversity in public places through the Work With Pride networking event (14/8), in addition to other workshops.
Viet Pride activities not only address concerns regarding legal, health, and culture issues pertaining to LGBTs working in professional settings, but also provide an opportunity for businesses and the LGBT community to connect. Additionally, with the support of the US and Dutch Embassies and the company Pricewaterhousecoopers, Viet Pride has also launched a campaign called Equal Office which works with businesses to promote LGBT-inclusive work environments through various activities.
Along with conferences and workshops, Viet Pride 2015 also features art shows such as the play "My child is a transgender," and the "Nothing Special" documentaries screening.
Outdoor activities include the "Rainbow Night" party and a series of community events that lead up to the Rainbow March down the Nguyen Hue pedestrian promenade.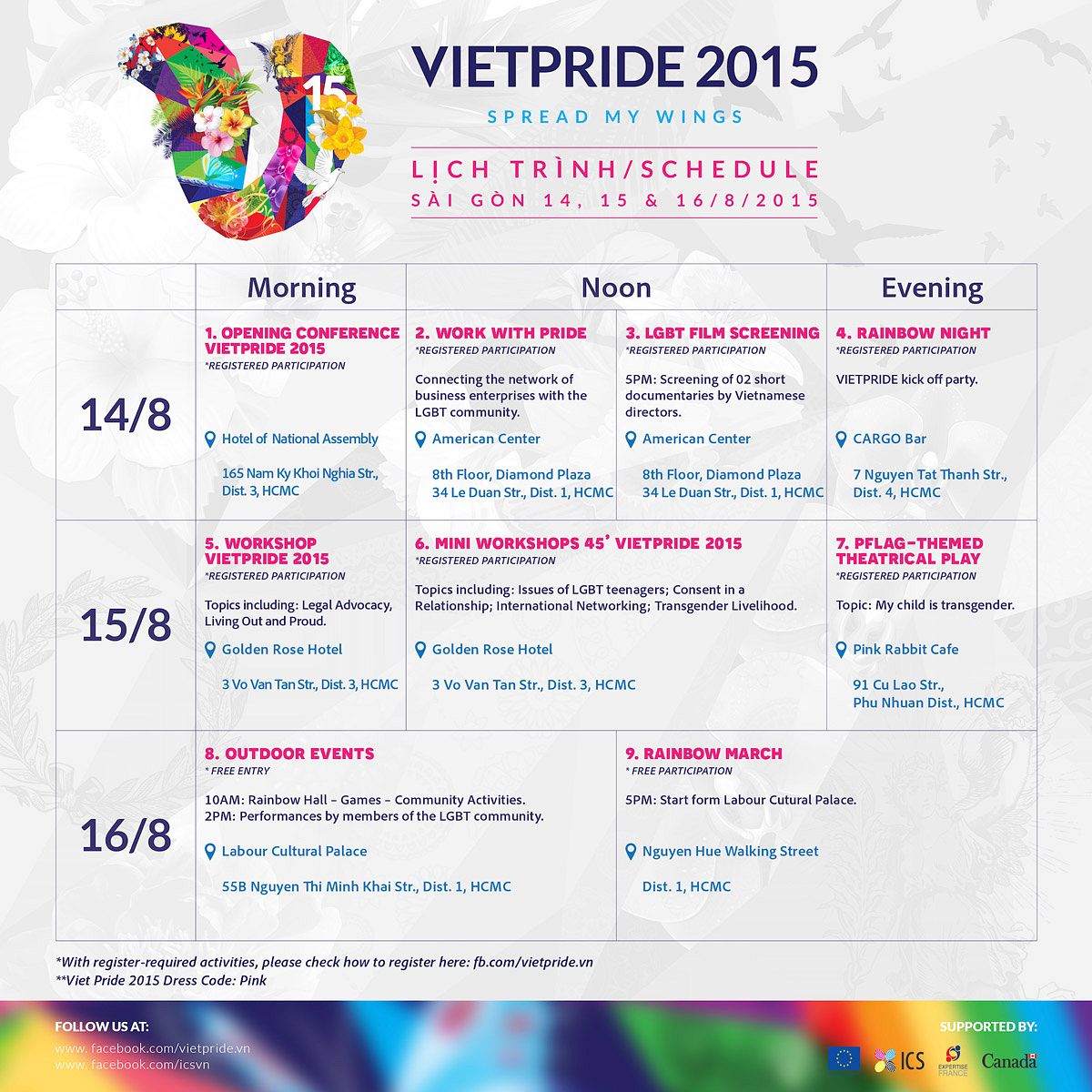 Awareness of and support for the rights of Vietnam's LGBT community have been steadily increasing since the first Viet Pride in 2012. Threats and fines for same-sex marriages were removed in 2013 and, in 2014, the country legalized organizing same-sex weddings, placing Vietnam among the most LGBT-friendly countries in Asia.
A number of Vietnam's neighbors have pushed forward with laws restricting LGBT rights, some of which even involve physical abuse of homosexuals - Singapore's courts recently upheld its anti-gay laws, parts of Indonesia punish homosexuality with 100 lashes, and Brunei passed a law calling for gays to be stoned to death.
Slowly but surely, Vietnam's LGBT rights movement is looking up and moving towards a bright future.
More information about Viet Pride is available on its website.
[Photos via Viet Pride]