[Update Below] Bui Vien, the land of drunken backpackers and general debauchery, underwent a makeover yesterday when police removed motorbikes and plastic furniture from the area's sidewalks, according to witnesses.
While there has been no official announcement (at least that we could find), it seems as though city authorities have decided that walkable sidewalks trump the profits from the neighborhood's lively street drinking scene.
These images were collected from the sometimes informative but always entertaining, Another side of Vietnam Facebook group. Apparently the lack of furniture isn't stopping the imbibing of bia hoi and 333 as patrons have, in typical Vietnamese fashion, found that drinking on concrete works just as well as drinking on plastic chairs.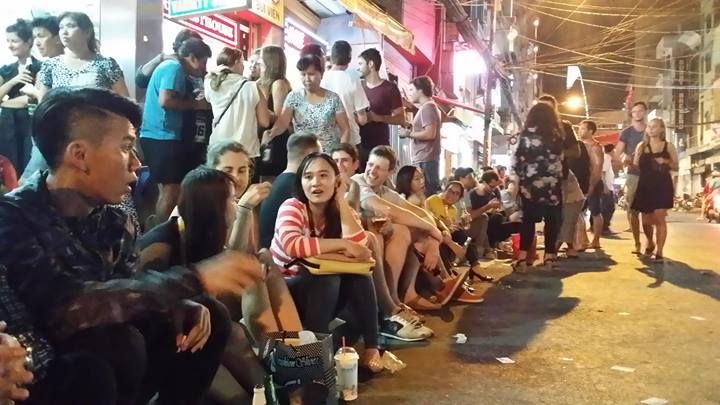 Based on the large crowds, the Bui Vien beautification plan (hard to type that with a straight face) seems to have proved ineffective thus far.
The hundreds of comments on Facebook reveal 2 distinct reactions - some feel that the area adds character and excitement to the city while others are happy to see the pseudo red light district go the way of motorized cyclos - a faded memory.
---
Update 19.3.14:
According to Le Thanh Tuan, chairman of the People's Committee of Pham Ngu Lao District, under a newly-issued regulation, all nighttime sidewalk shops on Pham Ngu Lao, Bui Vien, De Tham, and Do Quang Dau Streets have been forced to shut down, reports Tuoi Tre.
Under the new regulation, residents with small houses or those who are poor are allowed to operate businesses on some parts of the sidewalk during the day. No businesses are allowed to operate at night.
Tuan told the newspaper that his committee informed locals and business owners about the new regulation a week before it went into effect on March 15.
There are currently no plans to create a night market to fill the void.
[Photos via David Lyonz]