Innovation is important. With a healthy imagination and a bit of gusto, humans have the ability to create everything from DIY submarines to all-terrain wheelchairs to helmets specifically for married Thai women. But while we're all quick to celebrate such ingenuity, it's easy to forget the hours of trial and error that went into getting it just right.
At Chilli, a standard open-air joint along District 4's much-loved nhậu street, Vinh Khanh, this constant experimentation is part of the menu, with both the restaurant's hits and misses on display. Serving a variety of 24 different sauces with its fresh oysters, Chilli manages to find success in about half of its flavors but, in true Saigon spirit, the creative mind behind these snack-sized delights has gone all-in with his culinary sense of adventure and is not afraid to show it.
From the menu, diners can order à la carte or select one of a handful of sets, which include five oysters apiece and come in at VND89,000 per combo. Last week, after assembling a group of willing taste-testers, we, too, went all-in, ordering the full 24 flavors – plus one repeat – along with a couple plates of crawfish.
To be honest, the crawfish was acceptable, but came up short in terms of sauces. If I've said it once, I've said it a thousand times: it is always about the sauces. However, even in light of Chilli's weaker offerings, its winning combinations make the quán worth a visit along with the sheer entertainment of placing tiny bowls onto a tiny fire with tiny tongs.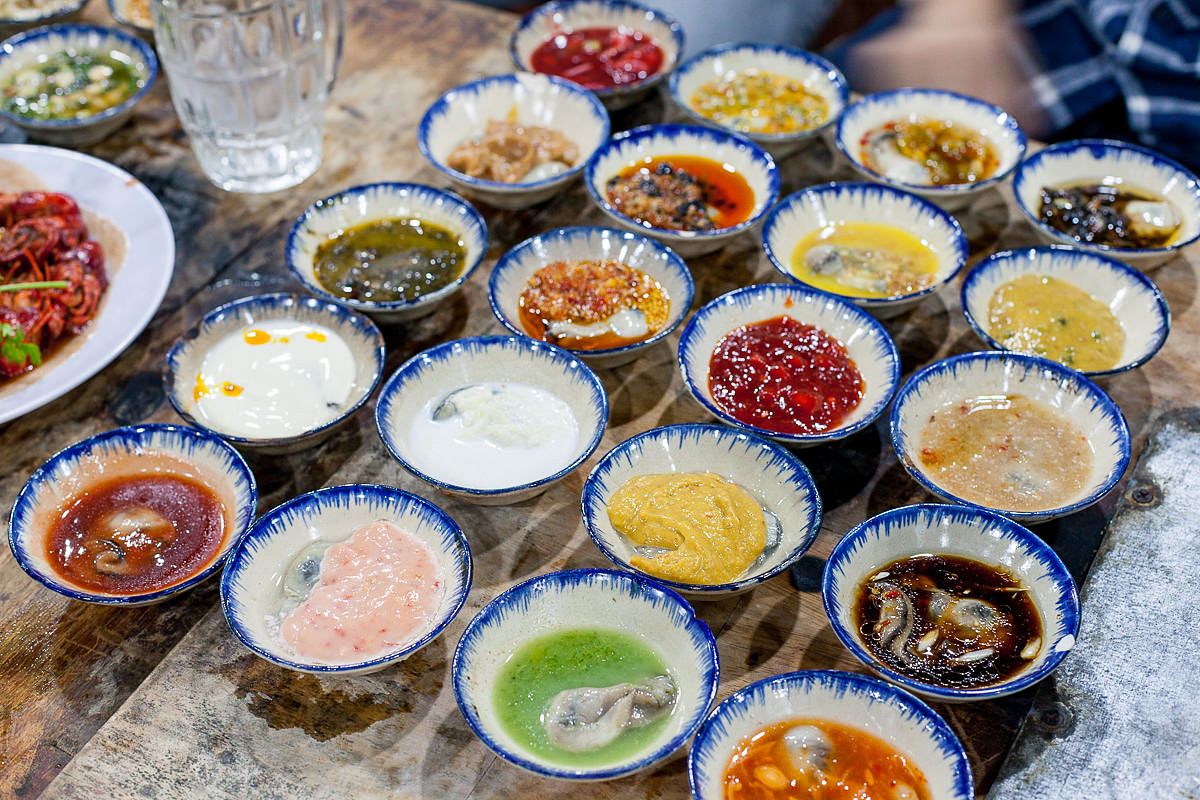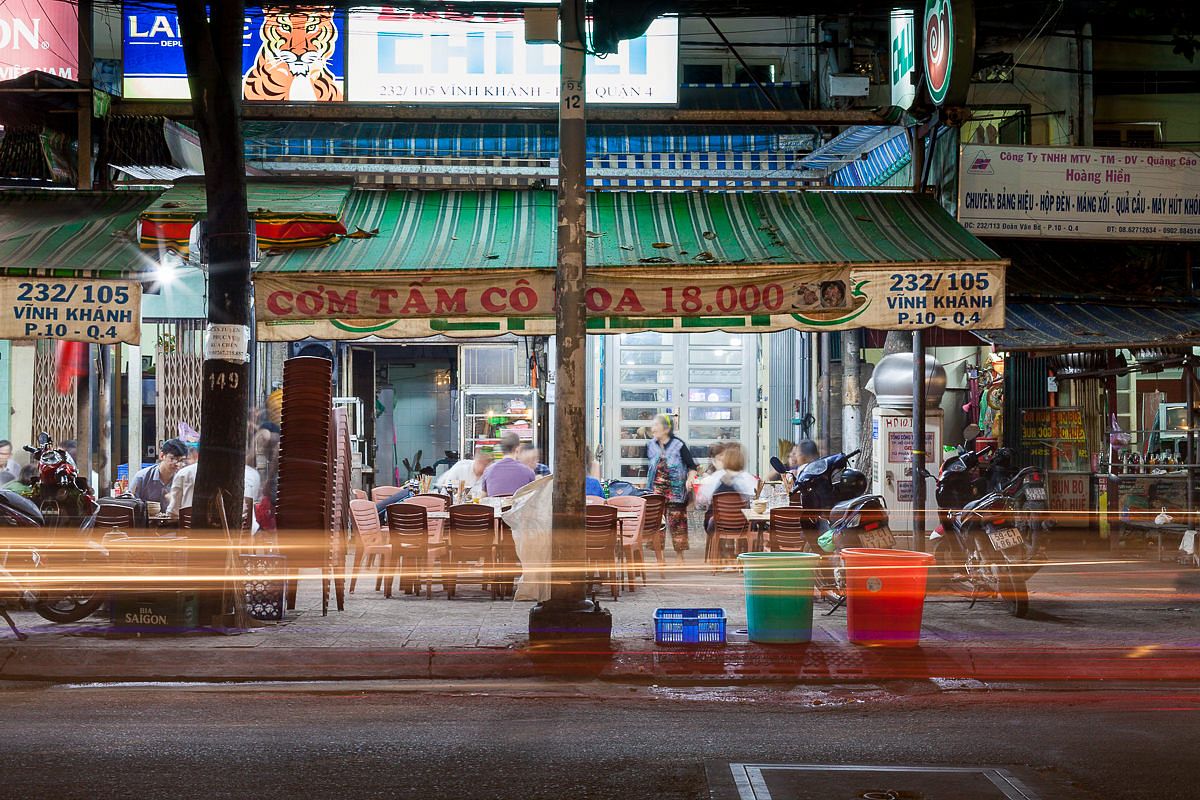 On to the sauces themselves: Chilli's 24 oyster flavors include a wide range of ingredients, from strawberries to fish sauce to peanut butter to muối ớt xanh, the spicy green chili sauce often enjoyed with grilled octopus. If I can impart any advice based upon our experience, it would be this: choose your oysters à la carte. There were some excellent standouts among the 24, however no single combo on the menu manages to encompass them all, and while there were a handful of oysters we found to be just OK, for the most part the verdict was either extremely positive or very negative.
Among the winners of the evening were tiêu đen (black pepper), bơ tỏi (garlic butter), Sichuan, me (tamarind), and dầu hào (oyster sauce), all of which made excellent complements to the fresh, briny taste of oysters. The group also landed on the fence about a couple of slightly sweeter flavors, including sả tăc (lemongrass and kumquat) and chanh dây (passionfruit), whose ingredients made for a pleasant combination but didn't blend so well with the oysters themselves.
Finally, there was unanimous rejection of anything involving strawberries, including a particularly disturbing flavor that was not far from the taste and consistency of melted ice cream. Ketchup was also not a hit, nor was the attempt at a chanh muối (salty lemon) flavor which, despite its refreshing qualities as a beverage, failed in sauce form.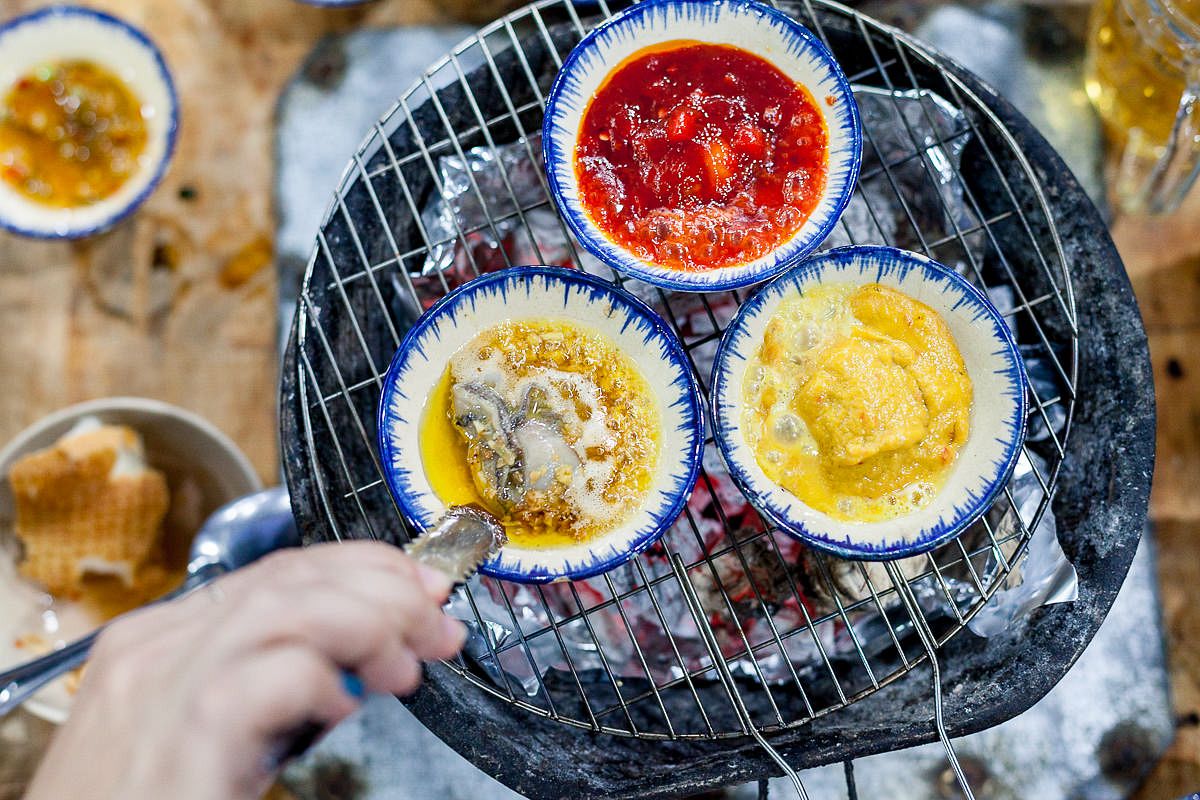 The surprise success of the night turned out to be peanut butter. Though it sounds off-putting, hear me out: this is not the slightly sweet breakfast variety of peanut butter to which you might be accustomed. Throw this tiny bowl over an open flame, wait a few minutes for the sauce to melt onto the seafood, and by the time it's done the peanut butter is a nice, liquid consistency and its flavor is decidedly savory, pairing well with the oyster.
After we'd devoured the seafood, perhaps the most enjoyable part of our dining experience at Chilli was the leftover sauce in each bowl. In an effort to prevent waste, we ordered a round of bánh mì for everyone and spent another hour or so talking, drinking, and ensuring that no good sauce was left behind.
Chilli is open from 4pm to midnight daily.
To sum up:
Taste: 4/5
Price: 5/5
Atmosphere: 3/5
Friendliness: 4/5
Location: 5/5
Dana is 70% caffeine, 50% fish sauce and hasn't taken a math class since 2004.
Chilli
232/105 Vinh Khanh, Ward 10, D4

---

Related Articles:
---