"A cháo a day keeps the cold at bay." – Saigoneer proverb
There's something special about slurping on a bowl of cháo, or porridge, in cold weather. For as long as local farmers have known how to cultivate rice, the stuff has been a feature of Vietnamese cuisine. In every locality, from the sunny Mekong Delta to the chilly heights of Ha Giang, you'll find different versions of the rustic rice dish, often dictated by its protein: fish fillets, beef, oysters or even sea worms in the case of cháo sá sùng.
Cháo is essentially a dish born of scarcity: sometimes the rice harvest is not abundant enough to cook a full meal, so families make do with less grain and more water instead. Nowadays, a bowl of porridge is commonly considered comfort food, reserved for chilly weather and bedridden days at home. This week's Hẻm Gem chronicles Saigoneer's journey to find the best comfort food in the city, starting with cháo mực, or squid porridge, at District 1's decades-old Chao Muc So 10.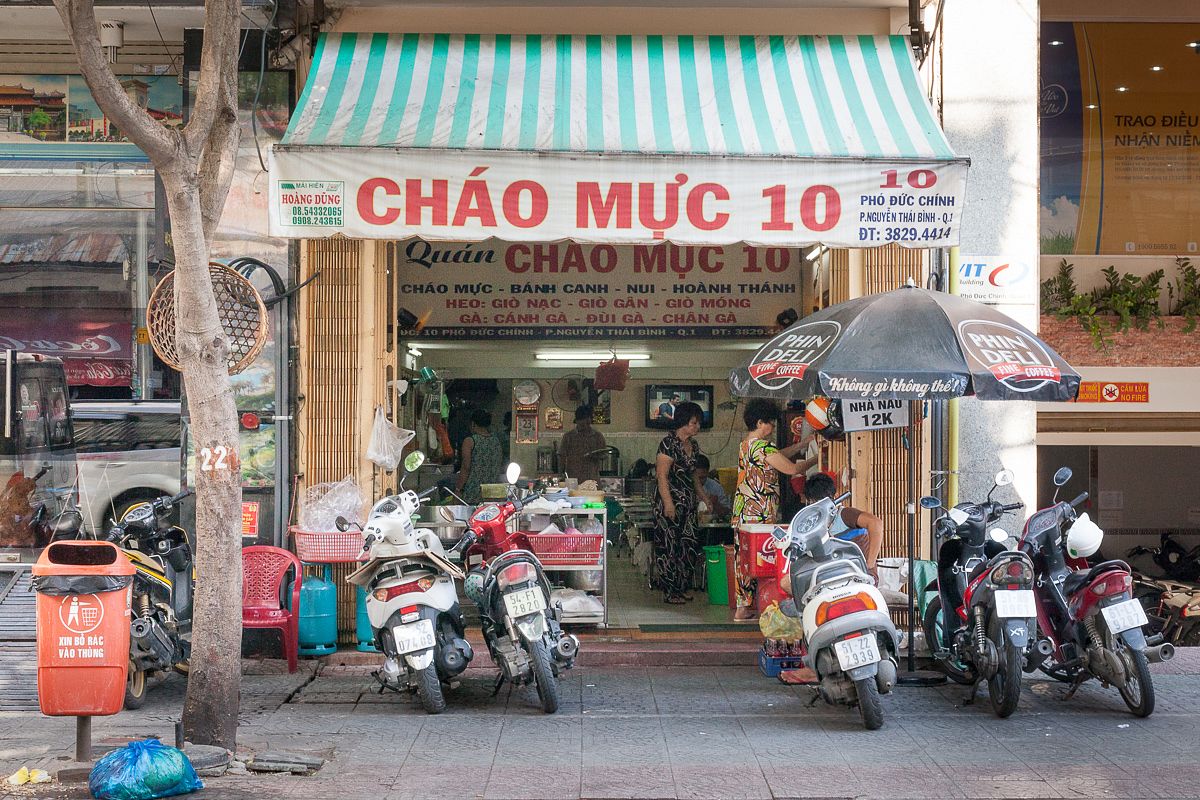 Located at the corner of Pho Duc Chinh and Nguyen Cong Tru Streets just a stone's throw from the Ho Chi Minh City Fine Arts Museum, Chao Muc So 10 doesn't look much different from any food stall one would come across in Saigon. But when Saigoneer's ragtag band of foodies arrives, the place is packed. The cooking station, consisting of several large metallic tables lined with several pots of boiling broth, takes up an entire corner of the dining area. The atmosphere is filled with water vapor and a mixture of food scents: freshly chopped spring onion, seafood stock and ginger. Along the 10-meter length of the room, rows of low metallic tables are filled with hungry diners relishing their hearty soup.
We are hustled up the stairs to a small mezzanine that appears to double as someone's bedroom, complete with a mirror, wardrobe and pile of neatly folded sheets. The room is stuffy without fans but has a fantastic view of the dining area downstairs through a row of rotating glass windows. This also makes calling for food or the bill so much easier. Our waiter, a bespectacled middle-aged man, swiftly sets up our table and jots down orders in a tiny notebook.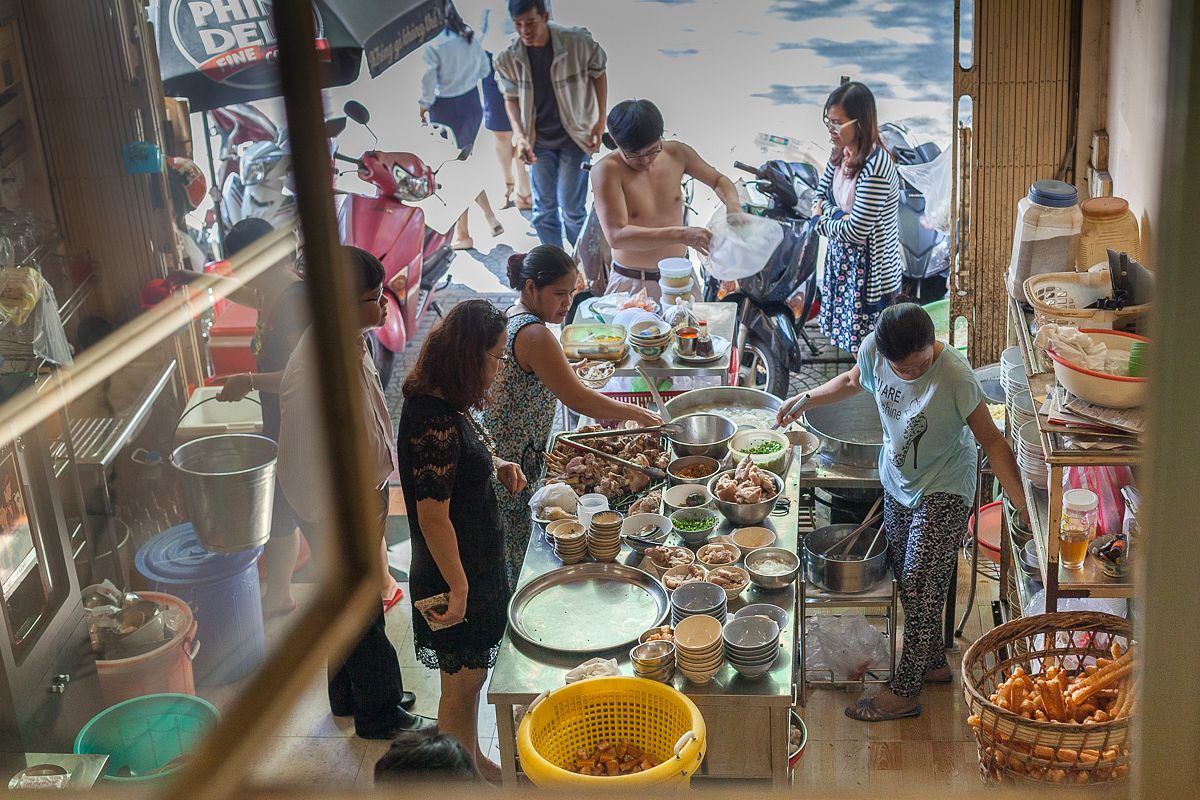 To our disappointment, he also informs us that there's no more porridge: the eatery starts receiving orders as early as 7am and by the time the morning crowd leaves at 11am, the place also runs out of cháo until a new batch is made at 2pm. We have to settle for the next best option: Chao Muc So 10's bánh canh giò heo, or chewy glass noodles with pork knuckles. The dish is customizable as well, as customers can choose from either bánh canh or nui with a range of protein add-ons, from sliced pork and pork knuckle to chicken drumsticks, century eggs and more.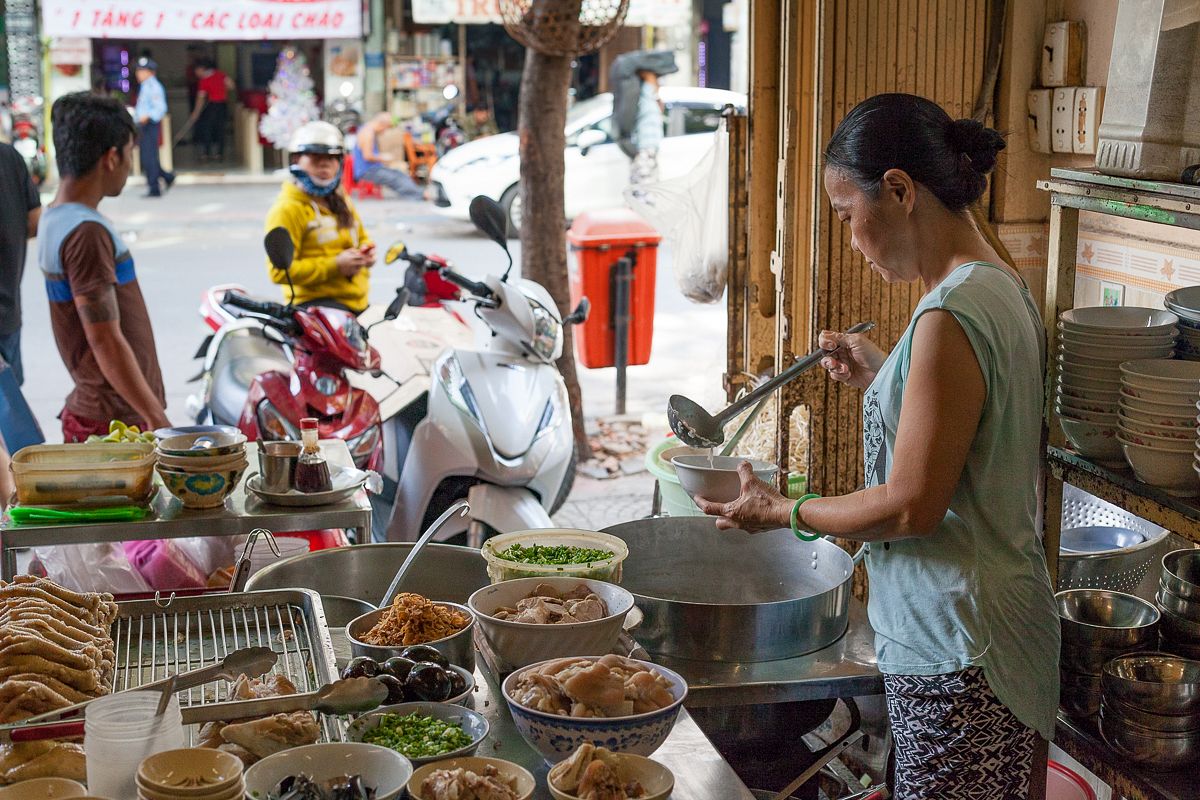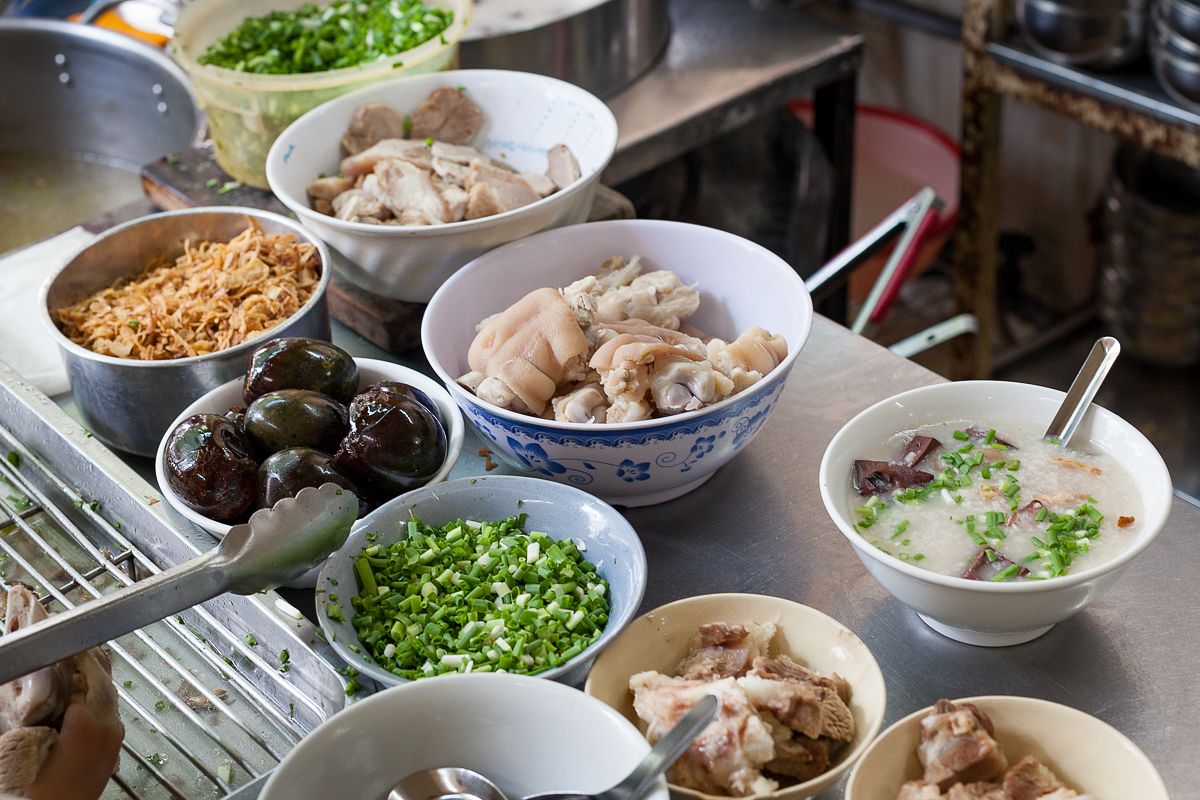 In just a few minutes, our portions of bánh canh arrive at the table, delivered by a cheery waitress with nimble hands. The bowls of simmering soup, however, are a pleasant surprise. I'm not completely sure if it's because our expectations were low knowing this was the second choice, but the bánh canh – VND43,000 per portion – is a solid dish. The little morsels of dried squid in between the noodles indicate that the broth is prepared with seafood in mind. However we also detect a fair amount of MSG in the soup, judging by the strongly inviting umami taste, so diners with sensitive taste buds, beware.
Undaunted in our quest to sample the Pho Duc Chinh eatery's elusive cháo, my colleague Brandon makes another trek to the place at 2pm to capture a bowl of cháo mực in its natural habitat and also brings a take-away portion back to the Saigoneer office. I learned the hard way that a hot November afternoon is not the ideal occasion for a bowl of cháo because, while delicious, it underwhelms. The rice grains are soft and well-cooked and the broth is rich in seafood flavor, having been prepared from the same dried squid stock, but that's about it. After months of eating my way through Saigon's range of delicacies, I've come to the conclusion that a dish's degree of deliciousness is a very situational attribute that not only hinges on its inherent flavor, but also the time and place it's enjoyed. Perhaps a hearty bowl of comfort food like cháo mực is best served on a rainy day when much comfort is needed?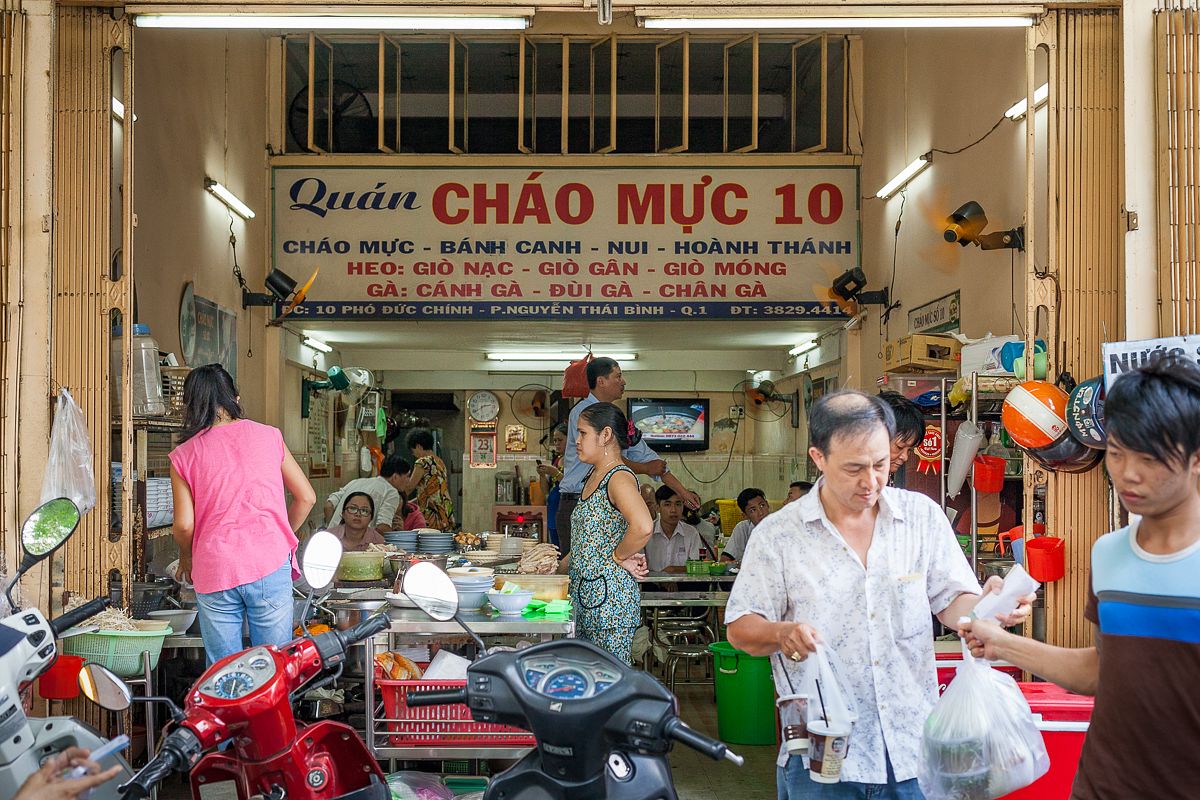 To sum up:
Taste: 4/5
Price: 5/5 - only VND18,000 for a bowl of cháo
Atmosphere: 5/5
Friendliness: 5/5
Location: 3/5
Khoi loves tamarind, is a raging millennial and will write for food.
Chao Muc So 10
10 Pho Duc Chinh, Nguyen Thai Binh Ward, D1

---

Related Articles:
---