The group meets at the Saigon Central Post Office in District 1 at 10:30pm. Although it is late in the evening, there are still tourists loitering around the building, one of the city's primary attractions.
But this group isn't here to take photographs, eat street food or soak up the square's atmosphere. Instead, they are members of a grass-roots charity called Help Saigon's Homeless. This brief rendezvous at the Post Office is the beginning of a night where volunteers will distribute essential supplies to homeless people.
Homelessness is a global issue. It is a defining problem of the 21st century and few, if any, cities remain unaffected by it. In New York, over 61,000 people live on the streets. London's homeless population has reached record levels, and 2018 saw an 18% increase in the already significant number of homeless people in the English capital. A report published by the European Federation of National Organizations Working with the Homeless concluded that homelessness in Europe has reached crisis levels.
But the extent of homelessness in Saigon is unclear, partly due to a lack of reliable official statistics. In October, city officials announced that only 39 of Saigon's 2.5 million households are currently homeless. This ambiguity has not prevented the volunteers of Help Saigon's Homeless from supporting those who don't have a place to call home.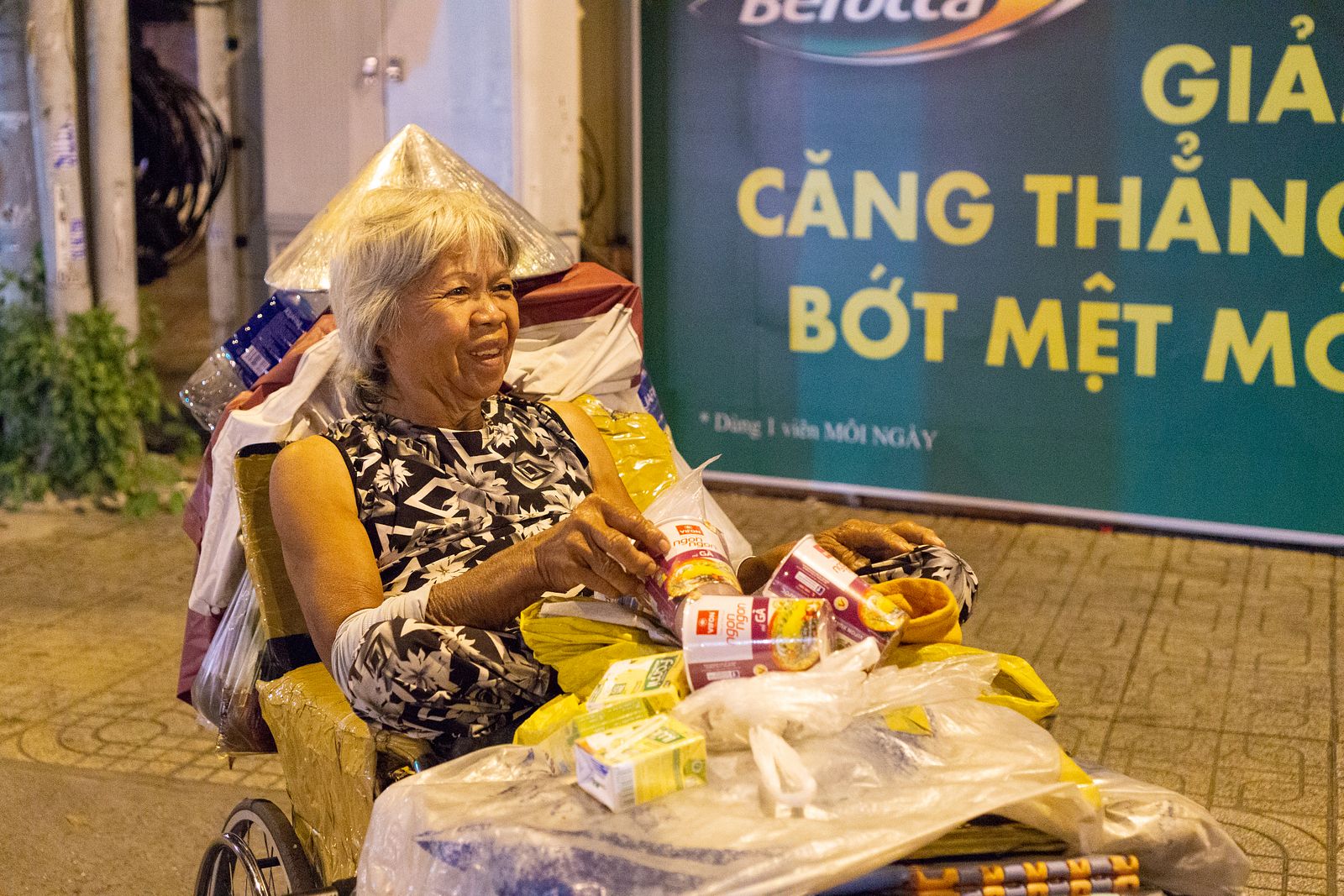 Christopher Axe founded the group a little over a year ago. Axe has since relocated to Hanoi, where he runs Help Hanoi's Homeless. After a brief period of inactivity, the charity is now lead by Osama Sayed.
"We want to alleviate the effects of poverty, minimize marginalization amongst disadvantaged people, and raise awareness about the plight of the poor," said Sayed, who has been leading the group for the past three months.
Meeting every two weeks and operating on a volunteer basis, the charity works through the night to distribute supplies to the homeless. They distribute food, clothes, hygiene products and medicine. The volunteers provide all of the items, which they haul on the back of their motorbikes in reusable bags.
The charity is also in contact with a vegan restaurant which provides cooked meals for the volunteers to give out. Although Help Saigon's Homeless is a grass-roots charity, the members have developed a thorough understanding of what items best serve the needs of homeless people. Food that can last for several days is a priority, as is water supplemented by a vitamin tablet for a nutritional boost.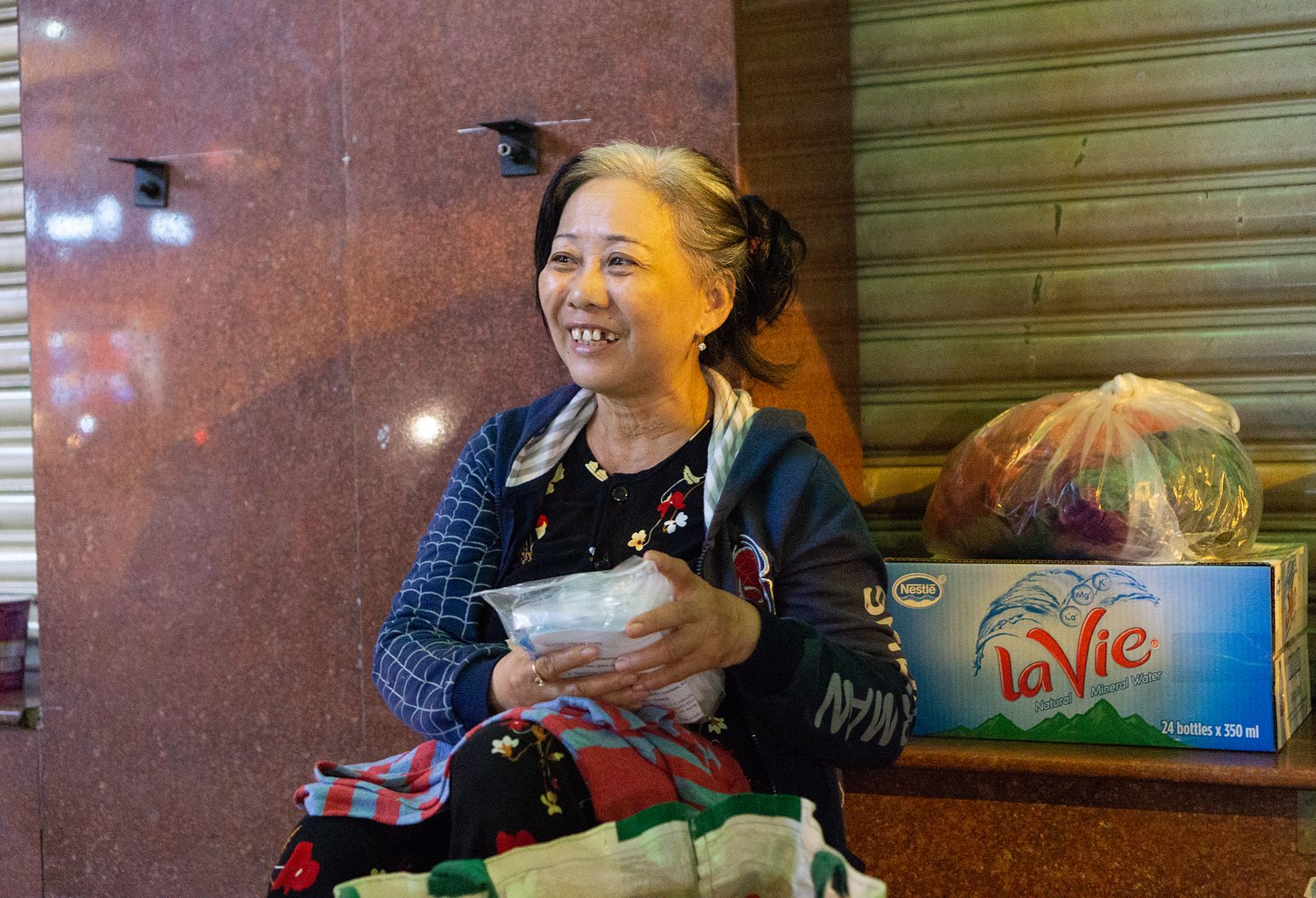 The charity is in its relative infancy, but it has established a community of like-minded volunteers.
"Our Facebook group has over 500 members and is growing quickly," Sayed shared. However, one of the biggest challenges the charity faces is "simply getting people out of the house and out to join us on the street. A lot can be achieved when a lot of people do a little."
Before they begin a night of charity work, the group discusses their plans for the evening. They follow a pre-planned route that covers the main homeless hot spots in the city. Starting in District 1, the group can be on the move for hours. The work only stops when the various polypropylene bags that contain everything from instant noodles to toothpaste are empty.
Homelessness does not discriminate. Volunteers encounter homeless people from every demographic. Regardless if a person is young or old, a man or woman, part of a family or alone, Help Saigon Homeless seeks to help as many as possible.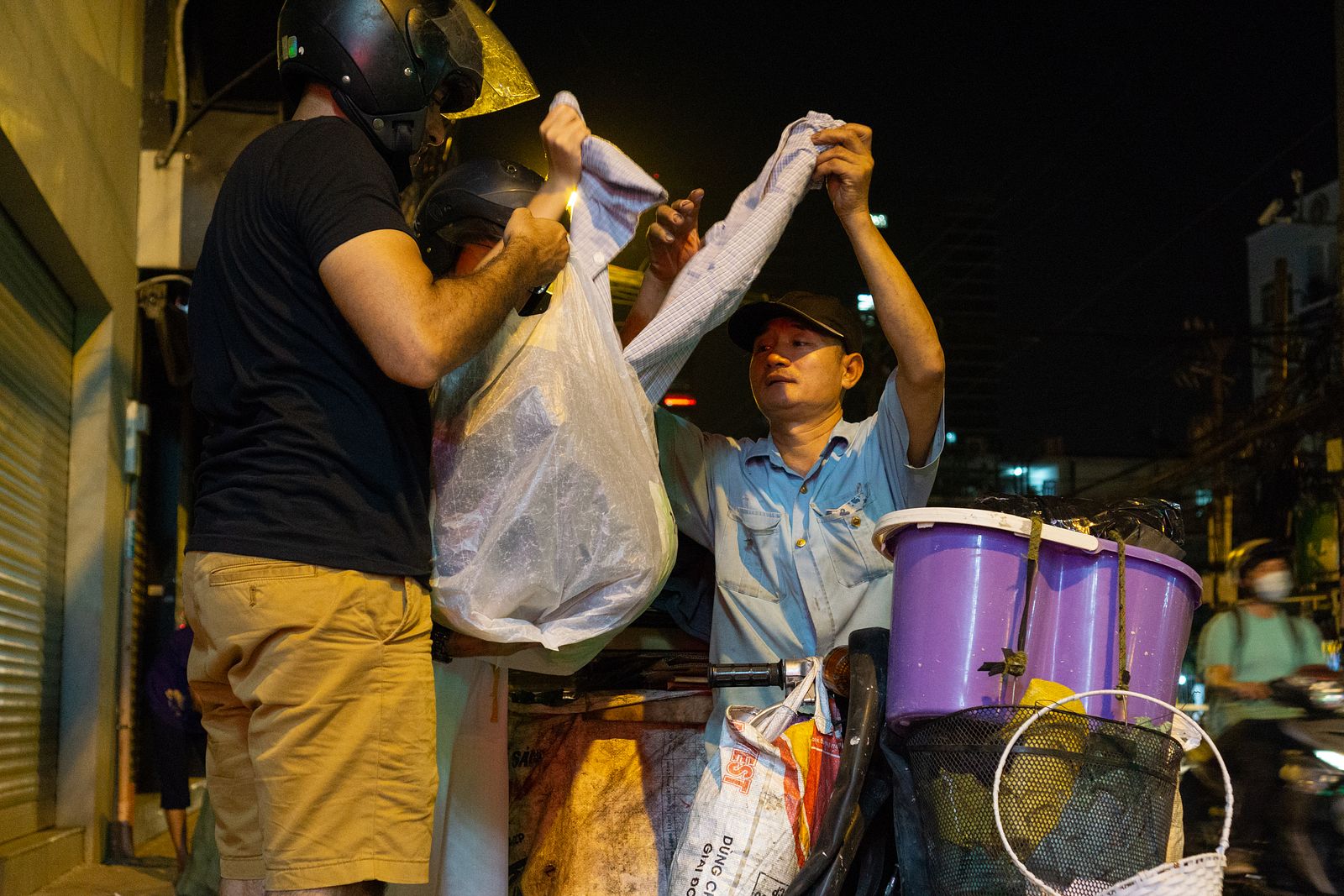 Reflecting the diversity of the homeless people they meet, the charity is international in its composition. Help Saigon's Homeless has volunteers from countries such as Vietnam, Canada and Kazakhstan. The dedication of the volunteers is unquestionable. They meet regardless of the weather, and many are giving up time with family and friends to help the homeless. Some join the group immediately after finishing a long day at work.
For Oanh, a regular volunteer, a desire "to spread kindness and bring hope" motivates her to help. "I don't see people sitting on the street as 'homeless' or 'beggars' or whatever [term] others call them," she said. "To me, we are all the same, with thoughts and feelings. I'm fortunate enough to have a family and a place to call home."
The help that the group provides is not limited to providing essential supplies. "We also try to help the poor and homeless by giving emotional and psychological support," Sayed explained..
Homeless people often live in isolation, having little contact with family, friends or broader society. Days can pass without them uttering a word to anyone. Alongside giving them much-needed supplies, volunteers speak with the people they encounter. By sitting down to talk to the homeless, even for a trivial five-minute conversation about the weather, the volunteers provide much-needed human interaction. The simple act of taking an interest can help lift the spirits of somebody alone on the streets.
By sitting down and talking, the volunteers find out more about those they want to help. Through conversation, volunteers can learn about other issues, such as health or physical problems.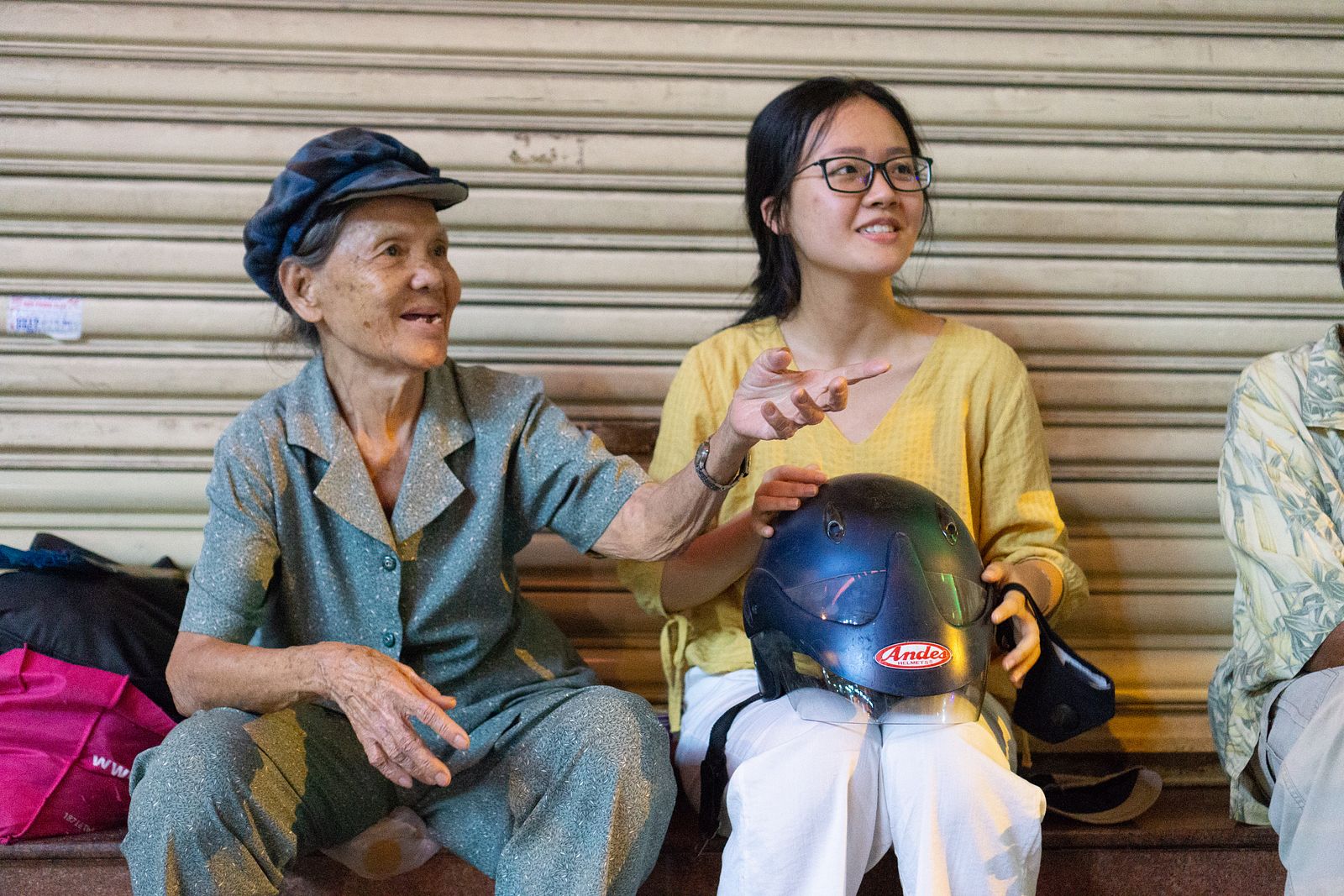 As the group made its way around the streets of District 1 near the border of District 5 on the night I joined, they encountered a homeless man called Tuan. They gave him instant noodles, milk and a dissolvable vitamin C tablet. He had few possessions, apart from a flimsy, torn raincoat, empty plastic bottles and dirty sheets of cardboard strapped to his bicycle.
After talking with Tuan for a short while, a volunteer discovered that although he had left a hospital, Tuan was not healthy. He was suffering from cardiovascular problems. Alongside being homeless, he couldn't afford to pay for medication to treat his illness.
Upon hearing this information, a volunteer looked at his laminated blue prescription card. Tuan held onto it in a way that suggested it was his most precious belonging. Guarding the prescription card as if it was a family heirloom passed down through generations, Tuan reluctantly handed it to a volunteer to read. After examining his prescription, the volunteer assured Tuan that she would be back the following morning to bring him the medication he required.
The volunteers often go above and beyond without a second thought. Chu Thu, a homeless man in the Bui Vien area, told the group that somebody had stolen his bicycle. He had a new bicycle, courtesy of the charity, within days.
Through encounters with the homeless, it becomes clear that there is no single reason why somebody sleeps on the streets. Often, it is a breakdown in relationships and lack of employment opportunities that result in homelessness.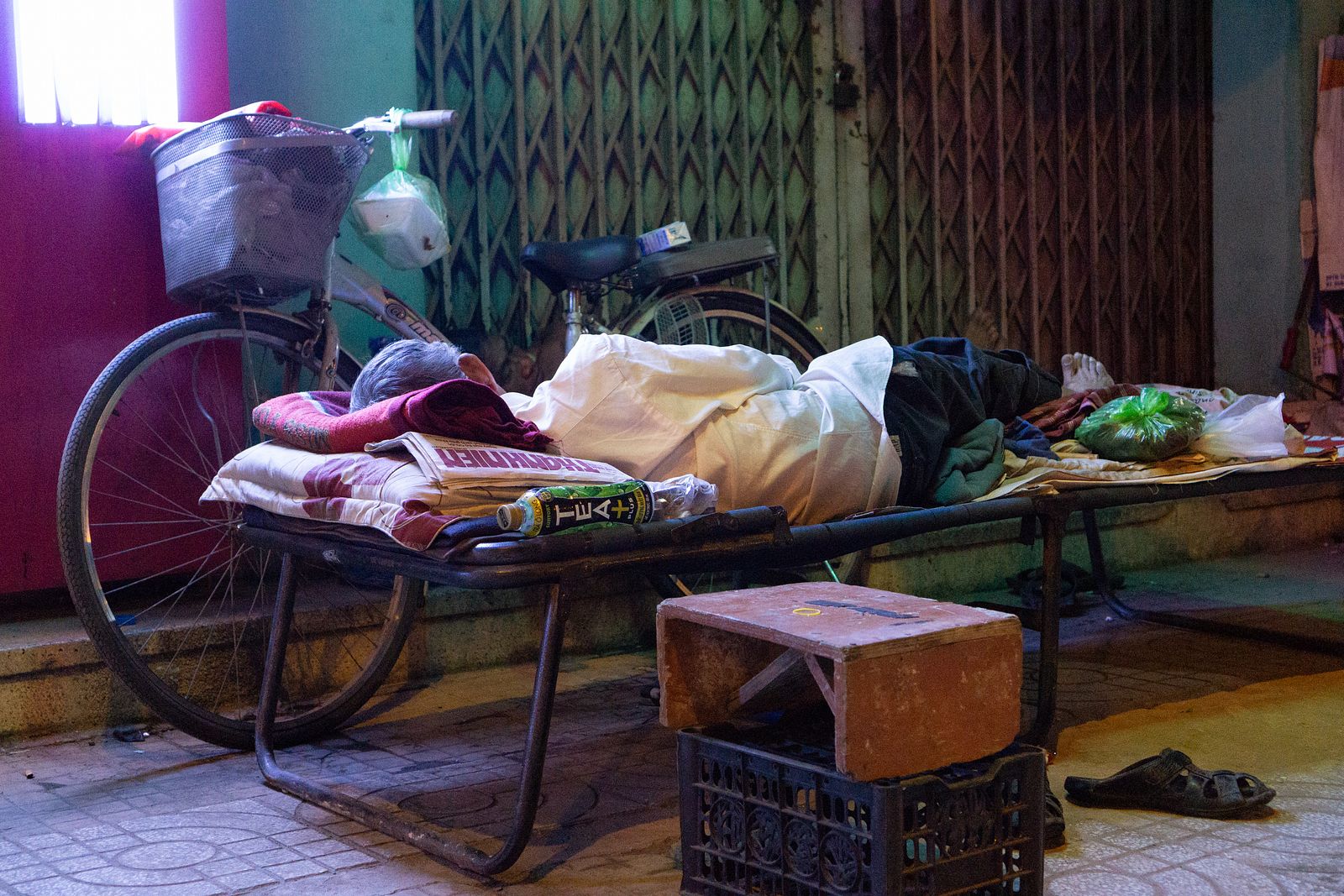 For example, the group encountered an older man named Toan. They found him huddled in a vacant shop entrance opposite Saigon's Fire Fighting and Prevention Police Department. He has been homeless in Saigon for years. Originally from Dak Lak Province in the Central Highlands, Toan became homeless after his relationship fell apart. As he got older, he found it challenging to find and hold a job.
"I had a complicated relationship with a woman. After a short time together, she left me," he said in Vietnamese. "I was working at a rubber plantation. I worked there for a long time, but as I got older, the company didn't want to use me anymore. I became unemployed, and I've been living a life reliant on others ever since."
The weather is a constant source of anxiety for the homeless. Sub-zero temperatures, especially at night and in the winter, threaten the homeless in Europe and parts of North America. For the homeless in Saigon, rain is their primary adversary.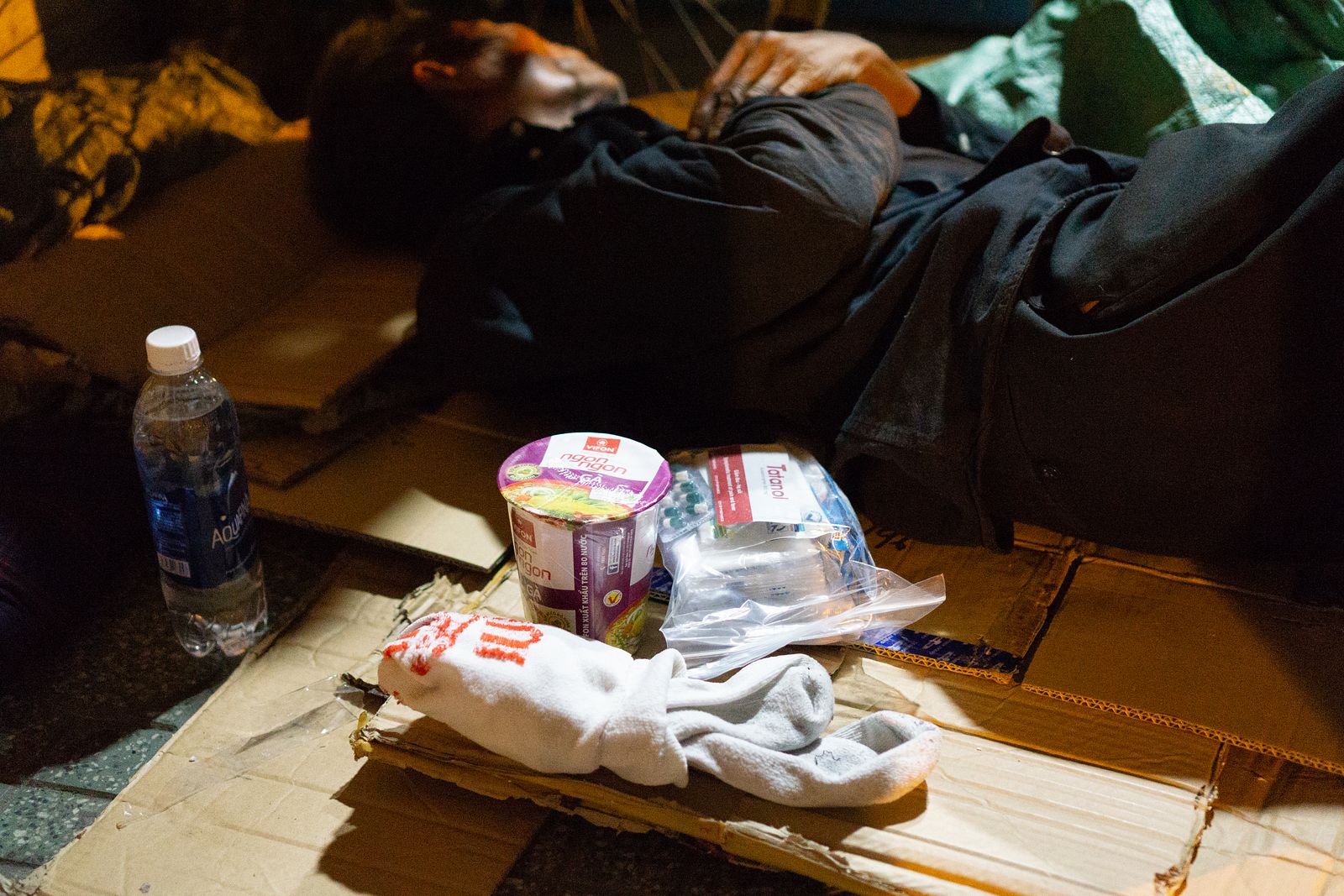 On this night a volunteer spotted a man on Cong Quynh Street. He was half-naked and had no food and water. Two old blankets, which he used for sleeping, were all he had. The man considered protection from rain the most crucial matter to consider when choosing shelter. He decided upon his current spot, a doorway underneath an overhead balcony, because it provided respite from the rain.
Taking concerns about the weather into account, volunteers make sure to include raincoats and umbrellas amongst the items they distribute. At night, when the streets are empty and solitary street cleaners are sweeping away the last remnants of the day, the volunteers have learned to look for the telltale signs of homelessness.
In the case of Linh*, a 50-year-old woman from Tra Vinh Province, the plastic bags full of empty cans and a makeshift cardboard bed signaled she was without a home. Linh had recently become homeless due to difficult family circumstances.
"I started living outside a few months ago. My husband died long ago. After his death, I was alone with my children," she said in Vietnamese. "But my son and my daughter can't look after me. They struggle to afford their own life. I chose to live on the street because I don't want my children to have to care for me. I don't want to be another responsibility for them."
Linh earns what little money she can by picking up and selling rubbish: "I collect waste materials to earn money. Volunteers also help me with food and some supplies."
Homelessness is a complex issue. But for Sayed, the work of Help Saigon's Homeless is simple. "There are homeless people in the city. They need help and if not from us, then who will help them?"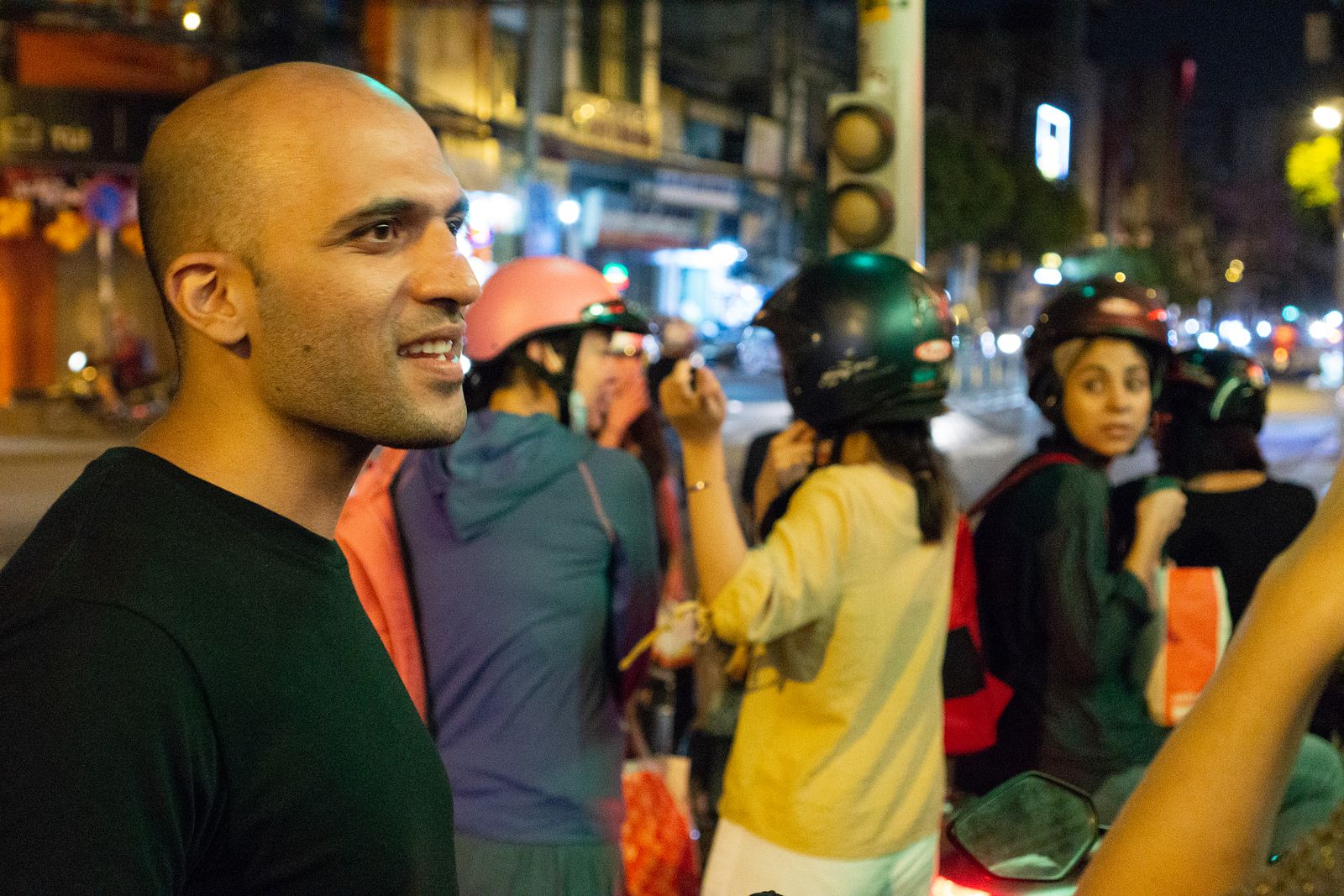 *Name changed upon request