Flowers are ubiquitous in Saigon. Everywhere you go, the concrete backdrop of the city is punctuated by beautifully maintained gardens, lotus ponds and elaborate floral arrangements. Saigon's residents use flowers to celebrate life and death, new business ventures and auspicious holidays. Though they may seem ordinary, their presence in Saigon requires an intricate network of relationships between growers, vendors and delivery workers.
District 10's Ho Thi Ky Flower Market is the main hub from which most of the city's flowers are bought and sold, not only for Saigon but for all of the surrounding provinces from here to the Cambodian border.
It's 6am on a Saturday when my friend Nhu and I visit the flower market, and everything is eerily quiet. It feels strange to be able to hear my own footsteps on the wet concrete of one of Saigon's outdoor markets. Nhu says we've missed the busiest part of the morning.
Every day at 4am, truckloads of flowers arrive from Da Lat, where the climate is favorable for growing. This is not to say the market is idle. Motorbikes flit in and out of the maze of tight alleyways, piled high in the back with bundles of flowers held down only by an adept driver's arm. Vendors prune their shops meticulously. Shoppers walk around with armfuls of lotuses, roses, and lilies carefully selected for the city's pagodas and the day's most special occasions. Perhaps the low hum of the market's activity is insulated by the awnings drawn over each stall, vinyl blankets protecting the delicate flowers from the morning's light drizzle.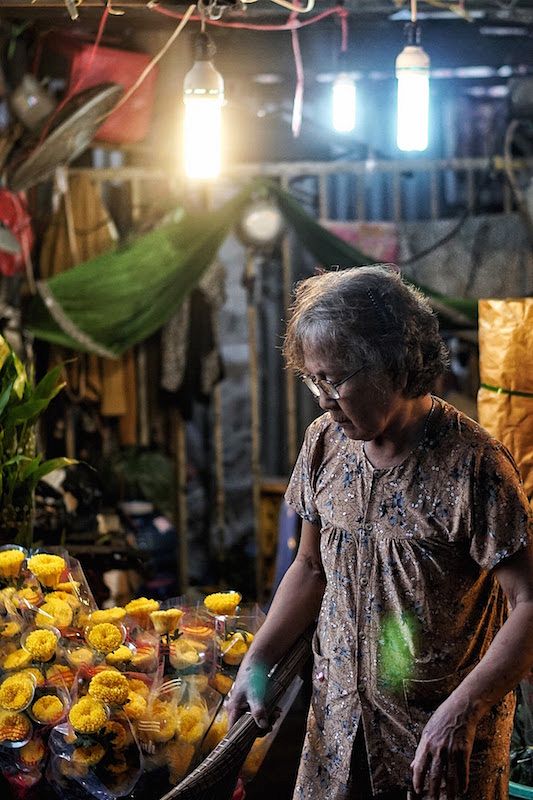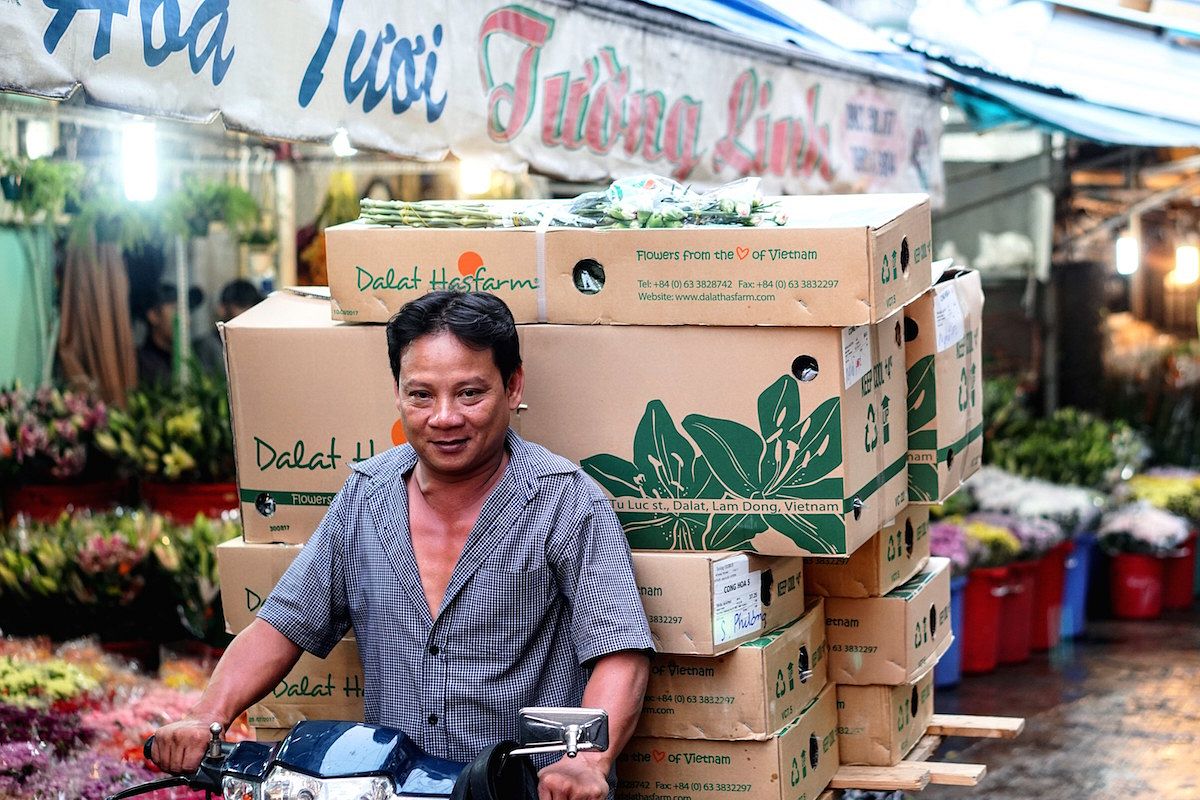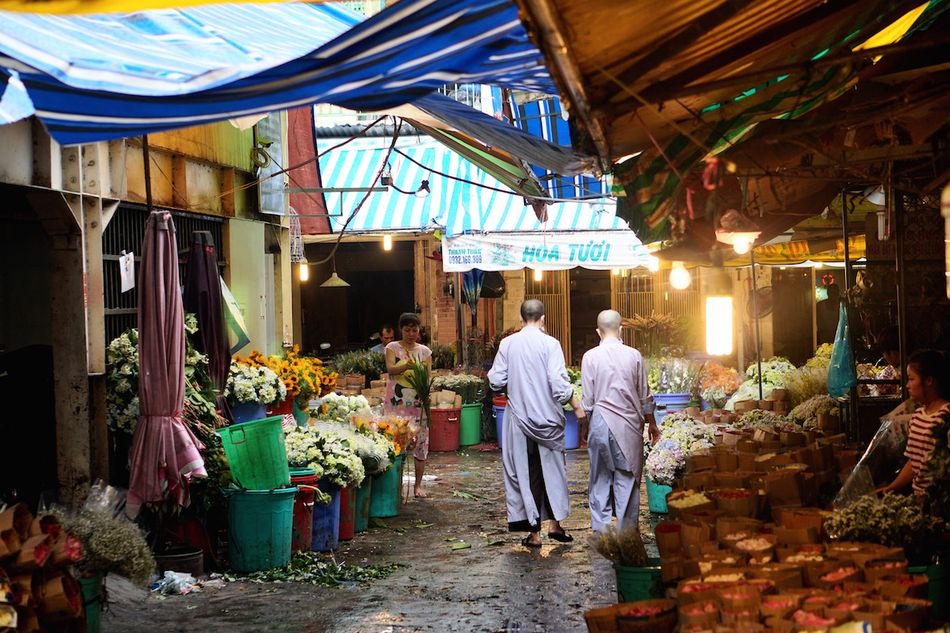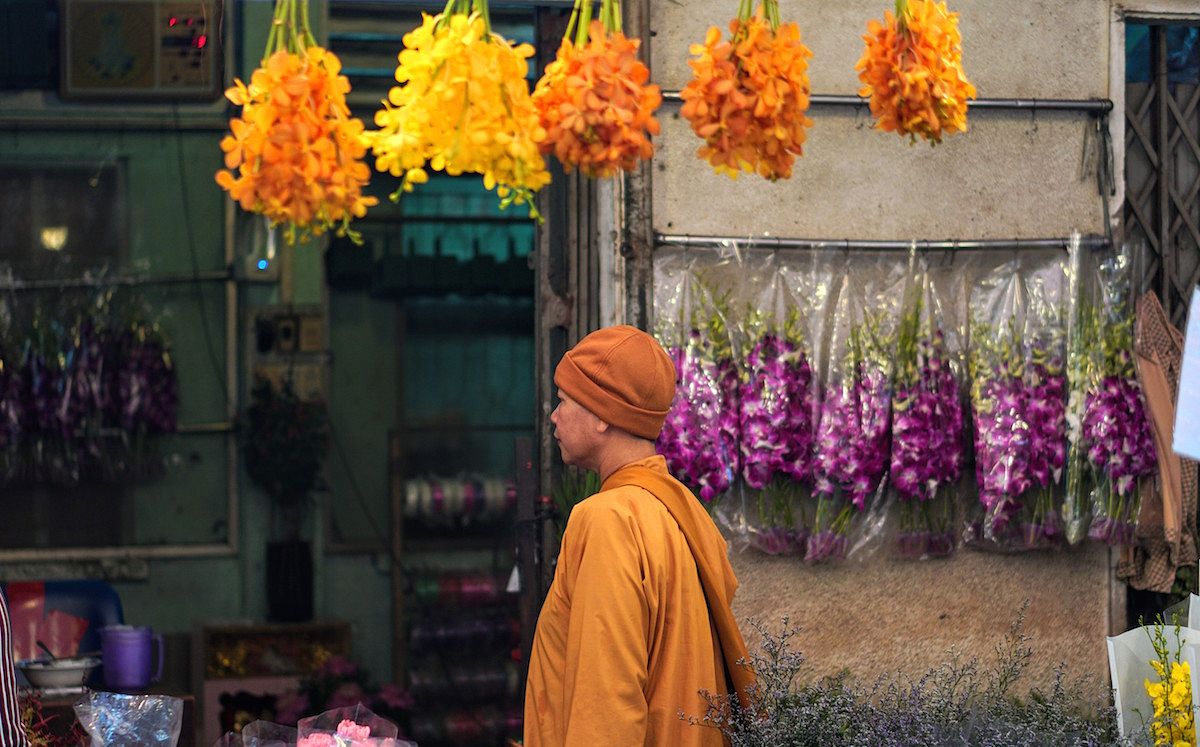 The boisterous banter I'm used to seeing in Saigon is absent. Ho Thi Ky Street and its many hẻms are like an island of calm surrounded by the sea of chaos that is District 10. As we pass by with our cameras, vendors look up from clipping stems to give a friendly nod, a curious smile, or to exchange a few words with Nhu, a florist as well as my guide and translator this morning. We are welcome and free to roam; nobody minds that the purpose of our visit is merely to learn and observe, not to purchase.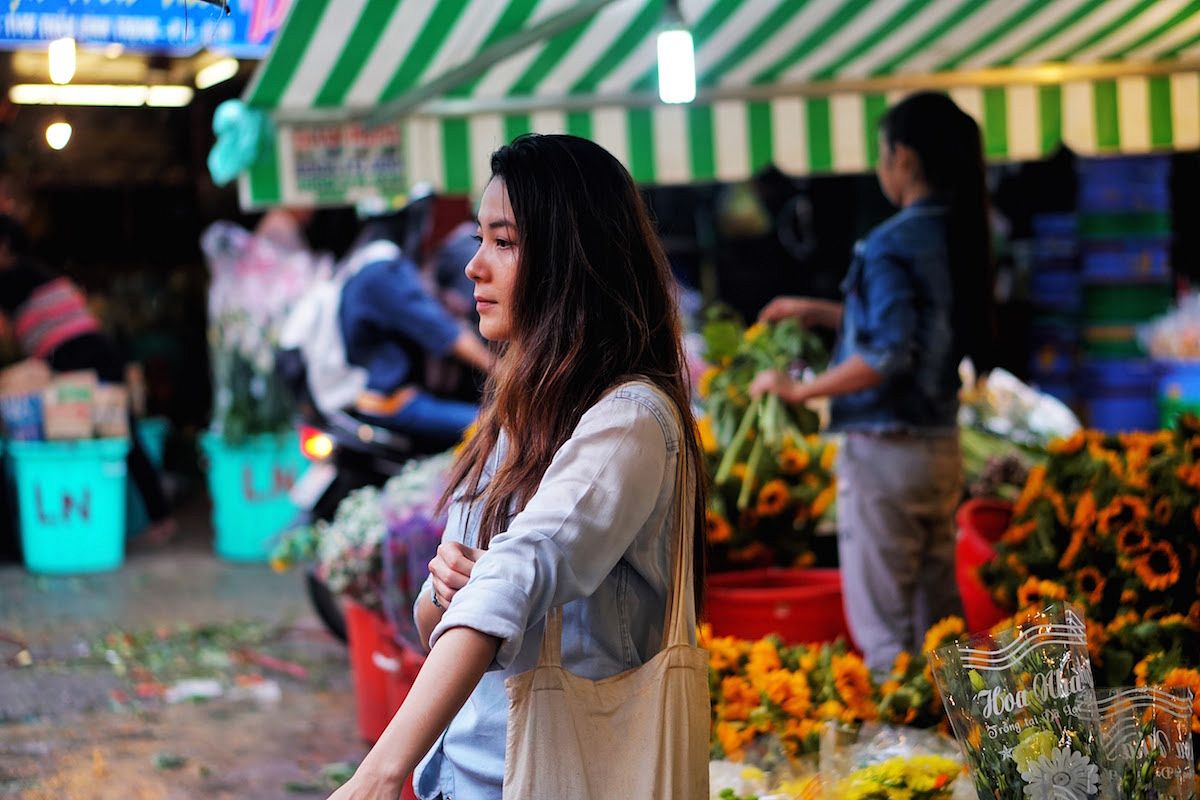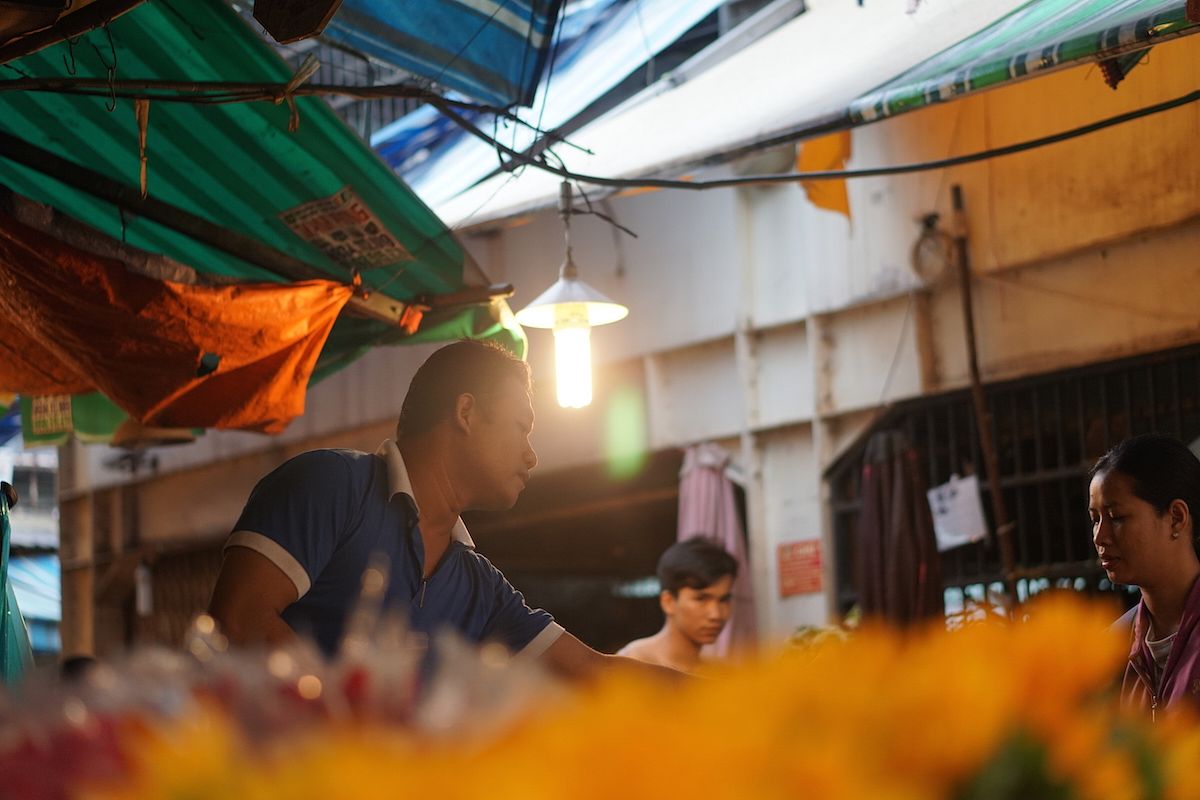 The stall that appeals to me the most is a large, wide-open corner plot. In the middle of the plot stands a man folding lotus petals, his mastery and precision indicating years of practice. What strikes me about him is that he never stops moving. In addition to selling lotus flowers, mostly to local pagodas, the vendor runs a small parking lot serving those who visit the market.
Each time someone arrives or departs, he puts his lotus flower back in the water to attend to them. We park there and decide to strike up a conversation with the "lotus guy", whose actual name is Hai. The lotus side of his family business is a relatively new addition; prior to that, his family ran the parking lot only. When they became owners of their spot in the market, they began selling flowers as well. When I ask Hai why they decided to sell lotus flowers, he says it happened naturally. "Now you have two jobs," I said, to which he replied in English: "Two jobs, one salary."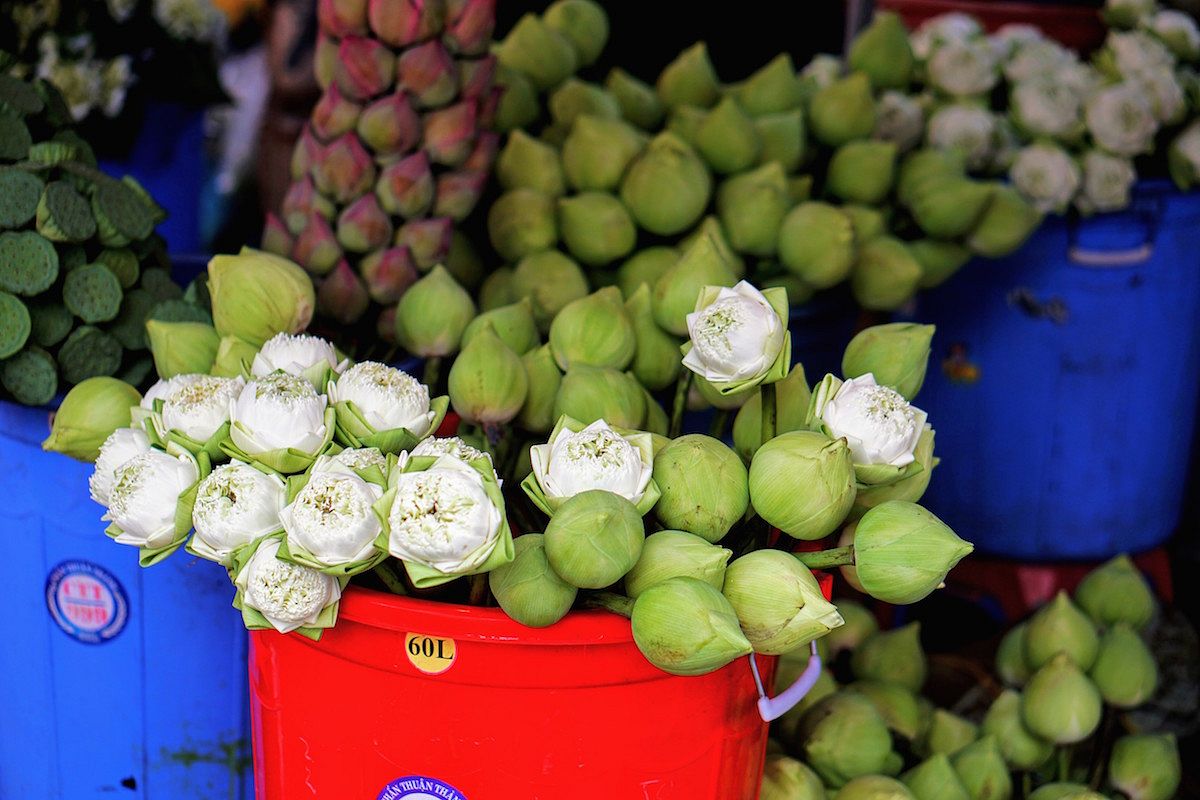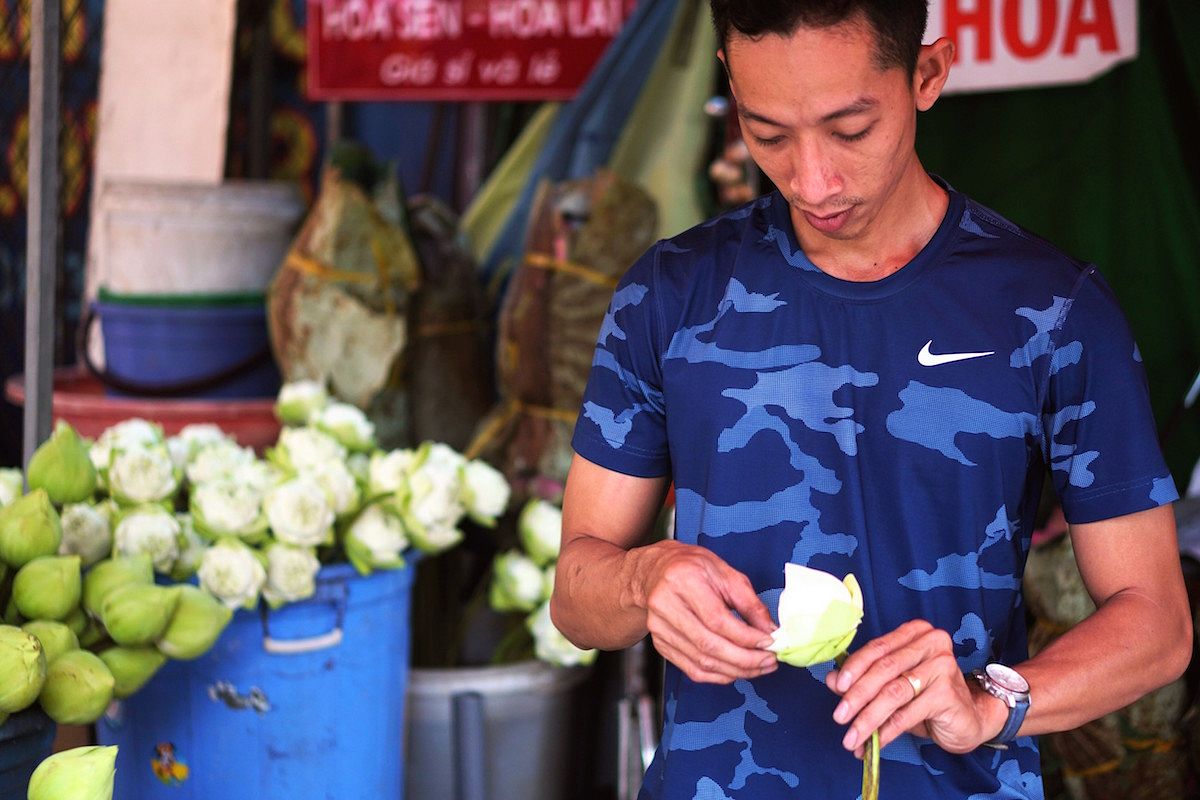 As with many markets in Saigon, the line between commercial and residential is blurred. Every flower you can imagine spills out onto the street: hydrangeas, orchids, and daisies. In every imaginable color. Look to the back, however, and you'll see elderly in-laws relaxing in living rooms and altars dedicated to the family's ancestors. Look up, and there are rows of Saigon's skinny trademark houses, criss-crossed with lines of electrical work. Back on the street, fresh flowers leave the market in a steady stream, stocking the city's flower shops or being placed on buses to supply the far-flung provincial regions.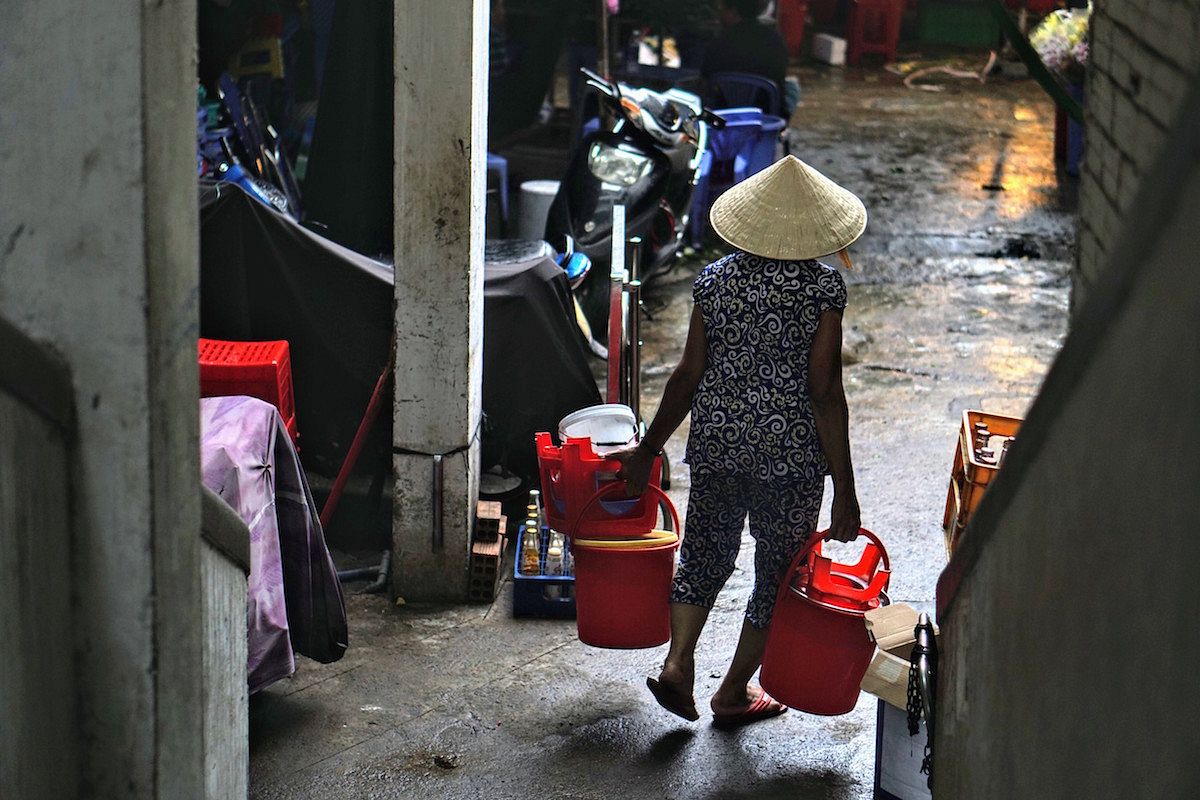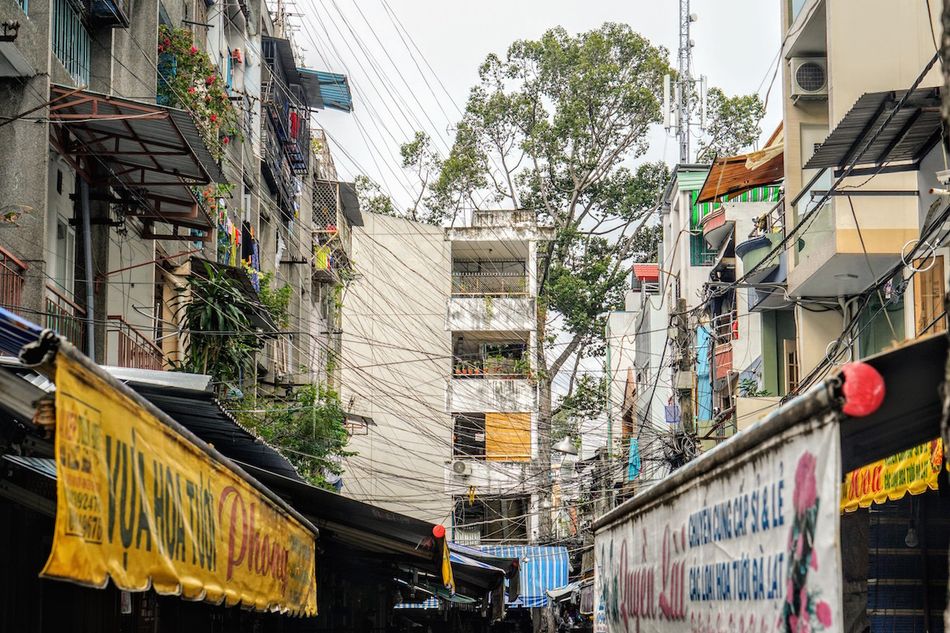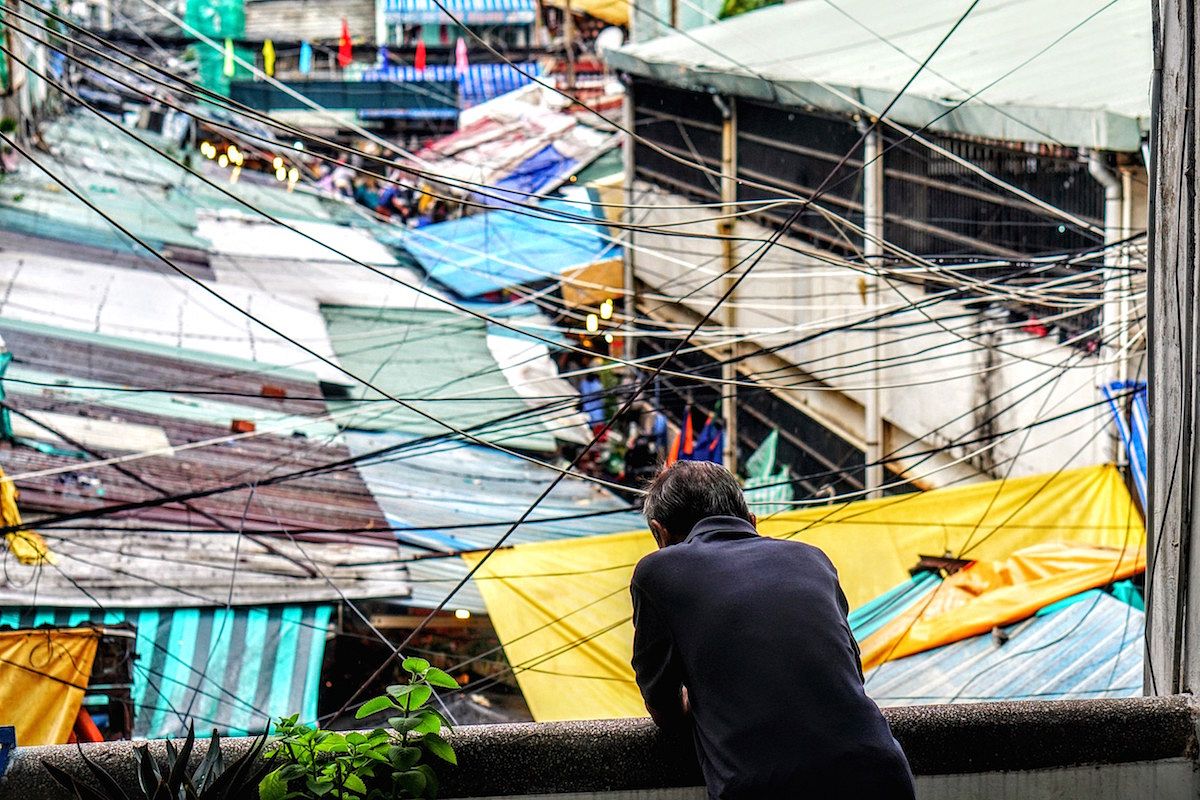 A woman who has been selling roses at Ho Thi Ky for 20 years tells us most of the vendors live right in the market area. As a visitor, it becomes apparent that family ties and relationships are cherished in the flower business. The woman tells us that she learned this trade from her mother, and gestures to her teenage daughter; she is now learning, too. The family has had the same rose supplier in Da Lat since they began doing business at Ho Thi Ky.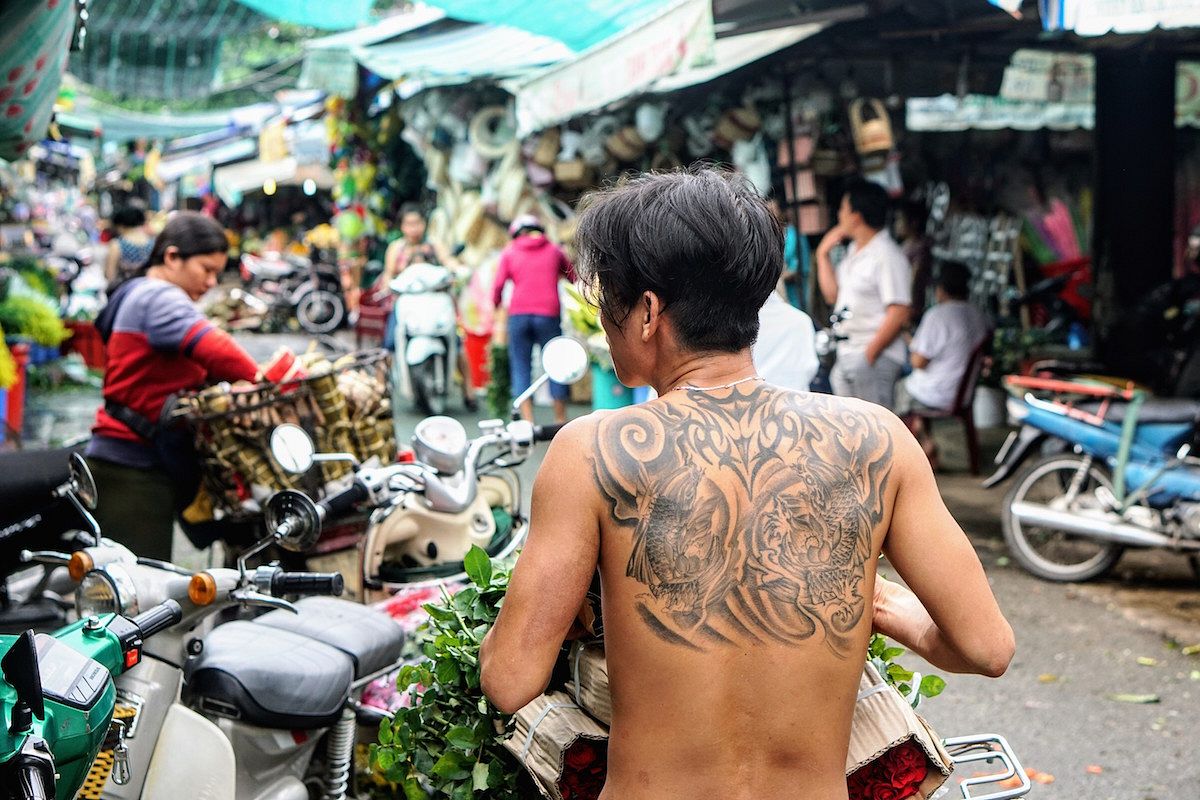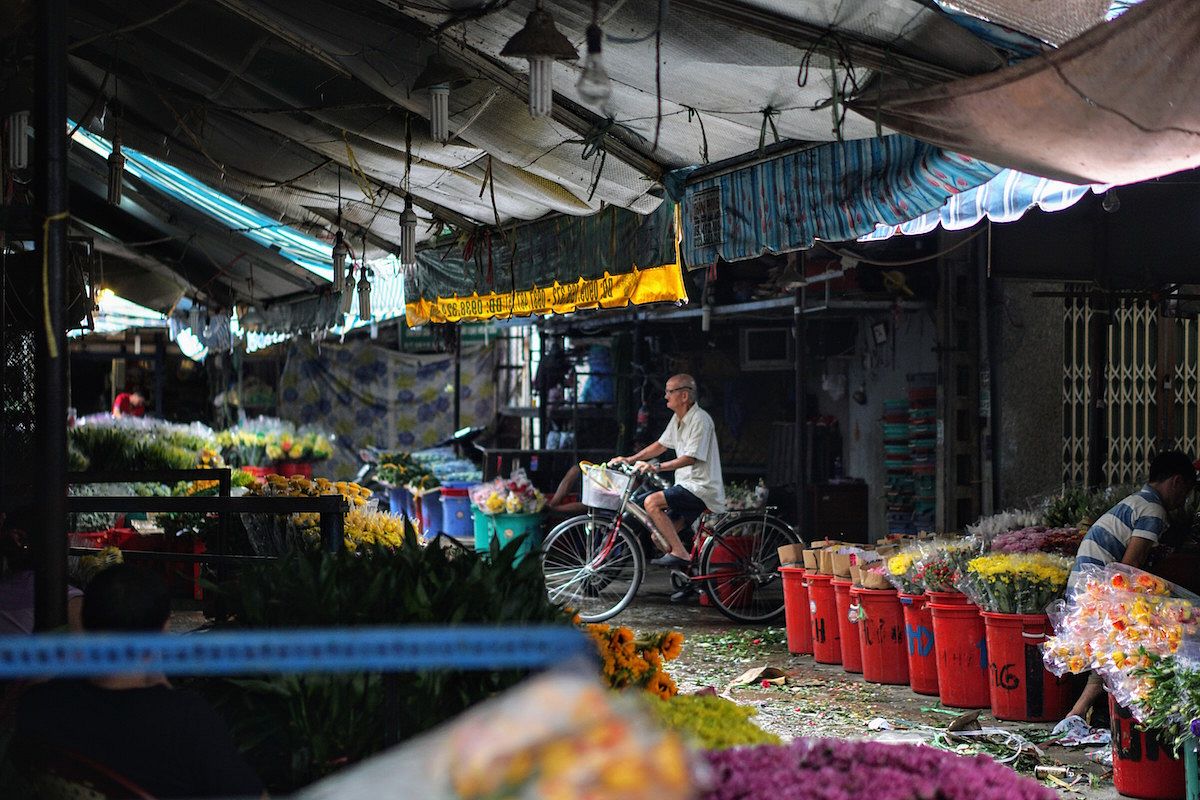 The market's charm drew me in. The surroundings are irresistibly photogenic. There's something about the pop of color from the flowers against Ho Thi Ky's dreary grey structures, and the glow of the fluorescent pendant lights. People come to Ho Thi Ky to create beautiful things: offerings, arrangements, even tributes to those they've lost. A visit to this market provides a glimpse into all the endearingly ordinary Saigon moments that make you feel just a little more connected to this vast and chaotic expanse of a city.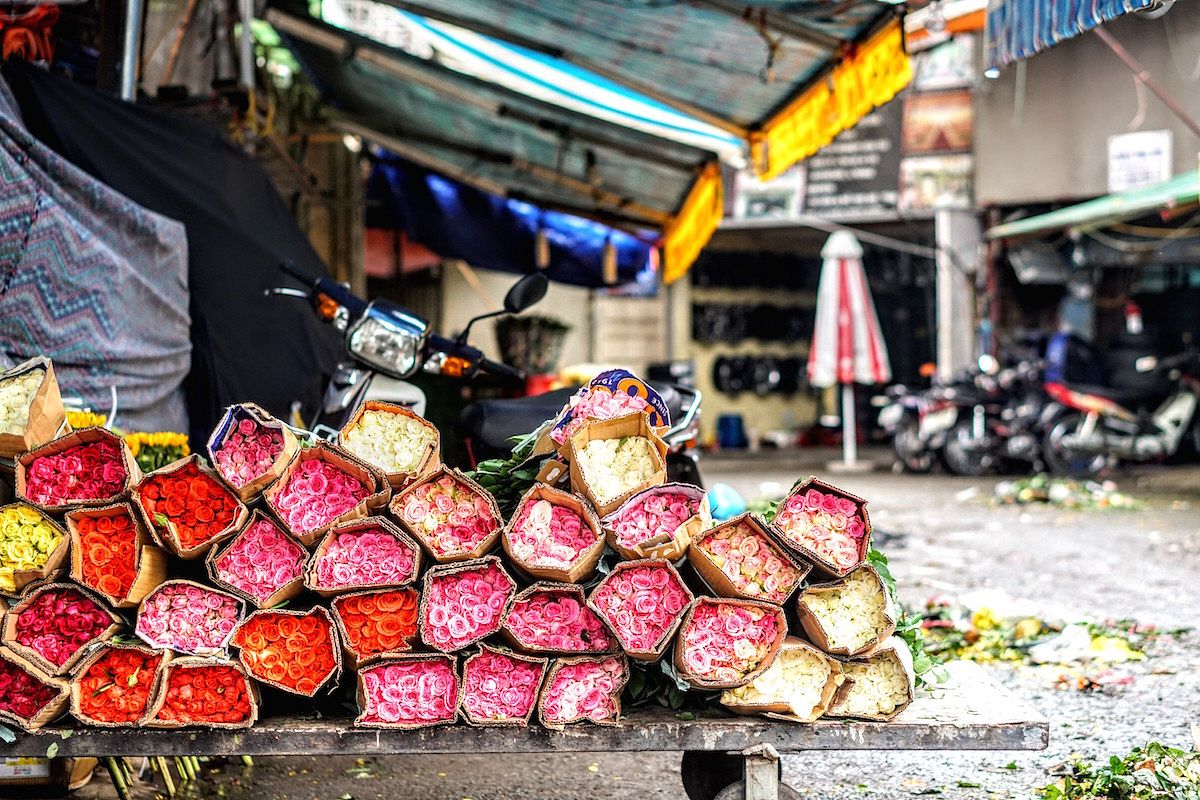 ---

Related Articles:
---