On the spotless, verdant grounds of Saigon South International School in District 7, a group of enterprising high school students have taken it upon themselves to clean up some of the school's trash.
Celine Pham [far left], a junior, spearheads the SSIS Compost Initiative, an effort over the last year to compost food and landscaping waste in order to reduce the school's trash output.
"At the beginning of last school year I became the president of my school's Global Issues Network Club, and I decided that I'm going to change things up because we've always been very fragmented, doing different projects instead of one big project," she tells Saigoneer.
After consulting with Gaia Nature Conservation, an environmental NGO based in Binh Thanh District, Pham chose to focus on composting. "We started planning out how it's going to work at our school and talking to caterers and the gardeners, and we held training sessions with them," she explains.
The school's cafeteria staff agreed to begin providing Pham and a small group of classmates with specific types of food waste, namely pre-production scraps like vegetable peels, bread and rice. Meanwhile, the gardeners would bring leaf and grass clippings to the group.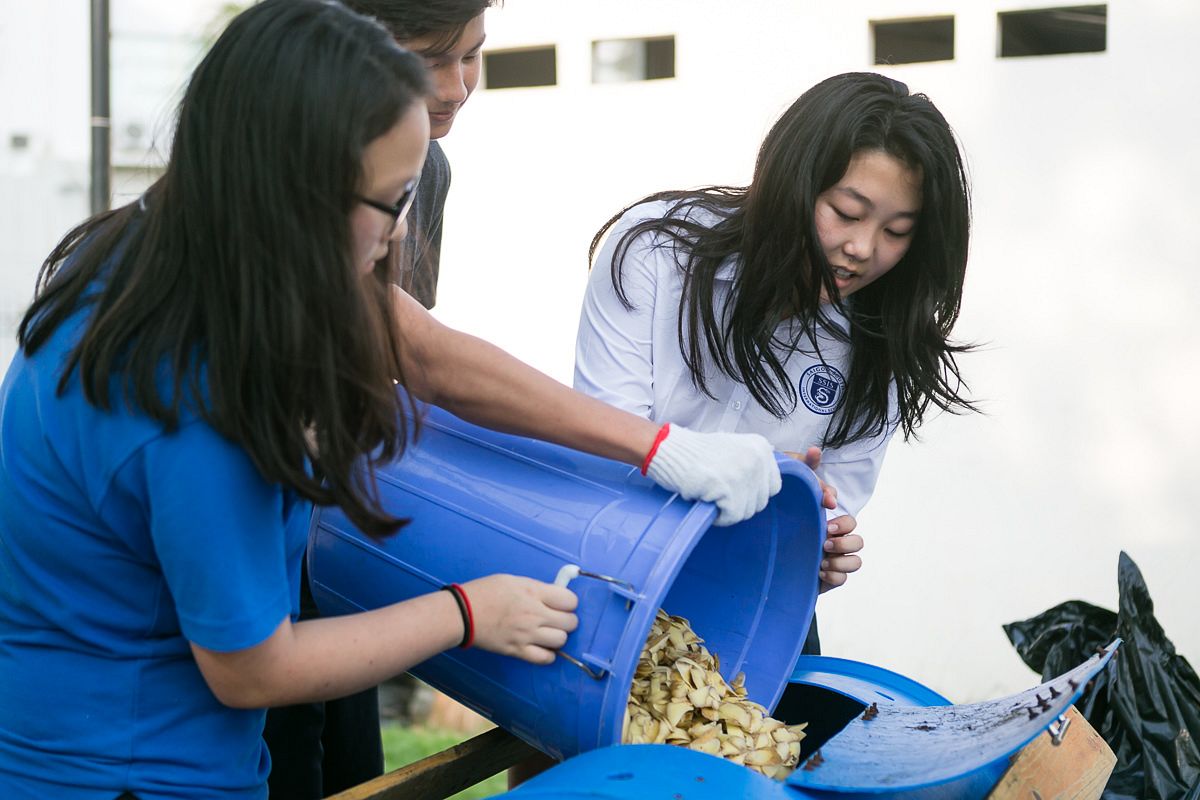 Learning how to compost
To begin, Pham and her friends had to decide exactly how they would compost this waste. The small group consists of Pham; Kayla Kim, the compost coordinator; Catherine Nguyen, the Green Initiatives Coordinator; Tony Huang; Thanh Nguyen; and Phuong Dang.
"We chose a model for our school which was rotating composting, and that was for ease-of-use and also reducing the risk, because composting has a lot of problems," she shares.
The students built three rotating bins with the help of teachers and other staff members. It was the first time many of them had used power tools. With their equipment ready to go, the group presented their project at the school's 2017 Earth Day assembly, held exactly one year ago.
"After that, we started our first batch," Pham says. "We didn't have a lot of time because it was the end of the school year. We composted about 78 kilograms of food waste, and also dried leaves and grass." It would take three months for the compost to be ready to use.
Twice a week the students collected food scraps from the cafeteria to add to the bins, in addition to turning them to aerate the material, monitoring the temperature and adding water as needed. By the time the current school year started, the first compost harvest was ready.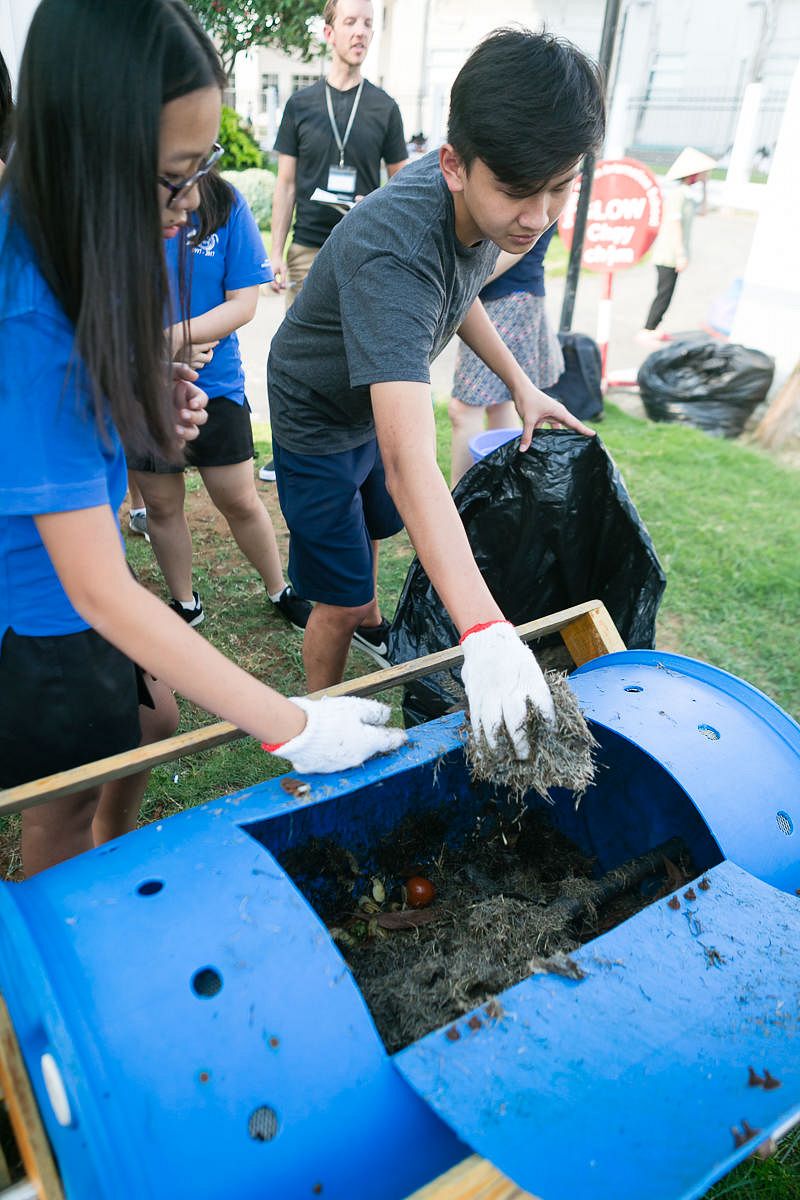 Product in action
That first batch was used in the planting of trees and plants around campus, but Pham was already aiming bigger. "That September [2017] the Canadian Chamber of Commerce held its Go Green Day," she says. "There were about 12 other groups but we won the US$1,000 prize to expand the program."
The next batch was significantly larger: 280 kilograms of food waste.
The prize money also allowed the group to begin composing every day, in addition to starting work on a worm composter. When Saigoneer visited SSIS to witness their work in action, the students had just completed this new piece of equipment.
Unfortunately, the first shipment of worms had been delayed, but once they arrive they will allow the crew to compost faster. "Worm compositing uses a special type of worm called red worms, and they eat the compost really quickly so it's a lot quicker, and that's how we hope to compost a larger percentage of food waste," Pham explains.
Huyen Do, founder and executive director of Gaia Nature Conservation, has advised the students on composting from the start. She shared her pride in their work. "Anytime they need technical support we will come check to see if they're doing the right thing, for example, is it moist enough or do they need to turn the bins more, but they're doing a great job," she says.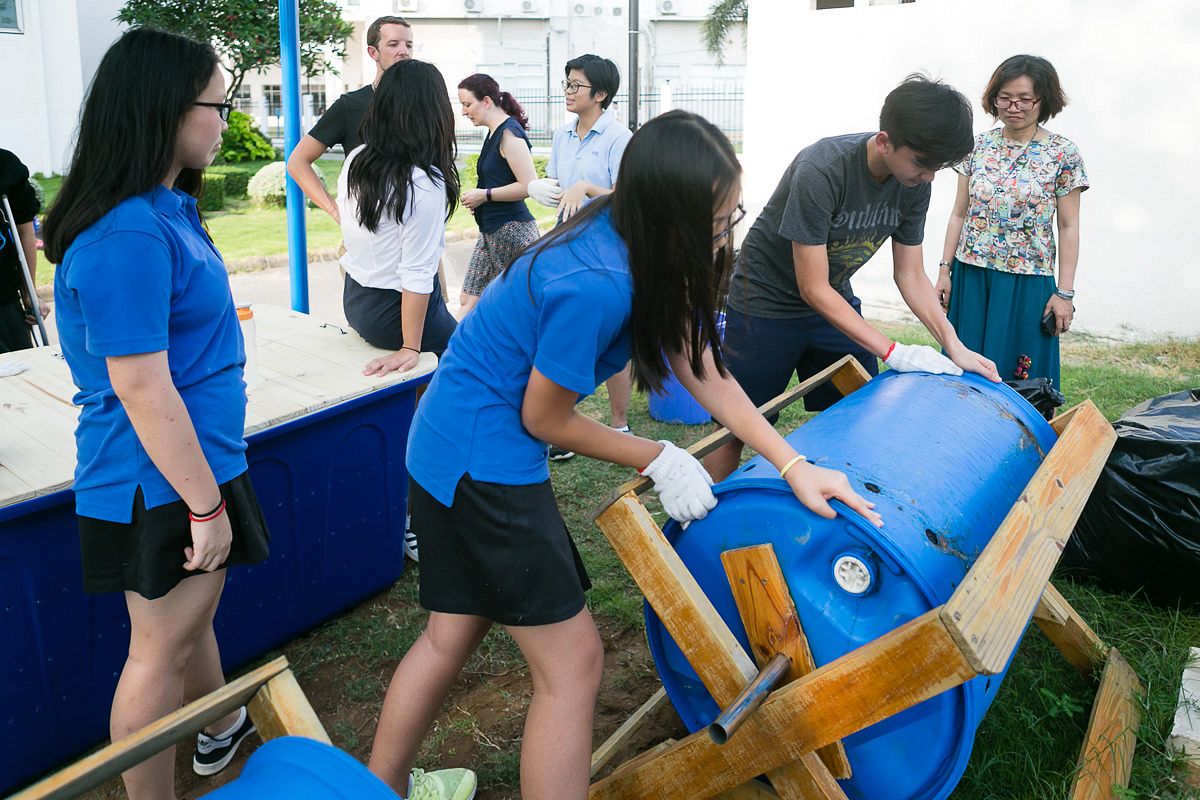 "It's interesting for people to come and see it so that they know that they are doing composting, and it gets their attention," Do adds. "Now they're switching to this model, and if it's a success maybe next year they can build more and more kitchen garbage can come here."
For her part, Pham wants to ensure that the compost program lasts beyond her graduation at the end of the 2018-2019 school year. To that end, she and the rest of the group shared their work at SSIS' Go Green Day in February.
"During the Go Green Day we had a bunch of kids come together and we taught them the different materials in the compost bin," Pham says. "Next school year we'll continue with our Go Green Day and maybe get even bigger…we're definitely looking into long-term how we can establish composting as a school activity, because right now it's basically us. We're thinking of maybe reaching out to the middle school to see if the kids are interested."
The ambitious junior is also working to spread composting programs to other international schools, both in Saigon and elsewhere. "I got to speak at a Global Issues Network conference…and recently I got emails from a few students asking about the compost because they saw the website," Pham shares.
One email came from an international school student in Vientiane, Laos; while another expressed interest in the program from the United Nations International School in Hanoi. Additionally, all of the research materials which the initiative has used are available online for other students to access.
For now, however, the primary focus is the current batch of compost, which will likely be used around the campus grounds once it is ready in about three months. Pham and her fellow group members may have lofty goals, but most days you can find them out by the soccer field, elbow-deep in a pile of food waste.
---

Related Articles:
---