Tucked down a small alleyway in the heart of Saigon is a restaurant where patrons voluntarily eat their meals in the dark. For a brief time, guests are at the mercy of the darkness, a condition that those who are serving the meals live with far past business hours.
Noir. Dining in the Dark, located in District 1, is staffed by blind servers, and all meals are served and eaten in a pitch-black dining room. The restaurant provides meaningful employment for the visually impaired — and a unique, at times surprisingly rich, dining experience for customers.
"That's my space, I feel equal, more worthy," says Thu Pham, 31, of the dark dining room. Pham had limited vision as a child, but is now totally blind. She has worked at the restaurant as a server for the past two years. "Outside you have to try, but inside you don't have to," she adds.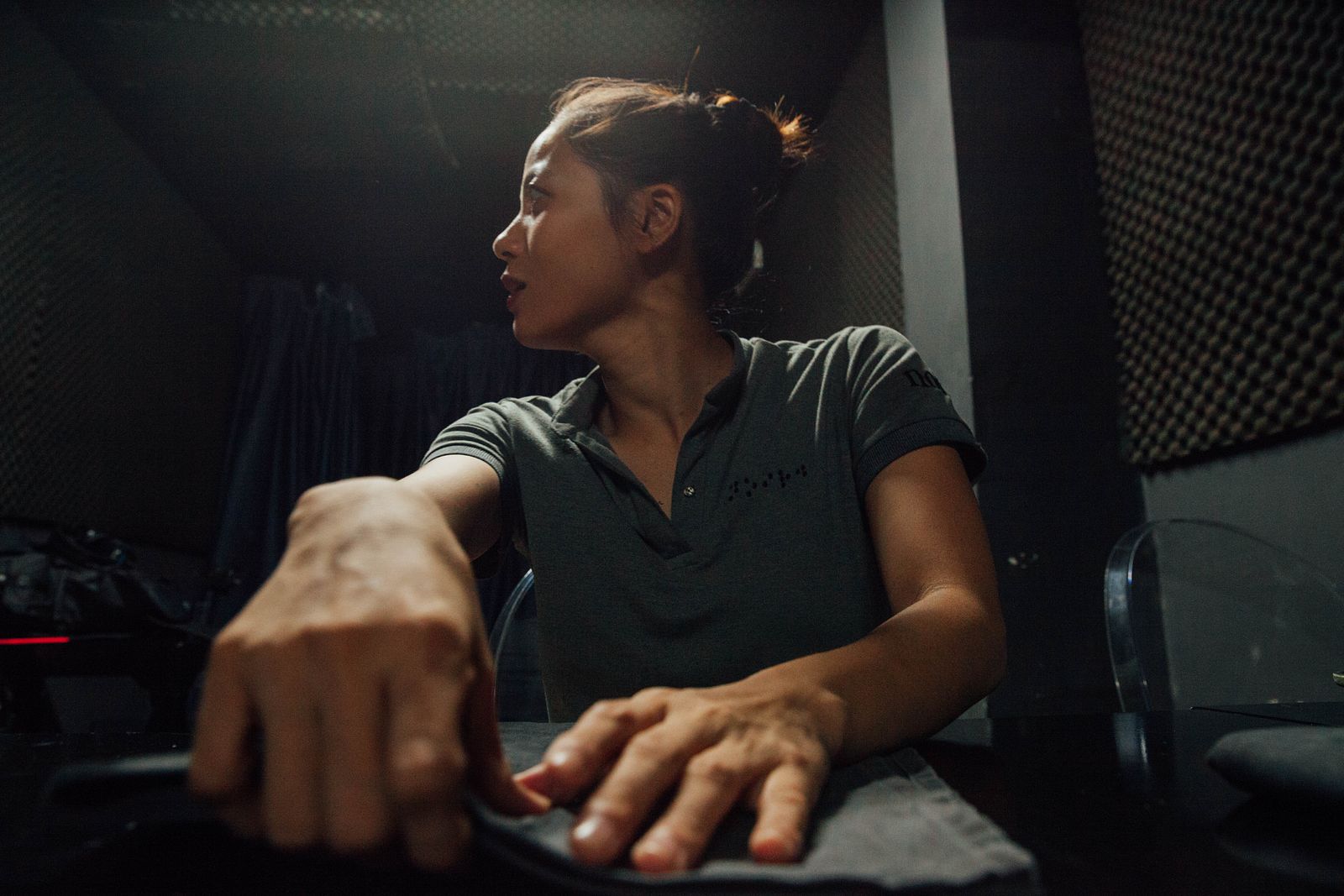 The first permanent dark dining restaurant was opened in Zurich, Switzerland in 1999 by Rev. Jorge Spielmann, who was also blind. Since then, about a dozen more locations have opened up worldwide. The mission is to not only give diners a memorable experience, but also one where they can empathize with those who live without sight.
Noir employs 11 servers who are visually impaired or blind, as well as 11 people who are deaf or partially deaf to greet guests at the door.
It was started by Tu Vu and Germ Doornbos. Both worked in the restaurant and hospitality industry before starting the new venture together nearly four years ago, inspired by the dark dining restaurants that came before them.
"Noir is a niche job designed for the visually impaired," said Sister Kim Phung Le, the director of Saigon's Nhat Hong Center for the Blind in Thu Duc District. Le often recommends people for employment at the restaurant. "When you go to work, it's not charity anymore, you need to show you are a worker."
Servers must not only be sociable and eager to learn, but they must also speak English, as most people who dine at the restaurant are foreigners. It's a competitive job reserved for those who have had access to more resources and education growing up.
Employment remains a difficult feat for the population of people with disabilities worldwide, and in Saigon many of the visually impaired may turn to selling lottery tickets or becoming masseuses for income. In a city with sparse employment options for the blind and visually impaired, Le says that Noir is a business, and it's also a solution.
"Many will not give the visually impaired the time and space that they need," she says. However, she lauds Noir for their ability to do exactly that, as it takes time to train new servers.
"Tu Vu took in young adults with no skills and trained them for three months, and once he had confidence — he had business," she says of the co-owner.
The dining in the dark experience begins with a few games. First, guests are given a blindfold and a puzzle to complete. This elicits laughter from patrons, as the seemingly simple task proves to be quite difficult without sight. Next, they are tasked with searching for paperclips in a small bowl of rice, which is equally difficult.
Guests choose a type of meal from the menu and alert the staff of any food allergies. The exact dishes served remain a mystery until the service is over. They are then led into the dark room and are guided through the experience by their server.
For just over an hour, diners are forced to rely on touch, taste and smell to eat their food. Sometimes forks miss their target, and other times the volume of the chatter in the room will rise as guests look for other ways to supplement their communication due to their temporary loss of sight.
On a Friday night in June, the chatter became so loud the servers had to remind guests to politely lower their voices so they could continue their calculated work.
The experience is fun, disorienting and over quickly. Employees hope guests leave with a new appreciation and awareness for those who are blind.
"I want people to think of us as human, we can do anything that other people can do," said Ma Thi Hong Phan, 27. Phan has fringed bangs that frame her deep brown eyes and spoke to Saigoneer from the lobby of Noir last month.
She grew up in a village in Binh Thuan Province, and lost her sight slowly. She heard whispers from people in her community as her vision worsened. She says she was viewed as useless to many.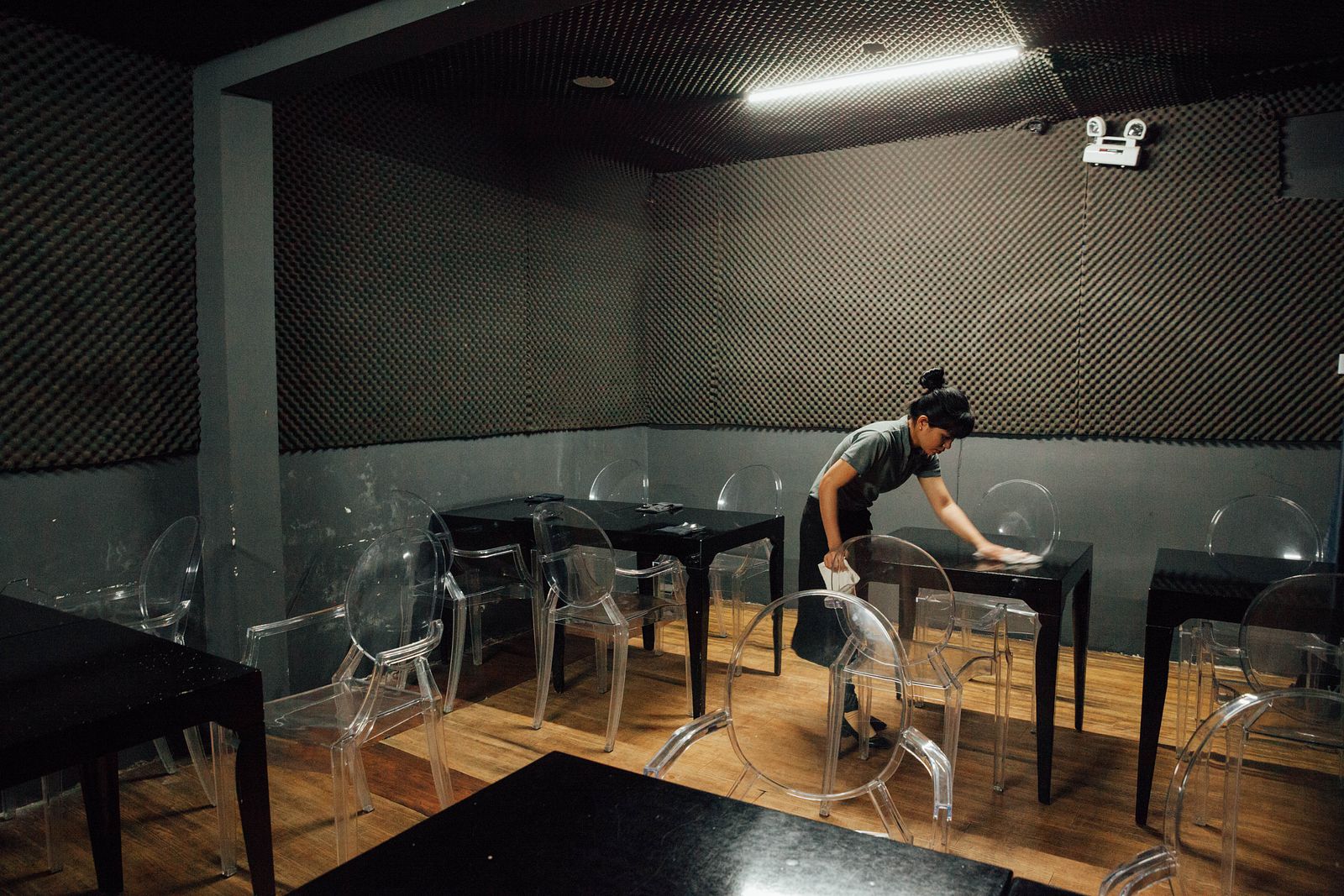 She was prescribed glasses at eight years old, but ten years later the glasses had increased to the maximum thickness and were no longer aiding her sight.
"It was like opening your eyes underwater," she said.
At 18 years old, she moved to Saigon and was diagnosed with retinitis pigmentosa, an irreversible genetic eye disorder with few options for treatment. The diagnosis left her in a deep depression. "I thought about death," she says, to the shock of several of her colleagues who sat nearby.
A year later, inspired by her hometown chemistry teacher, she enrolled in college as a chemistry major. She sought out professors and a doctor to research her condition alongside her, but all of them declined to help.
She graduated early, and other than some tutoring sessions, she has not been able to secure her dream job as a chemistry teacher.
She applied to Noir four years ago, and became one of the first people to begin work at the restaurant. She still keeps up to date as a chemist by listening to YouTube videos and tutoring students. She is studying braille so she can apply as a chemistry teacher at a school for the visually impaired.
"I am quite new to the blind community," she says, and so she continues to adjust to her life with misty vision and work towards her goals. Noir has given her the income and independence, as she and her husband are also busy raising their nearly two-year-old son.
"Ho Chi Minh City is the best place for unlucky people," Pham shares as we sit in the dark dining room of Noir before business hours commence. I set aside my pen and paper in the absence of light and listen. "No one is gossiping about us, so we can do what we want," she adds.
It's a confidence that comes with the job. The sustainability of Noir's model for their blind employees is making a small but important impact on the blind people they hire. From her office at Nhat Hong Center, Le agrees.
"It's a business for money, but also for humanity," she states.
Update: This article originally mispelled Thu Pham's name as Thu Phim. It has been corrected.
---

Related Articles:
---