As Saigon's traffic situation gets progressively worse, city officials are employing several measures to revamp the city's public transport system in hopes of mollifying its chronic congestion. This time, some local bus routes are getting a snazzy makeover.
In August, city mayor Nguyen Thanh Phong revealed that Saigon's population has officially hit 13 million, meaning that roughly the same number of personal vehicles hits local streets – which are ill-equipped to handle such a crowd – on a daily basis.
The announcement also became a warning sign for municipal transport officials to quickly roll out plans to tackle Saigon's mounting traffic pressures.
Just a few weeks ago, the city's first-ever river bus line, named Saigon Waterbus, officially started accepting passengers, despite some initial hiccups. It's still too early to assess the waterborne route's effect on city traffic, but commuters living along its path have reportedly been happy with the service.
Now, it is time for traditional buses to receive some much-needed upgrades. On December 1, transport authorities announced that three bus lines have been improved to become Saigon's "model bus" (xe buýt mẫu). The upgrades are supposed to create higher service quality and a better travel experience for commuters, reports Tuoi Tre.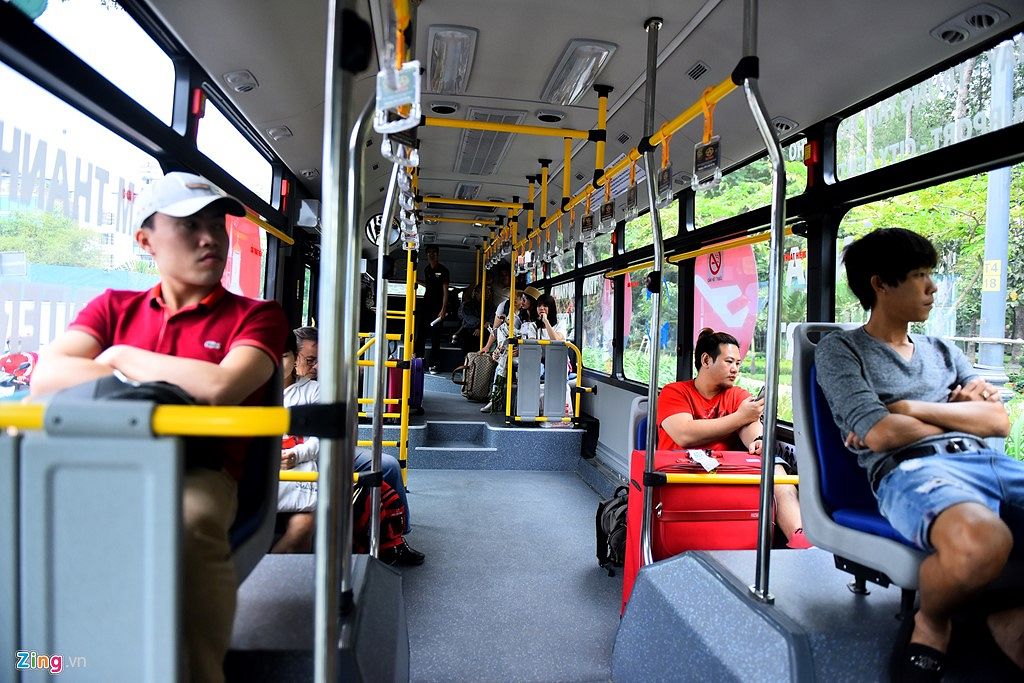 The three new enhanced routes include No. 3 (Ben Thanh – Thanh Loc), No. 18 (Ben Thanh – Hiep Thanh Market) and No. 33 (An Suong Bus Station – Suoi Tien – Vietnam National University Ho Chi Minh City). Respectively, they currently serve 11,000, 12,000 and 25,000 passengers every day.
So what can commuters expect from these flashy new buses? Tran Chi Trung, director of the HCMC Management and Operation Center for Public Transport, shared with Tuoi Tre that with the "model buses", the city is attempting to address problems that have plagued public buses in the past.
The new buses are outfitted with a handicap-accessible space; moreover, information about the journey will be announced via a speaker to aid blind passengers.
Tuoi Tre also added that the "model buses" are powered by compressed natural gas (CNG) to reduce emissions and are also equipped with free WiFi and a newspaper rack. As of July this year, Saigon's bus fleet had 173 vehicles running on CNG, reports SGGP.
According to Trung, his center also hopes to tackle crucial complaints about punctuality and the attitude of bus drivers and attendants. To reduce tardiness and boost consistency, the new buses feature a GPS tracking unit and surveillance cameras. Bus staff have also been given tips on how to improve their service; however, it remains to be seen if this can continue in the long run.
The transport official also elucidated on the rationale behind the city's decision to pick the three specific lines. Bus line No. 33 was selected as it used to be a notorious hotspot for pickpockets, while the other two are some of the longest routes in the city's bus network, spanning several districts, including peripheral ones such as District 12.
Compared to last year, the city's bus ridership has increased by10%. This figure might improve next year should Saigon decide to apply the new upgrades to more bus lines.
[Top photo via Tuoi Tre]
---

Related Articles:
---