The sun already threatens to sap our energy even though it's barely mid-morning on Thanh Da Island. Devoid of the tall buildings and claustrophobic blocks found downtown, this small patch of greenery and its residents would not be out of place in the Mekong Delta. On a lazy Sunday morning, pajama-clad women ride by on bicycles, men swap stories over coffee and cigarettes, and the road that runs through all this activity serves as a talking point for Thanh Da residents.
A group of students with gloves and trash bags are drawing most of the attention on this particular morning. The young, mostly Vietnamese clean-up crew is part of an event organized by local tour operator Les Rives in connection with a handful of other organizations, including Khiri Travel, Clean Up Vietnam and Let's Do It HCMC. The company's Cu Chi Tunnels and Secret Mekong Delta tour runs through tthe green area within Saigon's ever-expanding city limits, and so Les Rives senior experience officer Vincent Salm and a small group of volunteers have woken up early to pick up rubbish in the area.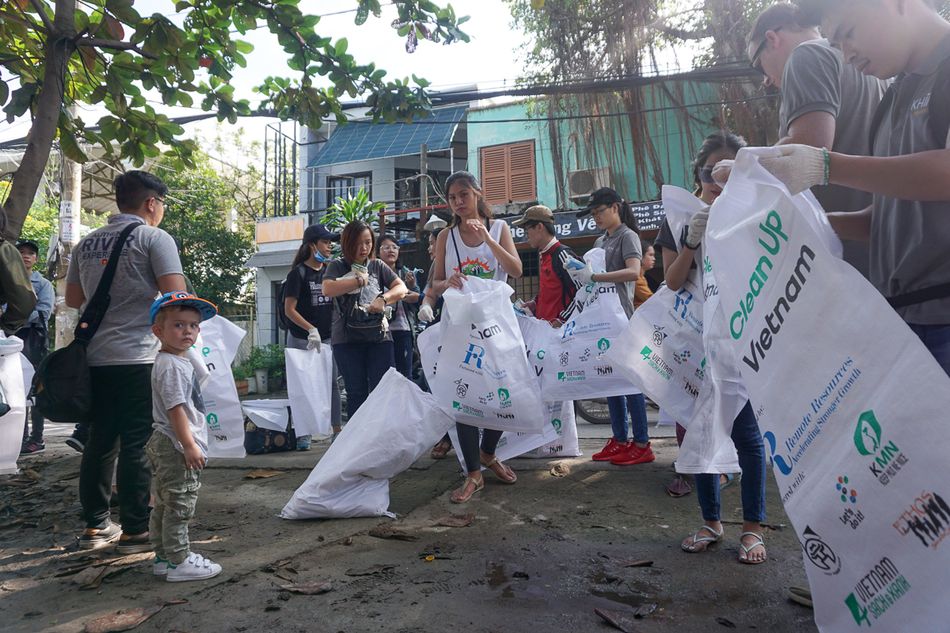 "A lot of tourists…are really affected by the plastic pollution that we can find on the way to the Mekong Delta," Salm tells Saigoneer. "A lot of guests ask us: 'Are you doing something? Are you lobbying the government, or are you trying to do something to improve the situation?'"
It's a fair question, as Vietnam struggles with environmental issues not only in its tourism industry but across a variety of sectors. Vietnam is one of five Asian countries responsible for over half the ocean's plastic waste, while waterways around the country routinely experience pollution-induced fish kills. In Saigon alone, city officials estimate local canals are filled with anywhere from five to 14 tons of garbage a day. The problem has become so dire that earlier this year authorities suggested draining the Thi Nghe-Nhieu Loc Canal altogether and replacing its water supply with Saigon River water.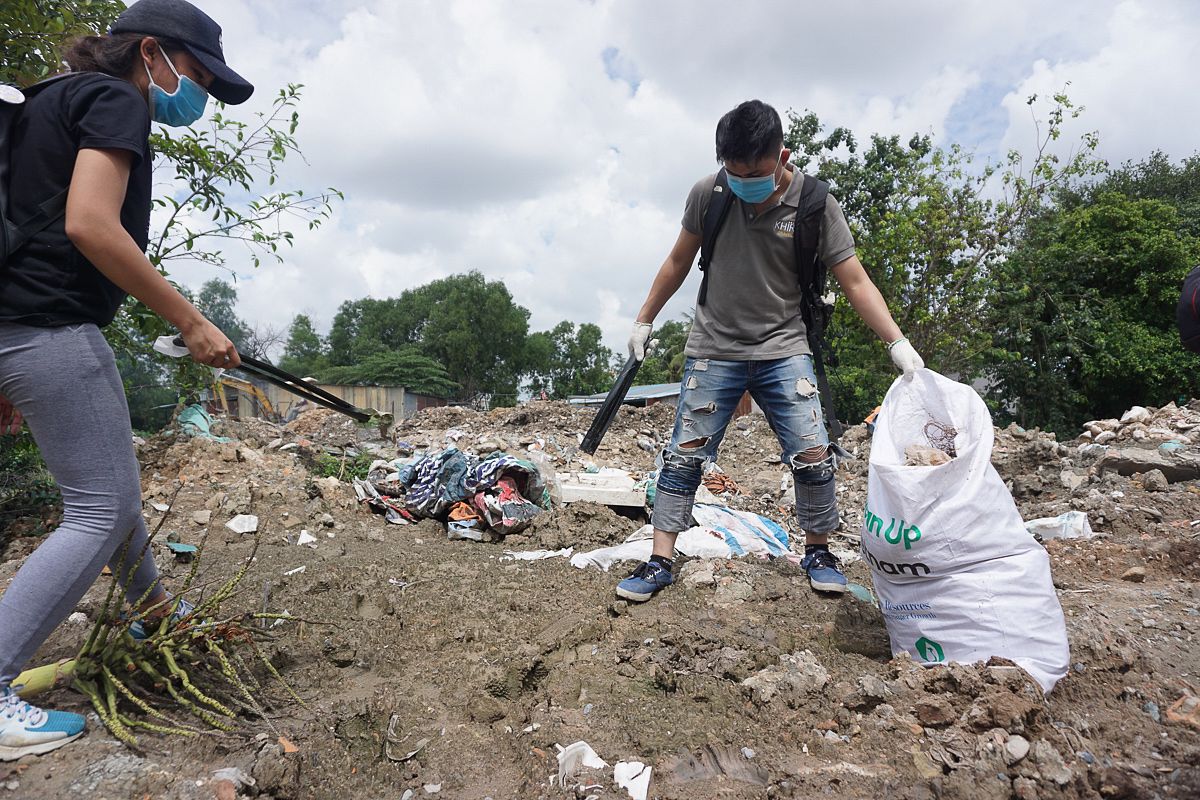 Such pollution presents obvious problems for local residents, from an unsanitary living environment to contaminated water. As Vietnam strives to reach lofty development goals – the country is aiming for US$35 billion in annual tourism revenue by 2020 – this same pollution threatens to harm the natural beauty that often attracts visitors to Vietnam in the first place. Amid its own tourism boom, Phu Quoc struggles to keep its beaches clean, while a recent VnExpress video shows images of rubbish washed ashore in tourist-heavy Mui Ne. Some foreign visitors have been known to take matters into their own hands, picking up rubbish off local beaches while on holiday.
"Usually what we say [to tourists who notice the rubbish] is that things take time," Salm explains. "The Vietnamese government already knows that there is a problem with plastic waste in Vietnam, but if you went to big cities in Europe 40 years ago, it was the same situation."
Though Les Rives' Sunday clean-up crew is modest in size – around 20 people – volunteers still manage to fill all 50 garbage bags supplied within about two hours. Salm believes activities such as these help raise awareness among the local community and encourage responsible waste disposal.
"This kind of small event can help to show good practice in terms of the management of plastic waste," he says.
Given the tourism industry's own contributions to plastic waste, a handful of local outfits are beginning to address the problem on their own. In addition to efforts like Les Rives' clean-up event, travel writer Mark Bowyer pointed out this issue a few months back on his website, Rusty Compass, making a case for tourism-related businesses to reduce their consumption of things like plastic bottles and moist towelettes.
Though the tourism industry may not change overnight, many travel-related businesses are aware of the impact pollution has both on the environment and their bottom line. According to Salm, Les Rives' clean-up generated interest among other local tourism outfits, and the company aims to repeat its cleanup event next year, albeit on a larger scale, inviting local schools and other tourism-related businesses to join the effort.
"It's nice to organize this event with [students] as well because I think that this new generation are able to…set [an] example to the others for later," explains Salm.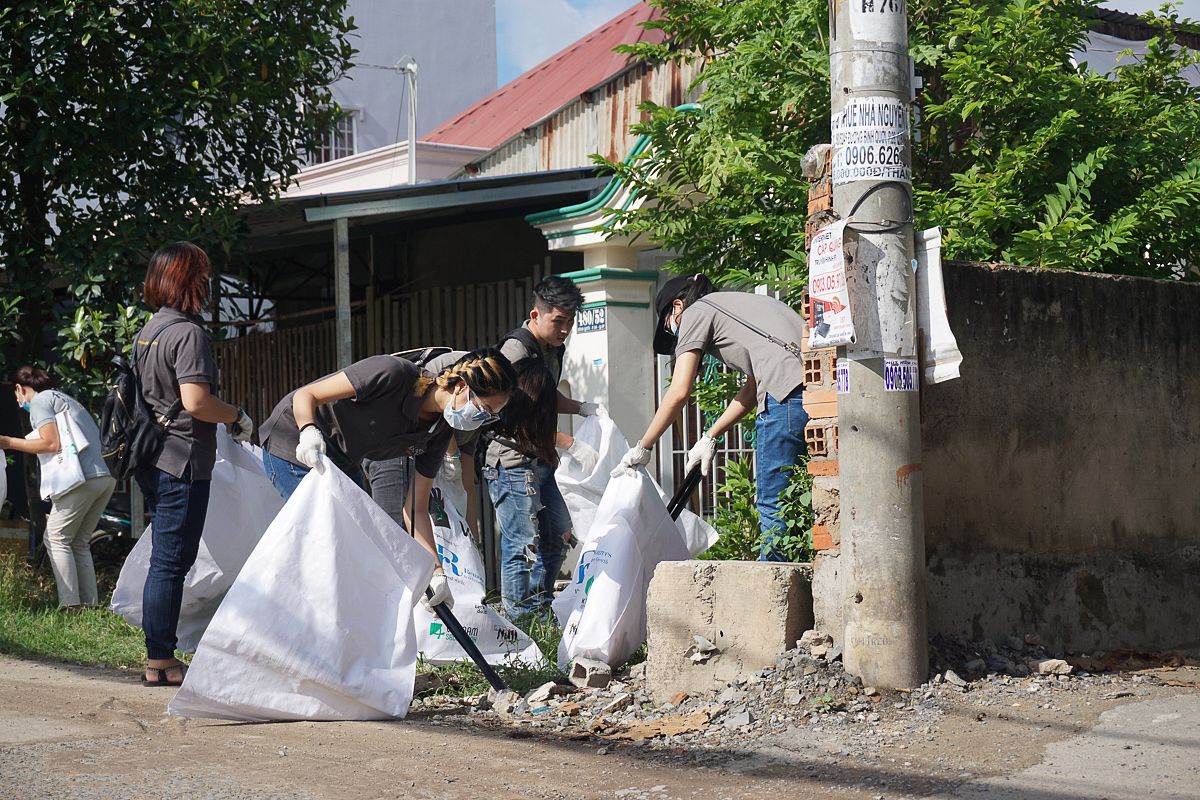 As the morning draws to a close and volunteers stop to rest by the roadside, there is still plenty of rubbish scattered across Thanh Da's green spaces. However, the clean-up crew's effort has managed to make a convert out of at least one local resident, an eight-year-old girl who requested her own pair of gloves to join in. For much of the morning, she identifies waste on the roadside near her house. "Cô ơi! Over here!" A cluster of beverage cups caught in the weeds. "Cô ơi! Look at that!" A mangled raincoat left in a ditch. After the first trash bag is filled, she slouches against a fence separating the road from a pile of plastic bags and discarded household items: "There's just so much."
---
Related Articles:
---