For cycling addicts and 'casuals' alike, there's a new event in Vietnam to start training for.
On the weekend of August 25-26, the inaugural edition of the Coupe de Hue took place in the former imperial capital. Organized by the adventurous crew at Indotrek with support from the Vietnam Cycling Federation, the 2018 pilot event attracted 361 local and international riders from across the country.
Featuring two competitive rides, the whole weekend had a distinct 'festival of cycling for all' feel to it. Saturday's I-on Health Cup was a ten-lap 'criterium' centered around the famous Hue citadel; and Sunday's main race was the 138-kilometer Coupe de Hue Gran Fondo.
Going fast
Festival or not, as anyone who has ever 'clipped-in' will tell you, once cyclists hop on the saddle in large numbers, things can get quick, quickly. Add prize money, trophies and inter-club rivalries to the mix and tires aren't the only things getting seriously inflated.
"We came here to win," said Dang Duy Nghia, captain of the Phu Tai Cycling Club based in Quy Nhon, one of 30 such groups represented from up and down the country.
"Of course we have our strategies," he told Saigoneer, "but the most important one is that everyone gives it their all.''
In Saturday's warm-up event — essentially a ten-lap, 43-kilometer age-group sprint around the city — teams worked together to get their best riders to the line first. Reaching speeds of 55 kilometers per hour (km/h) on the modified street circuit, the dangers synonymous with the sport worldwide were quickly highlighted, as several riders came to grief in the congested finales. Lam Nguyen from Saigon was one of them.
"I went for a placing on the fourth lap to earn points," he shared, "but as I moved out someone behind me made contact and down I went. Race over."
While the result for Nguyen was some skin off and an early exit from his 40-and-over category, for at least two other riders on the day a trip to the hospital was more than just precautionary. Cycling fast is dangerous.
The main event
In Sunday's more relaxed main event, the 138-kilometer Gran Fondo, which set off just after 6am in drizzling rain, riders were divided by their expected average pace, in 10-kilometer gradations up to 45 km/h.
Among those at the start line first was British rider Paul Norriss, who told Saigoneer that his only strategy was to "survive the wet" and "see where he was at" in the final section.
Motor-paced for safety until the last 19 kilometers, when riders were officially allowed to race each other, the route took participants on a highlights tour of Thua Thien-Hue Province.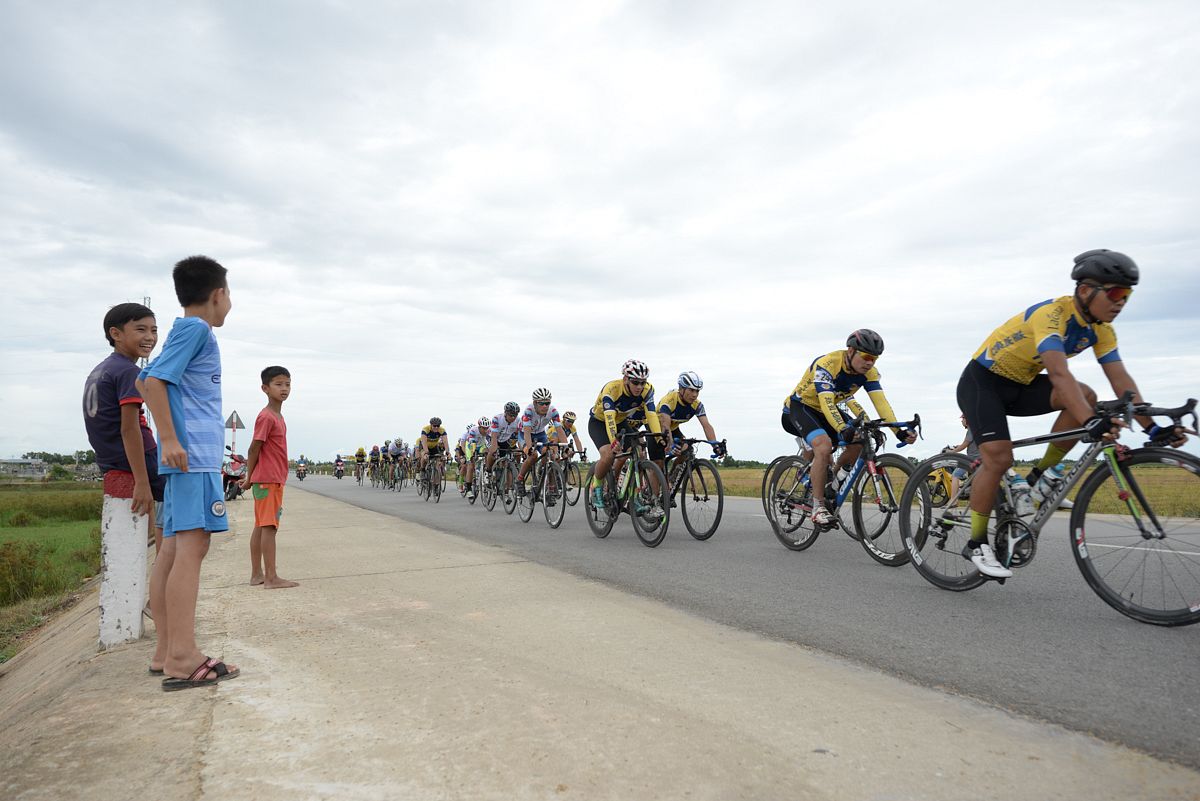 Broken up by three timed nutrition stops, the loop ride included a ferry crossing of the famous Perfume River, a visit to the picturesque Thanh Toan village and spectacular views of the largest lagoon in Southeast Asia — all accompanied by the backdrop of the province's surrounding mountain ranges.
Included in this were several high-speed 'roll-throughs' of some of the regions outlying districts, whose inhabitants came out in force to wave flags and cheer on riders as they took on the challenging cobbled sections outside of homes.
Winners are grinners
At the pointy end of the fast group all day was Saigon-based Anna Fritz from Germany, who won the women's category ahead of her District 7 training partner, second-place rider Phuong Pham.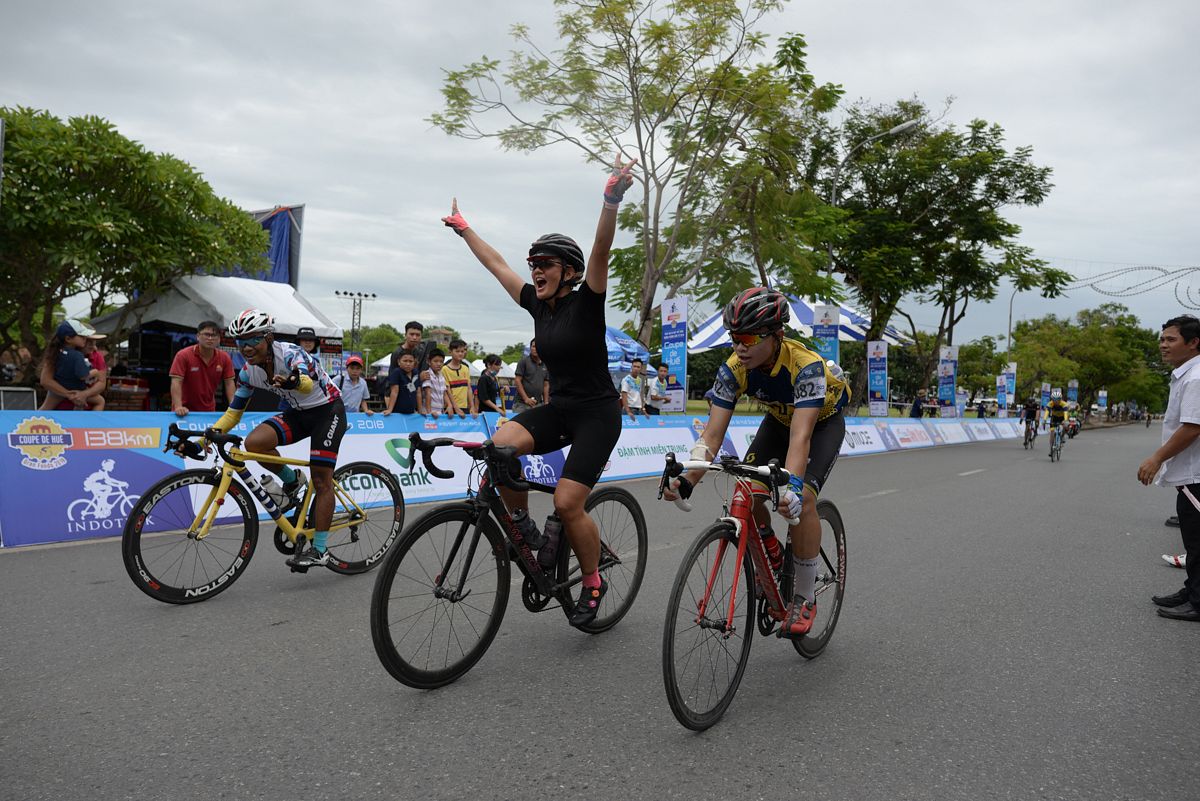 "It was a great achievement from our group today," Fritz said after finishing in a time of 3 hours and 54 minutes. "There were so many people riding and it was really fun." When asked what their strategy had been, teammate Pham gave an honest response: "No strategy! Just train really hard!"
"We love cycling!" continued Fritz above the post-event music. "As a group of women riders from Saigon we do about 200 kilometers per week, so we love that promoters are putting up more and more events in Vietnam. We need to support them, so we'll be back for sure."
"I loved today's ride," added Pham. "The scenery was beautiful and the local people who came out to cheer us was amazing. I can't wait for next year!"
In the men's section, fellow Saigon expat Joe Pirie took the overall win in 3 hrs 49 mins, as well as the 45+ category over Ha Tinh club rider Lam Tan Thai. Age apparently shall not weary a keen cyclist.
Making it official
According to the organizers, official accreditation from cycling's world governing body, the Union Cycliste Internationale (UCI), is on the agenda for next year and will raise the event's profile to adventure-seeking cyclists everywhere. The ambition doesn't stop there, though. "Our ultimate goal is to get this event on the UCI's Gran Fondo World Series calendar," says Richard Casswell, Managing Director of Indotrek.
Currently, this series consists of 22 Gran Fondos globally that are open to cyclists of all levels. As an incentive, the top 25% in each age group are invited to the season-ending world championships, much like in triathlons. However, as it stands, only Indonesia's 'Tour de Bintan' represents Southeast Asia on this list.
Impact
For Casswell and his team, aside from the benefits to cycling, the Coupe de Hue is about creating an event with long-lasting impact. In a few years, he predicts that it could be worth up to USD$1 million to the local economy.
"Cycling in Vietnam is still growing and we're delighted with the turnout this year," he told Saigoneer post-event. "Now that everyone understands what the Coupe de Hue is about, I'm sure the local groups will promote the event more actively to their people, and from our point of view, we'll be able to attract more international riders to this destination."
Nguyen Ngoc Vu, General Secretary of the VCF, was equally positive.
"I think the Coupe de Hue is a really good idea," he shared. "People get the opportunity not only to come to Hue to take part in a high-level competition, but also to discover the beauty and spirit of this part of Vietnam."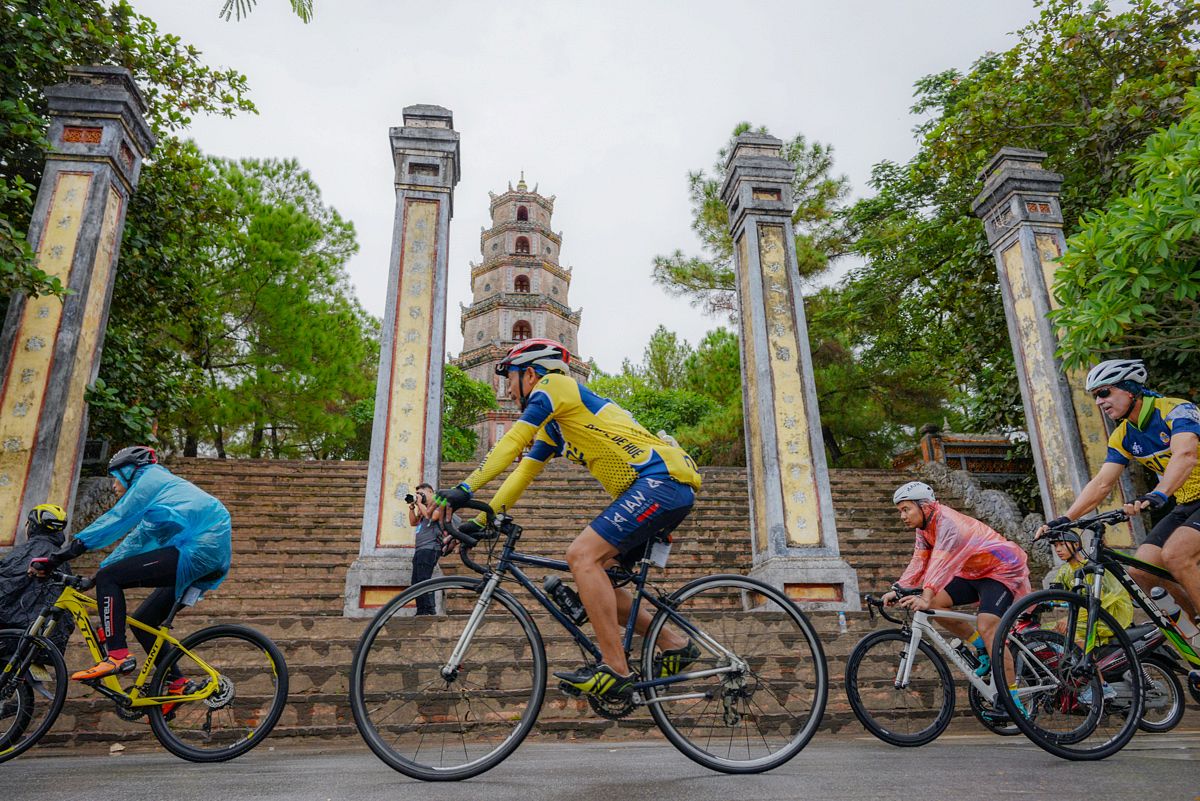 ---

Related Articles:
---