Accomplishments come in many varieties.
When people think of a successful student, they often focus solely on grades, test scores and ultimately being accepted into a top university. And while these achievements hold true for many of the students at Australian International School (AIS), there are other ways in which students prosper.
AIS takes a holistic approach to education that aims for students to not only be critical thinkers that excel in academic settings, but also humans that are eager contributors to a global community with a passion for the arts, athletics, and other extracurriculars. A look at some of the recent Year 13 students reveals what it means to have a well-rounded education.
Creativity Unleashed
"As a classical pianist, I never envisioned myself as playing in a band," explains Mai Phuoc Minh Quan. And yet, his group, The Onions Band, performed on stage numerous times, much to the adulation of their peers and teachers. This would not have been possible, he says, were it not for the school's atmosphere that has "no judgment, status quo or limits."
In addition to music, AIS offers a variety of visual and performance arts. Another Year 13 student, Moon Eunchae, said that the staff is eager to support all varieties of artists, encouraging them to follow their creativity wherever it may lead. For her, that translated into landing a starring role in the school musical, performing in a student-led band, and joining the dance team.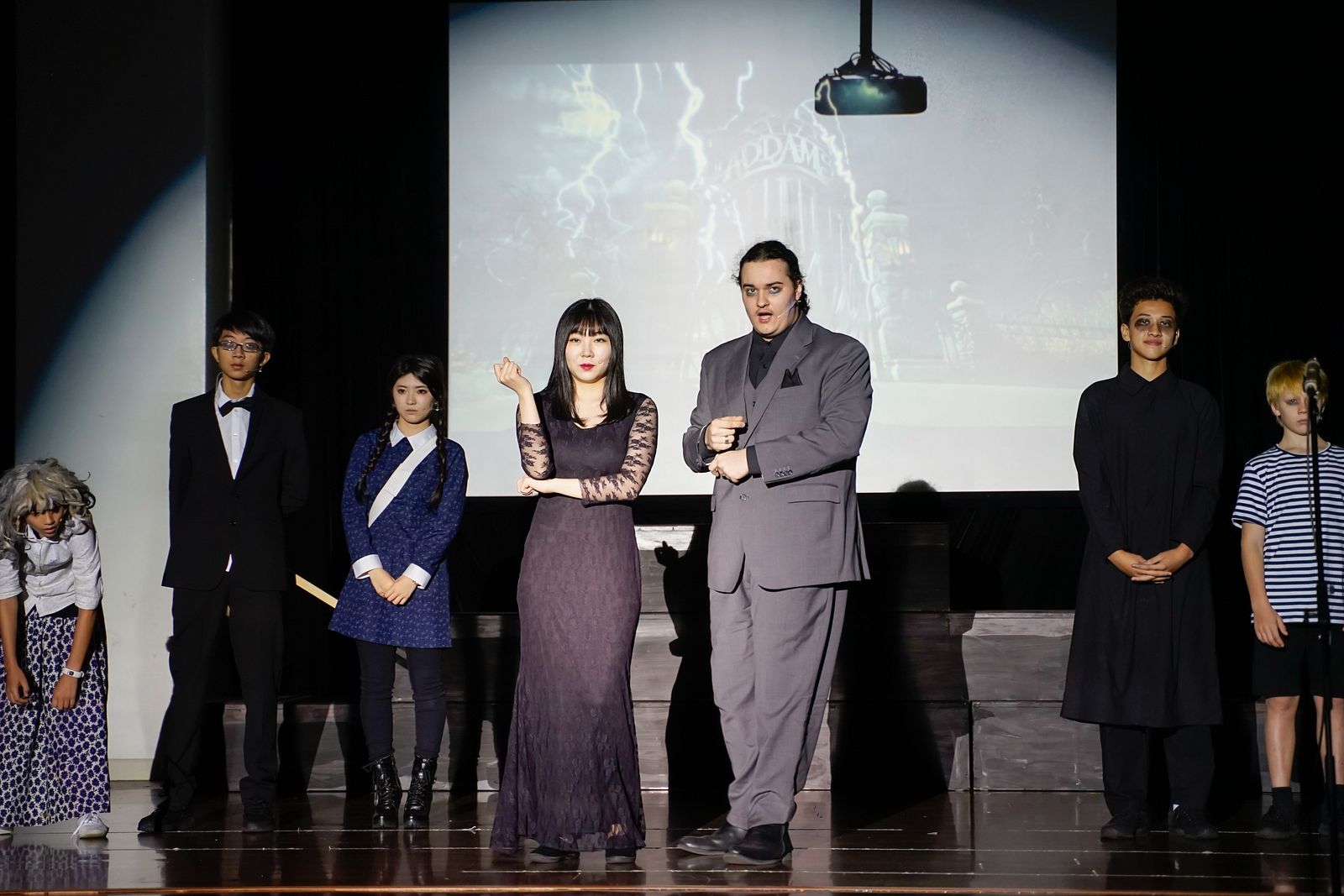 Studying the arts also helps students gain important soft skills that are crucial for the real world. Eunchae notes: "We are encouraged to organize and run events by ourselves, so I was doing what I like while experiencing leadership roles at the same time."
The Power of Physical Activity
Athletics represent another area where AIS students have earned distinction and defined what success looks like. Kim Ji Soo, for example, was part of the basketball team that brought AIS its first city championship. He was also selected to play on the U18 Vietnam national basketball team that participated in the FIBA 3x3 Asian Cup in Malaysia, where their performance made history for Vietnam.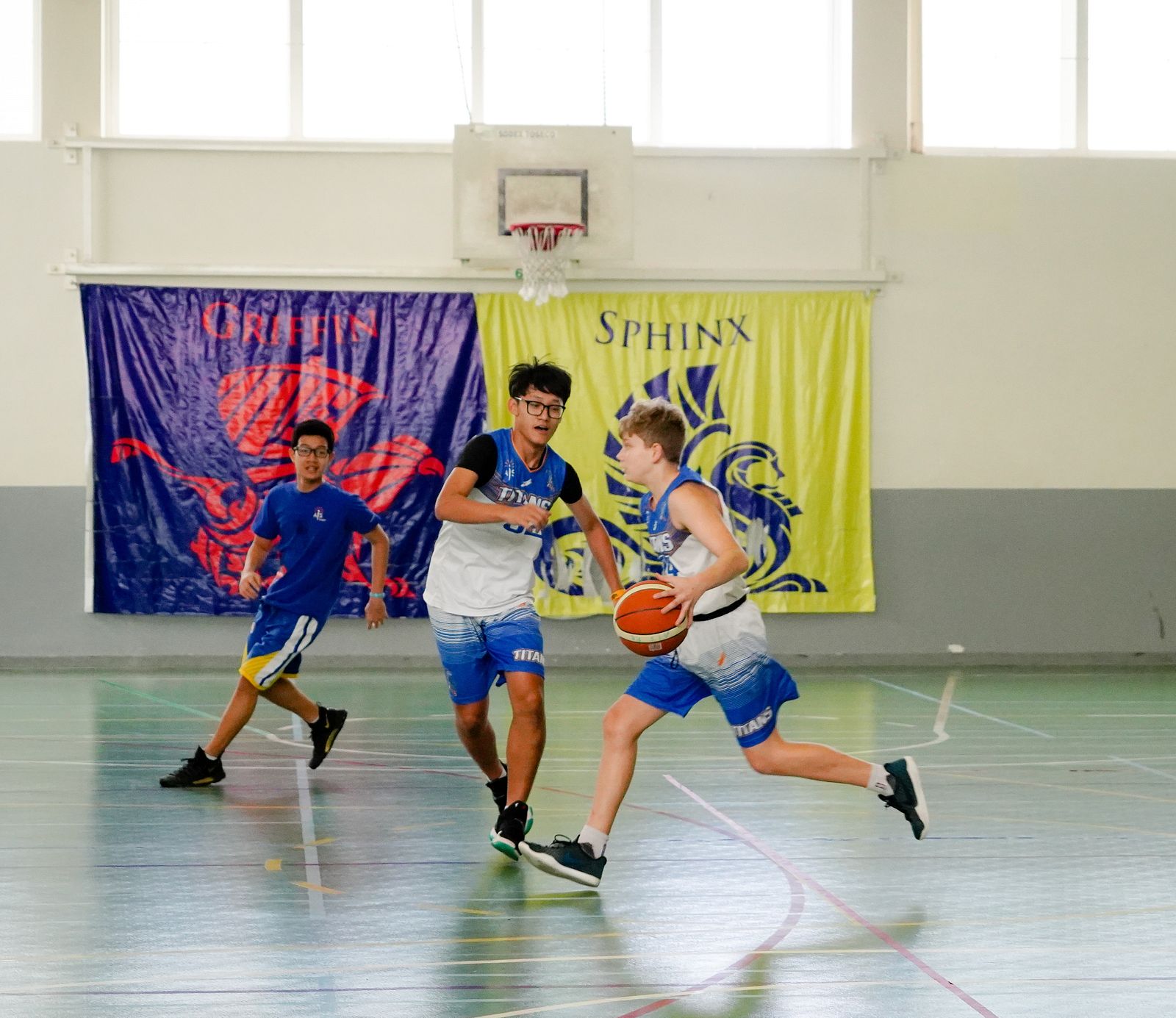 A gifted athlete, he also played volleyball, football, touch-rugby and track and field, which the school offers in addition to swimming and badminton. These activities help instill the value of teamwork, tenacity, and hard work; qualities Ji Soo will rely on when studying business management at George Washington University in the fall. Ultimately, he hopes to earn a degree in sports management and eventually help manage a team or league, no doubt implementing some of the lessons she learned on the field and court while at AIS.
A Wide Range of Extracurricular Interests
Being a mindful, problem-seeking student eager to ask questions, find solutions and ultimately make an impact on their surroundings is an essential part of becoming a successful adult. AIS, therefore, designs its classroom curriculum around these skills, but the school also provides opportunities to develop them in a variety of extracurricular settings. The Global Issues Network (GIN) Conference, for example, allows students to focus on identifying and addressing important problems in local and global communities.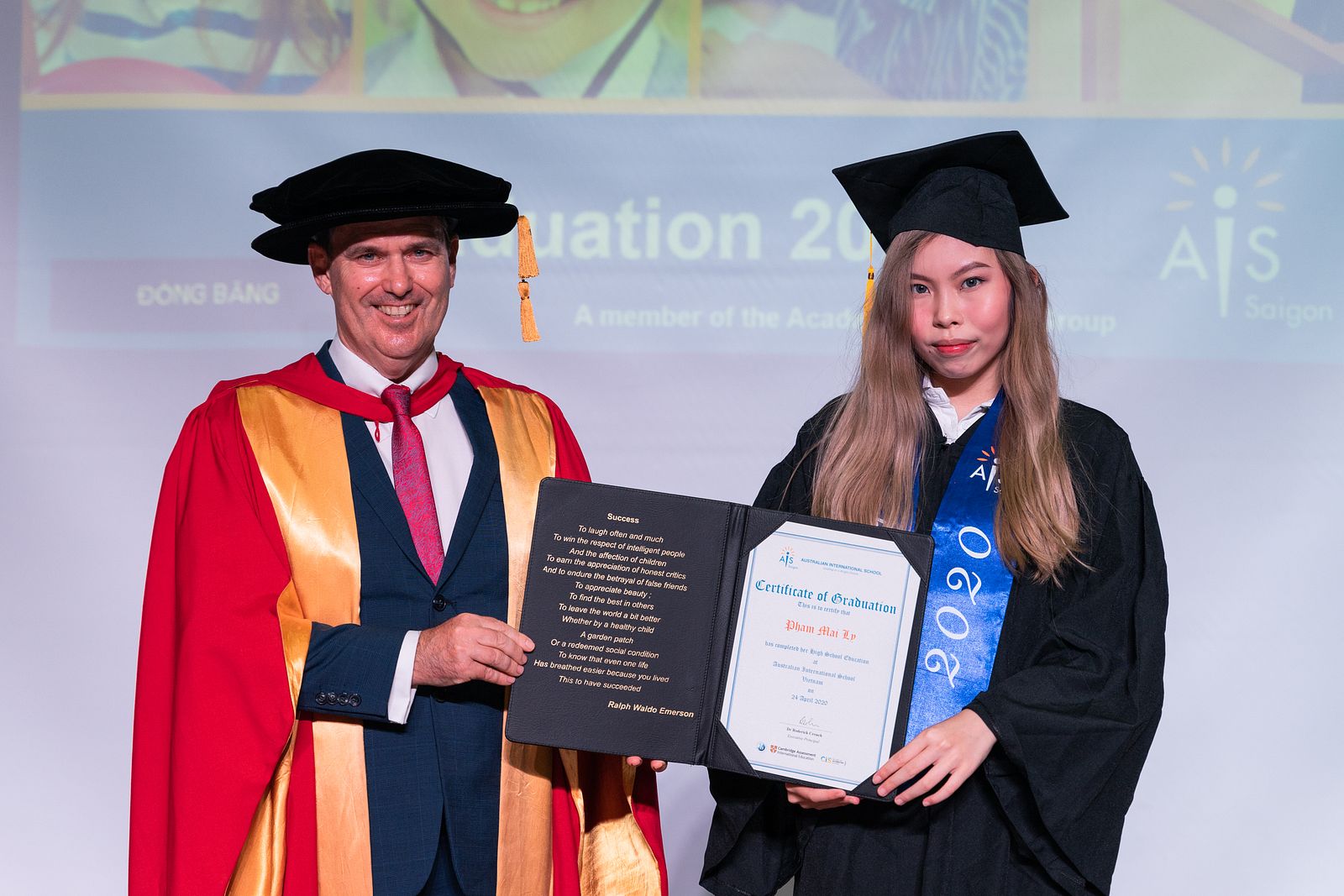 Pham Mai Ly served as the student leader for important conversations and activities regarding animal conservation at last year's GIN Conference that connected students at AIS with some of the city's other leading international schools. She balances this interest in service with entrepreneurial curiosity, as exemplified by attending the New Zealand Business Competition.
Moreover, Quan founded the Student Support Group to raise awareness of, and assist with, matters of mental health. He is also active in the Model United Nations group, while Eunchae participated in Student Council, explaining: "I strived to develop into a person who can blend smoothly into the community and get disparate people headed in the same direction."
Beyond formal organizations and activities, part of a good secondary school education requires opportunities to simply be a teenager and have fun with one's friends. AIS responds to this need through supervised trips and events. Andrew Quoc Anh, the Head Boy of his class, for example, says his fondest memories were the Year 12 camping trip, as well as "the countless times I stayed late after school and on weekends to either participate in or organize different events; these were great memories of camaraderie, laughter and school spirit." Mai Ly adds how special their class trip to Malaysia was, as well as their Year 12 prom aboard a cruise ship.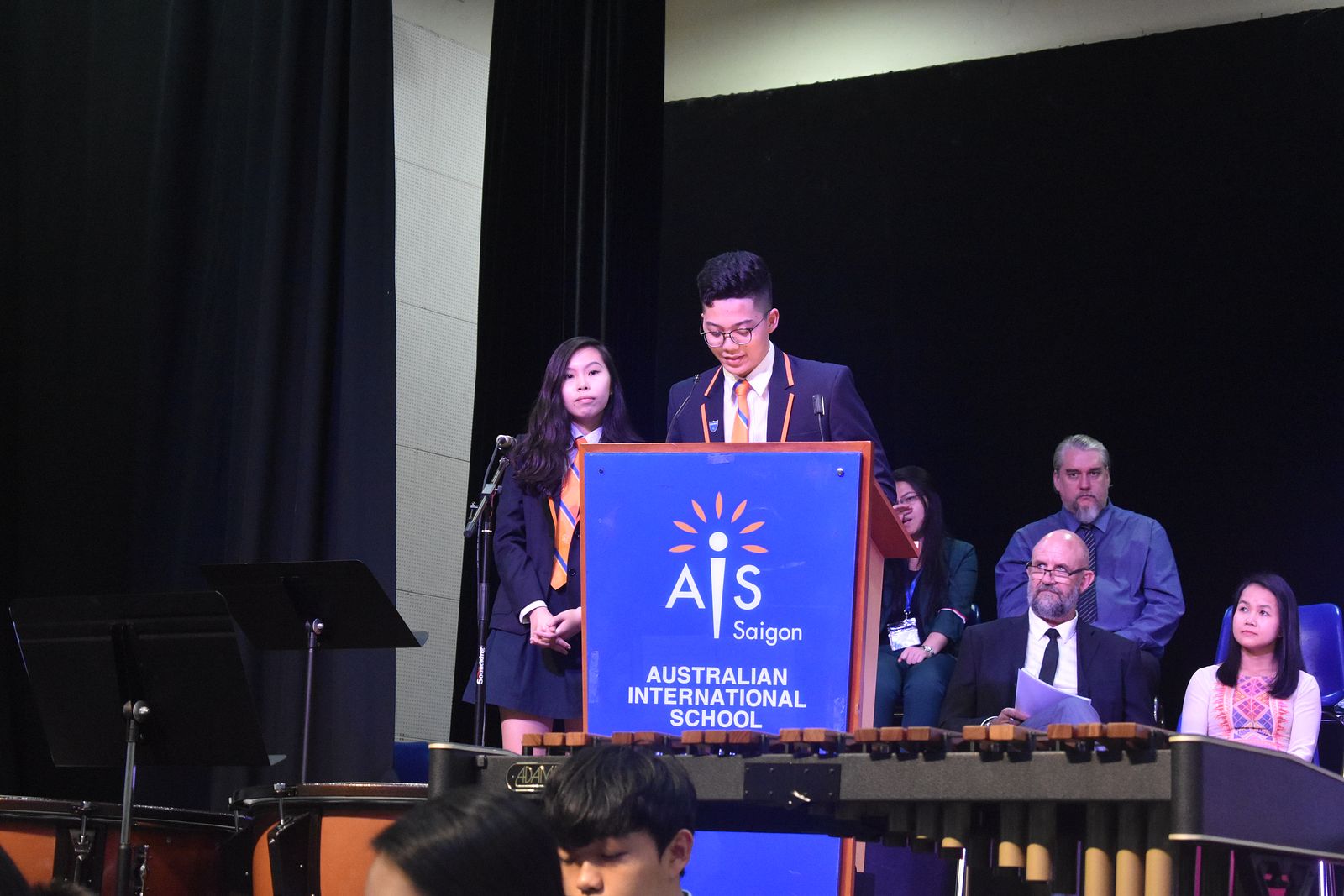 `
A Bright Future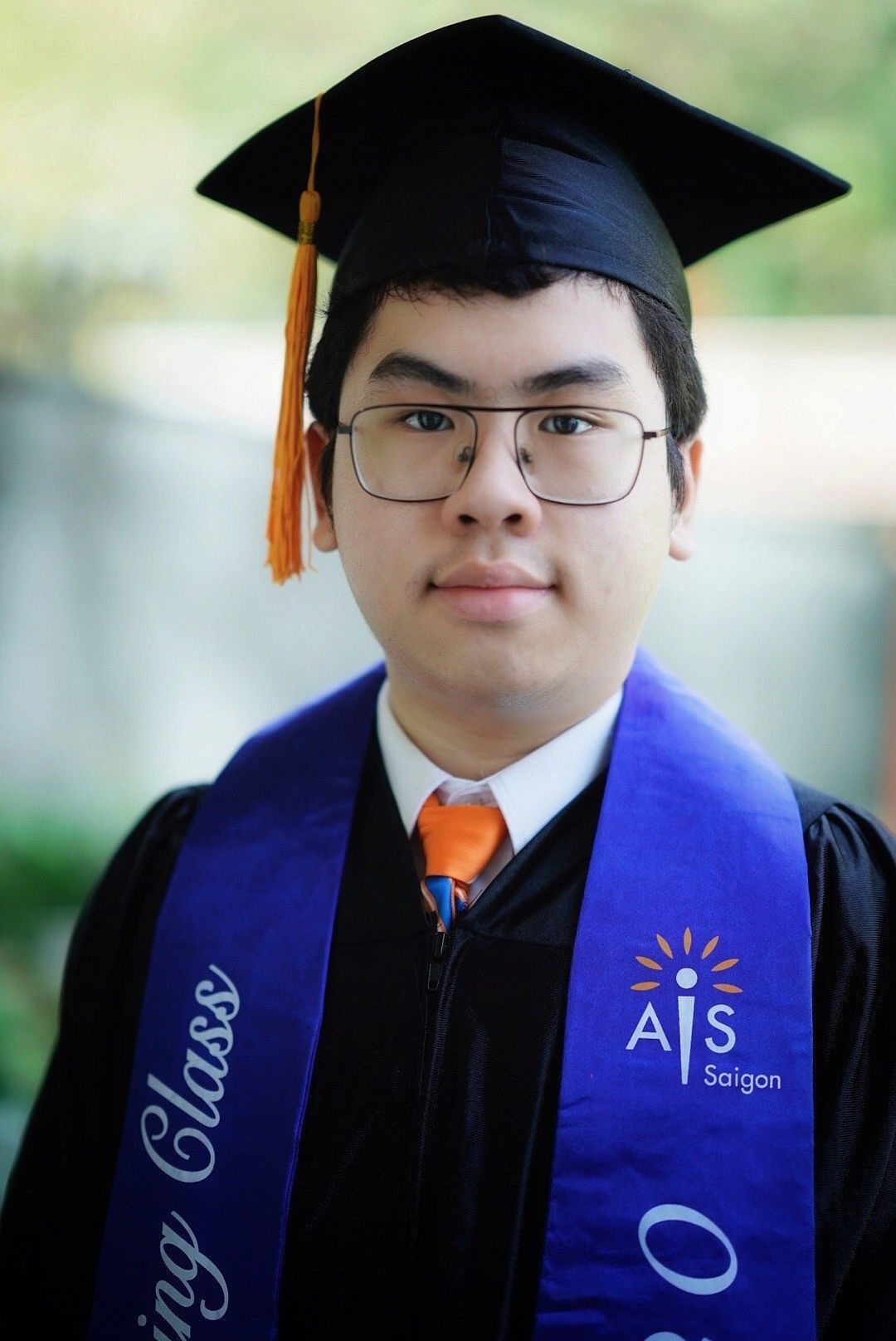 While achieving all of the above, this group of recent graduates had some remarkable in-class showings as well, including strong performances on the IB diplomas. Andrew, for example, received a perfect 45/45 IB predicted grade and academic excellence awards in English, Economics and Theory of Knowledge. And while he isn't certain what university he will attend next year, like his peers, he will undoubtedly be able to attend a fantastic university in Europe, North America, Australia or Asia.
Mai Ly will build off the interests she cultivated in extracurriculars by attending Emory University to pursue a career in community-based businesses and non-profit organizations. And In a testament to how multi-faceted AIS students are, despite possessing enough talent to win AIS Musician of the Year, Quan will attend prestigious UC Berkeley, where he will pursue chemical engineering.
The many arts, sports and extracurricular activities these students enjoyed while at AIS helped to position them for bright futures as professionals and people. They allowed them to develop diverse interests and skills and an appreciation for the world around them; traits that exemplify a successful person.
[Top image: Eunchae.]
Explore Australia Interantional School's Open Day here.
Australian International School (AIS Vietnam) is now one of the top IB World Schools in Vietnam with over 1350 students from 40 different nationalities at 3 campuses in District 2. AIS is known for its holistic education and a nurturing learning environment.
Hotline: 19006940
Xi Campus | 190 Nguyen Van Huong Street, Thao Dien Ward, D.2, Ho Chi Minh City
Thao Dien Campus | APSC Compound, 36 Thao Dien Road, D.2, Ho Chi Minh City
Thu Thiem Campus | 264 Mai Chi Tho (East-West Highway), An Phu Ward, D.2, Ho Chi Minh City