Gian Don is not much of a commercial fashion brand but a "family shop," where Diệu spends her days delivering stories on "friendly" fashion, and puppies are "employed" as sales associates. I visited Gian Don, or Simplicity, on a slow Monday morning and was quickly welcomed by founder Giáp Diệu and her two furry friends: SuSu and Spot.
Their "family shop," as they referred to it, is located on the quiet, shady street of Yen Hoa, overlooking the West Lake. Inside the shop, clothing items and accessories are neatly displayed on wooden furniture, and on the walls hang a couple of art pieces that are also for sale. Just like its name, Gian Don is not overly decorated, but rather simple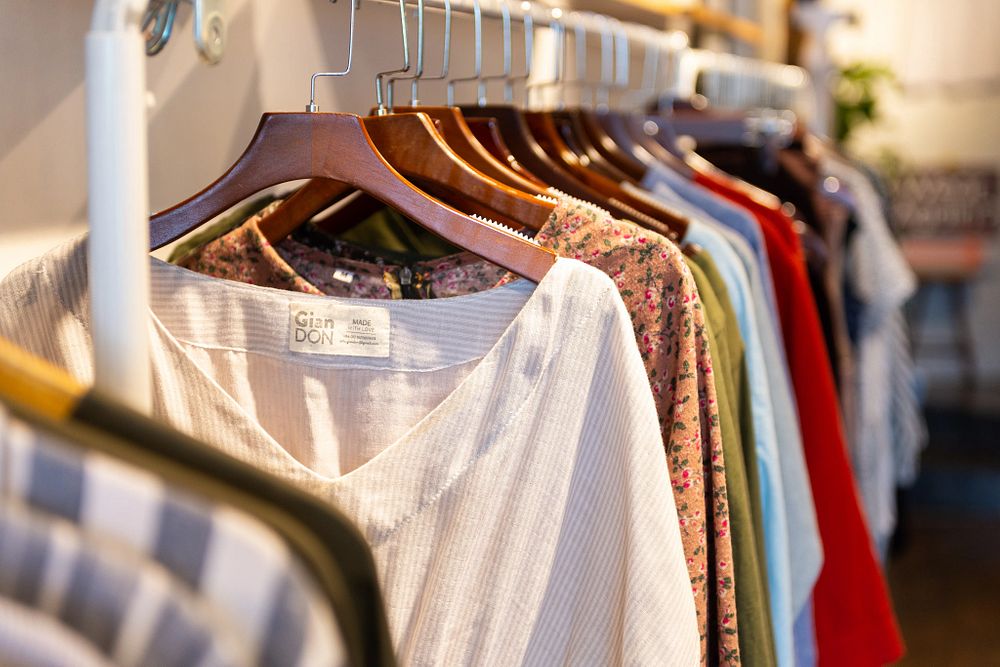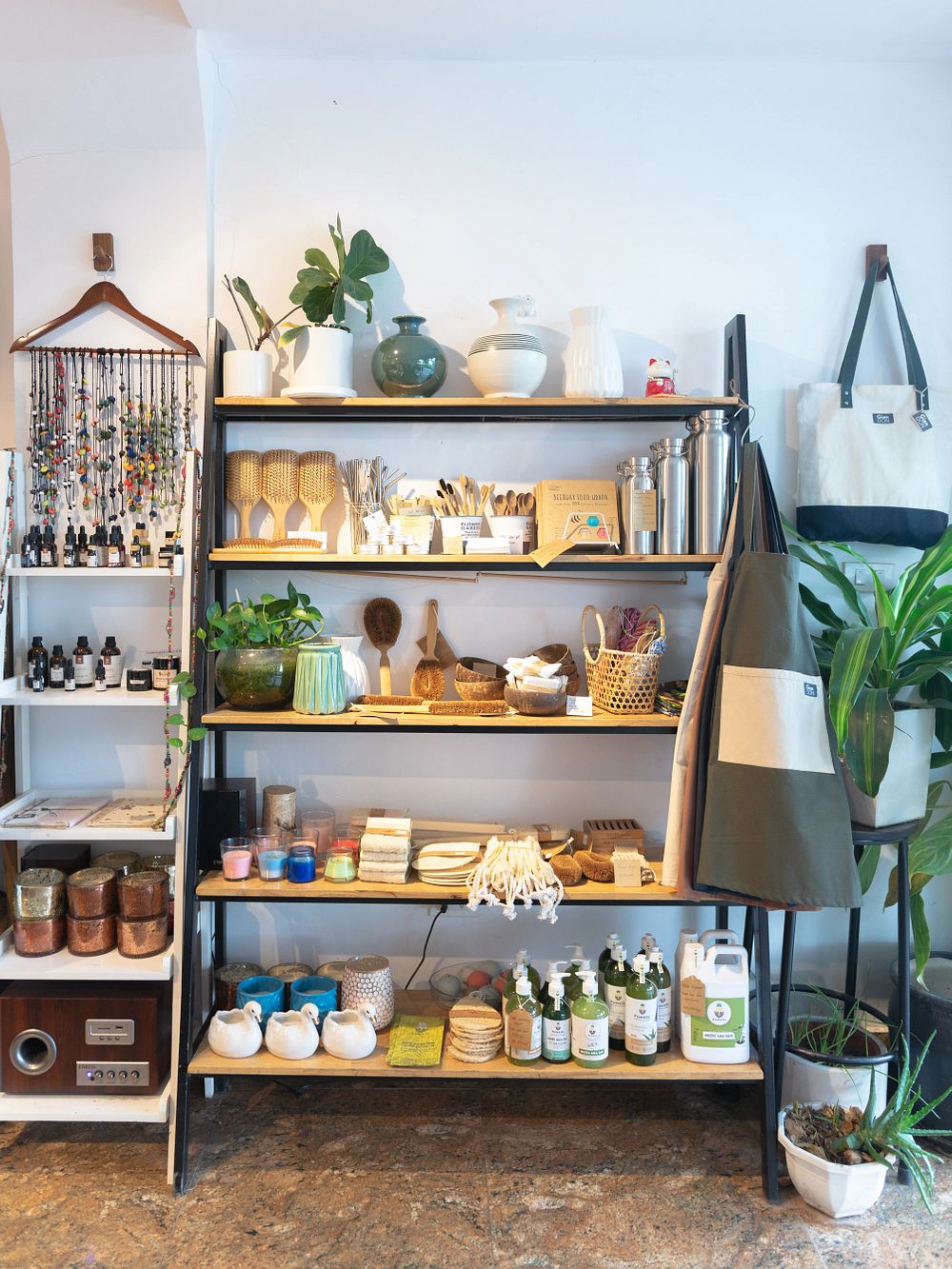 Diệu's background is in tourism and she worked at a design company for over six years before opening Gian Don in April 2018. The store is now a team of 10 "family members," focusing on two different segments: retail and workshop.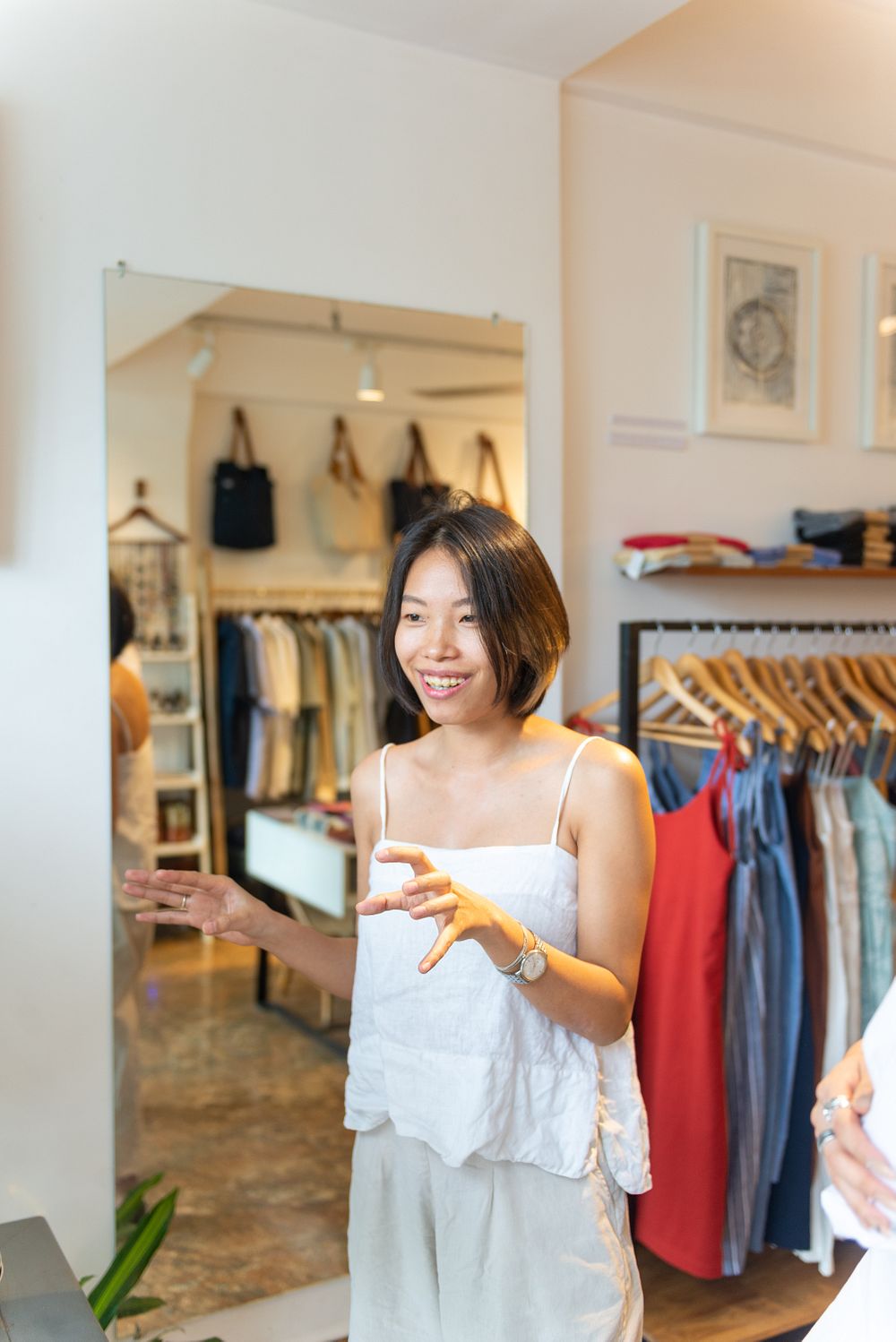 "Gian Don at the very beginning was just a tiny studio," Diệu reminisces. "Half of the store was the clothing display, the other half was the workspace. Everything was just always messy." The smiley, small-figured founder did not establish her brand out of any fierce ambition. Instead, Gian Don simply satisfied her two personal goals. "First, it is to be able to do something I love even though it can be difficult. Secondly, to supply myself with clothes. In the past, I used to struggle so much to find clothes that fit my taste, so I decided to make my own."
"I have a motto that is: enjoy the simple things. I don't need too much; I seek happiness from the simplest things in life." Something that Diệu always keeps in mind while doing business is knowing what and when is enough. "Gian Don is moving very slowly, and hopefully we can still learn and grow along the way. I, myself, have been constantly learning and growing from the very beginning," she continues.
The brand's overall theme is minimalist, easy-to-wear items. Their products range from casual wear to formal, workplace-appropriate attire. On their neatly arranged racks are summer dresses, tank tops, midi skirts, button-downs, and dress pants. The design is mostly plain, neutral-colored — no ruffles or sequins. Also, Gian Don favors linen materials for their lightness and comfort.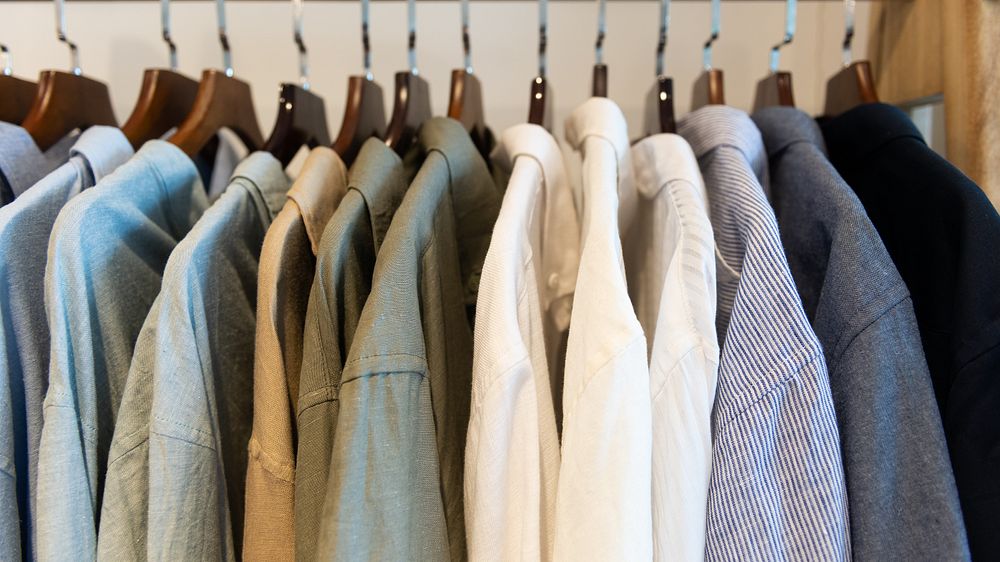 When asked whether Gian Don calls itself a sustainable brand, Diệu quickly said no: "Sustainable remains a very controversial term. I do not claim my brand to be sustainable because it is still a vaguely understood concept that our community is still trying to understand and adapt to it."
In Vietnam, Diệu explains, people are still used to the shiny, eye-catching stores that sell clothing items that are fashionable but might not last long. Simplicity isn't a popular concept. "Gian Don is trying its best to do what it can, not to achieve the title sustainable, but to simply bring the values we appreciate to the community. There's no need to work towards any label," Diệu opens up.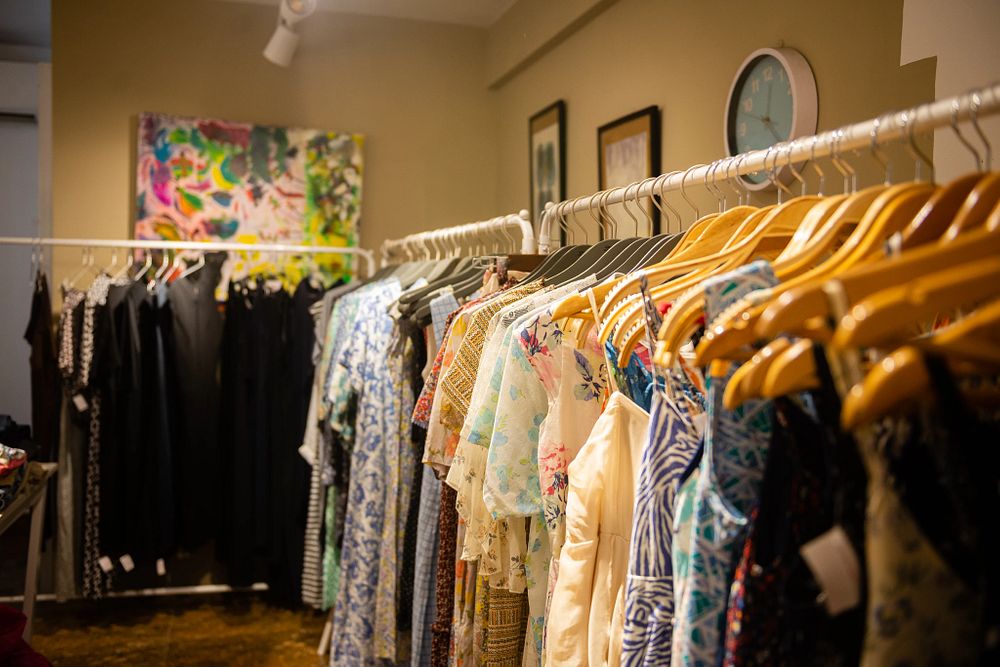 One special thing about Gian Don is that they don't purchase fabric in mass as most brands do. Instead, Diệu chooses to hand-pick her fabric from the abundance of excess fabrics from factories. "The advantage is that because the factories I purchase from manufacture exported goods, the fabrics are unique and high quality, not the mass-produced fabrics on the market. The disadvantage is that the supply is inconsistent and there are often not many choices. I can often only make 3-4 dresses out of the same fabric," Diệu shares.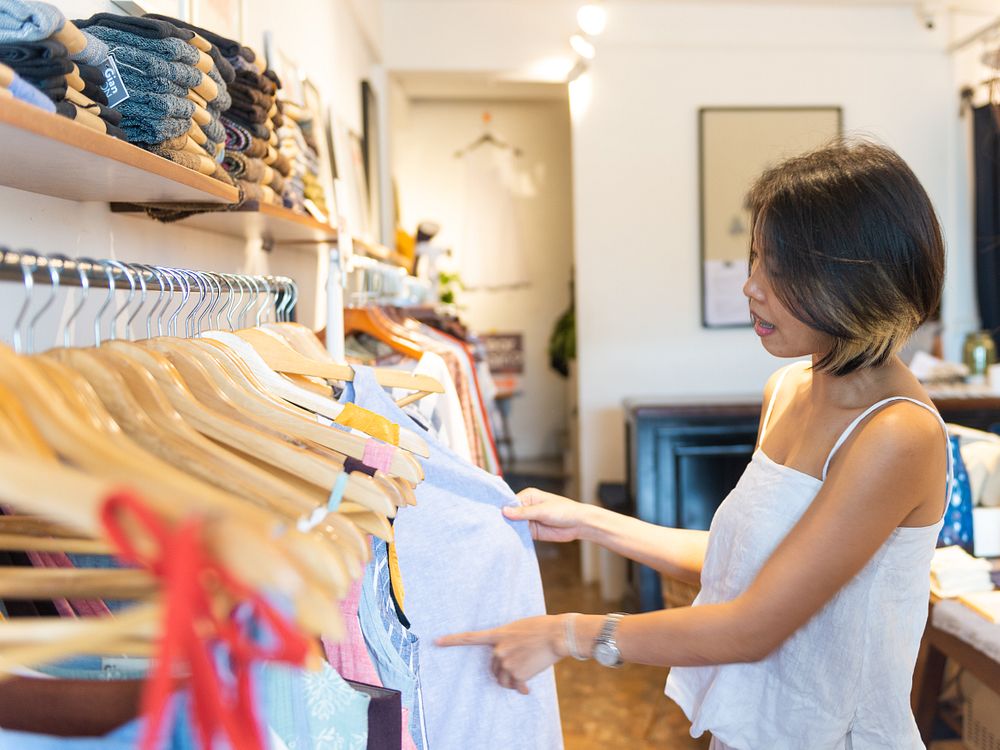 Gian Don also adopts a very special sewing technique. "I use a very old-school sewing method," Diệu says while fetching an example. Gian Don's seam consists of two neat and flat parallel lines, not a flap like the shirt I was wearing.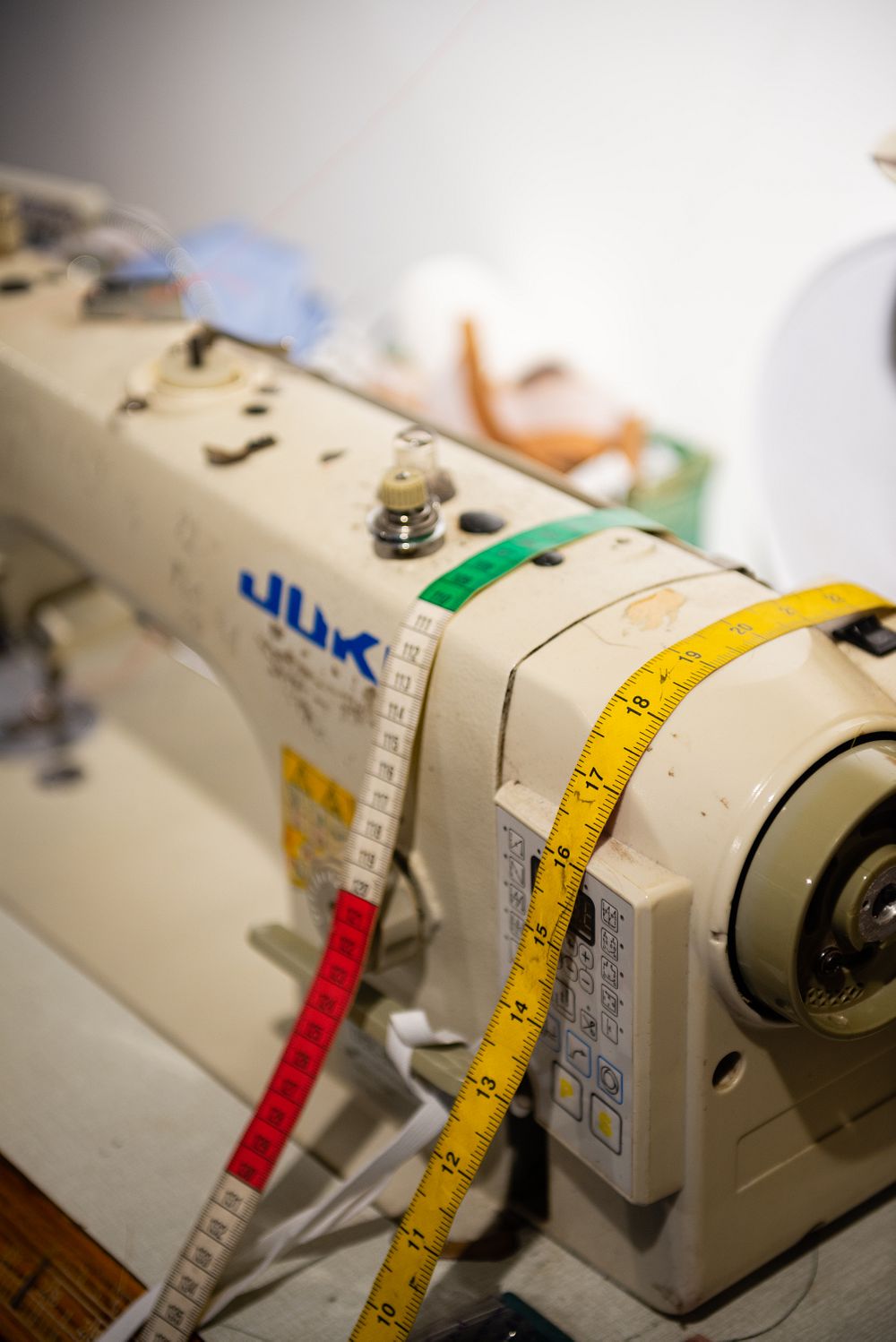 "This seam gives a cleaner finish. There is neither a flap, excess thread nor threads falling apart. Every seam takes triple the amount of time and effort to sew compared to if we just use an overlock machine as other manufacturers do. Thus, the quality of the shirt is noticeably better. The structure of the clothing will stay even after years of wearing and washing. You won't notice a stretch or any thread falling out. The flat finish will eliminate the possibility of any discomfort. I seek the highest perfection for my products."
"This is a very old-fashioned way to produce clothing — a technique people used before the invention of overlock machines. So yes, progress isn't always something great," Diệu laughs.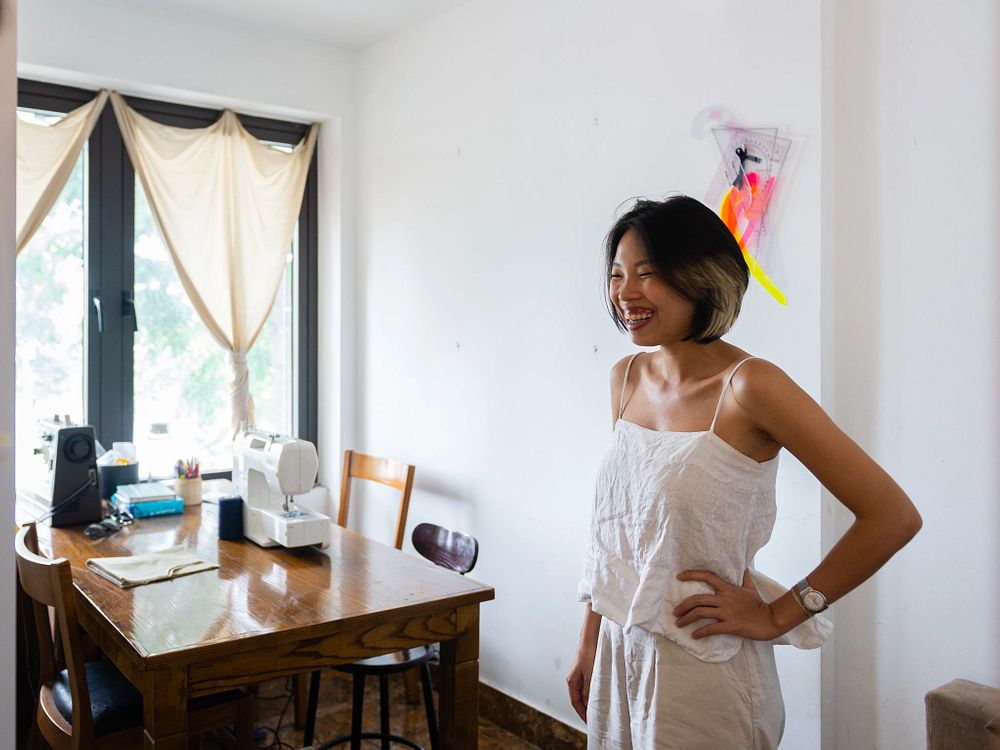 She goes on: "Anyone can make a great product. But can you bring it onto the market? Will you be able to make a profit from it? The most difficult challenge for every business, and for Gian Don as well, is how to balance creativity, sustainability, and commerciality. In order to survive, you have to balance them well. It is like a three-way balance, if you deviate to one side, the other two will collapse as well."
Describing her brand in three words, Diệu chooses simple, friendly and affordable; emphasizing on friendly. "Customers of Gian Don won't feel like they're going shopping. We treat our customers like friends and many of them became our friends too. I want to establish a connection deeper than just sellers and buyers. That's my motivation to keep going."
Gian Don is a family to Diệu; she values transparency and honesty above sales and numbers. The past year hasn't been very easy for retail businesses like Gian Don, but Diệu is lucky to have the close companionship of her staff as well as her customers, "No matter how much pressure there is, if we have great support and company, everything will go by with more ease."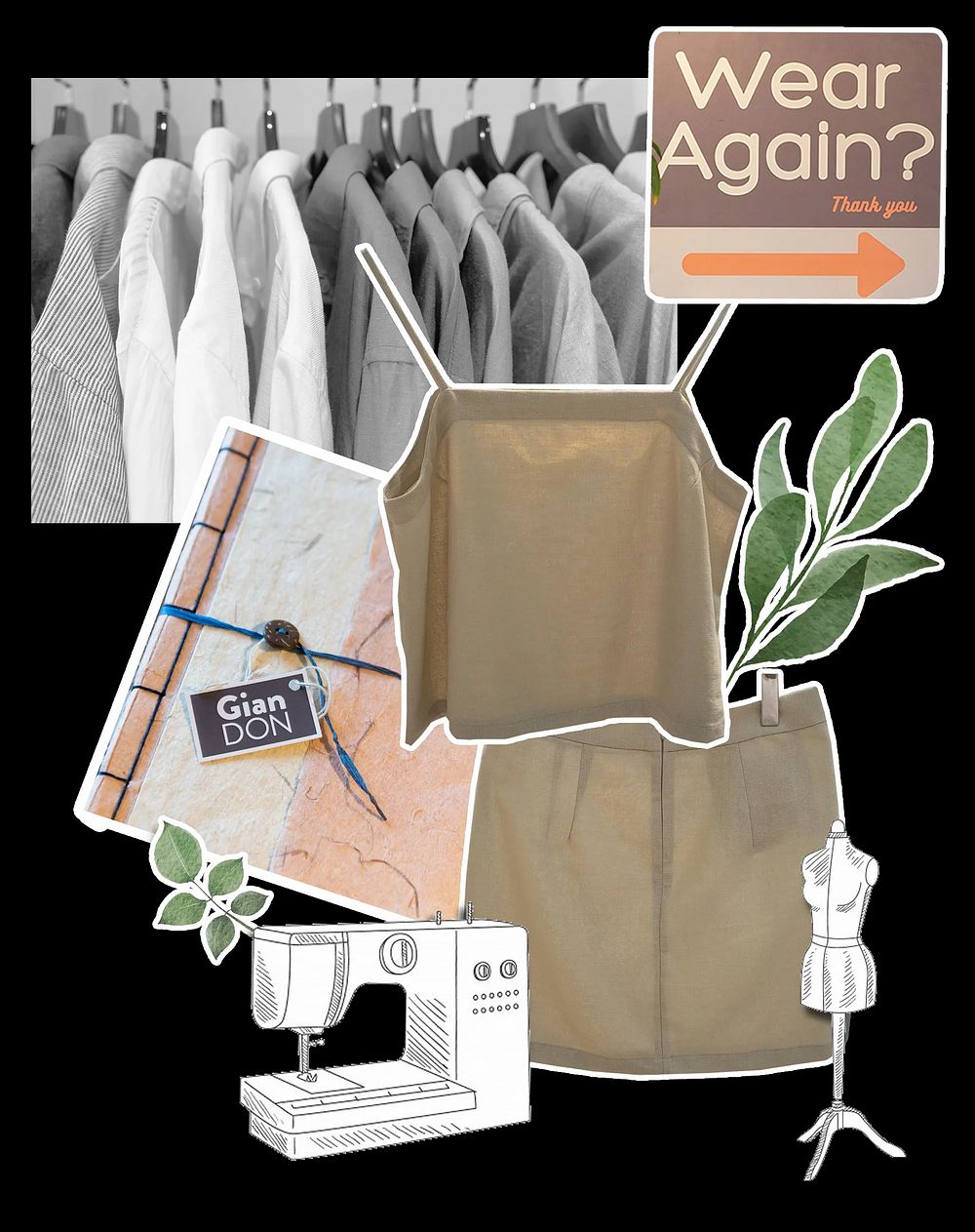 Deep into our conversation, Diệu opens up to us about a side of the Gian Don that not many people see: "I don't normally talk about this, only the closest customers and friends know because I don't want to use it as an advertisement: my group of seamstresses are all women with disabilities. We have been together since the very beginning, sticking with each other through thick and thin. Working with them was difficult in the beginning when we hadn't yet figured out a way to communicate. But they are the most hardworking and inspiring people and I would want nothing more than to have their companionship."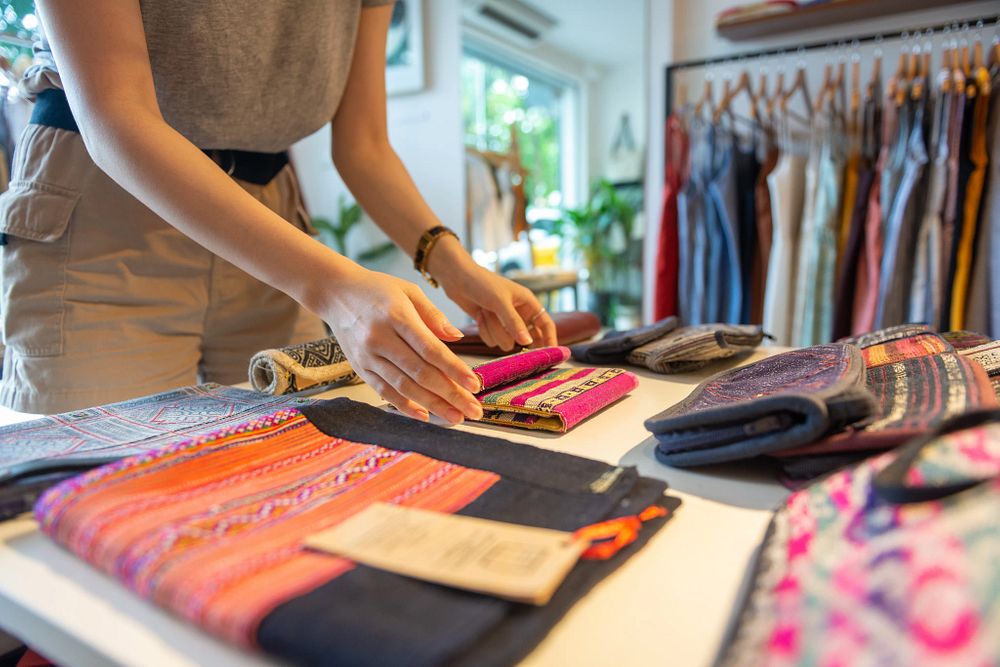 One thing that Gian Don has been trying to do from the beginning is to deliver the story of their products to customers, beginning from who made them. To Diệu, customers will appreciate the clothing items more if they understand the story and values behind the products. To do this, Diệu runs weekly sewing workshops for anyone who wants to learn the basics of making clothes. Here, she aims to inspire others to recycle their old clothes and to create their own stories with their clothing.
Ending our conversation, Diệu revisits her vision on the minimalism trend in Vietnam today: "I am beginning to see many more stores producing minimalistic and sustainable clothes, and that makes me very happy! The more the merrier right? The more sellers there are, the more people will begin to pay more attention to that style. It is a challenge but also an opportunity."
Ton-sur-Ton is a series highlighting local brands in Vietnam that have a strong personality and compelling story. More than just textiles and colors, they bring a breath of fresh air to the nation's fashion scene. Know a distinctive local brand? Write to us via contribute@urbanisthanoi.com.