After a four-month break, Doan Ngoc Hai, the leader of District 1's sidewalk-clearing crusade, is finally back on the streets, towing illegally parked vehicles and confiscating property from local nhậu restaurants.
According to VnExpress, on Monday, August 7, Vice Chairman Hai of the District 1 People's Committee hit the streets of downtown Saigon with a team of public order officials to restart his campaign against sidewalk encroachment.
"The wards didn't take the task seriously and allowed the sidewalks to be retaken, so I have returned to deal with it," Hai told the news source.
His Monday visit to local streets came just days after a meeting with municipal authorities on Friday, August 4, when Hai sought complete carte blanche to carry on with the campaign. The order would grant him the power to punish any party – from street vendor owners to public officials – that stands in his way.
However, it's unclear at this point if the Ho Chi Minh City People's Committee actually fulfilled his request for full authorization.
On Monday, starting from the headquarter of the District 1 People's Committee, Hai's team hit the pavement on Le Duan, Nguyen Thi Minh Khai and Hai Ba Trung Streets, where the officials gave tickets to scores of private cars and taxis that were parked illegally.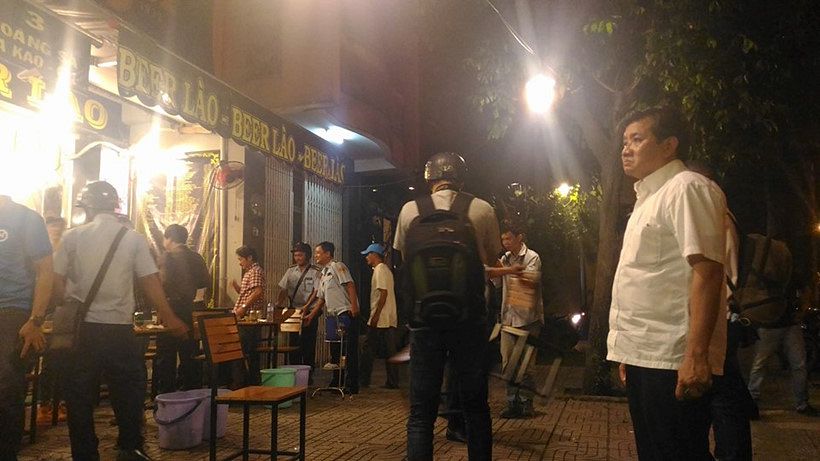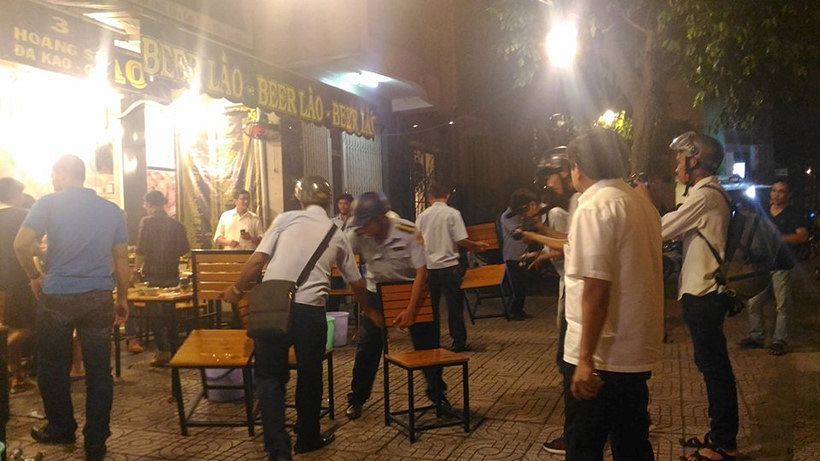 "I encourage traditional taxi cabs to operate, but only if they obey traffic laws. They can't just park anywhere they desire willy-nilly," he told Thanh Nien in Vietnamese. "I work in an organization with a proper hierarchy and thus will continue improving city pavements until my superiors order me to stop."
Hai and the officials also descended abruptly on a nhậu spot on Hoang Sa Street along the Nhieu Loc Canal. The ambush led to a scene of pandemonium when both the wait staff and patrons rushed to remove table sets and motorbikes on the premises. Family members of the owner even fought with public order officials after some restaurant assets were confiscated.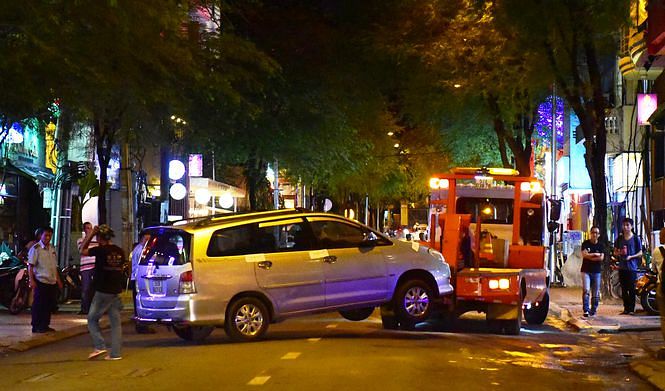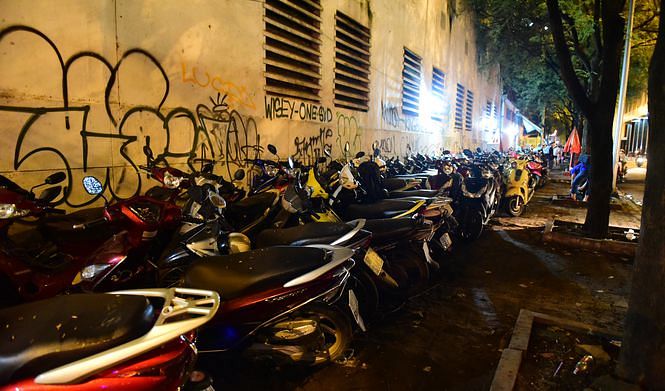 Apart from vehicles, the team also revoked the licenses of two parking lots along Thi Sach and Nguyen Sieu Streets, reports Tuoi Tre.
Most residents and netizens have reacted warmly to Vice Chairman Hai's return. However, owners of street establishments that were penalized by the team are less impressed.
"The current law allows us to set up tables and chairs within the inner 1.5 meters of the pavement, so how can [the inspection team] confiscate my stuff like that?" the owner of a smoothie joint at Phu Dong Roundabout told Zing. "Even then, we need to be informed of the inspection beforehand."
On Hai's part, these complaints and negative feedback don't seem to affect his determination.
"I tried to delegate parts of the work to ward officials, but they don't do a good job. So I'll have to do it myself," Hai told Zing. "I have to be stringent so people will be afraid. Then they will obey the law and drivers will stop parking on pavement."
[Top photo via Luat Khoa]
---

Relate Articles:
---