The sand dredged from the Mekong Delta is mostly used as materials for construction in Saigon and other southern provinces.
Recently, National Geographic published an in-depth story on Ha Thi Be, a 67-year-old riverside resident, emphasizing how excessive sand mining has had a drastic impact on the livelihoods of people living in the Mekong Delta.
Be owned a small coffee shop and a nearby house in Hong Ngu town, overlooking the Tien river, a main branch of the Mekong River. One day, while Be and her son were sitting in her coffee shop, the river bank fell apart and dissolved into the water, causing the shop and Be's house to collapse.
Despite the awful loss, Be still considers herself lucky: "If it had happened at night, I and my grandsons would have died. We used to sleep in that house."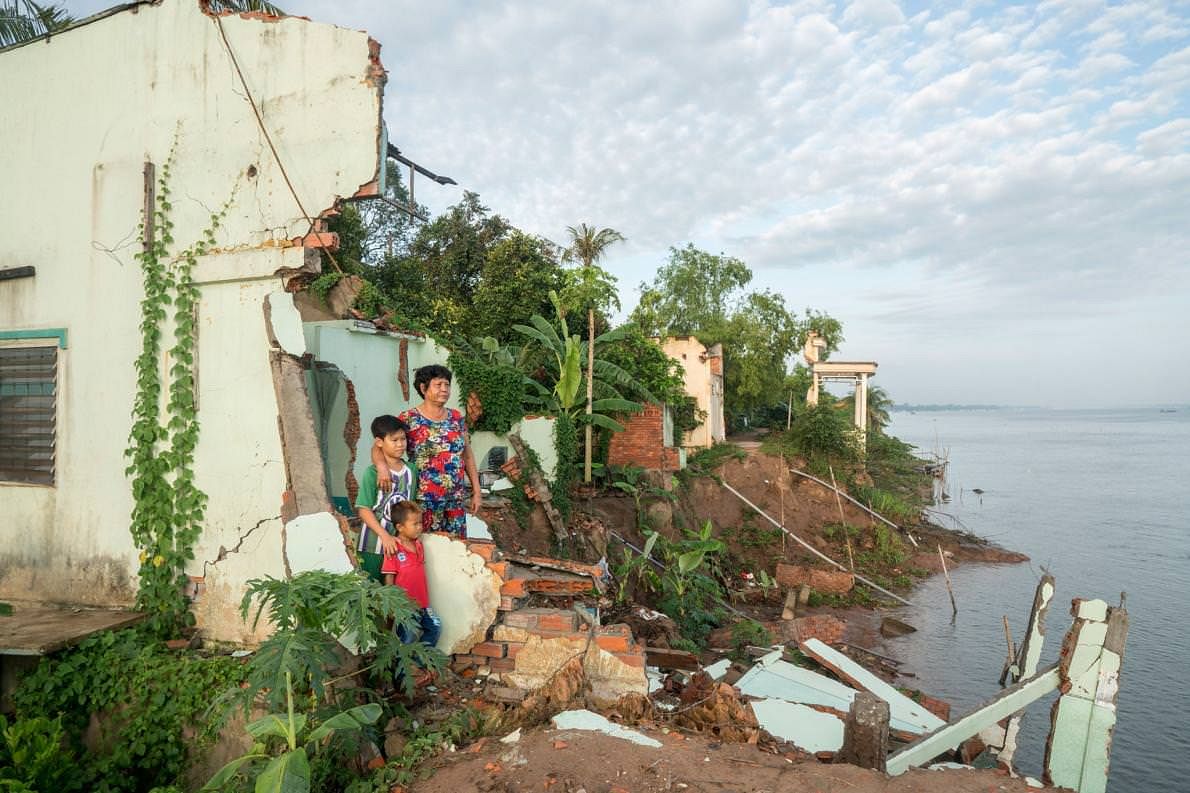 The remains of Be's house. Photo by Sim Chi Yin via National Geographic.
Be's story is not just an anecdotal account, but one that reflects the threats many residents living on the sides of Mekong Delta's rivers are facing.
Sand and gravel are two of the key materials in concrete used for constructing infrastructure projects like buildings and roads. In recent years, the proliferation of many construction projects resulting from rapid economic development has skyrocketed the demand for sand. A Conversation article pointed out that the world is facing a global sand crisis, noting that in 2010, 11 billion tons of sand were dredged for construction. Countries in the Asia-Pacific region have the highest extraction rates.
This over-exploitation of sand has a harrowing impact on the environment and human's livelihoods. For example, muddy water and scoured riverbeds make waterways uninhabitable for plants and fishes and erosion caused by excessive mining make coastal communities more vulnerable to floods and storms.
In Vietnam, between 2016 and 2020, domestic demand for construction sand will be approximately 2.1-2.3 billion cubic meters, while the country's reserves are only above two billion cubic meters. Thus, the country's construction sand resource could run out by 2020.
The problem is exacerbated by the fact that sand mining activities in Vietnam are widely unregulated. According to National Geographic, in 2016, 3,000 people were caught dredging sand illegally.
[Photos by Sim Chi Yin via National Geographic]
---

Related Articles:
---