Former First Lady Michelle Obama was joined by celebrity actress Julia Roberts to promote women's education; while former President Obama met with Saigon officials.
The trip, which was announced earlier this fall, was part of the Obama Foundation's Girls Opportunity Alliance. The Obamas landed in Vietnam on December 8 in a Gulfstream G650. Michelle Obama and Roberts visited Can Giuoc High School in Long An and talked to NGO Room to Read.
Obama also offered words of encouragement and underscored the importance of education: "When you educate a girl you give them power and a voice and an opportunity to improve their lives and the lives of their family and the lives of their community... I want you all to stay committed and focused, it will get tough at times — it already has for some of you — but it is well worth it... Even if your families don't understand that today, trust me they will when you go off to college or start your businesses."
Julia Roberts had not worked on global education issues before recently becoming involved with Obama's Girls Opportunity alliance. The pair was joined by Jenna Bush Hager, a Today Show co-host and daughter of former President George W. Bush, as well as Vietnamese-American actress Lana Condor and Vietnamese actress Ngo Thanh Van.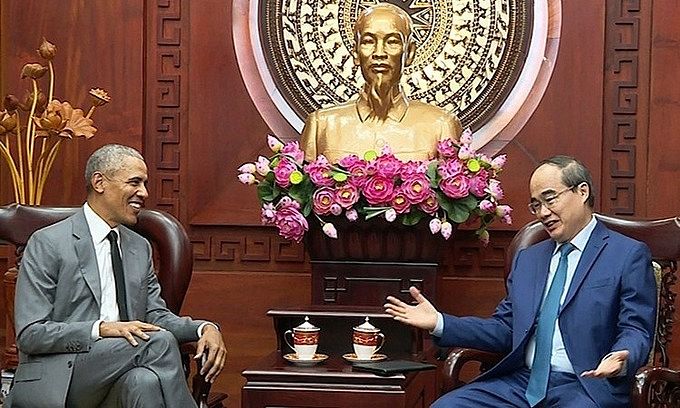 Barack Obama's visit was his first to Vietnam since his 2016 diplomatic trip as then-president, and it attracted less attention. On Monday, he met with Ho Chi Minh City Secretary Nguyen Thien Nhan, who expressed appreciation for the deepening of ties between Vietnam and the US during his presidency, including the 2013 establishment of a comprehensive partnership. They also chatted about the recently opened Fulbright University and continued means for deepening ties between America and Vietnam.

The Obamas have since left Vietnam for Malaysia for the Obama Foundation's inaugural "Leaders: Asia-Pacific" event in Kuala Lumpur from December 10 to 14. Since leaving office, the pair has spent considerable focus on the charitable organization. Michelle recently announced that US$500,000 of the sales from her blockbuster memoir Becoming will be donated to the Girls Opportunity Alliance.
[Top image via Today]