Last weekend saw the arrival of Storm Noul, which wreaked havoc on the central coast of Vietnam, causing massive destruction and displacing many families.
The typhoon, the fifth that Vietnam has experienced this year, resulted in six deaths and tore roofs off over 22,000 homes. Local authorities now have to undertake the arduous task of repairing and rebuilding damaged infrastructure, though some urban amenities are already lost forever.
According to the Hue Center of Parks and Greenery, Noul toppled around 10,000 trees across the city. Hue currently has over 65,200 public trees, 600 of which are decades old and need to be protected. Center Director Lê Như Chinh told Tuoi Tre that many of the fallen trees were heritage trees that couldn't withstand the extreme gales during the storm. A number of three- and five-year-old trees also collapsed.
Chinh estimated that it will take park employees around one month to clear all of the fallen trees from the street. Replanting them, however, is a long story, he lamented. Deputy Director Đặng Ngọc Quý shared that the storm presented valuable, albeit costly, lessons to the city in public tree maintenance.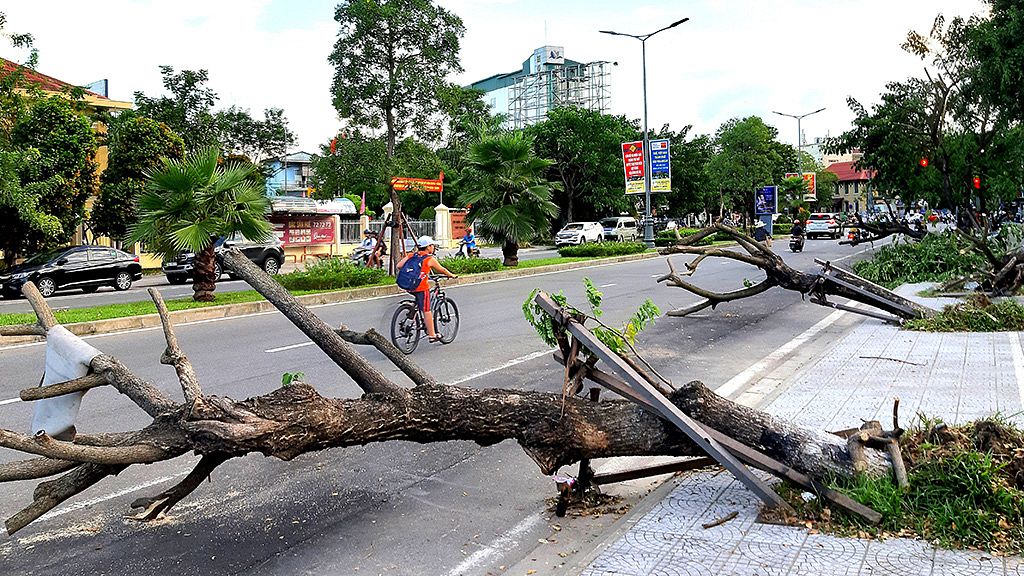 First, the selection of new trees is not ideal, as they have short roots and lifespan. Moreover, the city planted trees that were already too big at new locations, so the existing root network had to be trimmed off. This gave the plants a poor chance to recover and regrow, especially in Hue's harsh weather. City administrators will also have to thoroughly discuss which species of trees to plant in the future.
Phạm Cường, director of the Hue University of Agriculture and Forestry's experiment and research center, opined that, after years without powerful storms, public trees in Hue have experienced robust growth, but trimming and pruning efforts lagged behind.
He elucidated that a lot of heritage trees have interior rotting or termite damage, but park officials either lack the funding to chop them down or fear public backlash, so they were left untouched.
To cut down old trees or not has been a complicated point of contention in urban areas in Vietnam, and controversies tend to flare up again after every deadly accident involving fallen trees.
In May, a 24-year-old phượng vỹ in the schoolyard of Bach Dang Secondary School in Saigon fell, killing one student and injuring 17 others. The school ended up axing the other heritage trees. Other institutions also followed suit as municipal authorities conducted a citywide inspection of old trees.
Just yesterday, another tree fell in Saigon's District 10 during an afternoon shower, striking a 30-year-old commuter. He succumbed to his trauma at Cho Ray Hospital earlier today.
[Top photos via Nguoi Dua Tin]