Suoi Tien, a famous natural tourist site in Mui Ne, is losing its appeal due to overcrowding and unauthorized construction work.
Suoi Tien, home to natural sand dunes and hundreds-year-old amulets, has recently become the subject of complaints from tourists for its dirty and stagnant streams of water. Meanwhile, the mountainous sandstone has collapsed because of visitors walking over it.
Huynh Thanh Truc, Deputy Director of the Ham Tien Resort Management Board in Mui Ne, told VOV that households in the area have installed sandbags and pilings to build businesses right on the stream without permission. The stream has therefore been filled with sewage and garbage, changing its color.
According to Phap Luat, in response to negative feedback, Phan Thiet has allowed the Green Dragon Construction Company to invest in Suoi Tien as a tourist attraction in an effort to preserve the natural landscape and better cater to tourist demands.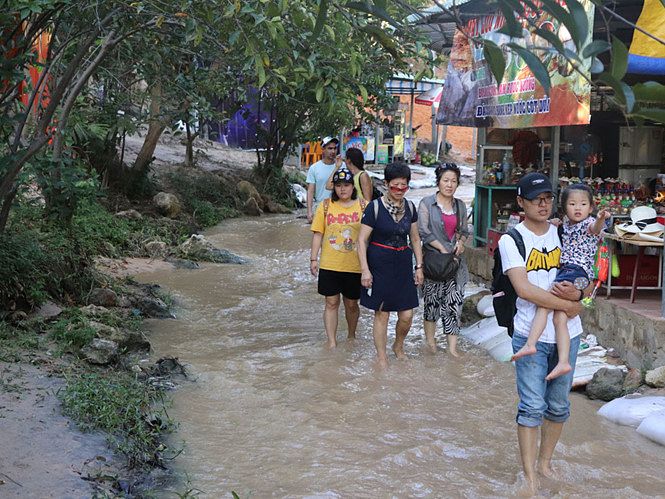 Over the last month, the company, together with the local government, has installed over 30 trash cans, along with caution signs and four portable toilets around the site. The company has also replaced private businesses which served as rest stops with roofed kiosks, the news source shares.
However, some believe the company has only brought about further destruction. Thuong, a local shop owner, told Phap Luat that Green Dragon was charging VND2 million in rent per month for the kiosks they built. Furthermore, the company allegedly built an entrance gate and ticket station and began charging VND15,000 per person visiting the area.
Such developments appear to run counter to the declared status as a natural tourism site. Ngo Minh Chinh, director of the provincial Department of Culture, Sports and Tourism, told Thanh Nien in Vietnamese: "We found that the illegal concrete buildings and embankments are against the law on preserving tourist attractions. So we have ordered a suspension of all construction activities until there is approval of this investment in accordance with the law."
Nguyen Phuc An, Green Dragon's director, told the newspaper that the company is currently dealing with procedures and promised to drop the project if the Binh Thuan People's Committee decides not to support it.
---

Related Articles:
---