After public outcry from Vietnamese tourists and tourism officials, Thai customs authorities have announced that they will amend "offensive" signage and procedures requiring proof of funds at the Poipet border gate between Cambodia and Thailand, reports Tuoi Tre.
Last week the newspaper reported that the Vietnamese visitors going through the border checkpoint were made to feel like criminals as they were required to take pictures while holding up at least $700 in cash. They also took issue with a sign board warning that they might be questioned by officers along with visitors from Afghanistan, Pakistan, Iraq, Iran, the Republic of Korea, Sudan, Sri Lanka, Bangladesh and Algeria, not a crowd that Vietnamese were happy to grouped with.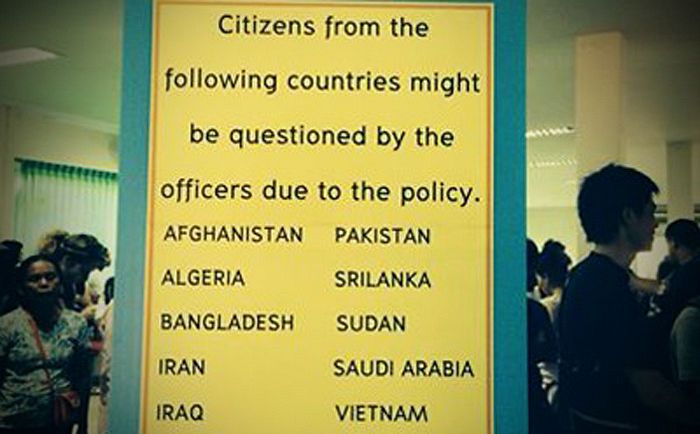 Initially, Thailand rebuffed the claims of discrimination saying that the proof of funds policy is intended to limit the number of Vietnamese entering the country after a number of cases visitors illegally overstaying their tourist visas to stay and work in the country.
Vu The Binh, vice chairman of the Vietnam Tourism Association, disagreed saying that the regulation was offensive and unreasonable.
"If Thailand does not cancel this irrational regulation, I will call for a boycott on Thai tours," he told Thanh Nien.
After the Consular Department, under the Vietnamese Ministry of Foreign Affairs asked the Thai Embassy in Hanoi to look into the case, immigration officials in the Thai province of Sakaeo, which oversees operations of Poipet, were told to address the issue.
After a review of the policies, "The Sakaeo's immigration department admitted in the working session that some of the officers at Poipet border gate have had inappropriate behaviors towards Vietnamese tourists.

It also said that the large notice saying tourists from some countries, including Vietnam, could be questioned by Thai officers at any time should not have been erected at the checkpoints."
In addition to removing these notices, the Sakaeo's immigration department said it would also amend the proof of funds requests wherein Vietnamese nationals will be able to use credit cards in lieu of cash.
Vietnamese on tours organized by travel agencies are exempt from the regulation as they are guaranteed by the tour organizers.
If only China were as quick as Thailand to address Vietnamese concerns…
[Tuoi Tre // Photo via swanagetobangkok]